This isn't your typical list of "things to do in Nashville" because I'm not a typical Nashville resident. I'm a visitor like you.
I moved to Nashville in 2012 from Australia because that's where my wife was born and raised. Her family is still here. My wife's parents are Joe and Linda Chambers, Walk of Fame inductees and the Musicians Hall of Fame and Museum founders.
Because of this connection, I've had a first-hand experience of what Nashville is truly about and what makes it unique.
I've walked these roads, heard the stories, drank the Bushwackers (a local Nashville drink), and eaten the famous hot chicken. Let me be your guide.
A common misconception about Nashville is that it's all country music. It is "Music City" in that it focuses on all genres.
Another misconception is that the only thing to do in Nashville is party on Broadway. Again, not so – at all! There is much to do in Nashville and its surrounding areas. I've covered them all here.
---
Things To Do in Nashville
---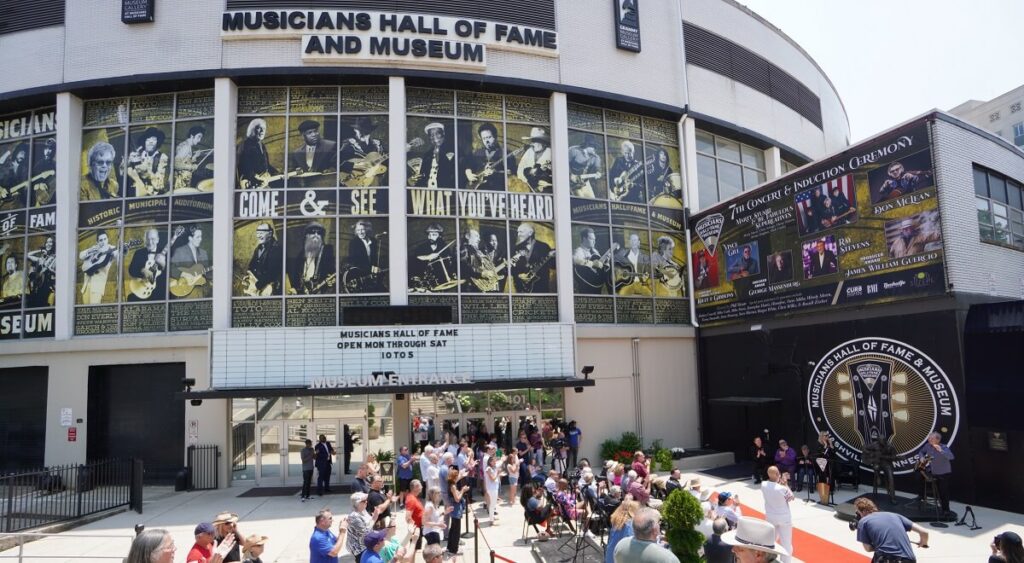 Musicians Hall of Fame & Museum
The Musicians Hall of Fame & Museum is the premier Nashville attraction. If you're in Music City, you must know the people who created the music. You'll see the instruments, artifacts, and history up close and personal. Their slogan is "Come See What You've Heard" because the musicians, songwriters, and producers represented here formed the soundtrack of our lives, regardless of where we are from. It's an authentic Nashville musical experience.
It's hard to say what exhibit is my favorite; however, here are some highlights:
Jimi Hendrix. The museum has the stage and guitar Hendrix played here in Nashville.
The American Sound Studio, where Elvis recorded some of his most significant records.
Guitars played on Glen Campbell's TV Show.
Johnny Cash exhibit, which houses one of these guitars.
Motown Exhibit that highlights the instruments and records such as the Supremes and The Temptations.
The museum also houses the GRAMMY Museum Gallery. Kids and adults love the GRAMMY Gallery. It provides a hands-on experience where you can interact with the recording experience. You can play drums, keyboards, bass, and guitar or sing with Ray Charles.
The GRAMMY Gallery is an excellent place to take young kids as they love the interactive nature of the exhibits.
In the courtyard of the museum is the famous Chet Atkins statue, first unveiled in Nashville in 2003 in the presence of Chet Atkins himself. Sitting on the stool next to the statue is a great photo experience.
The Hop On Hop Off Trolley passes by the museum almost hourly.
Address: 410 Gay Street Nashville. Located within the historic Municipal Auditorium.
Opening Hours: Monday – Saturday, 10 AM – 5 PM.
Phone: 615 244 3263
Cost: Adults $28, Kids 6-17 $15, Children 5 & Under FREE.
Website: www.musicianshalloffame.com
Get a discounted ticket with the Nashville Sightseeing Pass.
---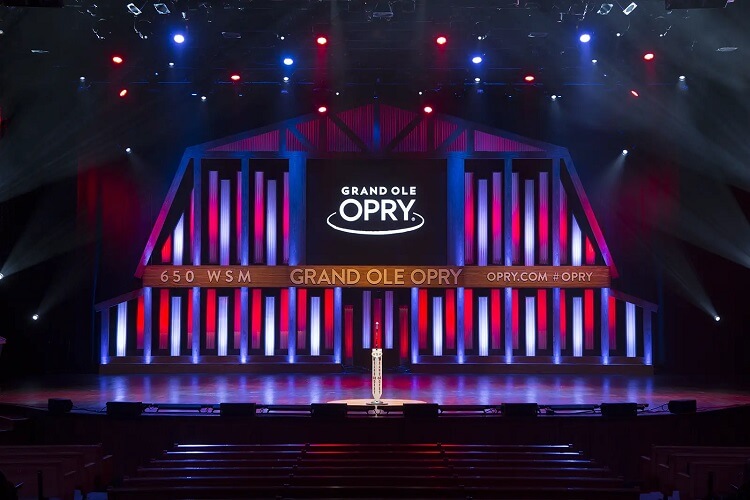 Grand Ole Opry
The Grand Ole Opry is a must-visit Music City destination. The Opry used to broadcast out of the Ryman Auditorium until it moved to Opry Mills, when it outgrew the space at the Ryman. Even if you are not a massive fan of music, I recommend visiting the Opry while in Nashville; it's one of the most unique experiences you can have worldwide.
The Grand Ole Opry still operates every week and puts on an incredible musical show suitable for adults and kids alike.
The Grand Ole Opry has been broadcasting country music shows since 1925, making it the longest-running radio broadcast in U.S. history.
Today you can see almost all types of artists; they don't just play on the weekend. You can catch a show almost every night of the week, and it will probably be someone you recognize.
The Grand Ole Opry is located about 20 minutes drive from downtown Nashville. It's an easy Uber ride; however, if you want to stay within walking distance of the Opryland Resort, I suggest it.
For a deep dive into where you should stay when visiting the Opry, I suggest our post on Downtown Nashville vs. Opryland: Which is the Better Place to Stay?
Something else worth considering is the backstage tour. The tour guide will take you all over, including the dressing rooms, stage, performer entrance, and more. It's well worth it, and your kids will love it.
Address: 600 Opry Mills Drive
Opening Hours: Mon, Wednesday, Thursday, and Sunday from 10 AM – 4 PM. Tuesday, Friday, and Saturday from 10 AM – 9:30 PM.
Phone: 615 871 6779
Cost: $40-$80
Website: https://www.opry.com/
---
Related: 29 Non-Touristy Things To Do in Nashville
---

Ryman Auditorium
The Ryman Auditorium is perhaps the most iconic destination in Nashville. Situated behind the famous Tootsies honky-tonk, the Ryman hosted the Grand Old Opry when it started in 1925. It was initially built as a church, but to pay the cost of the building, it started being rented out to "secular" bands. That was the beginning of the Grand Ole Opry.
The Ryman Auditorium has shaped Nashville for the last 130 years by attracting musicians who wanted the exposure that the Grand Old Opry provided.
It has hosted unbelievable talent, including Johnny Cash, Patsy Cline, Hank Williams, Bob Hope, Elvis, Louis Armstrong, Minnie, Charlie Chaplin, and more. You are stepping into incredible history.
Today you can still see your favorite artists at a show almost every night of the week. I've visited the Ryman to see anything from speakers, comedians, and bands.
The Ryman is located just off Broadway on 5th Avenue. It's an easy walk from the honky-tonks to the steps of the famous building. To see a show, you need to buy tickets, and you can do so here.
I highly recommend the backstage tour. They allow you in the dressing rooms and even let you walk on the stage.
The beauty of the Ryman is that, relative to other large music venues, it's small and intimate. You feel very up close and personal with the performers.
It's located in a very easy place in Nashville. It's within walking distance of downtown, which includes other major attractions like the Country Music Hall of Fame, Bridgestone Arena, 5th & Broadway, and of course, lower Broadway and honky-tonk Highway.
---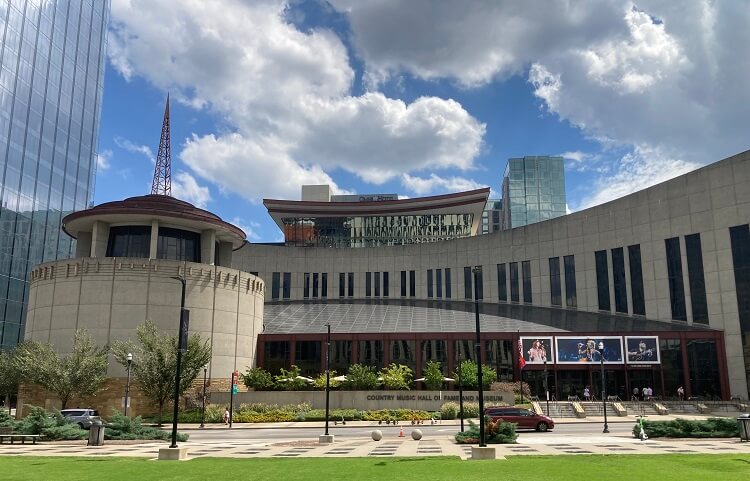 Country Music Hall of Fame
If you're a country music fan, then this is the holy grail of country music in Nashville. The Hall of Fame is centered in the heart of downtown Nashville, so it's easy walking distance to most hotels. It's also an easy walk from the country music bars of Broadway.
The museum offers an incredible overview of country music's history and influence on American culture. It's also home to an immense collection of significant artifacts such as costumes, instruments, gold records, and rare posters.
They also frequently have traveling exhibits on different subjects. At the time of writing this, Taylor Swift is being honored, and many of the costumes and instruments she has worn on stage are on display.
Reasons why you might not want to visit:
This might not be for you if you are not a country music fan.
Cost. Museum-only access is $27.95 for adults. Experience the museum, Hatch Show Print Tour and RCA Studio B will cost you $71.95.
Crowds. It's one of the most popular attractions in Nashville. If you don't like the crowds, you should visit during non-peak hours or not at all.
If you are a country music fan, you'll love the experience. The biggest names in country music are enshrined here. Also, it's known for its live performances and programs. They host various events, including concerts, panel discussions, and songwriting workshops, providing a unique and interactive experience – great for kids!
Within the museum, which you pay extra for, is the CMA Theater, which hosts many live performances, Hatch Show Print, a working letterpress print shot, and RCA Studio B, the historic recording studio.
---
RCA Studio B
To have a genuinely unique Nashville experience, you need to visit RCA Studio B.
RCA Studio B is considered the "home of a thousand hits." Today, RCA Studio B is one of the only tours you can take in Nashville. Similar studios include Sun, Motown, and Stax, considered the "Temples of Sound" in American culture.
There are upwards of 100,000 people who tour the studio each year, and the Country Music Hall of Fame operates it, and its mission is educational. People come from all over the world to visit.
Opening in 1957, RCA had studios all over the country, but the Nashville location was built with Elvis Presley in mind, and for a time, the studio was managed by Chet Atkins. Famously, Chet discovered the Everly Brothers, who also recorded at the studio. Chet and Owen Bradley were hugely influential in forming the "Nashville Sound," and the studio musicians became known as the best in the business.
Names like the Nashville A-Team and The Wrecking Crew were able to learn and record songs with fantastic success quickly. Overall there were about 45,000 songs recorded here, and Elvis recorded 240 of them.
Artists who recorded at Studio B:
Everly Brothers
Roy Orbison
Chet Atkins
Waylon Jennings
Willie Nelson
Dolly Parton
And many more!
The studio is part of the Country Music Hall of Fame. The studio is located at 222 5th Ave. South, Downtown Nashville. The tour begins at the Country Music Hall of Fame. To book a tour at RCA Studio B, click here.
---
Andrew Jackson's Hermitage
Did you know that Nashville used to be the home of the nation's 7th President? Andrew Jackson had an estate during his presidency and would travel back and forth between Nashville and Washington. The fantastic news is that you can still visit his mansion and grounds today. He lived here both before and after his term as President.
A significant aspect of the house is that it contains primarily original artifacts. For example, the wallpaper that greets guests in the main hall and the China and silverware in the kitchen is all original. Everything has been captured as it was from his day.
There are special items on exhibit, from gifts given to him from foreign powers, his original books, and access to his library – it is incredible if you are into history. It's as if time has stood still, and everything has been left in place.
Jackson was a controversial president because he signed the Indian Removal Act. Historians had argued that his motivation was to move the Indians out before white settlers came and wiped them out. It doesn't necessarily excuse it but offers some depth to the understanding.
Jackson was a slave owner and was known for treating his slaves well. On the site, you can also visit one of the houses his slaves lived in.
Jackson is buried on site, and within the beautiful gardens, you can visit his grave; he is buried next to his wife, Rachel, who died before him.
If you are in Nashville, you should make the stop.
The Hermitage is a 25-30 minute drive from downtown Nashville. An adult's tour costs $27. Learn more here.
---
Related: Things To Do Downtown Nashville
---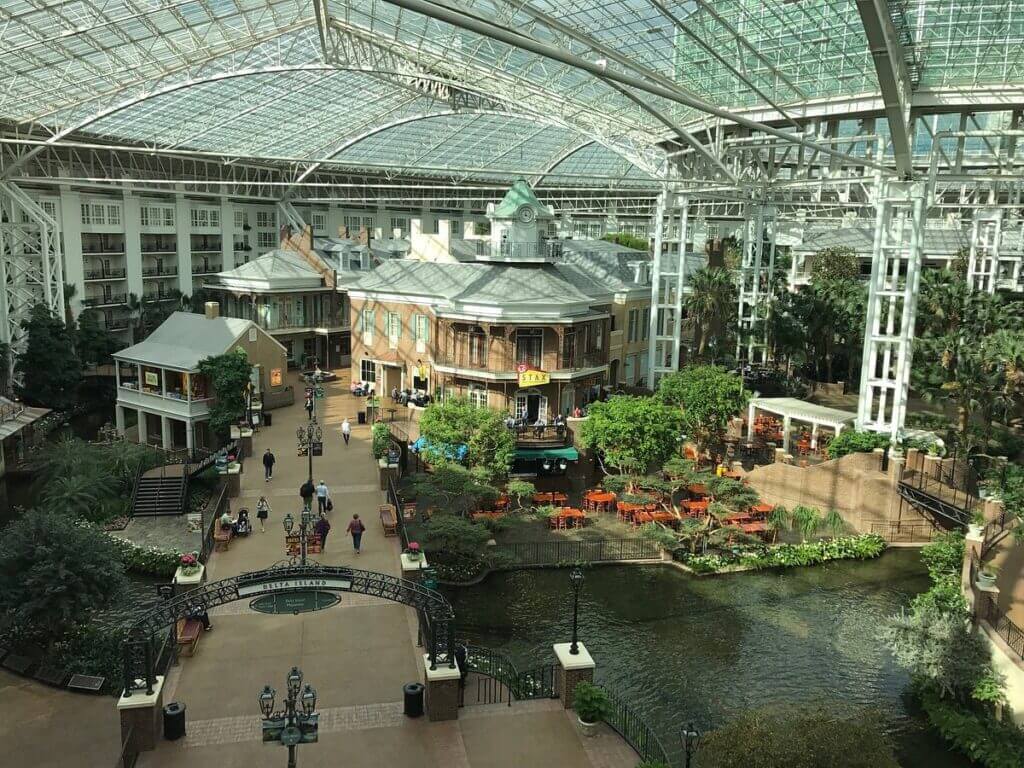 Gaylord Opryland Resort Gardens
Gaylord Opryland Resort is an incredible hotel and grounds.
It's an indoor complex with bridges, plants, foliage, waterfalls, fountains, riverboats, malls, restaurants, retail, and a hotel. If you don't stay at the hotel, you could spend 5-6 hours here. And bring the kids! (if you have them). It's often called the "city within a city."
It's a popular convention area with different neighborhoods to explore, such as the Garden Walkway, Delta Island, Library, Old Hickory Walkway, and the Cascades.
The resort houses a variety of high-end dining options, including Old Hickory Steakhouse and Solario Cantina, Mexican cuisine.
Right next door is the Grand Ole Opry, so if you plan to make the Opry part of your visit, this would be an ideal location. I wrote an entire post here to help you decide whether to stay downtown or at Opryland.
Opryland is only about a 20-minute drive from downtown Nashville. If you have kids, Opryland can be a great option as you avoid the downtown business but enjoy the grounds and surrounding restaurants that are more kid-friendly.
Pro Tip: The Opryland Hotel is stunning at Christmas with events, lights, and shows. Christmas is an excellent time of year to visit.
The grounds are open to the public, and you can visit even if you aren't staying at the hotel. The resort offers complimentary parking covers to those who dine in the restaurants, making it convenient for you to explore.
There is no admission fee to the grounds. You can learn more here.
---
The Johnny Cash Museum
In downtown Nashville is the Johnny Cash Museum, and within it sits the Patsy Cline Museum. Next to it is the Sun Diner which represents Johnny's first success at Sun Records.
Johnny Cash was undoubtedly a massive influence on American culture, and he called Nashville home. He famously got kicked out of the Ryman Auditorium just down the street from the museum.
Johnny was known as the "Man in Black," the museum offers a comprehensive exploration of his early years, career triumphs, and legacy.
The museum on Upper Broadway contains many incredible artifacts, including guitars, amps, clothing, hymnals, postcards, and more from his life. It also chronicles his life outside of music, including military uniforms, bibles, and papers.
The museum can get crowded, so it's advised that you visit during the non-peak hours, which are during a weekday in the middle of the day.
You may also be interested to learn that the Musicians Hall of Fame and Museum has an extensive collection and exhibit dedicated to Johnny Cash.
If you stay downtown, the museum is within easy walking distance of most hotels. You can also easily walk from Lower Broadway, where the honky-tonks are, to Upper Broadway, where the museum is.
When you're done, you can enjoy lunch at the Sun Diner or head down the street to the 5th and Broad development, where there is a great food hall that I highly recommend.
General admission is $25.95 + tax; you can purchase tickets here.
---
Related: 29 Non-Touristy Things To Do In Nashville
---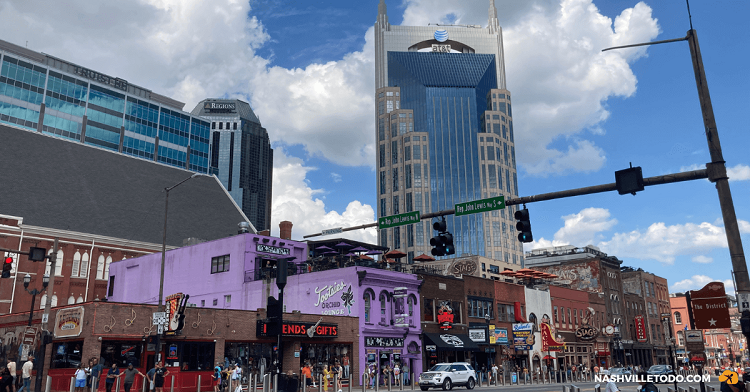 Honky Tonk Highway
Nashville's honky-tonk highway, or Lower Broadway, starts at 1st Avenue on the Cumberland River and runs to 5th Avenue. It attracts millions of visitors every year and is the premier Nashville attraction.
It's a must-visit when coming to Nashville.
It has about 32 bars, half owned by country music stars like Blake Shelton, Luke Bryan, Kid Rock, and soon, Garth Brooks.
Inside each honky-tonk you'll find multiple floors of live music, bars, pool rooms, karaoke, and dancing. The street is open 7 days a week from about 9 AM to 3 AM.
You'll find the best live music in each bar in the world. Every honky-tonk has a theme, and a common misconception is that it's only country music, but that is not true! You'll find modern and classic rock, R&B, pop music, and country music.
My top recommendations are to visit Tootsies, the most famous bar on Broadway, AJ's Good Time Bar, the oldest bar on Broadway, and Roberts Western World, the bar consistently winning the award for the best country music on Broadway.
I also recommend eating on Broadway while you are the. You'll find fantastic BBQ at Jacks BBQ.
I have a tip for you: enjoy only a few Bushwackers. They are the most popular drink on the strip, and people want them because they taste like yummy slushies. It can be tempting to down many of them on a hot day or evening. Be warned, however, that they are a mixed drink, and the alcohol content can take you by surprise.
Another tip I have is if you don't like crowds, drunkenness, and business, visit on a weekday at around 10 or 11 o'clock.
Apart from that, enjoy yourself! It can be a wild and noisy place but a must-visit place in Nashville. For my guide on must-visit bars on Broadway, click here.
---
Printers Alley
Before the honky-tonks and bright lights of Lower Broadway, there was Printers Alley. This is a hidden gem in Nashville that you must visit.
It contributes to Nashville's seedy history as it was famous during the prohibition era in the United States and hosted speakeasies, dance clubs, and bars. Before that, in the 18 and 19 hundreds, it had print shops and publishers, hence the name Printers Alley.
The cobblestones of the Alley have seen the likes of five U.S. Presidents, millions of visitors, and huge names like Jimmy Hendrix and Louis Armstrong.
Famous bars include the Bourbon Street Blues and Boogie Bar, which has hosted B.B. King, Muddy Waters, John Lee Hooker, and Jim Belushi. To this day, they have live music, authentic Cajun and Creole food, beer, and cocktails.
Skull's Rainbow Room hosted Elvis Presley, Johnny Cash, Patsy Kline, Etta James, Paul McCartney, and Bob Dylan, to name a few. Today you can still catch a Jazz and Burlesque show. They host Jazz every night.
My favorite place to eat is the Fleet Street Pub. As an Australian, they serve genuine, English-style fish and chips and English beer. It's great.
An interesting fact is that Jimmy Hendrix played in a club in Printers Alley with his band, the King Kasuals. He is quoted as saying, "That's where I learned to play, really, in Nashville. When Hendrix played in the Alley, it was in a now-closed venue called The Jolly Roger. When Nashville songwriter Joe Chambers discovered the building was torn down, he took the stage out.
The stage he played on has been preserved and can be seen today at the Musicians Hall of Fame and Museum. For a complete guide on visiting Printers Alley, click here.
---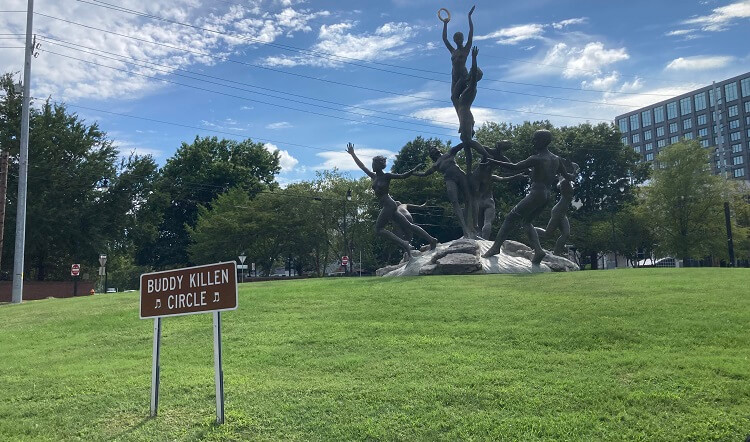 Music Row
Music Row is a quiet neighborhood in the heart of Nashville with an important place in history. The area provides another angle to Music City that most are unaware of. Yes, Nashville is a party town, but it's also been the hub of the recording industry for decades.
The area consists of homes converted into recording studios and record labels. Its heyday was in the 1960s-1990s when artists like Johnny Cash, Elvis Presley, Dolly Parton, Willie Nelson, Waylon Jennings, and many others recorded here.
Don't be confused; Music Row is different from Broadway. There are no honky-tonks or bars to visit on Music Row. However, if you're a music fan, you'll love simply walking through the neighborhood.
The Hop on Hop Off Trolley Bus is another fantastic way to experience Music Row. They have over 100 stops around music city for a great price, plus live commentary along the way.
Most people need to realize that Nashville is more than just country music. It may have been country music, but over the decades, the area evolved to embrace pop, rock, gospel, and Americana reflecting the city's diverse music scene.
You have a few ways to experience Music Row:
Find somewhere to park and take a walk. Stop at the Musica Statue, record labels along the way, and grab some photos.
Take a tour. As mentioned above, the Hop on Hop Off Trolley is an excellent way to hear about the Row and ask questions.
Drive. If you have a car, go for a drive, stop along the and enjoy yourself.
I wrote a complete guide to exploring Music Row that you can find here.
---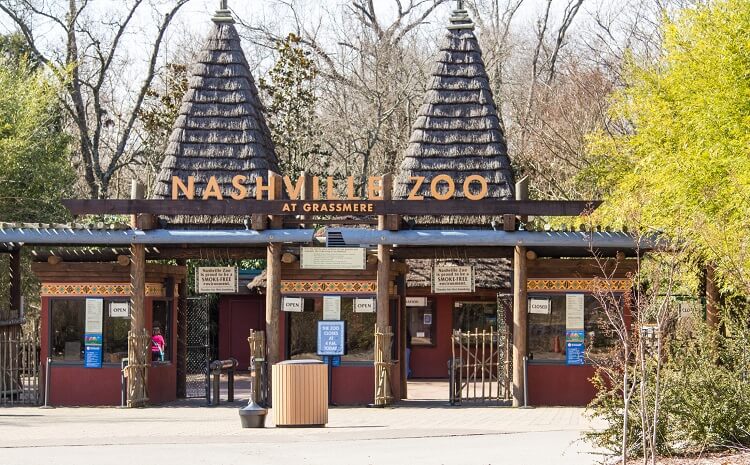 Nashville Zoo
The Nashville Zoo is spread over 200 acres. You can see animals from all over the world and have a fun outdoor experience. It's very kid-friendly and often has special exhibits during the year.
You can find giraffes, Kangaroos, White Rhinoceros, Spider Monkeys, Tigers, Snakes, and many more.
It's also very educational. You can get the chance to listen to Zoo Keeper talks about exhibits and tours with the animals.
Being an Australian, my favorite part is the Kangaroo exhibit, where you can go into a fenced-off area and pet the kangaroos. Other great things for the kids are zip lines, carousels, and a jungle gym, the largest community playground in the United States.
---
The Parthenon
The Parthenon is a must-see right in the heart of Nashville's Centennial Park. You'll feel like you're in Athens, Greece, instead of Tennessee! This place is a full-size copy of the actual Parthenon in Greece, and it's Nashville's nod to its nickname, the "Athens of the South."
Walking in, you'll spot an enormous statue of the Greek goddess Athena. It's hard to miss because it's 42 feet tall! This statue is the show's star, just like in the old days of Greece. You won't find a larger indoor sculpture in the Western world.
Here's what else you'll see inside:
Elgin Marbles: These sculptures are just like those on the actual Parthenon in Greece around 438 B.CB.C.
Parthenon Gallery: This spot has a bunch of paintings by American artists from the 1800s and 1900s.
Naos Room: Check out some old Greek stuff in here.
If you're bringing kids along, the Parthenon also has something special for them. There's an 'ArtCart' full of hands-on activities to keep them busy while they learn about art.
Don't leave without taking a picture outside. It's a great photo spot with the Parthenon behind you and Centennial Park all around.
And when you're ready to see more of Nashville, hop on the Music City trolley. It comes by about every hour.
Address: 2500 West End Ave, Nashville, in Centennial Park.
Hours: Tuesday – Saturday, 9 AM – 4:30 PM; Sunday, 12:30 PM – 4:30 PM.
Phone: 615 862 8431
Cost: Adults $10, Seniors (62+) $8, Children (4-17) $6, Children Under 4 FREE.
---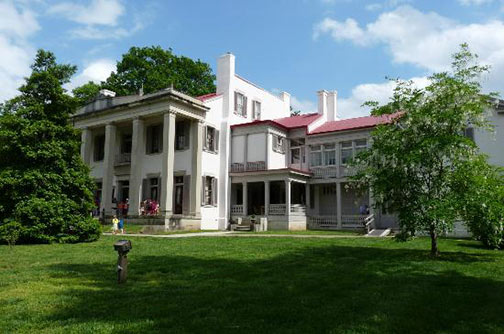 Belle Meade Historic Site and Winery
Belle Meade Historic Site and Winery offer a look at Nashville's past. It's a spot where you'll see a piece of history in the middle of the city. This place is a combination of a historic site and a winery.
The main attraction is the Greek Revival mansion. It's an old building from the 1800s with many stories to tell. A guide will show you around and tell you about the folks who used to live there.
Now, about the winery. Belle Meade Winery is inside the old carriage house. They make all kinds of wines here. You'll get to taste some after your mansion tour. The tasting includes a mix of reds, whites, and dessert wines.
What else can you see here? Well, there's a lot more than the mansion and winery. For example, there are:
The Dairy: This is where they made cheese and butter in the old days.
The Mausoleum: It's a small building where two members of the Harding family are buried.
The Carriage House and Stables: You'll see some old carriages here and learn about the famous Belle Meade horses.
The Smokehouse: They used this building to smoke meat.
The Log Cabin: This is one of the oldest buildings on the property. It was built in the 1790s!
There's an outdoor game box near the picnic area for the little ones. The box has some old-timey games that kids can play.
Address: 5025 Harding Pike, Nashville.
Hours: Daily, 9 AM – 5 PM.
Phone: 615 356 0501
Cost: Mansion Tour and Wine Tasting: Adults $24, Youth (6-18) $10, Children 5 & Under FREE.
Website: www.visitbellemeade.com
---
Walk of Fame Park
The Walk of Fame is a special place in Nashville. It honors musicians, songwriters, and music industry icons who have shaped Nashville and the music world.
This last Spring, the city induced Eric Church, Butch Spyridon, and my in-laws, Joe and Linda Chambers – that's me in the image next to Garth Brooks! 🤯
The Walk of Fame is free and located across the street from the Country Music Hall of Fame.
---
Tootsies Orchid Lounge
Tootsies Orchid Lounge is one of the most famous bars in Nashville. Initially opened by "Tootsie" Bess, she supported up-and-coming stars who would play at the Grand Ole Opry when it was located at the Ryman. The Ryman is butted up behind the honky-tonk, and back in the day, Tootsies was known as the "front door to the back door," meaning the Ryman.
It's a great place to experience Nashville live music, as it's long been a favorite spot for musicians and songwriters.
Bess would always take pictures of the artists who played there and add them to the Wall of Fame, which is still there today. You'll find that every inch of the walls is covered with the stars who have played here.
The building is multi-floored, and each floor has its band and bar. It's much more significant than you expect when looking at it from the outside.
One of the coolest features that weren't there in the 1920s is the rooftop bar that overlooks downtown. You can see all of lower Broadway, the Bridgestone Arena, the Cumberland River, and the Ryman Auditorium from the roof.
Even today, country artists from all over the world desire to play at Tootsies.
It is a must-visit location if you are coming to Nashville for the first time. If you are staying downtown, it's within easy walking distance of most downtown hotels, major attractions, and places to eat.
Address: 422 Broadway
Opening Hours: 7 days a week, 9:30 AM – 3 PM
Cost: No cover charge.
Website: https://tootsies.net
---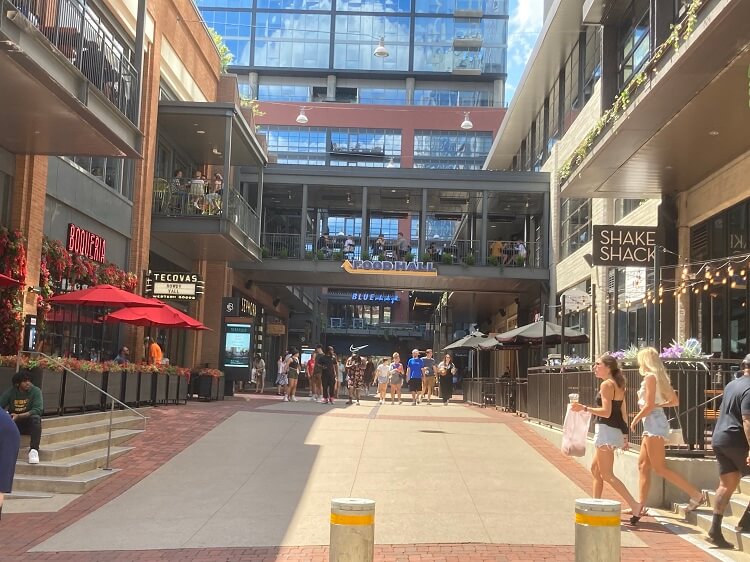 Fifth & Broadway
Fifth and Broadway is Nashville latest development that includes eating, shopping, and retail, all within walking distance of honky-tonk highway and The Ryman Auditorium. In fact, it's within walking distance of almost everything.
A top spot with eh Assembly Food hall where you'll find pizza, deserts, cocktails, salads, hot chicken, and burgers to just name a few.
Popular restaurants and eateries of note include Hattie B's and Princes (hot chicken) and CAVA (healthy salads).
For a full list of restaurants and bars, click here.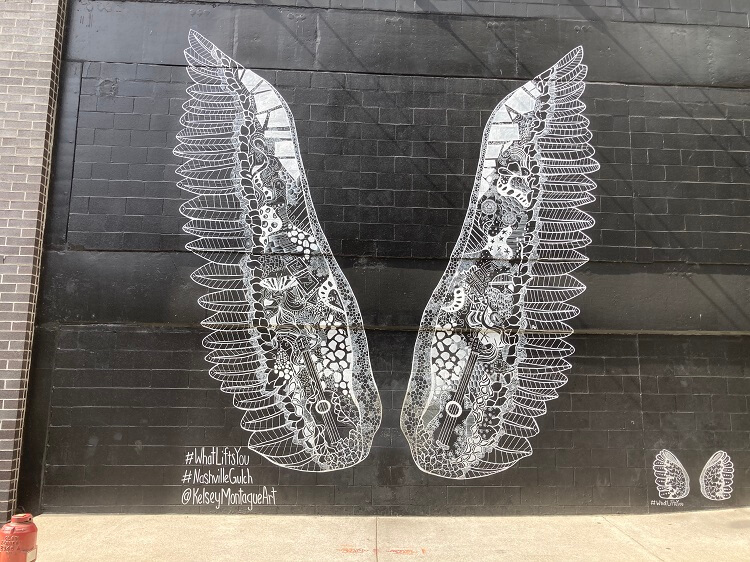 Explore The Gulch
The Gulch is an overlooked hidden gem to visitors of Nashville. However, if you are looking for a more urban, relaxed atmosphere, the Gulch is a great spot. It has many trendy restaurants, live music venues, boutique shops, and breweries.
The Gulch is considered to be downtown Nashville but is 10 minutes from the honky-tonks and the Ryman. Pictured above is the famous Wings Mural. Other spots to visit include the Station Inn, an authentic pickers, bluegrass and American roots experience. Also check out Carter Vintage Guitars or the Nashville Boot Co. to get a pair of genuine Nashville boots.
I wrote a complete guide to The Gulch vs Downtown Nashville that you can find here.
Pedestrian Bridge
The Pedestrian Bridge in Nashville, or as it's officially known, the John Seigenthaler Pedestrian Bridge, is one of those places you'd find intriguing. Named after the well-respected journalist and civil rights advocate, it's a 1,800 feet long and 80 feet high bridge that offers more than just a walkway.
If you enjoy biking, this bridge provides a great route, connecting the hustle and bustle of downtown Nashville to the more residential and calm East Nashville. You can enjoy the experience of a quiet, car-free ride while taking in the fantastic views surrounding you.
Speaking of views, that's one of my favorite parts about this bridge. The overlook of the Cumberland River and the city skyline is rather enjoyable. Day or night, the views are always worth the walk or bike ride across.
Don't worry about any entry fees; it's free to stroll on the bridge. You can spend as much time as you want, whether a quick morning jog or an evening walk under the stars. And if you're a night owl like me, you'll be happy to know the bridge is open 24 hours.
Lastly, one thing that always strikes me about the bridge is its history. Built-in 1909 as a railroad bridge, it's now a dedicated pedestrian and bike bridge, filled with people creating new memories and stories.
So, if you're staying in downtown Nashville and looking for a peaceful place to walk, jog, or cycle, try the Pedestrian Bridge. Its location at 101 Broadway makes it easily accessible from most downtown hotels. And who knows, you might even discover a new favorite spot in Nashville! For more information, check out their website: https://nashvilledowntown.com/go/shelby-street-pedestrian-bridge.
---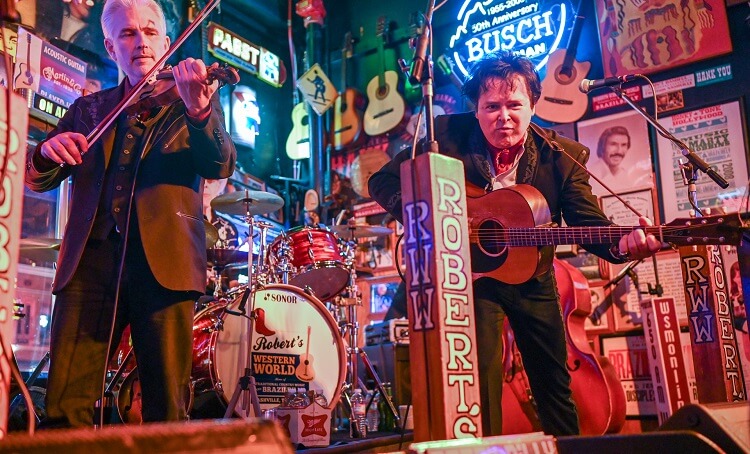 Roberts Western World
Everyone knows Nashville as the land of honky-tonk bars, but this bar is different and is the quintessential Nashville experience. The bands are top quality, and the dance floor is always thumping.
Roberts Western World has consistently named the "Best country music on Broadway." It's also regularly called the "Best Honky-Tonk in Nashville."
When friends and family visit me from out of town, this is the first place I take them to enjoy a taste of Nashville – it's simply a must.
The House Band is Kelley's Heroes, and they never disappoint. In addition, the food menu consistently serves up classic bar food.
They originally opened as a western wear store; it grew to include a kitchen and live music. The music starts at 11 AM and stays open until 2 AM.
It's not the biggest bar on the strip, so sometimes it can be crowded. Also, remember to tip the band, as it's the only way they get paid.
The venue has a truly Nashville feels, with one wall lined with cowboy boots that visitors worldwide sign.
The musicians who play here each night are genuinely incredible. Roberts has launched many guitarists and musicians into their huge careers. Their menu is famously simple and features a selection of burgers, sandwiches, fried bologna sandwiches, and a variety of beers and spirits.
You should visit for an authentic Nashville experience. To be honest, I'm not a country music fan. But whenever I take friends and family to Roberts, I get caught up in the music and fun.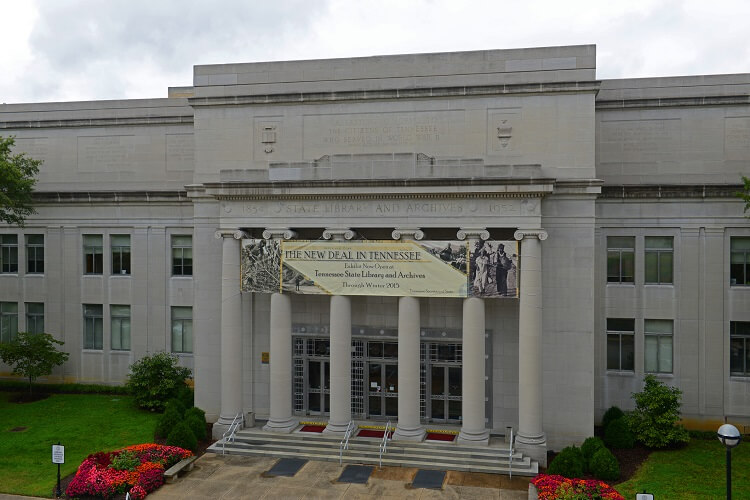 Tennessee State Museum
The Tennessee State Museum, located at 1000 Rosa L. Parks Blvd in Nashville, is a resource for anyone keen to delve into the state's rich history and culture​. The museum is usually open from Tuesday to Saturday, between 10 AM and 5 PM, and Sunday from 1 PM to 5 PM. Do note. However, it's closed on Mondays and holidays, such as New Year's Day, Easter, Thanksgiving, and Christmas​.
The museum's organization is truly unique. Its permanent exhibitions are arranged in the "Tennessee Time Tunnel." This is more than just your typical museum layout. It's a journey through Tennessee's past, presenting artifacts, stories, and exhibits from different eras of the state's history engagingly and interactively​.
Seven main sections make up the permanent exhibits:
Tennessee Time Tunnel,
Natural History,
First Peoples,
Forging a Nation,
The Civil War and Reconstruction,
Change and Challenge, and
Tennessee Transforms​.
Remember to check out the temporary exhibits during your visit too. With titles like "Building a Bright Future," "Remembrance: Military Representation Through Public Art at the State Capitol," "Early Expressions: Art in Tennessee Before 1900," and "In Search of the New: Art in Tennessee Since 1900," these exhibits provide a more dynamic exploration of specific themes and periods in Tennessee's history.
While the museum's offerings might seem vast, the well-organized layout makes it easy to navigate. Whether you're a history buff or just curious about Tennessee, the State Museum offers an informative and enjoyable experience. Plan enough time to explore the various exhibits, each rich with details about the state's heritage. The museum is easily accessible from most downtown hotels, making it a convenient stop for your Nashville itinerary.=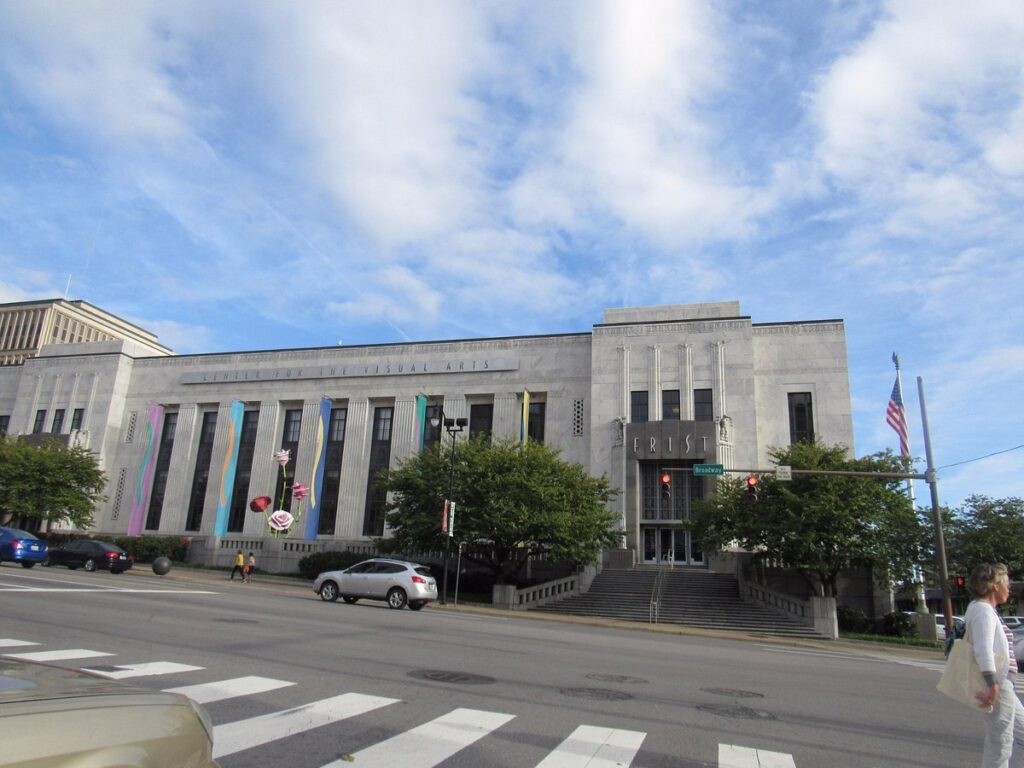 Frist Art Museum
You'll discover a range of exhibitions at the museum. For instance, visiting before August 13, 2023, you can catch "Storied Strings: The Guitar in American Art" and "Ron Jude: 12 Hz." For fans of Beatrix Potter, there's an exhibition called "Drawn to Nature" on display until September 17, 2023. The museum also showcases other exhibitions that run until later in year​.
It's not just about visual art, though. The museum also hosts a variety of events. On the last Monday of most months, it offers Homeschool Mondays. On the second Sunday of each month, there's Family Sunday, which includes various activities and tours. If you're interested in architecture, there's a free guided tour of the building every Saturday at 3:30 PM​.
Consider grabbing a bite to eat at the Frist Café to round off your visit. It offers a variety of sandwiches, salads, soups, and sweet treats. For those who prefer a quick snack, there's also a selection of grab-and-go items​2​.
This is a snapshot of what you'll find at the Frist Art Museum. You can find out more about current and upcoming exhibitions and events on the museum's website.
You'll find it in downtown Nashville, located at 919 Broadway. It's a convenient spot for most downtown hotel guests. Let's dive into what you can expect.
The museum opens at 10 AM on Monday, Thursday, Friday, and Saturday and closes at 5:30 PM. You have more time to explore on Thursdays as it stays open until 8 PM. Sunday visits start later at 1 PM and wrap up at 5:30 PM. Keep in mind that it's closed on Tuesdays and Wednesdays​.
Hatch Show Print
The Hatch Show Print is located inside the Country Music Hall of Fame. It has been making letterpress posters for over 140 years.
To this day, you can still see the process happening in their shop, and you can take a tour to learn more about it and shop some of the popular designs in their store. Believe it or not, the shop's main business and showing visitors around is making posters for artists today.
When the shop opened in 1879 did extensive format advertising, which included billboards, signs for the sides of buildings, business cards, and more. Today, their main focus is posters, of which they design about 800 per year for artists.
Companies today still seek out Hatch Show Print for advertisements because they like the typeset and the nostalgic feel it brings.
You'll have a blast walking around and checking out all the posters they made during their history, and it's fun to see their art still being used today.
They have worked with huge names like Elvis Presley, Dolly Parton, Collective Soul, Elvis Costello, and Aretha Franklin. They joke that it's easier to tell you who they haven't talked about than they have.
The shop has thousands of people who visit every year, and there are guides to answer questions and show you how the shop still works today.
They have a retail store where you can buy historic posters featuring names like Roy Acuff.
Today the sound of the old presses drowns out the noise of downtown, and the smells of paint fill the air.
You can book a tour by clicking here.
---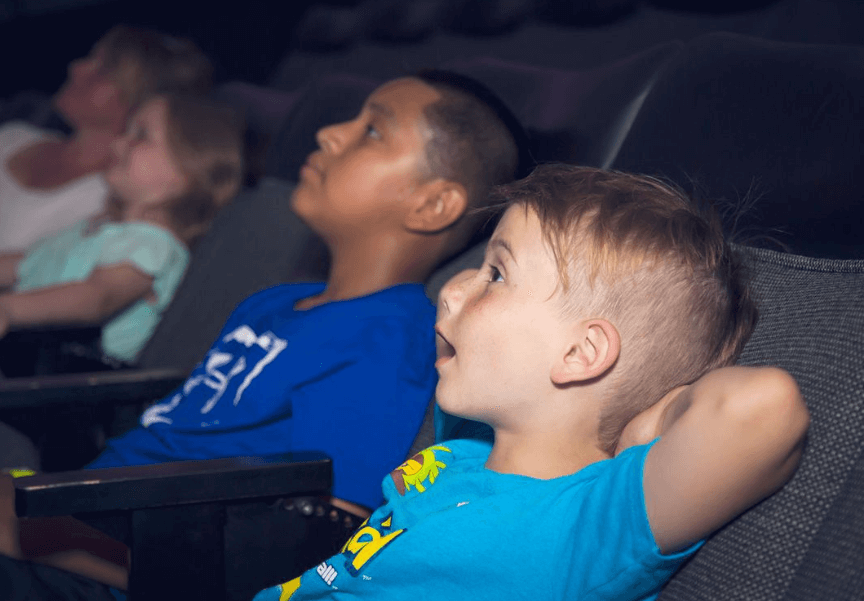 Adventure Science Centre
Adventure Science Centre is a non-profit science museum that first opened its doors in 1945. Today, it's home to over 175 interactive exhibits. You'll learn about many things, including biology, physics, chemistry, medicine, space, earth science, and technology.
The Adventure Science Center is more than just a collection of exhibits. It also has a top-of-the-line planetarium, and live science shows. The center is open daily from 9 AM to 6 PM. Adults get in for $19.95, seniors for $17.95, and kids between 2-12 years old for $14.95.
Let's take a look at some popular exhibits at the Adventure Science Center:
Max Flight: Full Motion Simulator. Here, you can feel the thrill of flying different aircraft, like a fighter jet, a commercial airliner, or a helicopter. This simulator makes you feel like you're in the pilot's seat.
Galactic Gardens: Want to learn about the universe? This exhibit has interactive displays and activities that let you explore the mysteries of space.
The Infinium Room. This exhibit will take you on a journey through the concept of infinity. It's mind-boggling but in a good way.
The Sudekum Planetarium: The planetarium offers various shows that let you explore the stars, planets, and galaxies. It's like taking a trip through space without leaving your seat.
So if you're in Nashville and have some time to spare, why not drop by the Adventure Science Center? Whether young or just young at heart, there's something for everyone.
Address: 800 Fort Negley Blvd, Nashville, TN 37203
Opening Hours: Daily, 9 AM – 6 PM.
Phone: 615 862 5160
Cost: Adults $19.95, Seniors $17.95, Kids 2-12 $14.95.
Website: www.adventuresci.org
---
Arrington Vineyards
Arrington Vineyards is a popular winery about 25 miles south of Nashville and party owned by country music artist Kix Brooks.
The vineyard has an onsite bar and wine tastings, and it's a chance to experience the Tennessee countryside.
The vineyard is open year-round, but April to November is the best time to visit. You'll enjoy the warmer weather with alfresco tastings and other outdoor events during that time.
You can expect more crowds during the summer, especially when they perform concerts and events. That said, keep the crowds from keeping you; the summer events are a lot of fun.
You can pair bottles of Arrington wines with snacks and enjoy them outdoors.
Take advantage of the Food Truck Fridays or afternoon jazz and bluegrass concerts.
A popular tour leaves Nashville each day on a luxury bus from downtown Nashville. It's a round-trip between Nashville and the vineyard and can accommodate strollers, wheelchairs, and service animals. This way, you don't have to worry about driving back! Learn more about it here.
It's a great way to spend a fall day! You'll enjoy wine tasting and sitting out on the lawn. The staff is friendly and welcoming; they take time to explain the process of ordering your wine-tasting flight and bottles of wine. Definitely worth it. Learn more here.
---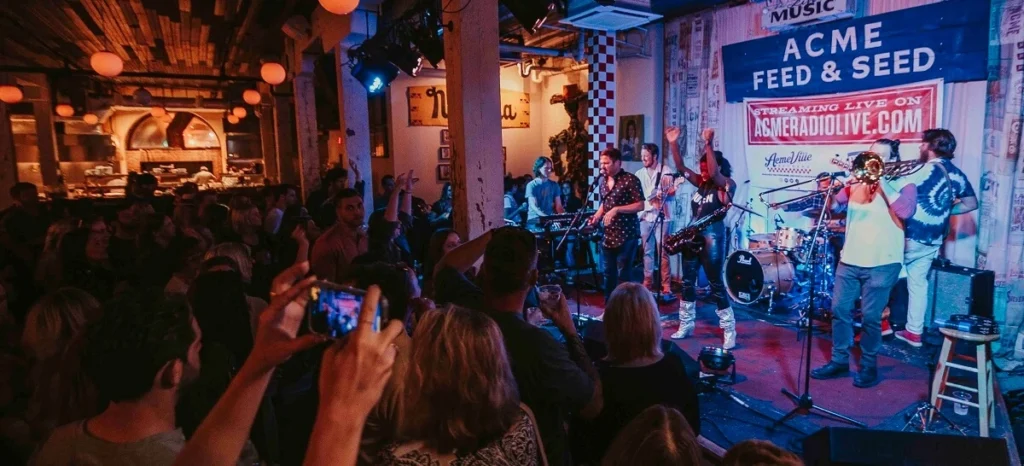 Acme Feed & Seed
On the first floor, you'll find the "Funky Tonk," a modern spin on the classic Honky Tonk, where you can enjoy a fast-casual dining experience, a selection of 28 beers on tap, and live performances from local musicians. The atmosphere is relaxed, with communal tables designed for socializing.
If you head upstairs to the second floor, it's a shift in ambiance. This floor houses a full-service restaurant that serves a more upscale menu. There's also a bar area that offers an extensive selection of cocktails. The second floor provides a slightly more sophisticated dining and drinking experience.
One of the best features of Acme Feed & Seed is its rooftop patio. You'll be treated to a panoramic view of Nashville's city skyline and the Cumberland River here. It's a perfect spot for winding down in the evening with a refreshing drink.
Whether you're looking for a laid-back meal, live local music, a refined dining experience, or a rooftop view of the city, Acme Feed & Seed offers it all. It's a venue that encapsulates different aspects of Nashville's food, drink, and music scene, making it a unique place to spend your evening.
Acme Feed & Seed is an entertainment venue at 101 Broadway, Nashville, TN 37201. It's a building with multiple floors, each offering a different experience. The venue opens at 11 AM and closes at 11 PM daily, with no admission fee. For more information, you can visit their official website at https://www.acmefeedandseed.com/.
---
Urban Cowboy
Housed in a historic Victorian mansion that dates back to the 1800s, this boutique hotel and bar is unlike any you've ever seen.
At Urban Cowboy, every room tells a story. The hotel offers eight suites, each with a design and personality. It's not just a place to rest your head; it's an experience that invites you to dive deeper into Nashville's culture.
Not just a hotel, Urban Cowboy also hosts the Parlor Wine Bar in its main house. Opening daily at 5 PM, you can enjoy evenings filled with live performances from some of the city's most talented local artists.
Outside, the old carriage house has been transformed into the Public House, a bar that's part local watering hole, part cocktail connoisseur's haven. Starting at 4 PM daily, you can mingle with locals, sample craft cocktails, and absorb the Nashville vibe.
What's more, Urban Cowboy is located right in the heart of East Nashville. You're only a short walk away from various local eateries, shops, and popular city spots.
Before you visit, here's some handy information:
Location: 918 Main Street, Nashville, TN 37206
Hours: Parlor Wine Bar opens at 5 PM daily; Public House opens at 4 PM daily
Admission: There's no charge to visit the hotel and bar
---
Musicians Corner
Musicians Corner is where you'll get a real feel for Nashville's music scene. It's a free outdoor music event, which makes it a great spot to chill out on a sunny afternoon.
Located in Centennial Park, you'll find Musicians Corner every weekend from May to September. Local musicians get up on stage and share their music with the crowd. You'll hear a bit of everything from country to blues, folk to rock here. This is Nashville, after all. Music is in the air.
What's neat about Musicians Corner is it's not just about music. It's a whole event. There are food trucks lined up serving all kinds of goodies. You can grab a bite to eat while you listen to the tunes. And there's an area for kids, too. It's called "Kidsville," and they have all kinds of activities for the young ones.
Another cool thing you'll see is the "MC Pub." This is where local breweries show off their craft beers. If you're a beer lover, it's an excellent place to try something new.
As for the music, it's more than just local artists who play here. Sometimes, big-name musicians stop by for a surprise performance. So you never know who you might see!
If you're wondering where to find Musicians Corner, it's near the corner of West End Avenue and 27th Avenue North in Centennial Park. Just look for the bandstand. And remember, it's free to attend. So why not check it out?
Address: Centennial Park, West End Ave and 27th Ave N, Nashville.
Event Time: May to September, Fridays and Saturdays, 5 PM – 9 PM.
Phone: 615 862 8400
Cost: Free
Website: www.musicianscornernashville.com
---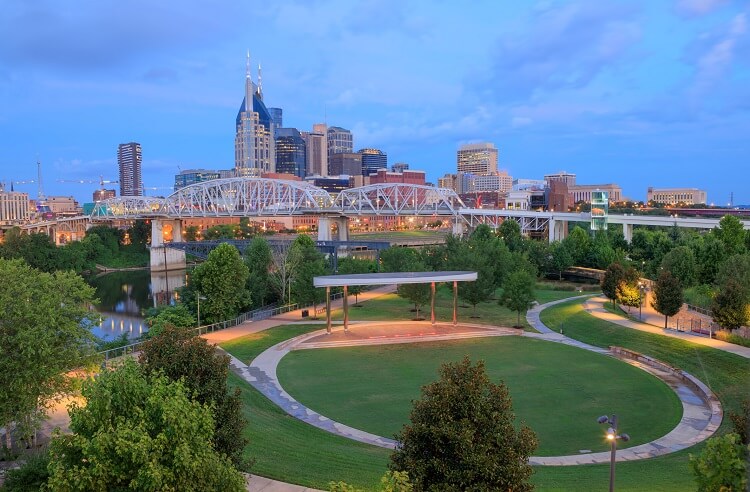 Cumberland Park
You'll find Cumberland Park in downtown Nashville, Tennessee. This place covers a good 6.5 acres. You'll find fun stuff like a playground and a splash pad in it. They've also got a pedestrian bridge and an amphitheater.
Every Saturday, the Nashville Farmers Market sets up shop in the park. It's open from 8 AM to 4 PM, so you have plenty of time to buy fresh, local produce and other goodies. Cumberland Park is open daily from when the sun rises to 11 PM. The best part? You don't have to pay to get in.
This park first opened its gates in 2012. It's part of the Riverfront Revitalization Plan. This plan also included fixing the nearby Bridge Building and creating The Lawn, an ample open space for fun activities and events.
Families, tourists, and locals like Cumberland Park. It's a nice spot to chill out, play games, or enjoy being outside.
Now let's talk about the park's features. There's The Hollow, a play area just for kids. It's got a sandbox, a bouncing pad, and even a green maze. Parents can have fun with their kids on a tandem see-saw.
Then there's The Scoops, a large, colorful climbing structure with slides on multiple levels.
You also have The Rainbow. It's a water feature that sprays out water from various jets. It's cool on a hot day.
The Cloud Bridge is a pedestrian bridge that sprays a misty rain, offering a quick cool down when it's hot.
And let's remember The Amphitheater. It can seat 1,200 people and hosts various events like concerts and festivals.
So, if you're ever in Nashville, check out Cumberland Park. You're bound to have a fun time there. Here's where you can find it:
Address: 592 S 1st St, Nashville, TN 37213
Opening Hours: Daily, Dawn – 11 PM.
Phone: 615 862 8400 Cost:
Free. Website: www.nashville.gov
---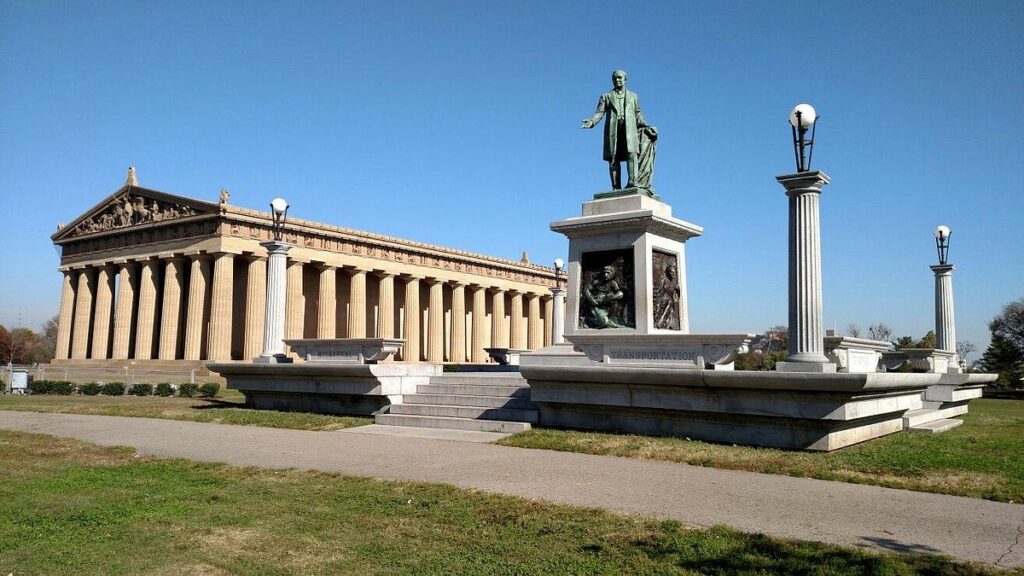 Centennial Park
Centennial Park in Nashville covers a vast area of 132 acres filled with various trees, flowers, and other plant life. Here, you can kick back, breathe fresh air, and enjoy nature. What you'll see are picturesque landscapes, including large ponds that are home to a variety of fish, ducks, and other water-dwelling creatures.
Frequently, Centennial Park hosts free events, which could be a pleasant surprise during your visit. These could range from concerts to festivals and other community gatherings. And when no events are happening, you should take advantage of the park's walking trail. It's a mile long and perfect for a casual walk or a more active run, depending on your mood.
Picnics are another popular activity in the park. You'll notice several picnic areas where family, friends, and couples enjoy outdoor meals.
Art lovers will feel included, too. You'll find the Centennial Art Center within the park's boundaries. This gallery showcases exhibits of artwork from artists in the local area and the surrounding regions.
A distinct feature of Centennial Park is Lake Watauga. This small lake offers different kinds of fun — paddle and row boats are available for rent. This is an opportunity for a peaceful boat ride where you can relax and take in the natural beauty around you.
Centennial Park truly reflects Nashville's love for community, music, art, and the outdoors. It's a place where everyone can find something to enjoy. If you're in Nashville, be sure to carve out some time in your itinerary to visit Centennial Park.
Address: 2500 West End Ave, Nashville, TN 37203
Opening Hours: Daily, Dawn – 11 PM.
Phone: 615 862 8400
Cost: Free.
Website: www.nashville.gov/parks
---
Hot Chicken
I used to work in downtown Nashville and, as a result, get Nashville hot chicken ALL THE TIME!
Did you know that hot chicken originated in Nashville? Yep! It started at Prince's Hot Chicken, which is still in operation today. Thornton Prince was served hot chicken by a jilted girlfriend who was mad at his late arrival one night. The joke is on her, however, because he liked it! What started as Prince's Hot Chicken has become a Nashville staple food ever since.
My first recommendation, therefore, is Prince's Hot Chicken. It's located in a prime spot downtown that is easy to walk to, across from the Ryman Auditorium and Bridgestone Arena.
If you don't like hot food, you can still enjoy it. They serve fried chicken with all sorts of heat, including a low-heat option.
My following recommendation is Hattie B's. The city has multiple locations, including on Broadway in the new 5th and Broadway development.
I wrote a complete guide to Nashville hot chicken that you can find by clicking here.
You may have to stand in line, but it's worth it.
The chicken is usually served fried on a piece of white bread. The bread is designed to soak up some of the flavor that comes from the chicken.
Fried chicken on its own is one of many options. You can get a burger, soft tacos (my favorite), sandwich, wings, tenders, fries, pickles, and more.
You'll want something to drink to cool you down. There are soft drinks and beers that will do the trick!
---
Nashville Murals
One of my all-time favorite activities in Nashville is wandering around the city's diverse neighborhoods in search of artistic treasures – the city's incredible murals. I've made it a point to seek these out each time I'm in the city. If you find yourself in Nashville and have a penchant for public art, exploring these murals is an activity you'd thoroughly enjoy.
Our first stop is the hip and artsy neighborhood of East Nashville. You'll find the iconic 'I Believe In Nashville' mural here. You'll spot it on the side of a building on 12th Avenue South. This mural is a loving tribute to the city, created by local artist Adrien Saporiti, and it has quickly become a favorite selfie spot for locals and visitors alike.
For fans of avian-themed art, the Gulch district is a must-visit. On the side of a building on 11th Avenue South, you'll see the colossal 'What Lifts You' mural by Kelsey Montague. This mural features a pair of intricately patterned wings that are ready to lift off the wall. It's a magical backdrop for photographs.
Remember to wander around 12 South, where you'll find several vibrant murals quickly. One of them, a collection of rainbow-colored stripes adorning the side of Draper James, is an irresistible pop of color.
If you're into photography or enjoy great art, Nashville's murals offer plenty of opportunities for both. It's a fun way to explore the city and get a feel for the local culture. Each mural has its unique story and a different artist's perspective to offer, making this an ever-changing and always exciting artistic landscape to explore.
Lastly, remember to respect the artwork. The murals are essential to the city's culture and should be preserved for everyone to enjoy. Now, grab your camera, put on your walking shoes, and get ready for an urban adventure that's sure to be a highlight of your Nashville visit.
Note: The murals can be found in various locations around the city and are free to view. Most are within easy reach of downtown hotels. Just make sure to check the sites before you go.
---
Midtown – Mini Broadway
Midtown is known as a "mini Broadway" and is little known to Nashville visitors – but it shouldn't be that way!
It's a short drive, or Uber ride up from Lower Broadway and features many fun bars, clubs, and restaurants, all within walking distance on Division Street.
Midtown is a welcome relief to tourists in cowboy boots and hats.
There are cocktail bars, karaoke bars, hot chicken, dive bars, and more. Plus, you'll experience culture more as a local than a tourist.
When visiting, my parents enjoy staying here the most as it's still in downtown Nashville but close to Music Row, Vanderbilt, and Centennial Park.
I wrote a comprehensive post called Must-Visit Midtown Nashville Bars for a Fun Night that you should check out for an in-depth review.
---
Madame Tussauds
Oh, I remember my first time stepping into Madame Tussauds in Nashville. That moment of surprise when you come face-to-face with a lifelike statue of Elvis Presley, it's almost as if "The King" himself is in the room!
If you're like me, a fan of music of all sorts, Madame Tussauds here in Nashville is the place for you. Located in the Opry Mills shopping complex, it's different from your usual wax museum. It's the only Madame Tussauds in the world dedicated entirely to music. That's right – all the wax figures you'll encounter are music legends, each crafted with fantastic detail.
Picture this: you walk in and are greeted by Johnny Cash. Everything is remarkably real, from the height of his hair to the shine on his boots. And it's not just about looking – you can pose next to him, making for a memorable photo op!
Right there with Johnny Cash, you'll find over 100 wax figures of musical greats. They've got everyone, from Dolly Parton and Taylor Swift representing country music to rock legends like Jimi Hendrix. Don't be surprised if you also bump into Rihanna and Stevie Wonder!
The best part is it's not just about observing. The museum encourages a hands-on experience. You can step into a recording studio and sing alongside your favorite stars at the "Sound Stage." There's even a "Backstage Pass" where you learn about what goes on behind the scenes in the music industry.
It doesn't matter whether it's winter, Spring, summer, or fall; Madame Tussauds Nashville is always open for music lovers like you. You can buy your tickets online or at the entrance.
Here are a few specifics you might need:
Timings: Open every day from 10 AM to 8 PM
Address: Opry Mills, 322 Opry Mills Drive, Nashville, TN 37214
Pricing: $33.99 for adults, $31.99 for seniors, and $25.99 for children aged 3-11
---
Gray Line Nashville City Tour
Starting from the Gray Line Ticket Booth at Paradise Park on Broadway, you'll find yourself in a comfy bus, cruising through the streets of Nashville. Keep your camera ready as the city's famous landmarks will unfold before you, one by one.
As the bus hums its way through the city, you'll pass by the legendary Ryman Auditorium, which has heard the echoes of many famous voices. Next, feast your eyes on the Country Music Hall of Fame and Museum, a treasure trove preserving the soul of American music. You're in the city of music, after all.
The Johnny Cash Museum is another place the tour will lead you past. Even from the outside, it resonates with the memory of the Man in Black. The Frist Art Museum, a marvel of art deco architecture, and the Tennessee State Capitol, a majestic Greek Revival building, are other iconic stops on this whirlwind tour of Nashville.
You'll also glimpse the Parthenon and Centennial Park, a slice of ancient Greece in the heart of Tennessee, and the vibrant Gulch neighborhood. And remember the Bridgestone Arena, home to many unforgettable concerts and sporting events.
Here's a little tip: Sit back, relax, and let the tour guide's narrations weave stories of Nashville's history and culture around you. It's a great way to get acquainted with this fascinating city.
The Gray Line Nashville City Tour is a perfect introduction to Music City, whether you're a music lover, a history buff, or just curious about Nashville.
As for the specifics:
Adult tickets are priced at $25, seniors at $22, and children (ages 3-11) at $17.
The tours depart every 30 minutes.
---
Nashville Shores
Nestled on the edge of Percy Priest Lake, it's a water park that spans a huge area and offers a perfect retreat for those scorching summer days. Here are some details about this cool spot that you might find handy.
The park brims with activities, ensuring that there's something fun for you no matter who you are. For those who crave a bit of adrenaline, the park features ten exciting water slides, each offering a unique thrill. The first time I tried the slides, the rush of water and the fast pace was exhilarating. Then there's a gigantic wave pool, and riding those artificial waves feels as good as any beach.
The lazy river is just the thing if you prefer a more relaxed vibe. On my visit, I enjoyed a peaceful float around the park, soaking in the sun and the sights. It's like having a leisurely boat ride only on an inflatable tube.
There's a special children's water park for little ones that mixes fun and safety. It's a riot of colors, sprays, and small slides, always buzzing with laughter and joy.
Take advantage of the beach area! You can build sandcastles, enjoy picnics, or relax by the waters. Try the zipline course for a little more adventure; it provides a fantastic view of the park and the lake.
Open daily from 10 AM to 6 PM between Memorial Day and Labor Day.
Adult tickets are priced at $39.99, while those for kids aged 3-11 are $32.99.
It's located at 1000 Roaring Waters Parkway in Hermitage, a short drive from downtown Nashville.
Check out their website for more details and possible discounts: https://www.nashvilleshores.com/.
Buttermilk Ranch
Buttermilk Ranch, located in Nashville's 12th South District, is a well-known restaurant serving breakfast and brunch dishes. Renowned for its pastries, baked fresh on-site, Buttermilk Ranch offers a diverse menu catering to all tastes.
Breakfast at Buttermilk Ranch includes classic items like pancakes, eggs benedict, biscuits, and gravy. A few unique dishes, such as the Churro Croissant and the Chicken Caesar Pita, also feature on the menu. You'll find something here whether you're seeking comfort food or a new dish to try.
Buttermilk Ranch extends its service beyond breakfast and brunch. You'll also find a range of salads, sandwiches, and bowls, providing alternatives for lunchtime visitors. The restaurant has a full-service bar, offering a range of drinks from coffee to cocktails and beer.
The restaurant sits in a bustling part of the 12th South district, providing a perfect spot for a casual breakfast or brunch.
Address: Buttermilk Ranch, 2407 12th Ave S, Nashville, TN 37204
Hours: Open from Wednesday to Sunday, 8 AM to 4 PM
Website: https://buttermilkranch.com/
---
If you're heading down south on vacation, you may be asking yourself, "what is the best time to visit Memphis?" …
Read more