---
What is Printers Alley in Nashville
---
Printers Alley has a long and storied history that most, especially locals, have little knowledge about. Tourists and locals alike should discover more about this hidden, almost seedy, part of Nashville's history. Before the bright lights and busy streets of Lower Broadway, Printers Alley was the nightlife hub where all the action was.
Today, Printers Alley is tucked away between Third and Fourth Avenue in Downtown Nashville and is still open and hopping. Only a street away from Lower Broadway, it's worth paying a visit.
In this post you'll learn about the amazing history, bars, restaurants, and places to stay on Printers Alley, Nashville.
In the 1800's and 1900's Nashville was a very different place. Did you know that prior to being the equivalent of the Las Vegas strip, Lower Broadway in Nashville was home to hospitals and warehouses that served troops during the Civil War?
The buildings that now support the best music of all genres, used to support food rations and hurting soldiers during America's turbulent past. For a guide to the must-visit bars on Lower Broadway, click here.

---
Printers Alley History
---
The name "Printers Alley" comes from Nashville's connection to the printing and publishing industries and is a hidden gem, even to Nashville locals. At the start of the 20th century, the alley was home to two large newspapers, 10 print shops, and 13 publishers. It also used to be home to a thriving banking industry. The alley later became the center of Nashville's nightlife, servicing the restaurants and hotels on fourth avenue.
Before the high rise buildings and bustling commerce that now characterizes Nashville, this area was just a plot of land that was donated to the city of Nashville in the late 1780's. According to the Nashville Scene, the land was donated by Michael Deaderick, a Virginia businessman and planter. He wanted to engender goodwill toward the city that he now called home. At the time there were buildings being constructed along College and Cherry Streets, now known as Third and Fourth Avenues.
During Prohibition that went into effect in Tennessee in 1909, Printers Alley became home to a number of speakeasies. Speakeasies are saloons and bars that sold illegal alcohol during the time of prohibition. When Printers Alley first became home to a vibrant nightlife and entertainment area, alcohol was illegal.
When the nightclubs opened, the alley became a place where performers like Chet Atkins, Waylon Jennings, Hank Williams, and Dottie West made their mark.
There is a real sense, when you enter Printers Alley, that you feel like you are walking through a different era of American life. It's hard to overstate just how influential and important Printers Alley is to Nashville. It's been home to the largest personalities in show business.
It's a small alley that celebrated debauchery and sin of all kinds whether raging alcoholism, prostitution, or nudity. Not passing judgement, just stating how it was. It's also an era that harkens back to the days of horse and buggy, cobblestones, and prohibition.
The sign pictured above reads:
"Rich in the heritage of American history, world famous Printers Alley carries a hundred year tradition of entertainment excellence. Millions of visitors have been entertained here by time honored guests ranging from W.C. Fields of Vaudeville days, to todays superstars of stage, screen, and television. These cobblestones have been trodden by five US Presidents and scores of international diplomats. People from all walks of life…from all over the world come here to enjoy the variety of entertainment offered in Printers Alley. History surrounds you here. The walls of these buildings bespeak our age, heritage and serve as constant reminders of our historic entertainment past. We are proud of our heritage and prouder still to offer to you our patrons. Thank you for visiting, world famous Printers Alley."
---
What You Should Know Before You Go
---
Most areas of Nashville, like the famous Broadway strip, are open all day every day. Printers Alley is not. If you go during the day, you're likely to be disappointed. Printers Alley comes alive beginning at 6 pm at the earliest. Some of the bars and restaurants don't open until 9pm! The area gives you the feeling of the 1940s debauchery without the huge crowds and loudness of the Lower Broadway honky-tonks. It also has an artistic and eclectic feel, regardless of the time of day. Also, you may find that the quieter times suit you. Listed below you'll find a range of bars and restaurants with varying open times. It's recommended you call before you come if you want to visit a particular spot.
---
Interesting History Fact….
---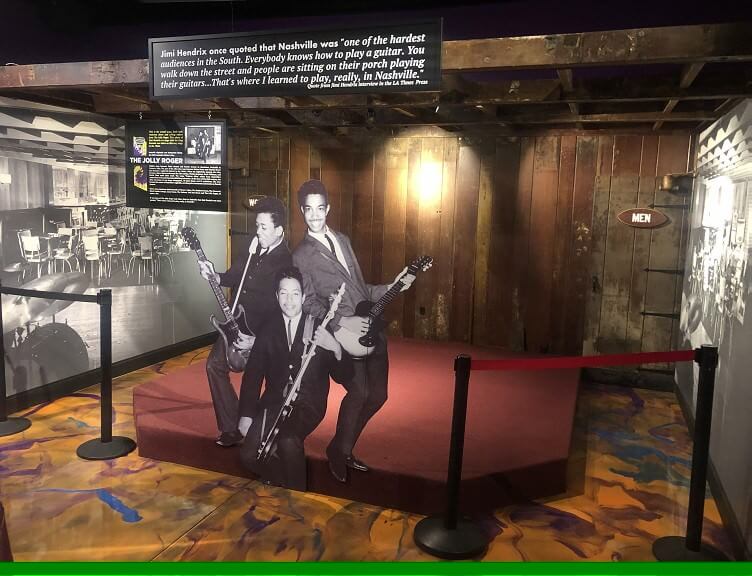 In the 1960's there were numerous clubs located in Printers Alley that have since closed; The Rainbow Room, The Carousel, Black Poodle Lounge, Luau Room, The Embers, Voo Doo Room and The Jolly Roger, to name a few.
Jimi Hendrix was a regular performer here, he used to play with the band the King Kasuals. Hendrix is quoted as saying of Nashville that it's "One of the hardest audiences in the South. Everybody knows how to play a guitar. You walk down the street and people are sitting on their porch playing their guitars…That's where I learned to play, really, in Nashville.
Pictured above is the actual stage, back wall restroom doors and ceiling rafters from The Jolly Roger. The photo at the front was with the King Kasuals on that very stage in the 1960's.
The stage has been preserved to this day in the Musicians Hall of Fame and Museum in Downtown Nashville.
---
Is Printers Alley Nashville Safe?
---
Yes, Printers Alley in Nashville is safe. What you'll find is an eclectic and artsy alley where most people are nice, and you will not feel unsafe. The area is well lit at night, and they do a really good job of cleaning the area and keeping it looking nice. During the day there aren't many people except for tourists and workers. During the night there are a lot of people and a solid police presence nearby.
---
Printers Alley Bars & Restaurants
---
Bourbon Street Blues and Boogie Bar
Under the famous neon sign, Bourbon Street Blues and Boogie Bar has been open for several decades and is a very popular place. Such greats as James Brown, B.B. King, John Lee Hooker, Muddy Waters, and even Jim Belushi have played here. 7 days a week the bar serves up fantastic live music. The bar and restaurant has become known as a place for fabulous Nashville entertainment.
They serve authentic Cajun and Creole food, beer, and cocktails. You'll also find a full menu of New Orleans style seafood, sandwiches, baskets, and deserts. See their full menu here.
Skull's Rainbow Room
Founded by David Skull Schulman in 1948, it has hosted entertainers like Elvis Presley, Johnny Cash, Patsy Kline, Etta James, Paul McCartney, and Bob Dylan, just to name a few. Paul McCartney mentions Printers Alley in his song "Sally G." when he says, "The night life took me down to Printers Alley."
Interesting fact: in 1998, Schulman was killed in a robbery at the club, which resulted in the club closing for 18 years!
Today, they are open and continue their legendary Jazz and Burlesque shows. They have live Jazz every night. Thursday, Friday, and Saturday, they have live burlesque shows. For the burlesque shows, there is a cover charge of $20 cash with standing room only. It starts at 11 pm.
They serve award-winning food, beer, wine, & cocktails.
Bobby's Garage
Bobby's Garage is connected with the Bobby Hotel. The entrance to the bar is in Printers Alley. It follows a garage theme with neon lights, wall graffiti, and salvaged car parts. Staff wear denim work shirts and wipe down the concrete bar with mechanic rags.
They serve food and drinks in a laid-back atmosphere that allows you to look out the windows at people passing by in the alley. Learn more here.
The Climax Saloon
Opened in 1887 by George Dickel and Company, it became a primary outlet for the sale of their whiskey. On the first floor and in the basement were Can Can dancers for entertainment. The second floor was a pool hall, and the third floor was for men seeking prostitutes. The building is also known as Embers Building.
The Brass Stables
As the name implies, this literally contained brass stables. At one time, Andrew Jackson, a former U.S. President, maintained their horses at this location. Eventually, it became one of the most popular strip clubs in Nashville.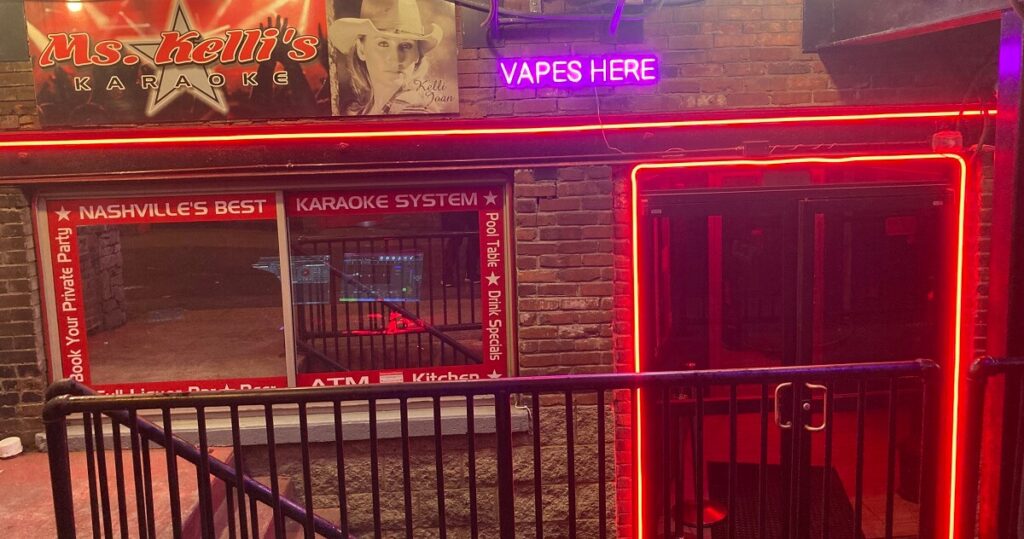 Miss Kelli's Karaoke
This is one of the largest karaoke bars in the state of Tennessee. It's family-owned and operated and services 21 and over only with no cover charge. They have a long list of songs, beers, pub food, and space to dance.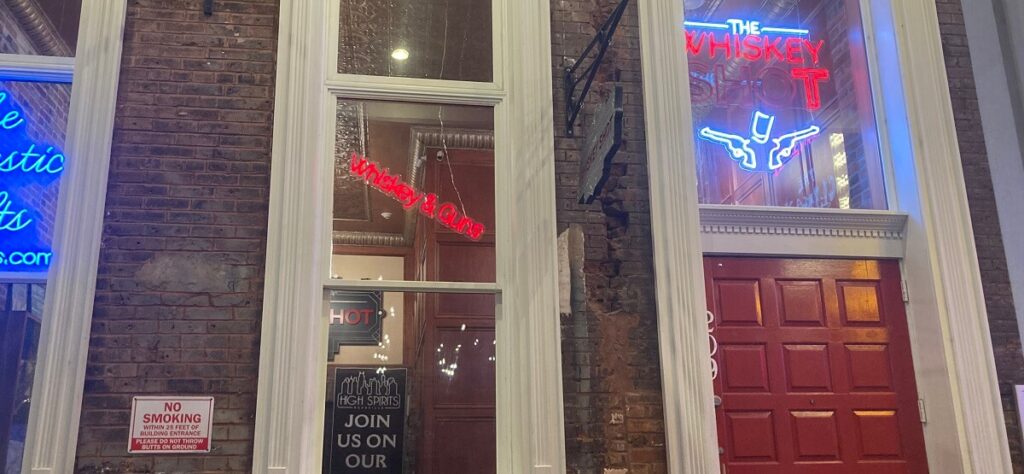 The Whiskey Shot
The Whiskey Shot combines the drinking of alcohol with laser gun target practice. They offer an upscale dining experience with southern classics prepared by their chef and served in the historic dining room.
They serve all kinds of food, including salads, sandwiches, chicken, brisket, and drinks. See their full menu here.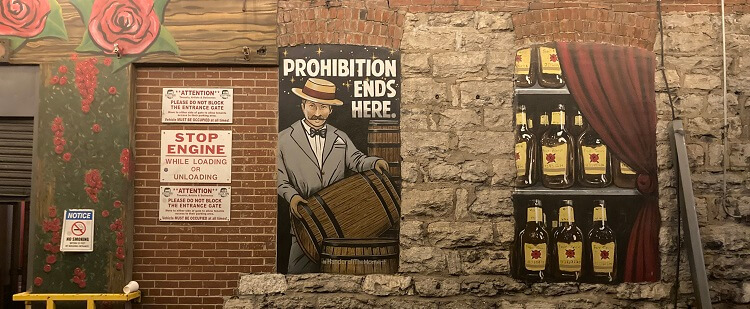 Alley Taps
They have live music every day of the week and happy hour every single night. They serve local craft beer and cocktails. They also serve standard pub fare including meat and cheese, and chips and dip. Find their menu here.
Snitch
Snitch celebrates the liberties of legal drinks with happy hour every day from 6-8. Featuring live music and monthly rotating craft and local beers, they are a platform for musicians with weekly live events. Learn more here.

Fleet Street Pub
The Fleet Street Pub is a British-owned pub. They have fish and chips in three different styles: bangers and mash, shepherd's pie, and beef and lamb burgers. It's a great place to eat. All the food is made on-site. That includes the sausages, sauces, batter, and fries. Nothing is manufactured or bought in.
They are open from Sunday – Thursday, 11 am to 1 am, and Friday – Saturday from 11 am to 2 am. Great for lunch or dinner, and you must be at least 21 years old to enter. For my full review of Fleet Street Pub, click here.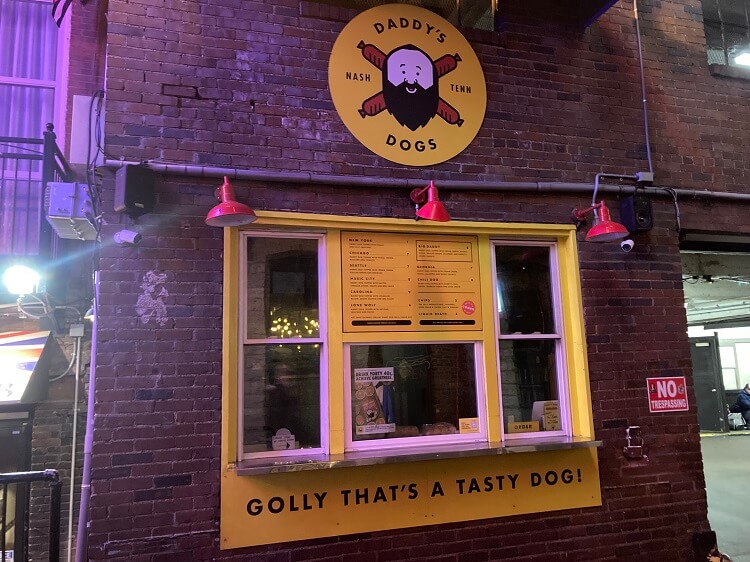 Daddy's Dogs
This is a hot dog restaurant that is only open from 9pm – 2am. They have about a dozen different styles of hot dogs. Favorite menu items include the Music City Hotdog and the Mexican Coke. They claim to be the best hot dogs you've ever had. Learn more here.
---
Hotels in Printers Alley Nashville
---
Bobby Hotel
Located at 230 4th Avenue North, the Bobby Hotel is steps away from Printers Alley and Broadway in downtown Nashville. This boutique hotel offers a rooftop bar, pool, and on-site restaurants. Bobby's Garage is the garage-themed bar that opens onto Printers Alley. Learn more here.
---
Noelle
An excellent hotel with 4.5 ratings on TripAdvisor. It offers amenities such as free Wi-Fi, valet parking, a fitness center, a banquet room, a rooftop terrace, a bar, a lounge, etc. It is also pet-friendly. Undoubtedly, one of the best hotels near Broadway in Nashville, TN. Learn more here.
---
Dream Nashville
Situated on 4th Avenue North, Dream Nashville is conveniently located near the Country Music Hall of Fame and Museum, Ryman Auditorium, Nissan Stadium, and the Broadway strip. It is one of the best hotels near Broadway in Nashville TN. It offers amenities like valet parking, free high speed Wi-Fi, fitness center, lounge, bar, meeting room, concierge, six dining and nightlife options and 8,000 square feet of flexible event space. It is also pet friendly. Learn more here.
---
Fairlane Hotel
Located at 401 Union Street, this boutique hotel is located in the heart of downtown Nashville and features an on-site restaurant, delicatessen, and coffee shop. Learn more here.
---
Hotel Indigo
This location is right at the head (North End) of Printers Alley with a great view. Close to Assembly Hall, I recommend Prince's Hot Chicken. There is a new lobby that serves breakfast, lunch, and dinner. Live music every evening. Only a few blocks away from Broadway but far enough away so that you don't hear all the noise. Learn more here.
---
Nashville Printers Alley Lofts
---
The Majestic Lofts
The Majestic Lofts are apartments that provide up to 300 sq. ft. with homelike comforts with Printers Alley right outside the door. The apartments are amazing. They provide a wow factor by keeping the historic feel of Printers Alley in Nashville while being a beautifully refurbished space with all the conveniences of home.
The lofts are within walking distance of all the major attractions, including Lower Broadway, the Ryman Auditorium, and the Country Music Hall of Fame. Learn more here.
---
Printers Alley Lofts
Printers Alley Lofts provides upscale vacation rentals in Nashville located in Printers Alley. Each loft features brick walls, hardwood floors, high ceilings and luxury linens and towels. Located near the famous lower Broadway honky-tonks, Tennessee Titans LP Field, Bridgestone Arena, Ryman Auditorium, Country Music Hall of Fame & Museum, Music City Center, Ascend Amphitheater, and more. Learn more here.
---
Printers Alley FAQ
---
Does Printers Alley still exist in Nashville?
Yes, Printers Alley still exists. It's alive and well. You can still enjoy the historic alley today. It has served different uses over the last century. From a newspaper printing and banking hotspot at the beginning of the 1900s to the location of speakeasies and nightclubs during the 1940s. Today, it still holds a diverse selection of bars, clubs, restaurants, and burlesque shows.
What is Printers Alley Famous For?
Printers Alley is known for its historical significance as the hub of the city's printing and banking industry in the early 1900s. Over time, the alley has evolved to be a highlight of Nashville's entertainment industry, featuring bars and clubs that have seen the world's most famous entertainers perform. Today, it's a popular tourist destination that offers history and entertainment.
Why Do They Call it Printers Alley?
It's called Printers Alley because of the thriving printing industry in the 19th and 20th centuries. It was home to numerous printing shops, publishing houses, and related businesses during this time. Over time, the alley was transformed into a hub for speakeasies, clubs, restaurants, and nightclubs. Today, it's and has become a vibrant entertainment spot in Nashville.
Is Printers Alley Worth It?
Printers Alley is worth it if you'd like to see a side of Nashville different from Lower Broadway. It captures a glimpse of Nashville's history and nightlife. So many bars are the same as in the 1940s, and the cobblestones you walk on have been trodden on by the rich, powerful, and famous.
What is the Famous Street in Nashville with All the Bars?
Broadway. Most bars are located on Lower Broadway between 1st and 5th Avenue. Known as "honky-tonk" highway or "Nash Vegas. Over half the bars are owned by country music artists. It's considered the heart of Nashville's entertainment district and is lined with bars, restaurants, and rooftop lounges. The street is also close to many cultural landmarks like the Ryman Auditorium.
What is the Famous Alley in Nashville?
The most famous alley in Nashville is Printers Alley. It's located between 3rd and 4th Avenues in downtown Nashville. It should be a must-see location for all visitors to Nashville. It contains part of Nashville's decadent publishing and music history. Today, many bars, nightclubs, and restaurants provide incredible entertainment on all days of the week.
Is Printers Alley the same as Broadway?
No, Printers Alley is not the same as Broadway. They are both located in downtown Nashville but represent different parts of the city. Broadway runs from the Cumberland River waterfront and is lined with neon-lit honky-tonks and is the beating heart of Nashville's country music scene. Printers Alley was known for the publishing and print shops of the early 20th century. Today, it's a hub of nightclubs, bars, live music, and nightlife.
---
If you're heading down south on vacation, you may be asking yourself, "what is the best time to visit Memphis?" …
Read more