You've streamed their songs, seen their faces in trending YouTube videos and the CMA's, and followed their lives through the roller-coaster ride of fame. Now, imagine walking the same streets they do, sipping coffee in their favorite cafes, or just basking in the same vibrant culture that they call home. Nashville is a living, breathing celebrity hub.
In this star-studded city, your favorite artist could be strumming a guitar at a corner pub or sampling the local hot chicken next to you (no joke!). It's a place where the line between fan and superstar blurs, where you're just as likely to encounter a Grammy winner as you are a friendly local. And who knows, the next autograph you snag might just be from a familiar face you've only ever seen bathed in the glow of stage lights.
But who exactly are these famous faces that call Nashville home? In this blog post, we've compiled a list of 27 celebrities—some of whom you might be surprised to learn have roots planted deep in the Tennessee soil. Join us on this star-studded journey and discover the hidden celebrity heart of Nashville. Because here in Music City, you never know who you might bump into around the next corner. So, keep your eyes peeled and your camera ready—you're in for an unforgettable Nashville adventure!
You might also like: Do Celebrities Go To Nashville Bars?
---
Celebrities Who Live in Nashville
---
Garth Brooks & Trisha Yearwood
Garth has put his name quite high on the list of the bestselling country artists of all time. Did you know that Garth has nine albums that are certified Diamond, he's the only artist in music history to achieve this feat, beating the Beatles' former record of six.
Garth married fellow country music star, Trisha Yearwood in 2005 and they've been waxing stronger ever since. Garth and Trisha own many properties around the country, but their primary home is in Goodlettsville, Nashville.
They spend most of their time in Nashville and are active members of the Nashville music community. Both Garth and Trisha have volunteered for Habitat for Humanity (a nonprofit that provides housing for people in need) for over a decade. They're also active supporters of MusiCares and Vanderbilt Children's Hospital.
You might run into one or both of them at a store or restaurant but don't bank on it. Over the years, they've performed countless times at the Grand Ole Opry, Bridgestone Arena, and the Ryman Auditorium among others. It doesn't look like they'll stop performing at these venues anytime soon.
Chris Stapleton
American singer and songwriter Chris Stapleton who makes souls dance with his bluesy country music also loves what Nashville has to offer. He's married to fellow singer-songwriter Morgane Stapleton and they live near Nashville together with their kids.
Moving to Nashville was a strategic career move for Chris and he got a deal with a publishing house shortly after his move to Nashville in 2001.
Chris and his family have lived in 2 homes in Nashville, the first they sold in 2017 to purchase a much bigger place in Franklin, Tennessee. The Stapleton house reportedly has fountains, a waterfall, horse trails, and an equestrian center.
You've probably seen the viral video about Chris meeting a girl with autism. The girl's mother told Chris that sometimes his music is the only thing that calms her down and it warmed his heart. Chris is always happy to meet his fans and stories of how his music makes a great impact is what keeps him going.
---
---
Eric Church
Growing up in North Carolina, Eric was exposed to different music genres, including blues, rock, and country. His fans live and breathe his music because of how much of his personality he adds to each song.
He moved to Nashville in the late 90s to pursue his music and in 2006, he signed with Capitol Nashville to release his debut album.
Eric currently stays at Granite Falls in Nashville. He claims his estate gives him peace of mind and seclusion he can't find anywhere else.
In 2013, Eric and his wife, Katherine, established a non-profit organization called the Chief Cares Fund to help people in the US and all around the world and the organization has only grown each year. He has also mentored young artists and supported Nashville's music venues.
Vince Gill & Amy Grant
Vince has collaborated with artists like Dolly Parton and Reba McEntire so you can tell how successful he is. He wrote and sang multiple hit songs and won multiple Grammy awards so he's one of the big shots in the Country Music Industry.
Like many other Country artists, Vince moved to Nashville in the late 1970s when the city was all the rage in hopes of making it big and he did. He played at local clubs until he landed a gig as a backup singer and guitarist for Rodney Crowell. He landed his first major recording contract shortly after and the rest is history.
Amy on the other hand, grew up in Nashville. She recorded her first album when she was just 16 and she made much better songs as she grew up. Her music appeals to both Christian and mainstream pop music audiences and she continues to be a revered figure in the industry.
Vince lives in Nashville with his wife, Amy. They've both contributed so much to preserving the city's rich music culture either through donating to charities, supporting music education programs, or mentoring upcoming artists. You might find them performing at The Bluebird Cafe, The Grand Ole Opry, or Ryman Auditorium.
Miranda Lambert
"The House That Built Me" artist also resides in Nashville. I guess you could say Nashville was the house that built her, but in her exact words, Nashville healed her. In one of her concerts in Nashville, she took a break to talk about how the city healed her, especially after her divorce with Blake Shelton.
Many of her hit songs are about her divorce and she admitted in the concert that singing them in Nashville was very therapeutic. She went on to talk about how everyone wants to see you win in Nashville, her friends, neighbors, and fans came through for her, especially during her worst and it meant a lot to her.
She went on to talk about how Nashville lets you dream without judgment and how good it feels to drink at a bar singing country music.
Now, Miranda lives with her husband near Primm Springs, about an hour's drive south of Nashville. Miranda owns a bar on Lower Broadway in downtown Nashville called "Casa Rosa" which contributes to the town's economy. You can stop for margaritas with friends, who knows, you might meet her there once if you go often enough.
Lee Brice
Starting as a songwriter, and now an amazing singer, Lee has written songs for some of the biggest country artists like Garth Brook and Tim McGraw.
He's also a talented guitarist, and he's released several successful albums. Lee says Nashville is the place to be if you want to make it in country music. He moved there in the year 2000 and never looked back.
Kristin Cavaliere
American TV personality, Kristin Cavallari rose to fame after getting cast in the popular MTV reality TV series, Laguna Beach. She's acted in many other reality shows and movies since then.
She stays in a three-story farmhouse in Franklin, TN, and owns a jewelry store in The Gulch.
Dolly Parton
Popular "Jolene" Singer Dolly Parton has performed at the Grand Ole Opry several times throughout her career. She's swept the world with her melodious country music and hopes to preserve the rich country music culture.
What better way to do that than reside in the epicenter of country music? She moved to Nashville after high school to pursue her dreams of becoming a country musician, and she's lived there ever since.
She has lived in Brentwood, Nashville, in the same house with her husband, Carl, for over 20 years. She bought the house for over $400,000 which was a fortune at the time and hasn't felt the need to move anywhere else due to how comfortable it is. It reportedly has a swimming pool, farm, chapel, and tennis court.
Dolly has contributed so much to Nashville that a Tennessee representative proposed a statue of her be erected at the capitol, but she humbly refused.
She co-owns the Dollywood theme park in Pigeon Forge, Tennessee, not too far from Nashville, a place that attracts locals and foreigners alike. Through her Dollywood foundation's Imagination Library Program, she's made books easily accessible to young kids based in Nashville.
Additionally, as the Coronavirus plagued the US, she donated $ 1 million to help with vaccine research at Vanderbilt University Medical Center in Nashville.
Dolly has been known to occasionally make surprise appearances at public places so although it's not easy to meet her due to her demanding schedule, it's not impossible. Some places you might find her include Arnold's Country Kitchen–one of Dolly's local favorites–and the Dolly Parton's Stampede Dinner Attraction.
Reece Witherspoon
The "Legally Blonde" star actress also resides in the music city. She grew up in the music city and still stays there there till date. She has refurbished and sold some of her houses over the years, even one in Nashville. She now stays in a mansion that sits at the end of a long driveway in the Oak Hill area. Reece said she's happiest in Nashville, hanging out with friends and listening to country music. Her favorite spots to hang out include having a barbeque at Edley's Bar-B-Que or having country ham at the Loveless Cafe. She also loves to shop at Draper James (she owns the store) and has a clothing line there.
Carrie Underwood
Carrie didn't let her success in the American Idol go to waste, instead, she parlayed it into nine successful studio albums that won her 8 Grammy awards and much more. Carrie also has a talent for acting, as she has appeared in several movies and shows.
Underwood recorded most of her albums and singles in Nashville and has also performed at the Grand Ole Opry, the Country Music Association Awards, and the CMA Music Festival.
Carrie currently lives in a 400-acre mansion with her husband and two kids in Franklin, TN. She once enjoyed a night's out with her friends and their husbands at Fox and Locke, a Nashville bar where she did an impromptu performance for her fans. She has also posted photos of her and her family spending time at Dollywood.
Keith Urban and Nicole Kidman
Australian Country Music singer, guitarist, and songwriter Keith Urban and American-Australian movie star Nicole Kidman have been married for over 16 years. In 2008, they bought their primary Nashville home and have lived there for most of their marriage.
Although they own real estate in places like Australia and New York, Nicole mentioned to Harper's Bazaar in 2018 that Nashville is where she and Keith click off. They have a good life there that Nicole refers to as simple, quiet, and nourishing. Keith has also talked in interviews about how he loves Nashville because of its thriving music scene and community feel.
Together, this couple gives twice as much to the Nashville community. Some of their philanthropic efforts include supporting the Vanderbilt Children's Hospital in Nashville, Supporting MusiCares–a charity that supports musicians–and the T.J. Martell Foundation–the music industry's leading foundation that helps cancer research.
Unfortunately, this power couple likes to keep their lives private, so they don't announce their whereabouts in advance or publicize their appearances, but if you're lucky, you might find them at a local event.
Jack White
Whether you know him from the rock duo, The White Stripes, or from his solo songs, Jack has produced back-to-back hits. From Blues to Rock and Country, Jack has managed to efficiently juxtapose these genres to create truly unique music.
He has collaborated with artists like Loretta Lyn, Bob Dylan, and even Beyonce. Jack mostly stays in his 11,000 sqft estate in Nashville with his wife, Olivia Jean.
Jack doesn't make many public appearances outside of his music performances, but if you want to see him perform live, he's been known to perform at places like Ryman Auditorium and the Bridgestone Arena.
Kix Brooks & Ronnie Dunn
Ronnie is another successful artist from a now-disbanded group. The duo group, Brooks and Dunn, took the late 90s by storm with their enthralling music and writing. Since they disbanded in 2010, Ronnie has released four studio albums, all of which made unbelievable numbers.
Dunn and his wife lived in their Southern Manor home before they put it up for sale. While there is little or no news of where Ronnie currently resides, we can expect him to still spend a lot of time in the music city.
Kix didn't slack himself, as he went on to achieve a lot in his career. Nicknamed Kix because of his energetic behavior in his mother's womb, the nickname quickly stuck due to his boisterous performances involving kicking and strutting.
Kix Brooks's home was the most expensive purchase in 2008, and he's gotten really comfy there. Brooks has served as Chairman and President of the Country Music Association, and he's an active member of the Nashville community.
Steve Wariner
The "Holes In The Floor Of Heaven" crooner grew up in a musical family and learned to play the guitar well at an early age. He joined his father's band when he was a teen and only got better from there.
He moved to Nashville in the late 70s to pursue a career in country music and quickly became a sought-after sensation, backing up artists like Dottie West and Glen Campbell.
Steve now lives in Franklin, TN, with his wife, Caryn Wariner. Wariner has collaborated with many other artists in Nashville and has helped preserve the musicality of the city by mentoring and inspiring younger artists.
You can find Steve in many of the music venues in Nashville. When he's not singing or writing songs, he paints and has had several art exhibitions of his art in the city. You can check local galleries for him and some of his artwork.
Billy Gibbons
Growing up in Houston, Texas, introduced Billy to music at a very young age. He performed in local bands in his teen years until he formed ZZ Top with bassist Dusty Hill.
After buying Sheryl Crow's former mansion in 2013, Billy calls Nashville home sometimes when he's not staying in his other houses in places like Texas. Though he's been involved in Nashville's music scene over the years, he's not based there and it'll be difficult to run into him buying groceries. Be on the lookout for his performances, though.
Billy Cox
Best known for being part of Jimi Hendrix's band, Billy is a highly skilled and versatile bassist. Although 81 years of age at the time of writing, Billy continues to perform, record music, and go on tours.
Nashville was where Billy met Jimmy, so he has a strong connection to the place. He's an active member of the Nashville community, having supported many charitable organizations, and he has also been involved in educating bassists and musicians of all levels.
Duane Eddy
Eddy's remarkable guitar skills earned him the nickname–Titan of Twang. He reportedly invented the iconic guitar twang in rock music. Duane played a major role in the development of Nashville's sound in the 50s and 60s and was an inspiration to a generation of musicians.
Duane and his wife, Deed, live in Franklin, south of Nashville, and he describes the place as a bedroom community. He loves it there, and he's been living there for about 40 years.
Kelsea Ballerini
Kelsea is one of the artists who blurred the lines between country and pop music. Born in Knoxville, Tennessee, she started taking dance lessons and performing in local talent shows at a young age.
Inspired by artists like Faith Hill, she decided to pursue a career in music. She moved to Nashville at 15 and attended college briefly before dropping out to focus on her music.
If you're a fan of Kelsea and Taylor Swift, you'll notice some similarities in their style. Kelsea also mentioned being endorsed and uplifted by Taylor, when she was starting out, Taylor tweeted one of her songs–Love Me Like You Mean It.
Kelsea lives in an amazing farmhouse in Nashville. Her motivation behind this concept is a need to connect to the minimalism she grew up with. She has collaborated with many other Nashville-based artists and occasionally shows up for local meet and greets like the CMA Fest and other Nashville-based music events.
Luke Brian
Although born and bred in Georgia, Luke had to come to Nashville to further his music goals. He met his future wife, Caroline Boyer, at a bar in Georgia, and they dated for a while before going their separate ways.
This was when Luke went to Nashville and achieved an impressive level of success in his music; he came back home and was performing at a bar when he met Caroline. They caught up and rekindled their spark, and the rest is history. Luke lives with Caroline and his five kids in Williamson County, near Nashville.
Joe Bonamassa
Joe has been playing guitar since he was as young as 12 years old. His music is a blend of blues, rock, and country, accompanied by soulful vocals.
Joe has constantly praised Nashville's music heritage and has collaborated with Nashville-based musicians like Reese Wynana and Joe Ely. Joe said he loves Nashville because music plays every night of the week within a three block walk.
Tommy Emmanual
Tommy is one of the greatest acoustic guitarists of all time due to his excellent fingerstyle and energetic performances. Tommy has spent a significant amount of time in Nashville as he recorded most of his albums in this boisterous city.
He founded The Tommy Emmanuel Guitar Camp USA in Nashville, a music education program that teaches guitarists of all levels, and Tommy himself has performed in many Nashville music venues.
Peter Frampton
Peter started his music career in bands like The Herd and Humble Pie before going solo in the 70s. He released several albums in the decade, but it wasn't until "Frampton Comes Alive" that he came alive.
He rocked his way to Nashville in the mid-90s, and although he was away for his family in Cincinnati, he moved back to Nashville in 2011. When Peter first moved to Nashville from Scottsdale, he said he met so many great musicians and writers, and it's such a welcoming town.
Unfortunately, Peter was diagnosed with Inclusion Body Myositis, an incurable muscle disease. He had to perform his final shows of 2022 seated because of this disease, and for the same reason, you won't see Peter around Nashville much.
Emmylou Harris
Emmylou has lived in Nashville for most of her life. She moved to the music city in the late 60s to pursue a career in country music, and although she initially struggled to find success, she got a contract with Reprise Records in 1974 and released her breakthrough album–Pieces of the Sky.
Harris has donated time and money to the Country Music Hall of Fame and Museum, and she has mentored many young musicians in Nashville and the diaspora. She remains an influential name in the Country Music industry, and she continues to be active in the industry to date.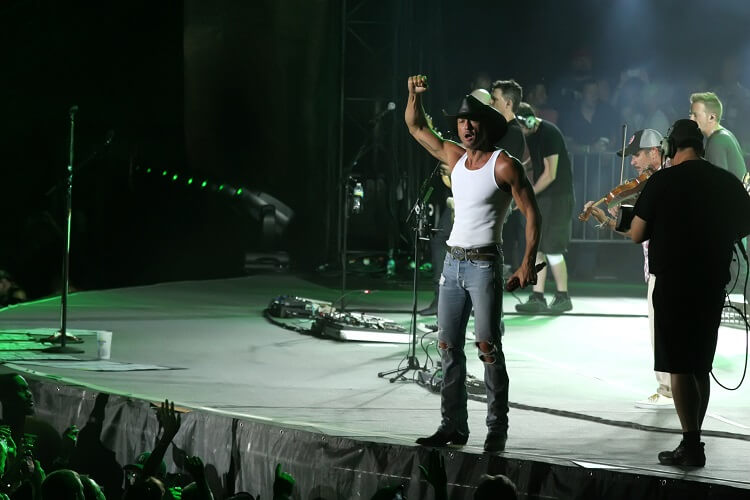 Tim McGraw and Faith Hill
American Country musicians Tim Mcgraw and Faith Hill have been married for more than 25 years and are still going strong. They have a five-bedroom, ten bathroom, Nashville mansion that is big enough to accommodate the couple and their three daughters.
In the winter of 2022, fans got sneak peeks into the house, and it's as big as it sounds. We got to see the living room, where they put the Christmas tree, and a few of the other rooms.
Like other artists in the area, Tim and Faith have contributed immensely to the success of the community; they founded the Neighbor's Keeper Foundation in 2004, which helps victims of emergencies and natural disasters. They've also dabbled in local businesses like the Soul2Soul fragrance line they debuted in 2012.
Chip Esten
From The Office to Outer Banks, Charles has acted in some great shows and many other great movies. He moved to Nashville with his family when he was cast as a series regular on the show–Nashville.
Also known as Chip Esten, he's also a musician and songwriter. You might think the music city rubbed off on him, but for Chip, music came before acting, and he's more passionate about music, although good at both. Chip is a regular performer on the Grand Ole Opry and has contributed immensely to the Nashville community.
---
If you're heading down south on vacation, you may be asking yourself, "what is the best time to visit Memphis?" …
Read more