Are you wondering how many days you need to explore the city and beyond? Then, you've come to the right place.
I love Nashville, so let me guide you through the best itineraries. I've thrown everything into this, from a quick, 3-hour visit to an immersive five-day experience. No thinking is required; just follow the plan 😉
As a local, here are the best places to visit, eat, and have a true Nashville Experience.
In this guide, I'll highlight the best deals, discount codes for tickets, and tours you can use.
This post is long, but please use the table of contents to skip to the parts you are interested in.
Let me know in the comments what you think!
---
Table of Contents
---
---
How Many Days are Needed to Visit Nashville?
We recommend three days to visit Nashville and enjoy the experience and its attractions. It's ample time to explore the city's highlights, including the music scene, historical landmarks, and incredible food. Three days are enough to see it all, and in this post, we provide five itineraries for the best Nashville vacation.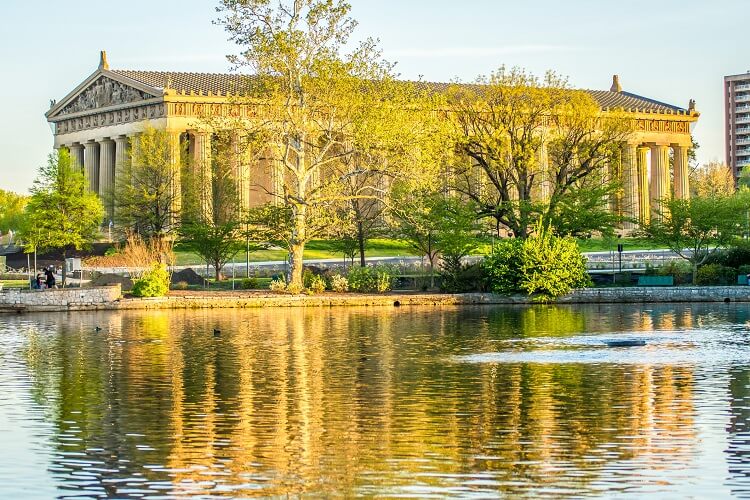 Best Time of Year to Visit Nashville
The best time to visit Nashville is during the spring (April to June) and fall (September to October). These times of year are also the busiest season, so flights and accommodation will be higher. Notable events during this time include the Nashville Cherry Blossom Festival in April and the CMA Music Festival in June. Summer (June – August) can be hot and humid.
The winter (December – February) is the least popular time, but great if you are traveling on a budget.
Ultimately, the best time to visit Nashville depends on your preferences and priorities, such as the type of events you wish to attend, weather preferences, and budget considerations.
---
Where to Stay
---
There are many options when staying in Nashville. Downtown and lower Broadway are not the only areas. There are quieter, more family-friendly, slower-going neighborhoods like the Gulch, Opryland, or East Nashville. I hope you find the below information helpful in making your decision.
Downtown. Staying in downtown Nashville provides easy access to many of Nashville's major attractions, like Lower Broadway, which includes Honky-Tonk Highway, the Ryman Auditorium, Bridgestone Arena, and the Country Music Hall of Fame. It can be a busy, bustling location, but this is the best option if you plan to walk and pay a little more to be closer to the action. For a complete list of our most recommended downtown hotels, click here.
The Gulch. Staying in the Gulch gives you some distance from the noise of the central business district. It has a modern, urban feel is home to fantastic restaurants and boutique shopping. Plus, it's only a 20-minute walk or a 5-minute drive from downtown. We wrote a complete guide (including hotel recommendations) to stay in the Gulch vs. Downtown here.
Opryland. If you plan to visit the Grand Ole Opry, you should stay at Opryland Hotel. The hotel itself is enormous. Complete with a southern village and mall right next door. It's worth remembering that it's a 20-minute drive from downtown Nashville. It's a suburb in and of itself. It's a smooth drive; however, if you plan on visiting many downtown attractions, you should stay downtown and drive out to Opryland to visit. I wrote a complete guide on Opryland vs. Downtown here.
📍Most Popular Nashville Hotels (Top Rated)
---
Nashville 1 to 5 Day Itinerary's
---
Below, I've provided five different itineraries. Each day prioritizes the best of Nashville. Feel free to mix and match. I've also included links to discount tickets and deals to take advantage of. I've included everything to maximize your time and have an incredible Nashville experience.
We recommend the Nashville Flex Pass. It provides a one or 2-day Itinerary with discounts to major Nashville attractions.
The Nashville Sightseeing Pass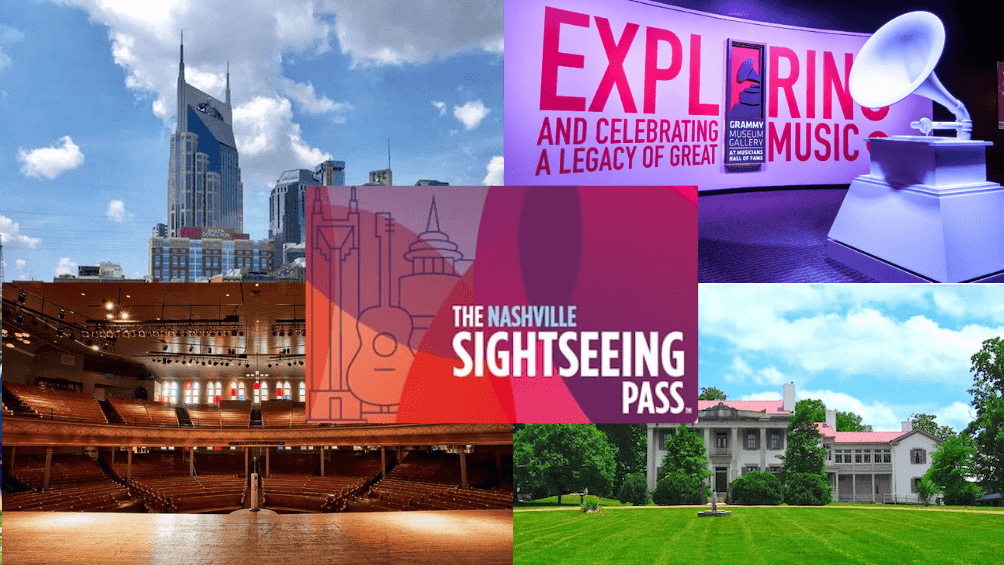 Choose from 30+ attractions and offers
One digital pass to enter top attractions
Huge savings and ticket-free entry
2 Great Pass options for every budget
---
Three Hours Itinerary
---
If you only have a few hours, a short layover, in Nashville, here's your must-visit Nashville guide on making the most of your time. For a more in-depth guide for a short Nashville layover, click here.
Honky-Tonk Highway. Head to Lower Broadway and experience Nashville's Honky-Tonk Highway. The live music and good times flow on Broadway seven days a week, all day long.
Tootsies Orchid Lounge. Tootsies is the most famous bar in Nashville. Country artists who come to Nashville earn their chops playing in bars like Tootsies before moving to the big stage. The "Wall of Fame" with photos of all the famous artists who have performed there is still there today.
AJs Good Time Bar. AJs is voted the number one honky-tonk on Broadway by Billboard Magazine. Country music superstar Alan Jackson founded it — a must-visit when on Broadway.
Fifth and Broadway. At the top of Lower Broadway, across the street from the Ryman Auditorium, is a new development called Fifth and Broadway. It has a food hall, including Hattie B's (which I highly recommend for an authentic taste of Nashville hot chicken.
Musicians Hall of Fame and Museum. This museum is a short walk from Lower Broadway and pays tribute to the musicians behind the classic songs from the 1950s onwards. For a walking map, click here. Learn more and get tickets to the museum here.
---
1-day Itinerary
---
Morning:
Breakfast at the Pancake Pantry. Pancake Pantry is a popular destination for locals and tourists alike. When I moved to Nashville, it was among the first places my wife's parents took me. It's famous for its pancakes, including buttermilk, sweet potato, and banana-walnut. There is usually a line to get in, especially on weekends, but it's worth it.
Musicians Hall of Fame and Museum. Just a short walk from Broadway is the Musicians Hall of Fame. The museum honors the musicians who played on the greatest recordings of all time in all genres. It also includes the Grammy Museum Gallery. Learn more here.
Music Row. Music Row is a historic district home to many of Nashville's major record labels and recording studios. It is a fascinating spot for music fans, industry professionals, and those interested in music history. To get an in-depth view of Music Row, click here.
Afternoon:
Lunch at Hattie Bs hot Chicken. Hattie B's is renowned for its batter, which boasts a crispy and spicy exterior while the chicken inside remains tender. Their menu features a variety of chicken cuts, all available at different levels of spiciness.
Johnny Cash Museum. A short walk up from Lower Broadway is the Johnny Cash Museum – a thorough exhibition of the life of Johnny Cash. It showcases many artifacts, instruments, and costumes. Not only that, the museum also features a dining and drinking spot. For Johnny Cash fans, this highly sought-after destination is a must-visit. Be sure to watch this video tour and book your tickets here. Learn more and get tickets here.
Walk across the John Seigenthatler Pedestrian Bridge. The John Seigenthatler Bridge offers breathtaking panoramic views of the Nashville skyline and the Cumberland River. It provides a unique view of the city, perfect for taking photographs or enjoying the scenery. It's right in the middle of downtown, making it an easy walk from major attractions.
Evening:
Dinner at the Stillery. The Stillery is worth a visit. It's the perfect place to unwind and enjoy a delicious meal and one of our famous mason jar cocktails. Our menu features a range of fresh and flavorful dishes, including mouthwatering brick-fired pizzas, juicy burgers, crisp salads, and tempting appetizers – all prepared by expert chefs.
Enjoy live music at The Bluebird Café. Originally a humble café, The Bluebird Café has become one of Nashville's most renowned establishments and a hub for music and songwriting. It's a space where Nashville's rich musical heritage and thriving songwriter community converge. Recognizing the need for a dedicated venue for local musicians to showcase their talents, The Bluebird Café emerged as the ideal location to do just that. Today, it's considered a songwriter's listening room and an iconic Nashville destination. We've also written a guide to Nashville's best live music venues.
---
2-day Itinerary
---
Day 1: Follow the 2 Day Itinerary
Morning:
Breakfast at Biscuit Love. Delicious scratch-made breakfast and lunch dishes that feature locally sourced ingredients from trusted farmers and purveyors. The biscuits are especially famous, and they take pride in making them just as suitable – crispy on the outside and fluffy on the inside. See also our guide to the best places to get breakfast in Nashville.
Tour the Ryman Auditorium. This iconic downtown venue is known as "The Mother Church of Country Music" and has been host to countless country legends. During the self-guided tour, you'll have the chance to explore five new exhibits that showcase the rich musical history of the Ryman Auditorium. Each exhibit is introduced by celebrity hosts on screen, adding an extra layer of excitement and entertainment to your visit. Learn more and get tickets here.
Explore the Parthenon at Centennial Park. The Parthenon is a re-creation of the 42-foot statue. Athena is the focus of the Parthenon, just as it was in ancient Greece. It was originally built in 1897. It stands in Centennial Park and houses permanent paintings and a traveling exhibit collection.
Afternoon:
Lunch at Martin's Bar-B-Que Joint. Martin's is distinct in its approach to cooking – it adheres to the West Tennessee style of slow-cooking the entire pig, which sets it apart from other establishments. The owner and pit master, Pat Martin, has earned a reputation as a savvy country boy. He devotes 4-5 hours to tending the fire, which must be maintained at a consistent 170-180 degrees for optimal cooking. See our guide to the best Nashville BBQ here.
Visit the Frist Art Museum. The Frist Art Museum, located in the historic Nashville Post Office, has been converted into an Art Museum. The museum boasts a diverse and constantly changing range of exhibitions that showcase an array of art forms and styles, from classic to contemporary, local to international.
Stroll down the 12 South Neighborhood. With various restaurants, coffee houses, bakeries, bars, and boutiques featuring local designers and makers, 12 South is one of the most walkable neighborhoods in Nashville, making it easy to explore. 12South is the perfect place to spend an afternoon or evening.
Evening:
Dinner at Butcher & Bee. Butcher & Bee is in East Nashville, close to downtown Nashville. They have an extensive menu but have become known in Nashville for their fabulous brunches. What everyone talks about at Butcher and Bee is what they call the Whipped Feta. It has fermented Honey, black pepper, and pita, and you will hear rave reviews from everyone who has tried it. See our complete guide to trendy Nashville restaurants here.
Catch a show at the Grand Ole Opry. This world-renowned venue lets you witness new stars, superstars, and legendary performers in one spectacular performance. What sets the Grand Ole Opry apart from a typical concert is that multiple artists perform at each event, offering the audience diverse musical styles. Check out the Grand Ole Opry if you want a unique and immersive musical experience in Nashville. Its rich history and an unparalleled lineup of talented performers make it a must-visit destination for country music fans and anyone who appreciates excellent live music. Learn more and get tickets here.
---
3-day Itinerary
---
Day 1 & 2: Follow the 2 Day Itinerary
Morning:
Breakfast at Frothy Monkey. The Frothy Monkey has 4 locations in Nashville and has arguably the best coffee in town. The cozy locations offer full-service menus. You'll love their breakfast menu with made-from-scratch items.
Tour the Belle Meade Historic Site and Winery. In 1807, Belle Meade started as a simple log cabin on 250 acres. As time passed, the unwavering commitment of the Harding and Jackson families, along with the diligent efforts of workers who resided on the property both before and after emancipation, contributed to the development of the location into one of the most prominent thoroughbred horse farms in the southern region.
Afternoon:
Lunch at the Loveless Cafe. The Loveless Cafe is a love institution in Nashville. They are known for their southern food that you should try in the south. Since 1951, they've been famous for their fluffy, made-from-scratch biscuits served with house-made preserves. Learn more here.
Explore Cheekwood Estate and Gardens. Cheekwood Estate and Gardens, a historical mansion and 55-acre botanical garden, boasts stunning gardens and art galleries featuring both contemporary and traditional art and original furnishings and artwork within the mansion. The ideal time to visit is during spring or summer when the gardens are most breathtaking, but the grounds remain attractive throughout the year. Ticket prices range from $18 to $29, depending on age. 20-25 minute drive from downtown Nashville takes you to Cheekwood, where free parking is available. The Frist Learning Center Courtyard houses a café offering sandwiches, smoothies, salads, and other delicious options. Learn more here.
Evening:
Dinner at Rolf & Daughter. The restaurant is known for its inventive and delicious menu featuring a mix of Italian and Southern flavors. Rolf and Daughters have received numerous accolades, including being named one of the best new restaurants in America by Bon Appétit magazine.
Experience a show at Third Man Records. Third Man Records is a record store, label, and performance space. It was founded by Jack White, a musician best known for his work with the bands The White Stripes and The Raconteurs. The store sells vinyl records, including releases from Jack White and other artists signed to the Third Man Records label. They also sell merchandise and memorabilia.
---
4-day Itinerary
---
Day 1-3: Follow the 3-day Itinerary
Morning:
Breakfast at Proper Bagel. Proper Bagel is a bagel shop and cafe. This bagel bakery is known for New York-style bagels baked in-house daily. In addition to their delicious bagels, Proper Bagel offers an extensive menu of spreads, sandwiches, salads, and pastries.
Visit the Tennessee State Museum. The Tennessee State Museum holds the state's history and culture. It's free to enter exhibits from Tennessee's early history to modern times, with a particular emphasis on the state's role in the Civil War.
Afternoon:
Explore the Hermitage, home of President Andrew Jackson. The Hermitage is the historic residence of President Andrew Jackson. There is complimentary parking available on-site. Visitors can explore the mansion and grounds to gain insight into Andrew Jackson's life, his impact on the nation, and U.S. history during his presidency. Offering a serene and picturesque retreat from Nashville, the Hermitage is home to lush vegetation, diverse wildlife, and beautiful landscapes. Ticket options range from $19 to $65, with four different types. You can grab lunch at FKS Kitchen, within the Andrew Jackson Center if you're hungry.
Evening:
Dinner at City House. City House has an Italian influence with locally sourced ingredients to create a menu that includes wood-fired pizzas and house-made pasta that pays homage to both Italian and Southern traditions.
Watch the Nashville Predators (NHL) or Nashville Sounds (MiLB) game if in season. The home of the Nashville Predators is the Bridgestone Arena, just a few steps from Broadway. If in season, you can see a game of the Nashville Sounds at First Horizon Park in Germantown.
---
5 Day Itinerary
---
Day 1-4: Follow the 4-Day Itinerary
Morning:
Breakfast at Milk & Honey in the Gulch. Milk & Honey is a (my favorite) cafe and restaurant in the Gulch neighborhood. It has fresh and locally sourced ingredients and offers a variety of menu options, including breakfast, brunch, lunch, dinner, and an array of specialty coffee drinks and craft cocktails. The best menu items include avocado toast, sandwiches, salads, pastries, and baked goods.
Visit Lane Motor Museum. The Lane Motor Museum, a hidden treasure for automotive and engineering aficionados, houses an extensive collection of aircraft, motorcycles, and lightweight experimental cars and bikes from around the globe, predominantly from Europe. The museum is approximately 5 miles from downtown Nashville and has ample on-site parking. With a collection of over 500 vehicles, including 150 rare and operational cars and motorcycles, the museum provides guided tours to enrich visitors' understanding of the vehicles' history. In addition, a play area is available to keep children entertained during their visit. Admission fees are $12 for adults, $8 for seniors (65+), $3 for youth, and complimentary for children under 5.
Afternoon:
Lunch at Peg Leg Porker. Carey Bringle, the founder of Peg Leg Porker, faced cancer at 17, losing one leg. The restaurant's name pays tribute to his resilience. Having won numerous national awards, Carey has had the chance to work alongside top culinary experts. Luckily for Nashville residents, he's a local talent. The Gulch, situated just a short distance from downtown Nashville's core, is home to Peg Leg Porker. They serve up exceptional meats every day, making it a must-visit destination.
Explore the Opry Mills Mall. Opry Mills Mall is a large shopping and entertainment complex. It's next to the Grand Ole Opry House and has over 200 stores, well-known brands, outlet shops, and specialty retailers. It also features a variety of dining options, ranging from fast food to sit-down restaurants. For entertainment, the mall houses a Regal Cinemas movie theater with an IMAX screen. It also has Dave & Buster's.
Evening:
Dinner at Henrietta Red. Chef Julia Sullivan is the founder of Henrietta Red. As a Nashville native, she gained culinary expertise by training at some of the nation's finest restaurants before returning to her hometown to establish her eatery. While Julia doesn't dismiss the value of traditional Southern cuisine, she offers delightful alternatives that don't rely on incorporating pork into every dish.
Attend a live show at the Station Inn for Bluegrass Music. For more than four decades, The Station Inn has served as the epicenter of bluegrass and American roots music, drawing fans from all around the globe. Only the finest musicians grace the stage of this renowned live music venue in a city famous for its performances. The Station Inn is the ideal spot for those seeking an authentic Nashville picker's experience. Notable artists such as Dierks Bentley, The Time Jumpers, Sturgill Simpson, and Alison Kraus once performed here, achieving early success at this iconic venue. Additionally, you'll appreciate the special tribute nights held in honor of the legendary figures in bluegrass music.
---
Specialty Nashville Itineraries
---
Music Lovers Itinerary
The Gibson Garage
The 5 Spot
The Station Inn
The Basement East
Third Man Records
Live Music Bars and Clubs
Music Museums
History Lovers Itinerary
Tennessee State Museum
State Capitol Building
Bicentennial Capitol Mall State Park
The Hermitage
Belle Meade Historic Site and Winery
Popular Guided Tours and Experiences
Local Cuisine and Iconic Dishes
Princes Hot Chicken
Hattie B's
Loveless Cafe
Arnolds Country Kitchen
Monell's Dining
Martin's Bar-B-Que
Parks and Green Spaces
Centennial Park
Radnor Lake State Park
Bicentennial Capital Mall State Park
Two Rivers park
Sevier Park
---
If you're heading down south on vacation, you may be asking yourself, "what is the best time to visit Memphis?" …
Read more