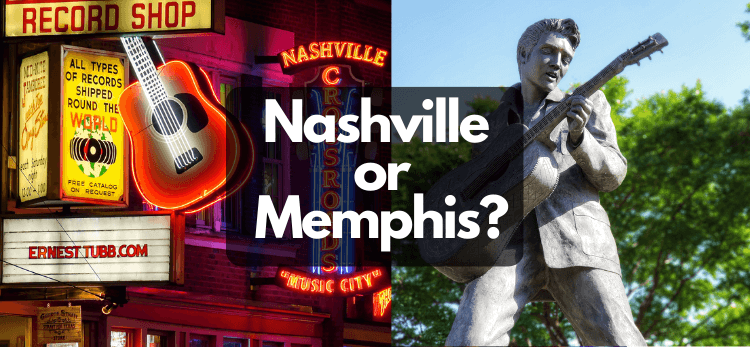 If Nashville or Memphis are two cities you are considering visiting, this is the post for you.
Although Nashville and Memphis are located in Tennessee and only about a 3-hour drive apart, both cities have a unique feel and are very different in many ways.
Both cities have significant attractions, history, food, and music. I live in Nashville but have been to both cities, and if I were visiting again, I would probably decide to see both on separate trips. 
This guide will help you in making a decision.
So let's find out which would appeal to you and your family.
---
Related Content: The Ultimate Guide to Traveling from Nashville to Memphis
---
What are the Similarities?
Nashville is known for being Music City, USA. Home of the Ryman Auditorium, The Grand Ole Opry, and many other music venues. Not only on lower Broadway but in Midtown, East Nashville, and more. 
Nashville is also home to the Tennessee Titans, Nashville Sounds, and the Predators. The population of Nashville is just over 700,000, while Memphis sits at 630,000.
Memphis is also known for its music and is named after the capital of ancient Egypt. While Nashville is mainly known for its country music, Memphis is known for its blues and soul music. As a music lover, it's safe to say that Memphis gives Nashville some stiff competition when it comes to music.
In my opinion, Memphis has a leg up regarding history. Memphis is known for being the heart and soul of the American Civil Rights movement. In addition, it endured its share of hard times from the plantation era. However, despite the hard times, the city has found solace in its music.
Memphis is home to the Rock n Soul Museum, the Blues Hall of Fame, the Stax Museum of American Soul Music, and more. Also, just like Nashville, Memphis has an abundance of live music venues. I recommend Beale Street. It's similar to Broadway in Nashville. Both Broadway and Beale Street are known for their entertainment and tourism.
Nightlife & Entertainment
Although Nashville is known for many genres other than just country, country music is still the most popular. Memphis is more focused on blues and soul. It's a different music scene.
To experience the best nightlife and entertainment in Nashville, head down to lower Broadway, Midtown, or Printers Alley. You'll want to stroll down the famous Beale Street in Memphis.
Things To Do in Nashville:
When you think of Nashville, you may think of country music and cowboy hats. But it's also got a vibrant history to explore. So for a complete guide to the perfect day in Nashville, we wrote a detailed guide here.
Opryland Hotel. This is a stunning hotel that allows you to walk around for hours. It includes fantastic shopping and restaurants. If you celebrate Christmas, we highly recommend checking out the Christmas lights during the Christmas season; they are stunning.
Lower Broadway. It's time to enjoy what truly makes Nashville "Music City ."From the Johnny Cash Museum, it's just a one-minute walk to lower Broadway. Catch the country stars of tomorrow at Tootsies Orchid Lounge or the best live country music at Roberts Western World.
The Ryman Auditorium. Step into the mother church of country music. For country music fans, an experience at the Ryman is as close to heaven as it gets. The Ryman is where the Grand Ole Opry used to be broadcast, reaching living rooms as far away as Canada.
Tennessee State Museum. Learn more about the city's role and how it rose from the ashes to become the Athens of the south.
Belle Meade Plantation. Explore the remaining 30 acres of the estate that once stretched for miles. The rocking chairs and slave quarters look like they were only vacated yesterday. It's been beautifully kept up.
Visit Museums. We have the Musicians Hall of Fame & Museum, the Frist Museum, the Johnny Cash Museum, and the Museum of African American Music. 
Things To Do in Memphis
Memphis Cotton Exchange. You can visit the trading floor, which was once the center of the world cotton trade.
Rock n Soul Museum. Learn how the uplifting music of delta share croppers evolved into a cathartic musical expression: the blues. Learn how the blues made the jump to rock n roll and jumped the racial divide.
Stax Museum. Discover the costumes, music, and moves that made Memphis the epicenter of the soul music universe. It includes Isaac Haye's incredible Cadillac Eldorado.
Sun Studios. Visit the place where in 1954, a 19-year-old kid named Elvis Presley recorded "That's All Right" and changed popular music forever.
Graceland. Three years after recording "That's All Right," Elvis purchased Graceland, a 13-acre estate on the outskirts of town. This is where Elvis lived for 20 years. 
Elvis Presley's Memphis. This museum chronicles his life from beginnings to stardom, including his outfits and cars.
National Civil Rights Museum. It's easy to take the trolley bus to the museum that is built around the historic Lorraine Motel. You follow the footsteps of over 400 years of history as they marched toward freedom. You can see the bus where Rosa Parks took a stand by staying seated. You can also see the freedom riders' greyhound coach bought to a fiery stop by clan members. You can also see the suite where Martin Luther King spent his final hours before he was shot. 
Beale Street is considered the official home of the blues. It consists of 3 blocks of nightclubs, restaurants, and shops in the heart of downtown Memphis. It's a melting pot of jazz, blues, r & b, rock, and gospel. It has a long history of hosting the biggest names in music. Remember to check out the BB Kings Blues club. You can enjoy live music and southern food in a dedicated listening room.
Memphis Food
You can't enjoy music on an empty stomach. Memphis is home to some of America's best soul food and southern BBQ. From Monroe Avenue, head down an alleyway named after the restaurant that put Memphis on the BBQ map and check out the Rendezvous. Even if you usually would eat BBQ, you must check it out. Starting in the 1950s, today, this famous restaurant serves five tonnes of dry rub, charcoal-fired ribs weekly.
Just around the corner is Gus's Fried Chicken. This hot chicken restaurant is so good that visitors flock from around the world to experience it.
Nashville Food
Memphis will beat Nashville whenever it comes to charcoal-fired ribs. However, regarding smoked meats, Nashville is where you want to be. Peg Leg Porker and Jack's Bar-B-Que have been serving up smoked pork for generations.
 Nashville also has two famous hot chicken restaurants that you won't want to miss: Prince's Hot Chicken and Hattie B's.
---
Check out next…