Have you heard of the Honky-Tonk Highway? It's one of the many things Nashville is known for.
Located on lower Broadway, Nashville, it's the highway of places to eat, drink, dance, and listen to the best live music in the world. You'll find that the food in every bar and honky-tonk has a theme. They range from southern dive bars, Tennessee BBQ, and Mexican, or they may be the favorite dishes of the country artist who founded it. What they have in common are great live music and a fun atmosphere.
Have you ever wondered where the bars are on Broadway in Nashville? or how many are on Broadway in Nashville?
The bars are located on lower Broadway. The historic strip has over 30 bars and honky-tonks that play live music 24/7. The entire honky-tonk highway is walkable, and there are no cover charges; remember to tip the musicians. Across the street is the Bridgestone Arena, where you can catch a show. At the top of lower Broad is the new 5th and Broad development – a great place to shop.
Nashville's lower Broadway is steeped in civil war history. Many buildings used as honky-tonks today were hospitals or warehouses used during the 1800s. In this guide, we've provided a list of bars on Broadway Nashville but focused on the best. Broadway also contains some of the best bars for live music in Nashville. For a guide on what to wear, click here.
The most famous bar in Nashville is Tootsies Orchid Lounge. Read more about it here.
Check out our list of hotels within walking distance of Broadway.
---
Best Nashville Bars on Broadway
---
The Twelve Thirty Club
The Twelve Thirty Club takes up an entire Nashville city block of Upper Broadway. The first floor is already open featuring a Honky Tonk with live music hosting up-and-coming talent. They serve American food including pork belly dumplings and burgers.
The building also includes an intimate cocktail lounge with well crafted drinks and somber mood. The Supper Club (opening on Sept 28) is the third floor with an adjacent rooftop bar. This is a completely different experience with wagyu steak, tartines covered in ricotta, and shaved black truffle. To complement the food you'll find a well stocked wine wall.
---
Roberts Western World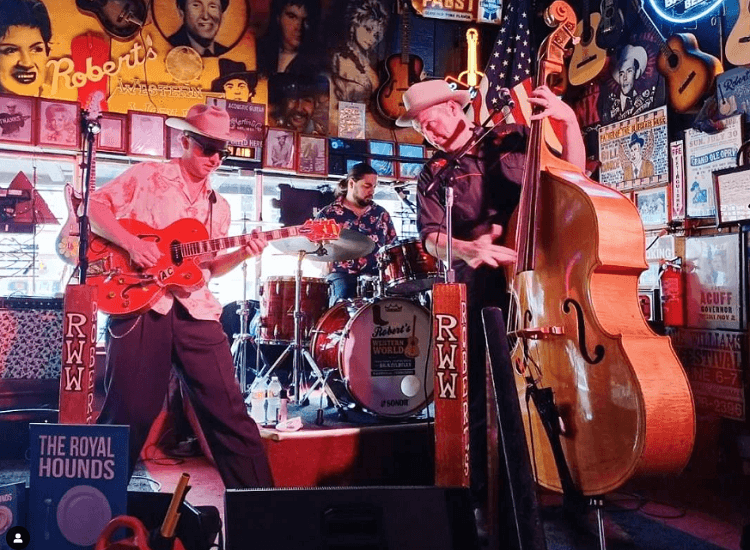 Located on lower Broadway, this staple of Nashville's music scene sits in the shadow of the Ryman Auditorium.  The building itself is historic, dating back to the civil war, being used as a warehouse and office space for river merchants. Roberts is arguably one of the best Nashville Broadway bars and one of the best Nashville music bars on Broadway.
Roberts has seen some of the most well-known musicians and at any time you'll catch the most talented bands.
They stay open until 3am and serve cold beer and drinks, burgers, fried bologna sandwiches and more.
---
The Stage
The Stage on Broadway features great country music and calls itself a "rowdy country bar". The bands change every few hours from 10:30am to 1am spread out over 4 stages. They are also known for their friendly staff and cold, cheap beer. Make sure that you take time to check out the roof bar. You have the option of staying inside or stepping out to drink and talk.
---
Check Out Now: The Best Places to Visit on Printers Alley in Nashville
---
Kid Rock's Big Honky Tonk and Rock n Roll Steakhouse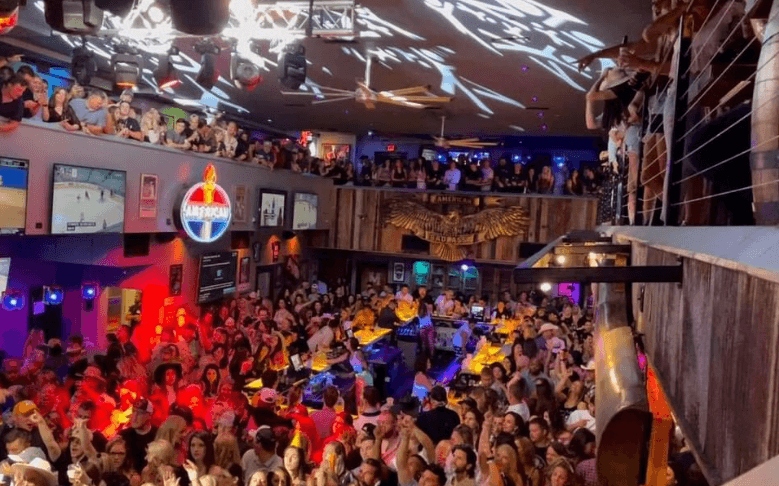 Kid Rock's Honky Tonk is Broadways biggest bar containing five floors, four stages, and six bars. It can contain about 2000 people. Make sure you check out the super high 5th story rooftop that has amazing views of downtown Nashville.
The kitchen serves famous food including their signature 36oz steak, Tomahawk Ribeye. Love sports? check it out on huge screen, 4K TV's on every floor.
---
Nudie's Honky Tonk
Nudie's is world famous, located at 409 Broadway. Nudie was a Ukrainian tailor who came to America and designed rhinestone-covered suits known as "Nudie Suits". He also customized cars including a silver-dollar studded dashboards and piston door handles. One his cars, a Cadillac El Dorado is now on the wall of the main stage. Nudie also designed costumes for Hank Williams, Johnny Cash, Elton John and Elvis.
Nudie's is open daily from 10am – 3am.
---
Tequila Cowboy
Tequila Cowboy is a bar and grill with a huge and mouth watering menu. They're located on 305 Broadway and there are no reservations required. They are open from 11am – close every day. They are a live music venue with an incredible music system, and stage. Come ready to party! the live music roster will blow your mind. Check out the upcoming music and events here.
The bar also features a karaoke bar, private parties and bachelorette parties. There's no reservation required for bachelorette parties. Just show up and have fun!
---
AJ's Good Time Bar
AJ's was founded by Country Music Superstar Alan Jackson in 2016 and is the oldest building on Broadway. The rooftop bar features incredible views of Nashville as well as multiple floors. Each floor reflects one of the facets of Alan's career.
The building used to be a civil war hospital, Nashville's first record store and a record label who recorded the stars of the Grand Ole Opry.
You can also enjoy karaoke or the game on one of the many large screen TV's.
---
Losers Bar and Grill
Losers Bar & Grill is a no-frills venue for live music. Their food comes highly recommended. Some fan favorites are the Johnny Cash burger, chicken tenders and fried egg roles. Make sure you don't miss the cold draft beers on tap, and moonshine.
This bar is very close to Broadway, just a few steps away.
A recent visitor said "Loved the music, loved the drinks! Such a fun place for a night out! My friends took me here for my birthday and I had a great time!".
---
---
Honky Tonk Central
Honky-tonk Central contains 3 epic stories of live music, food and partying. A staple of Lower Broadway, there isn't a time of day where you can't see 3 packed floor having a blast. Remember, this is not just a generic live music venue. The atmosphere, open windows and drinks create a fun atmosphere.
Honky-Tonk Central is available for private parties, VIP rooms or corporate events. Make sure you check out their award winning food. Their favorites are the Buffalo Chicken sandwich and Philly Cheese Steak. Check out the Honky-Tonk Central menu here.
---
The Second Fiddle
The Second Fiddle is located on the famous Lower Broadway and recently opened a brand new roof top bar. Their theme is tradition. They want to preserve what made Music City famous. Speaking of tradition, they never make you pay a cover charge and offer live country music 7 days a week.
---
Nashville Crossroads
The Nashville Crossroads covers most music genres including classic country, new country and rock and roll. Every bar on Broadway seeks to differentiate themselves with different themes. While most go for the multi-floor party atmosphere, Nashville Crossroads prides itself on being a neighborhood bar with friendly staff and ice cold beer. They're located smack bang in the middle of Lower Broadway – can't miss em!
---
Legends Corner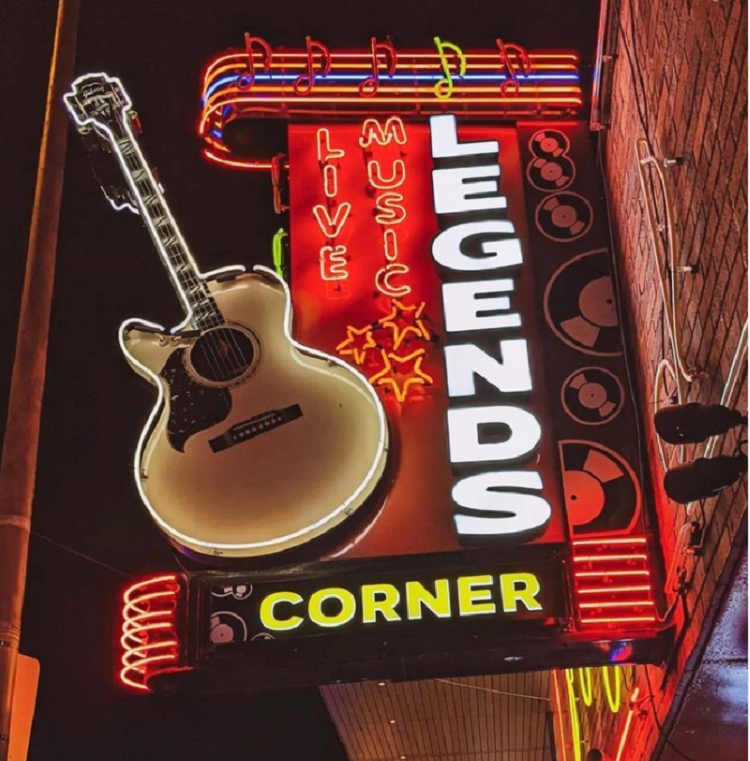 Legends Corner is just steps away from the Nashville Convention Center. Chances are that if you are visiting on business that this might be your first stop. Known as a tried and true honky-tonk dive bar, it's best known for it's live country music, honky-tonk and dancing. It's been the stage to stars like Darius Rucker, Toby Keith, David Nail, Justin Moore, Luke Bryan, Kid Rock and more.
Legends Corner is available for private parties, VIP rooms or corporate events.
Check out who's playin' here.
---
Tin Roof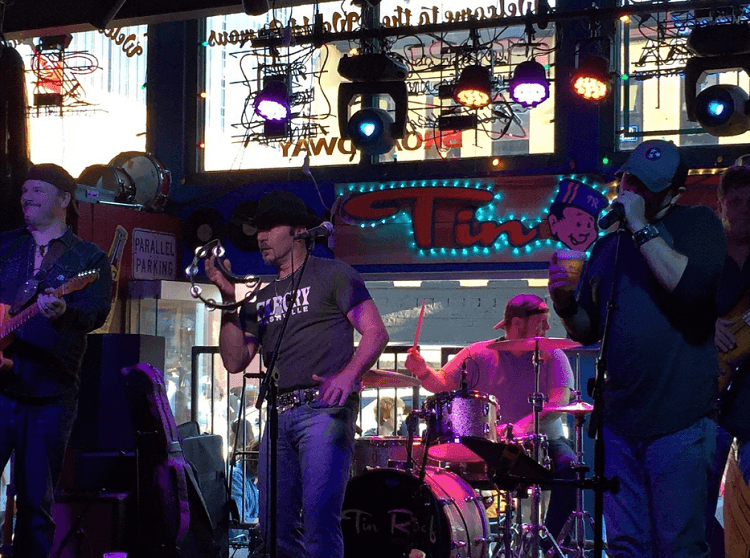 The Roof is a musicians hub that was opened to give musicians a place to hang out when they weren't on stage. They say that their "stages have hosted the famous, the should have been famous, and everyone in between." They are also known for the food and drinks.
Darla said "We were here when Tennessee played Patriots and was a mad house. Pretty much standing room only. But everyone was cordial and wait staff timely. Food was good. Plenty of televisions to see."
---
Ole Red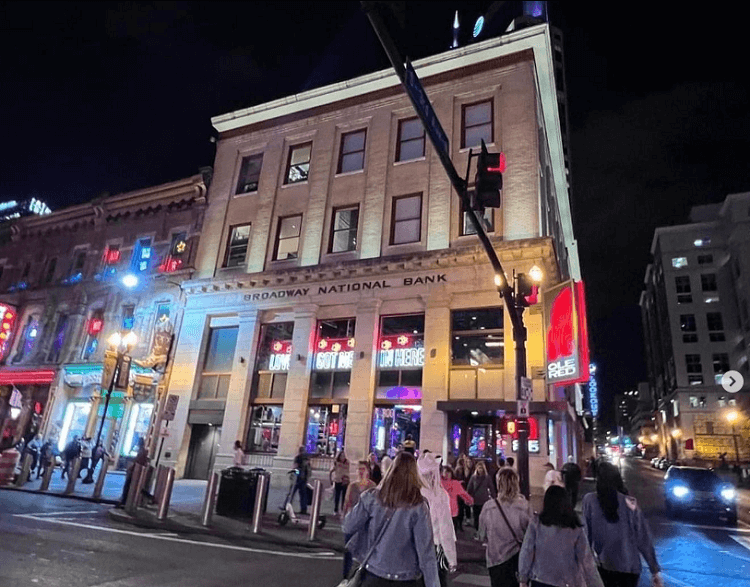 Ole Red was founded by Blake Shelton and is known as a place that the stars flock to play. Check out the current lineup here. There is one thing that visitors to Ole Red agree on: the music is fabulous. By all accounts the food is average but the drinks and music more than make up for it.
It has 3 floors that includes a rooftop bar. You need to seat yourself on the first floor.
---
Tootsie's Orchid Lounge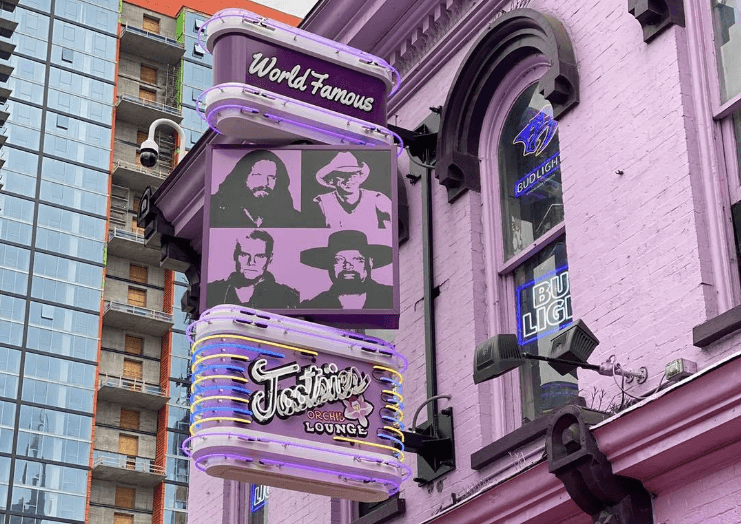 What can we possibly say about Tootsies? It's perhaps the most famous bar on Broadway. Located right behind the Ryman Auditorium it has 3 stages that host live local talent each night. Hattie Louise "Tootsie" Bess bought the future honky-tonk in 1960.
It became home to many songwriters and musicians such as Willie Nelson, Patsy Cline, Mel Tillis, Kris Kristofferson and Waylon Jennings to name a few.
The honky-tonk has 3 levels, 3 banks, a rooftop bar with an excellent view and food and drinks. They say that it's not for everyone but if it's for you, you'll know in 10 minutes.
---
FGL House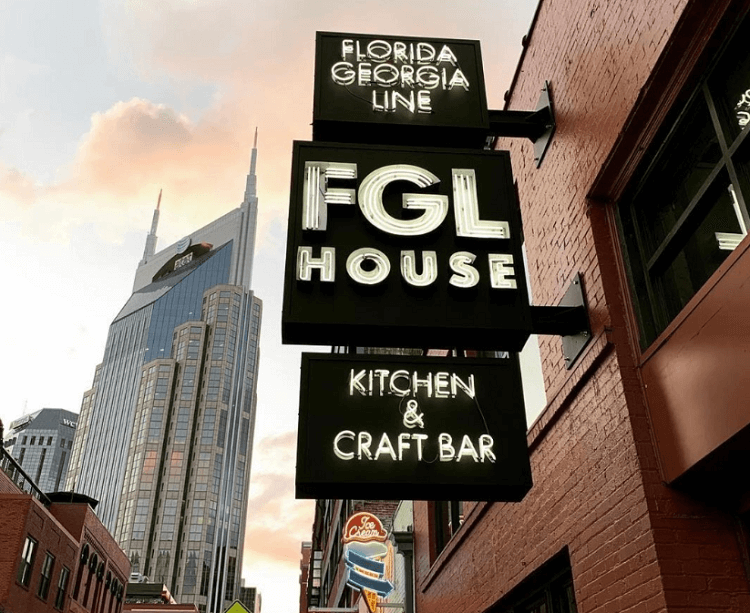 Florida Georgia Line House on 3rd Avenue, Nashville which is barely 1 block off Broadway. It features music every day and is appreciated for less of a busy feel than Broadway. It has one of the largest rooftop bars called the "Cruise" rooftop. It's dedicated to all-day and night party with cool views of the city.
---
Dierks Bentley's Whiskey Row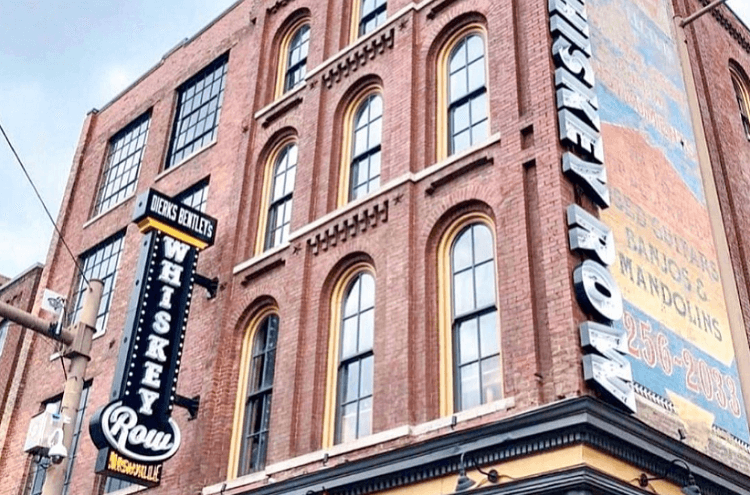 Dierks is an American gastropub which is a pub that specializes in serving high quality food. It's set inside a 3-story building with a rooftop bar and patio. While here you must try the two-hander cheeseburger, chicken and waffle entrée of the creole fettuccini. It's all comfort food with a southern twist.
---
Famous Nashville
Famous offers 3 bars. The Famous Bar, River Bar and Rooftop Bar with panoramic view of downtown. They're open Wednesday – Sunday from 10 till late.
---
Miranda Lambert's Casa Rosa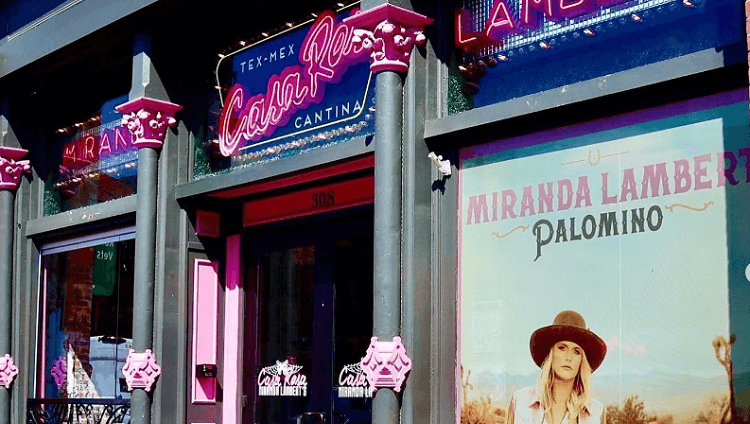 Miranda Lambert is the first female country star to open a bar and restaurant on Broadway's Honky Tonk highway. The restaurant feature Miranda's favorite Tex-Mex dining on three floors of live music and nightlife. Including, of course, a rooftop bar.
Keep an eye out for the "Pink House" that is home to some of Miranda's memorabilia.
---
Luke's 32 Bridge
Founded by Luke Bryan (obviously), Luke's 32 Bridge is in the middle of Broadway. It's a multi-level entertainment facility with levels, 8 bars, 3 stages, live music and two restaurants. The Nut House is the largest rooftop bar downtown.
The food gets rave reviews and includes dishes like pulled port, Blank and Blue Salmon Salad, Nashville Hot Chicken and Luke's Elk Burger.
It's not uncommon to find the man himself in the Nashville Luke Bryan Bar. When he opened the bar he held a free concert on New Years Eve by shutting down the street to entertain his fans.
He said "It's all about the Country Music fan experience. It's a fun experience for the tourists to come and connect with their favorite artist".
---
Rippy's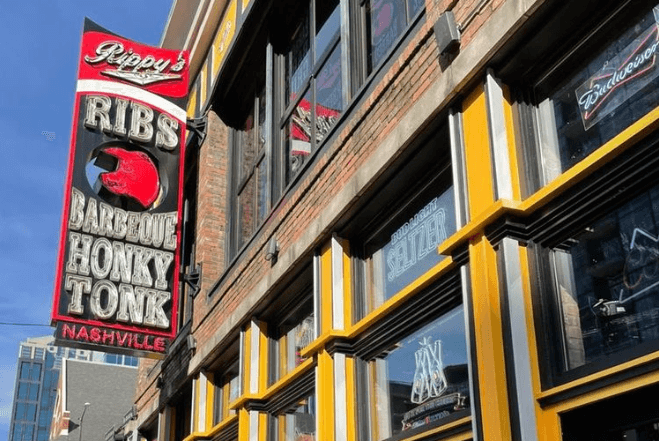 Rippy's is located directly across from the Bridgestone Arena and Tootsie's Orchid Lounge. It's become the unofficial pre-party destination known for barbeque and live music.
---
Whiskey Bent
Whiskey Bent is known for the their laid back, Whiskey loving ways. They don't attract the younger crowds that the bigger name bars do. If you're looking great, friendly customer service and cheap cold beer, stop in.
---
Redneck Riviera
Redneck Riviera is John Rich's bar. A recent visitor said " it was like hanging out with people you've known your entire life. John Rich knows how to create a fun atmosphere!".
It's an American themed honky tonk. Bartenders are friendly and the atmosphere is fun.
---
Jason Aldean's Kitchen & Rooftop Bar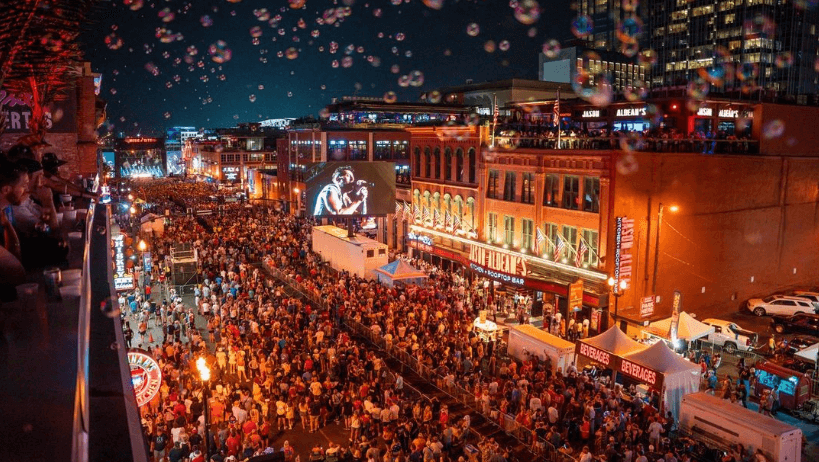 Opened by Jason Aldean in 2018 the bar contains 4 levels and a rooftop. The main restaurant level has a large bar with a 1961 John Deer tractor. As tribute to Jason's number one song "Big Green Tractor".
The rooftop bar named "My Kinda Party" is dedicated to day and night partying, dancing and views of Nashville. You'll find live country music on two floors every day. In total there are 6 bars, and great kitchen. A recent visitor said "Food and service were terrific. Plenty of space and comfortable. We were treated kindly and music was great. Thank you to all the staff who take care of their customers!"
---
Big Machine Store and Distillery
Big Machine Brewery and Distillery is the home of the Double Spiked Coolers and is located within walking distance of Broadway. Featuring live music, cocktails and tours, they open early and close in the early hours of the morning.
---
Headquarters Beercade
The Beercade is within walking distance of Broadway and covers a whopping 6,500 square feed. Choose from a full menu of modern, fresh American food,  innovative signature and communal cocktails, and unlimited free vintage arcade games. HQ is the perfect place for a pre & post game parties with only a short walk across the pedestrian bridge to Nissan Stadium, home of the Tennessee Titans. With the largest screen in the downtown Nashville area, watch every Titans game, UFC fights, & more only at Headquarters Beercade Nashville
---