Broadway in Nashville, Tennessee, is a famous street known for its live music venues, honky-tonks, and nightlife.
In the 1940s and 1950s, country music went mainstream, and Nashville became known as the "Music City."
Broadway continues to be a popular destination for music fans, with honky-tonks and live music venues lining the street.
The most famous of these venues is Tootsie's Orchid Lounge, which opened in 1960 and became a popular spot for country music stars.
Today, Broadway has been revitalized with new developments, restaurants, bars and entertainment venues opening up alongside the traditional honky-tonks.
It's by far the most popular tourist destination with millions of music fans and locals enjoying the vibrant nightlife and culinary scene.
---
If we haven't met, hi, I'm Alex Hawker, a Nashville local with deep roots in the community. My family owns and operates the Musicians Hall of Fame and Museum in downtown. I started this blog to be a helpful guide to visitors; feel free to reach out with any questions. I'm glad you're here, to learn more, click here.
---
Table of Contents
---
---
Explore Broadway in Nashville, Tennessee
---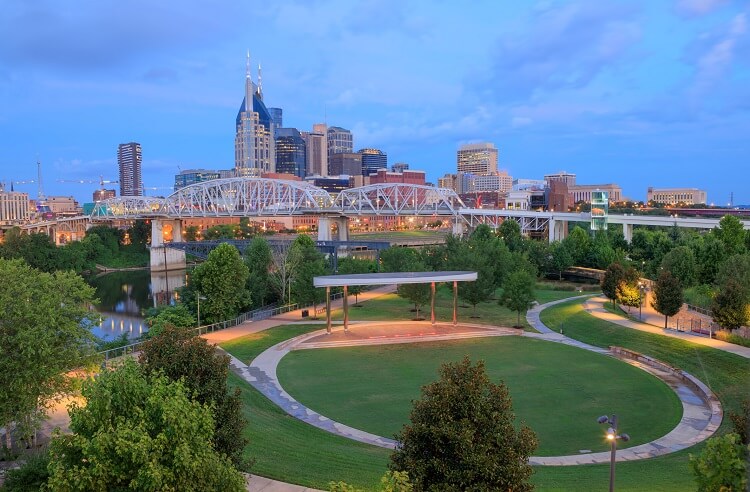 History of Broadway
Nashville sits on the Cumberland River, a 688-mile-long river that flows from the Appalachian Mountains. On 1st Avenue, where Broadway begins, there used to be shipping docks that fed the hardware stores, car dealerships, and feed stores that used to occupy the street in the 1800s. Today, we know lower Broadway as the "honky-tonk highway." But, back then, it looked a lot different.
Today, the John Seigenthaler Pedestrian Bridge allows you to walk over the river, which connects to Cumberland Park and features fountains, climbing walls, walking trails, and the Riverfront Park, which includes a 1,200-seat amphitheater.
During the Civil War, many buildings on Lower Broadway were used as makeshift hospitals or warehouses to support the troops.
As early as the 1700s, Davy Crocket stepped out of the Cumberland River and became known as a fiddle player and storyteller.
In 1925 the Grand Ole Opry opened, and during the 1930s, the music scene started to grow as Jimmie Rodgers performed in bars along Broadway near the river. His celebrity attracted other performers.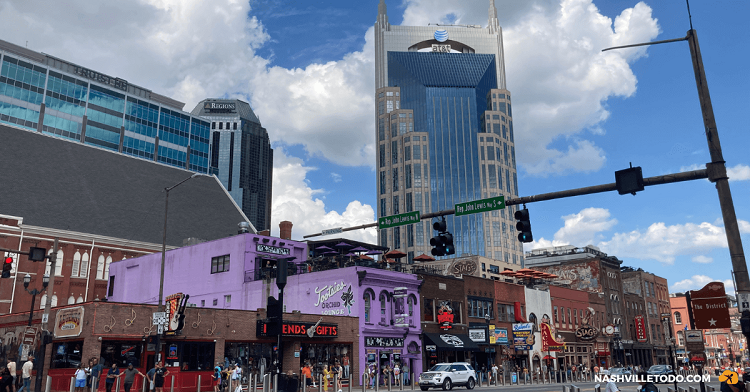 Lower Broadway (Honky-Tonk Highway)
Lower Broadway, known as the "honky-tonk" highway is an exciting place to be.
Over half of the 32 bars are owned by country music stars and it's not unusual to find those stars performing in their bars.
Live music flows out onto the streets 24/7 (yes! even on Christmas Day and Sundays!).
Country Music is the dominant sound, but you'll also hear contemporary rock and hip-hop.
There are no cover charges to get in, but you are expected to tip the musicians.
A lot of the bars are famous. Tootsies Orchid Lounge is the most famous, having been a popular spot for aspiring musicians traveling to Nashville.
Roberts Western World constantly wins the award for the best country music on Broadway.
We've written extensive guides all about Lower Broadway. You may find the following posts helpful: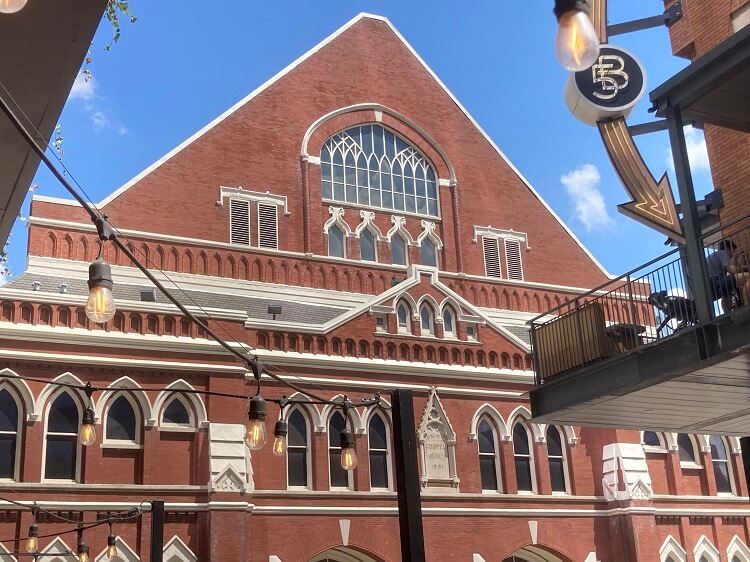 Popular Points of Interest
The following points of interest are worth exploring when on Broadway: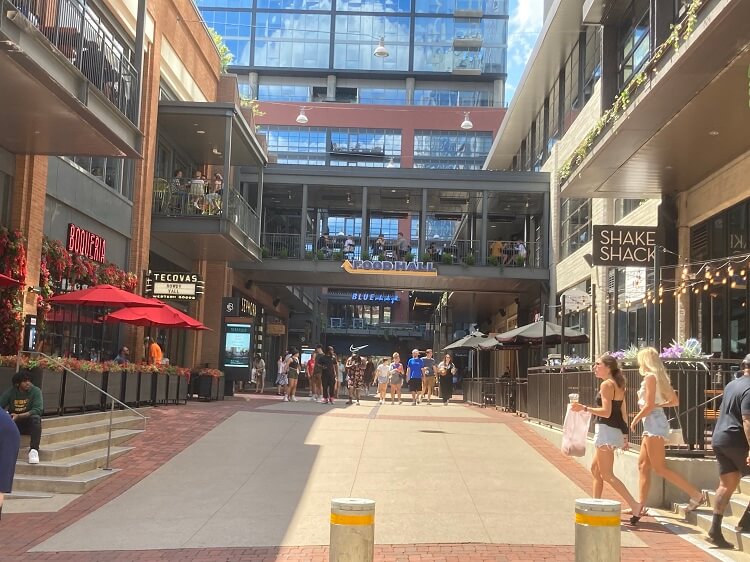 Restaurants on Broadway
Fifth & Broadway
Nashville got a major upgrade with a brand new development, Fifth & Broadway. It's located at the top of lower Broadway, an easy walk from the honky-tonks, Ryman Auditorium and across the street from the Bridgestone Arena. It also includes onsite parking.
Fifth and Broadway provides a nice spot to sit, eat, and/or drink to take a break of lower Broadway or wait for a show to start at the Ryman, Bridgestone Arena or Nissan Stadium.
Fifth and Broad includes an Assembly Food Hall. The hall includes a diverse set of eateries and bars including pizza, deserts, cocktails, salads, hot chicken, burgers, and Thai just to name a few.
Popular restaurants and eateries of note include Hattie B's and Princes (hot chicken) and CAVA (healthy salads).
For a full list of restaurants and bars, click here.
Lower Broadway
Lower Broadway is known as the honky-tonk highway and includes over 32 bars that stream live country music onto the streets all year. Most of the honky-tonks provide a great meal and drinks. For a full list of must-visit bars on Broadway that provide great food, click here. Some notable mentions include:
This is just a small selection of places to eat on Broadway. For a guide to Nashville restaurants with live music, click here.
Shopping on Broadway
Without doubt, the best place to shop on Broadway is Fifth & Broadway, a brand new development with restaurants, bars, electronic, and clothing stores.
If you are shopping for souvenirs and gifts, here is a list of the best places on lower Broadway (honky-tonk highway):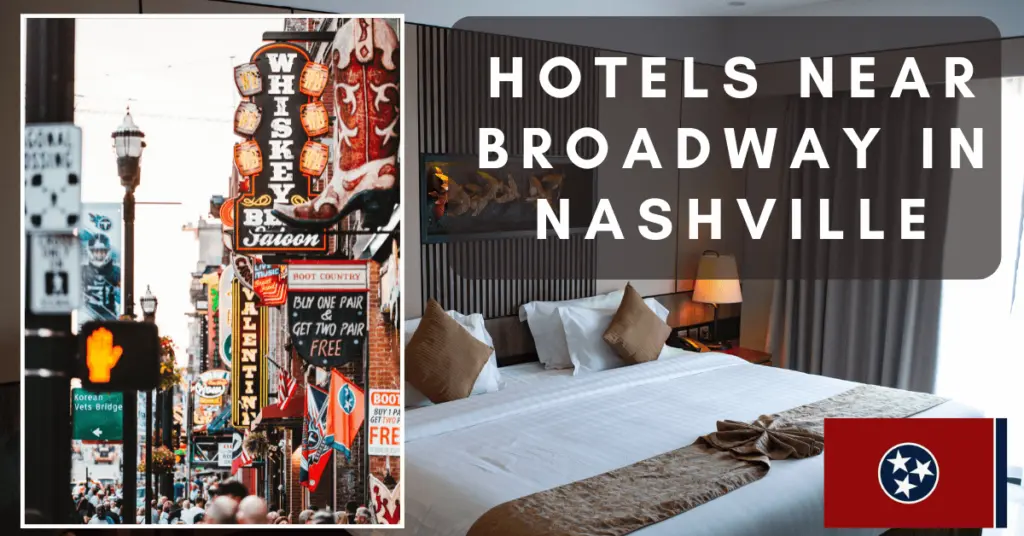 Where to Stay
There are several hotels within walking distance to lower Broadway. The beautiful thing about Nashville is that it's a very walkable and safe city. The following hotels are a short walk to Broadway. For a full list, here's our guide to hotels near Broadway in Nashville.
How to Get Around
The great thing about Nashville is that you don't need a car to get around unless you prefer private transportation.
Nashville is only 20 mins from the airport, and most attractions are focused on downtown Nashville and lower Broadway.
If you want to check out other neighborhoods, Uber and Lift operate prolifically, and areas like the Gulch, Germantown, Hillsboro, or West End are walkable once you get there.
A popular option is the Hop On Hop Off Trolley bus. It provides unlimited free re-boarding, moving around all parts of Nashville with frequent pickup service. In addition, you can explore all the major attractions with stories and songs shared by the guides. Learn more here about the popular trolley.
Upper Broadway
As you move from 1st Avenue, up through the honky-tonk highway, past Fifth and Broadway, you'll head towards upper Broadway.
You'll pass the Gulch, SoBro, and Music Row and end up in Midtown. Midtown is a fantastic place for drinks and food; we wrote a guide to Midtown here.
If you keep moving up Broadway, it turns into 21st Avenue, which will take you to West End past Vanderbilt University.
---
Commonly Asked Questions
---
What is the Best Part of Broadway in Nashville?
The best part of Broadway depends on your interests. Of course, the most popular area is the "honky-tonk" highway, a strip of 32+ bars on lower Broadway. This area is commonly known as "Nash-Vegas" and features many bars started by country artists. Other popular areas include lower Broadway and 2nd Avenue. It features a mix of restaurants, bars, and shops. Fifth and Broadway also provide good places to eat, drink and shop.
Is Broadway the Main Street in Nashville?
Yes, Broadway is the main street in Nashville. Although Broadway isn't all there is to Nashville. Broadway includes the famous honky-tonk highway and a lot of main attractions like the Country Music Hall of Fame and Ryman. Branching off Broadway, you'll find the Gulch, Music Row, Midtown, and eventually West End and Vanderbilt. It's an excellent place to start when visiting Nashville.
Is Broadway in Nashville Called Music Row?
No, Broadway and Music Row are different. Music Row is the business side of Nashville. It has recording studios and labels where songwriters and musicians create the next hits. Broadway houses all the honky-tonks and bars. Musicians pump country music into the streets daily, whereas Music Row is a quiet neighborhood. Downtown is known for its nightlife; Music row is for industry professionals.
What Part of Nashville is All the Bars?
The part of Nashville that has all the bars is lower Broadway. It contains over 32 bars, over half of which have been started by country music stars like Luke Bryan, Alan Jackson, and Blake Shelton, to name a few. Often referred to as the "Honky-Tonk Highway," the section of Broadway between 4th and 5th Avenue is home to the most iconic and popular music venues in the city.
What Month is Best to Visit Nashville?
The best month to visit Nashville is between April and October. During this time, the city has mild temperatures, and visitors can enjoy the city's attractions, outdoor activities, and festivals. Many popular festivals like the CAM Fest, Bluegrass Nights at the Ryman, and Music City Eats are held during the year's warmer months. The colder months are slow but include popular Christmas and New Year events.
Is Broadway the same as Downtown Nashville?
Broadway runs through the heart of downtown Nashville. It is therefore considered part of downtown. However, downtown Nashville includes an area that is larger than just Broadway. Broadway runs from 21st Avenue South to First Avenue on the Riverfront and connects neighborhoods like the Gulch, Music Row, SoBro, and Midtown. Downtown also includes spots like the Country Music Hall and Musicians Hall of Fame.

Can You Drive Down Broadway In Nashville?
Yes, you can drive down Broadway. However, lower Broadway gets high pedestrian traffic around the bars and restaurants, making it challenging, especially during peak hours. There can be long wait times as crowds cross the street or police direct traffic. Parking can also be difficult and expensive. The parts of Broadway that don't include the lower section are much easier to navigate with less pedestrian traffic.

What Time Do Nashville Broadway Bars Close?
Most Broadway bars are open daily until 2:30 – 3am, including weekends. However, some bars might have different closing times depending on the day of the week and the specific bar. Visitors should also be aware that some bars will have a last call for drinks before closing due to Tennessee restrictions on when alcohol can be served and to allow you to finish your drink and settle the bill.
---
If you're heading down south on vacation, you may be asking yourself, "what is the best time to visit Memphis?" …
Read more