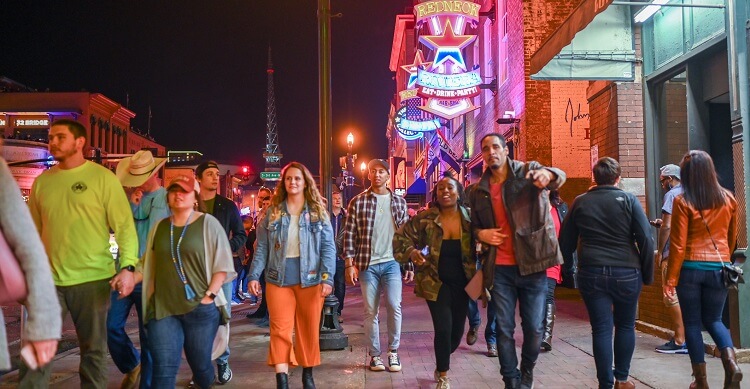 Nobody likes to be turned away after arriving at Nashville's unique bars with their friends or family members. So let's find out whether you can get into Nashville Bars at 18.
As a general rule, some bars in Nashville allow you to get inside even if you are 18 or below. However, they mostly have a time restriction, after which you are typically not allowed to enter, and some may ask you to be with your guardians.
Read on till the end to explore in which bars you can enter, even if you are 18 or below, and more.
How Old Do You Have To Be In Bars of Nashville?
As per the National Minimum Drinking Age Act, the age at which you are allowed to purchase or publicly take alcohol is 21 in the United States. So to get into bars and order alcohol legally, you must be at least 21.
That said, underage drinking still happens. Around 60% of the young population have admitted that they have taken at least one drink by age 18.
Usually, young drinkers conceal their alcohol use by drinking rapidly before going out, a practice commonly known as pre-partying or pre-gaming.
Although the minimum legal age for drinking alcohol is 21 in most states and territories of the US, the specific legal particulars tend to vary.
On the one hand, you'll find alcohol being totally banned for those under 18s. But on the other hand, in some states, there are different exceptions related to alcohol consumption.
Now here's the rule specifically related to Nashville:
Nashville is the capital of Tennessee, and as per the Tennessee Alcohol Laws, only people of 21 years and above are allowed to get and consume alcohol. Otherwise, the person will be subjected to fines of $50-$200.
However, if by getting into a bar you mean entering inside the bar with guardians or friends for fun, that's a different thing.
As I will share with you, there are some bars you can enter even if you are 18 or below. However, they can have restrictions, like you have to enter before a specific period. Let's see!
Which Nashville Bars Allow At 18?
Generally, most bars in the Broadway area of Nashville allow underage people. However, an exact time restriction can vary based on bars. For instance, the Ole Red bar allows people of all ages before nine at night.
Usually, the bars on Broadway are pretty friendly for tourists, so you can't go wrong whether you are going there with your family members or with your bachelor friends. Just be sure to select the right time to visit.
Check out the must-visit Nashville Bars on Broadway here.
Let's take a closer look at some of the best and most famous bars in Nashville that allow 18 years and below.
#1. Play Dance Bar
The Play Dance Bar is one of the famous night spots in Nashville. It is known for offering the best dance floor and great DJs. It also provides a magnificent drag show in which the drag queens carry out their performances.
The club is large and spacious enough and has heated outdoor areas. Generally, most clubgoers are around 18 to 50 years old. But mainly, the crowd comprises a young audience.
So if you are wondering about the best place to hang out with your young friends in Nashville, the Play Dance Bar can be one of the suitable destinations.
#2. Tootsie's Orchid Lounge
If you are looking for a great bar where you can enjoy excellent music, the Tootsies is one of the popular spots in Nashville.
The singers at the bar are very engaging, and you'll get a good experience visiting the venue. And if you're a teenager or less than 21, you can still go to the pub! You must, however, arrive at the bar no later than 7 o'clock in the evening.
#3. Wildhorse Saloon
Another bar where you can go as an 18-year-old or below is the Wildhorse Saloon. It is one of the gigantic music and dance destinations in Nashville. And if you are looking for a place where you can practice line dancing, look no further.
There are some restrictions, though, for entering as an underage visitor. Usually, except Friday and Saturday, all ages audiences are accepted to join and enjoy the feel of the venue.
However, if those under 18s want to visit, they must come with guardians. Also, the underage audiences are likely to be hand stamped.
#4. The Station Inn
The Station Inn is another destination that allows 18 or under 18s to enter and enjoy the events at the venue. However, the minors are required to be there with their respective guardians.
The venue has a concert area hosting various performances like the notable bluegrass event; if you want to enjoy good food with nice musical events with your family members, the Station Inn is one of the ideal spots.
#5. Robert's Western World
Robert's Western World, located in Nashville's Lower Broadway area, is a popular place to hear classic country music.
If you want to experience a calm atmosphere with beautiful music and cheaper drinks, you can't go wrong with this honky tonk of Nashville.
And the great thing is even minors are allowed to enter the venue until the early evening.
Can You Go To Nashville Bars With Your Parents?
Generally, you can go into the Nashville Bars with your parents until a fixed time in the day, like up to 7 p.m. – 10 p.m. Usually, at night time, mainly adults are allowed in the bars.
If you ask the officials at the bar, they will guide you about the exact timings of when you can visit with your friends and family members. I hope you got the idea!
Before you go, I also recommend you check out my guide about whether it is safe to walk around Nashville. It will help you know what to expect, especially if you visit the city for the first time.
And check out this guide if you are in Nashville only for a few hours!
---