Are you coming to Nashville and wondering where to stay? If you love live music and all the fantastic food that Nashville offers, you should stay within walking distance of as many attractions as possible.
Sometimes it can be confusing to understand the difference between "downtown" and "Music Row." So what's the difference between the two? Is there a big difference? Where should you stay to take advantage of everything Nashville has to offer?
Hi! My name is Alex, a Nashville local and expert on Nashville.

In this post, I will give you all the advice you need down to the actual city block.
Let's answer the question: "is downtown or music row better?"
Downtown is known for its bustling nightlife scene, with live music bars, restaurants, and the famous honky-tonk highway. On the other hand, Music Row is a historic district home to many of Nashville's major record labels and recording studios, making it a fascinating spot for music fans, industry professionals, and those interested in music history. So, whether downtown or Music Row is better for you depends on your preferences and what you hope to experience during your visit to Nashville.
Should You Stay Downtown or at Music Row? What's the Difference?
Music Row and downtown Nashville are different. A lot of people think that Music Row is Broadway. In fact, Lower Broadway is known as the "honky-tonk" highway, whereas Music Row is where record labels and recording studios are located.
The downtown district incorporates all the major attractions, such as:
---
Related: Things To Do in Downtown Nashville
---
These attractions are, for the most part, within walking distance. It may be more convenient at times to take a short Uber ride.
If you are coming to Nashville to enjoy the tourist scene, you will want to stay in the downtown district. Most downtown hotels are within walking distance of Nashville's honky-tonks on Lower Broadway, live music, and the main attractions listed above. If you want to soak up the live music, bar-hopping, and country music scene, you will want to stay downtown.
The Hampton Inn downtown is well located, just a short walk to lower Broadway and the downtown district. The Hilton Nashville downtown is also a great location. It's adjacent to the Country Music Hall of Fame and within walking distance of other major attractions. For a cheaper (but still good!) option, I recommend the Holiday Inn Express. It's also within walking distance of downtown.
Downtown Recommendations:
I've written extensive guides on the must-visit Broadway bars, best live music venues, and places to eat. However, I've listed my top personal choices below.
Bars & Live Music:
Roberts Western World. Located on Lower Broadway, Roberts consistently wins the "Best Country Music on Broadway" award, and many stars have been born here.
Tootsies Orchid Lounge. Tootsies is one of the most famous bars in Nashville with a deep history. Tootsies has housed many stars that go back to the days of the Grand Ole Opry when it was broadcast from the Ryman.
The Station Inn. This one is located away from the touristy area of Broadway. It's the hub for bluegrass and American roots music.
The Stage. On Broadway, The Stage always has an incredible line of musicians.
Big Shotz. If Broadway is too crowded or you are tired of country music, Big Shotz provides an excellent time. Their music is a mix of country and rock music and they take requests. They are located on 2nd Ave, just off Broadway.
Restaurants: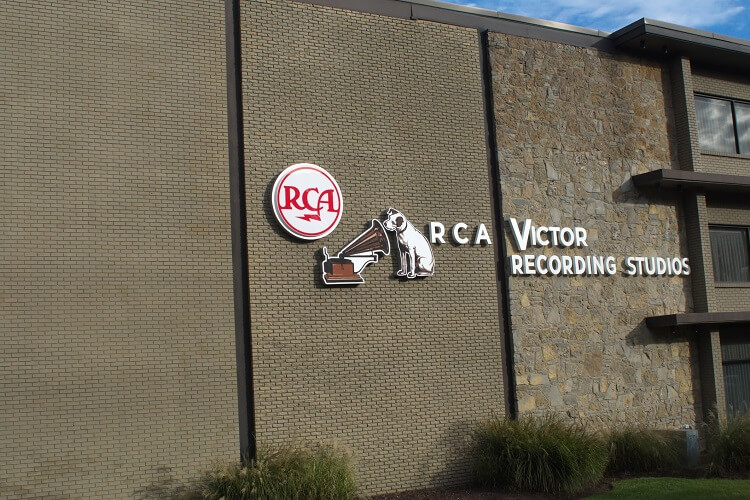 Music Row
Music Row is the area of town where the business of music takes place. It's home to radio stations, record label offices, and RCA Studio B, where Elvis Presley and Dolly Parton have recorded hits. It's a 10-minute drive or 45-minute walk from downtown Nashville.

To this day, hit songs are recorded on Music Row. It's still the heartbeat of the music industry here in Nashville. Owen and Harold Bradley opened the Quonset Hut on 16th Avenue in 1969, which gave birth to the historic avenue. Even today, it's densely packed with writers, artists, publishers, and studios. It's a unique place that doesn't exist anywhere else in the world.
Attractions on Music Row
RCA Studio B is open to the public and is credited as pioneering the "Nashville Sound." Guided tours are available, operated by the Country Music Hall of Fame and Museum. Inside the first recording studio opened by a major label, there are details of famous recording sessions and the Steinway piano that Elvis favored.
If you want to stay on Music Row, I recommend Virgin Hotels which is literally on 1 Music Square, the Hilton Garden Inn, Hutton Hotel, or Placemakr on Music Row.
Starting at what is known as the "Musica Statue," you can walk or drive the entire length of Music Row. John Rich, a Country Music songwriter, calls the statue "Hillbilly Porn." It's considered the top of Music Row and is not popular with local musicians and songwriters. John has written over 500 songs on Music Row.
Music Row is easy to walk or drive down. There aren't, however, a lot of places to stop to eat or drink. Apart from the tour of RCA Studio B (which I highly recommend!), Music Row itself isn't as exciting as downtown.
Close by Music Row is Division Street and the neighborhood known as Midtown. Midtown is a lot of fun! It's on Upper Broadway and contains a lot of dive bars, restaurants, and cocktail bars. I wrote an extensive post on where to stay and go in Midtown here.
Music Row is also close to 21st Avenue on West End.
Best Bars Near Music Row
Winners Bar & Grill. It is an excellent bar with local live music and a casual atmosphere during the week. It gets busy on weekends.
Losers Bar & Grill. A Nashville dive bar is known for its unglamorous and old style. The live music is great.
The Dogwood. Great live music with good food.
The Slider House. Gourmet sliders seven days a week.
The Red Door Saloon. It's a Nashville favorite and a hangout of celebrities.
Recommend Restaurants Near Music Row
San Antonio Taco Co.
Taco Mama
The Pancake Pantry
Martins Bar-B-Que Joint
Tin Roof
---
Downtown & Music Row FAQ's
---
What's the difference between Music Row and Downtown Nashville?
The difference between Music Row and Downtown Nashville is that Downtown has the famous honky-tonk highway with live country music bars, restaurants, and major attractions like the Country Music Hall of Fame. Music Row is a historic district and home to major record labels and recording studios. Music Row is situated in the quiet 16th and 17th Avenues West End.
Is Music Row a Good Neighborhood in Nashville?
Music Row is nestled between Edgehill, Midtown, and West End. It's a quiet and safe neighborhood close to popular bars and restaurants and hotels. Just a 5-minute drive or 20-minute walk from Nashville's famous lower Broadway strip. Situated in Davidson County, it's a popular place to live or rent as it offers an urban and downtown feel.
What is the best part of Nashville to Stay in?
The best part of Nashville to stay in is the downtown district. Downtown Nashville is close to all the major attractions like the Ryman Auditorium, Country Music Hall of Fame, Bridgestone Arena, Nissan Stadium, and of course, Nashville's famous honky-tonk highway. Most of these attractions are within walking distance or a short ride of downtown.
Is Music Row walkable to Downtown Nashville?
Yes, Music Row is walkable to downtown Nashville. If you are prepared to walk, it will take about 20-30 mins. Driving only takes about 5 mins, depending on the time of day. There are also public transport and ride-share options.
Is there anything to see on Music Row in Nashville?
Yes, there is plenty to see if you are a music fan or a music history buff. Music Row is a historical place where music labels still create hits. Attractions include RCA Studio B is open to the public and is credited as pioneering the Nashville Sound. Midtown, near Music Row, has many live music venues and restaurants.
What Part of Nashville Has the Best Bars?
The best bars in Nashville are located in the downtown district. Along Lower Broadway are about 32 bars, half of which were started by country music stars. Other areas of Nashville, like Midtown, the Gulch, East Nashville, and West End are also known for their bars and nightlife. So if you have limited time in Nashville, definitely spend it in the downtown area.
Is Music Row and Downtown Nashville the Same?
Music Row and Downtown Nashville are not the same. Music Row has an impressive array of recording studios, publishing houses, and offices of record labels. It's a quiet suburban neighborhood that has converted houses into recording studios and offices. Downtown Nashville encompasses areas like The Gulch, Lower Broadway, and significant Nashville attractions like The Ryman Auditorium and Musicians Hall of Fame.
---
If you're heading down south on vacation, you may be asking yourself, "what is the best time to visit Memphis?" …
Read more