Nashville is a hot chicken city. It's been that way since the 1940s, when Ms. Hattie Louise Campbell cooked up the first batch of spicy fried chicken at her restaurant and then later on, after she passed away, in her son's restaurant. That's how it all began: with a woman named Hattie Louise Campbell.
Some locals also claimed that an African-American family owned a restaurant in Nashville called Prince's Hot Chicken Shack. The restaurant was opened by Joe Prince in 1939 and was run by his son Herb until he died.
And now, there are hundreds of restaurants serving hot chicken in Nashville. From hot chicken sliders to hot chicken burgers to hot chicken pizza and everything in between, there are so many options for getting your fill of this delicious dish.
However, the hot chicken & BBQ in Nashville is something that you cannot find anywhere else.
But what exactly is hot chicken? It's basically fried chicken with a spicy kick! The original recipe comes from (I don't know; thousands of stories & fairytales circulation all over Tennessee) where people come from all over just for a taste. The spice comes from cayenne pepper, which gives it a unique flavor, unlike any other fried chicken you've ever had before.
Hot chicken is something that everyone should try at least once before they die. But why? Let's dig a little deeper:
Most people would assume that the city's famous food is barbecue, but hot chicken has become a staple of the city's culinary scene.
The history behind hot chicken goes all the way back to slaves who were brought over from West Africa during slavery times. They brought with them techniques for preserving meat using spices such as chilies or peppers and other spices like garlic and onions.
Of course, hot chicken isn't just about eating it; it's also about talking about eating it. There are countless jokes about people who want to try hot chicken but can't stand up to the heat. And then there are other jokes about people who love hot chicken so much that they never eat anything else (or maybe don't eat anything else because they love hot chicken so much). There's even a song about it called "Hot Chicken Blues" by Town Mountain Bluegrass Band.
Hot chicken is a proud part of Nashville's history and will be for generations to come. I know this because I was recently in Chicago and had some hot fried chicken there. It was tasty, but it wasn't hot chicken. Hot chicken is not just fried chicken with spice; it's fried chicken with attitude. If you don't believe me, go to any of these places listed below and order some hot chicken. You'll see what I mean!
1. Hattie B's HOT Chicken
When it comes to hot chicken, Hattie B's is the standard. I used to go here all the time when I worked in downtown Nashville. They're a family-run joint from Nashville. They ride for the perfect fried chicken, with scratch made sides & cold beer, gathered round a table where all are welcome. Here are a few things to know: The chicken has heat that continually will get hotter, but you can order southern style with no heat. The lines are usually long, so take the time to know what you want to order while in it. There's plenty of seating in the restaurant, but not plenty of parking.
---
2. Prince's Hot Chicken
They say hell hath no fury like a woman scorned but some folks like a little heat, including Thorton Prince – the father of Nashville's hot chicken. Even in the height of the Great Depression, Thorton Prince knew how to have a good time. He enjoyed the nightlife and had a well-earned reputation as being quite the ladies' man. Of course, one person who was not too thrilled with that reputation was his steady girl.
While we don't know if Prince came home one night with a faint hint of perfume or a smudge of lipstick on his collar, we do know that after another one of Prince's nights out, his scorned lover wanted revenge.
And using Prince's love of fried chicken as bait, she concocted the perfect recipe.
Instead of a lecture the next morning, Prince awoke to the sizzlin' smell of fried chicken. The trap set, Prince's jilted lover served up a plate of homemade fried chicken. Without noticing the devilish amount of peppers and spices she had sprinkled on the chicken, Prince dug in. Much to her dismay, Prince didn't fall over weeping in pain. Nope, he asked for seconds, and, at that moment, the legend was born.​
Prince perfected the recipe for Hot Chicken and opened up a restaurant – Prince's Hot Chicken Shack. Almost 100 years later, a lot has changed in Nashville. But not Prince's. Thorton Prince's great niece, Ms. Andre Prince Jeffries, is still serving the legendary dish that Nashvillians crave. In the last few years, the hot chicken trend has caught on like wildfire throughout the South, but Prince's Hot Chicken is the original and remains the gold standard for hot chicken.
---
3. The Stillery
The Stillery is the kind of place you can relax, eat outstanding, fresh food, and enjoy a signature mason jar cocktail. We serve up amazing brick fired pies, juicy stacked burgers, fresh salads, and tantalizing starters. The menu is comprised of what could be best explained as 'a chef's comfort food.' Our signature cocktails are made with the South's best 'shines and spirits. Looking for an amazing local beer? We have plenty to choose from. Join us on our second floor for some of the best live music in Nashville.
---
4. Puckett's 5th & Church
Puckett's roots stretch way back to the 1950's and a little grocery store in the village of Leiper's Fork, Tennessee. Ever since then we've been focused on providing friends, new and old, with great food and Southern hospitality. Six restaurants later, that aim still rings true. Puckett's has built a name on hosting live, local musical acts and serving Southern staples. Authentic comfort food classics, like the meat & 3 specials and our famous slow-smoked BBQ, in a laid-back and downhome atmosphere is what we aim for you to remember.
---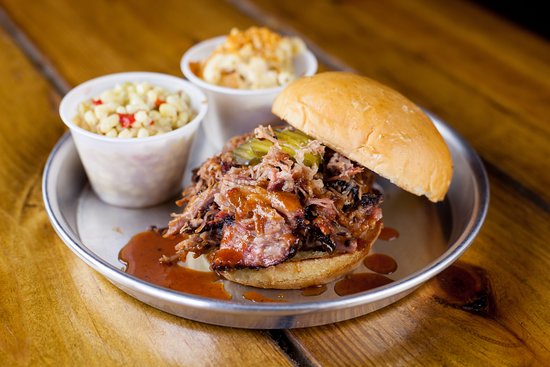 5. Edley's Bar-B-Que
Edley's Bar-B-Que is family owned and operated by its founders, Will and Catharine Newman. The first location was opened in 2011 in the 12South Neighborhood of Nashville, TN. They eventually opened two other locations in Nashville as well as an Edley's Bar-B-Que in Chattanooga, TN. It has been recognized by publications such as Southern Living, USA Today, and Garden & Gun. Edley's Bar-B-Que has been awarded Best Bar-B-Que in Nashville for four years by the readers of The Nashville Scene.
---
6. 400 Degrees
Born from Aqui Hines love for Princes Hot Chicken, everything that comes from the kitchen at 400 Degrees pays homage to the original Nashville Hot Chicken. Over ten years later, nothing has changed, we keep the same commitment to making the best hot chicken in Nashville.
---
7. Chauhan Ale & Masala House
Opened in November 2014, Chauhan Ale & Masala House has quickly become a favorite amongst locals and tourists alike and is a recognized leader in the industry. The restaurant has collected numerous accolades including Best New Restaurant, Best Lunch Spot, Where to Eat Brunch, Best Cocktails, and more from reputable outlets such as USA Today, The Huffington Post, Food Network, Travel + Leisure, Delta Sky, Playboy, Garden & Gun, The Tennessean, Nashville Scene, Eater Nashville, Zagat and Open Table, amongst many others.
---
8. Party Fowl

Nashville Hot Chicken is a dish unlike anything else. Signature to Music City, it's most often composed of bone-in chicken that's been breaded, fried and liberally seasoned with a signature blend of spices. But be warned, it's called HOT for a reason! When we hand-bread and fry our chicken, it comes out of the frier and dipped into the heat level of your choosing, causing the spice to bloom so you get the delicious heat and flavor that Nashville Hot Chicken lovers crave.
If you're new to Nashville Hot Chicken, think twice before you order. We usually recommend beginning at Medium for traditional spice-lovers, and even our Mild has an extra kick! You are always welcome to go Southern Fried (no heat) and get your sauce on the side if you're exercising extra caution. For you daredevils, our "Poultrygeist" falls at about a 2.2 million on the Scoville Heat Scale, complete with cayenne, pure habanero, ghost, scorpion, and Carolina reaper pepper.
---
9. Granddaddy's Famous Hot Chicken
Are you in the mood for delicious food using fresh ingredients at an affordable price from a great local restaurant? If so, then we are the perfect destination for you. They offer fantastic meals to our diners that can be enjoyed anywhere. Our menu features a host of mouth-watering dishes and scratch made specials. They take pride in creating a memorable dining experience.
---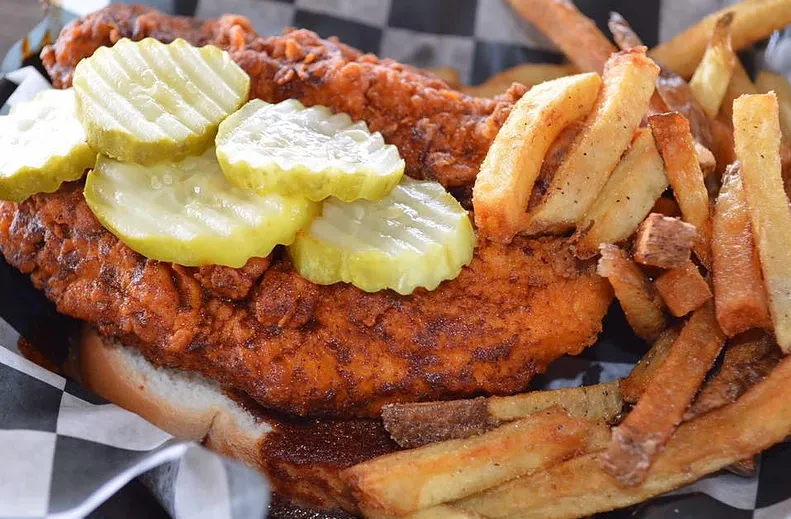 10. Scoreboard Bar & Grill
As one of Nashville's best barbeque restaurants, Scoreboard Bar and Grill, located right across from the Opryland Hotel, has been featured on the Food Network for having some of Nashville's Best Ribs and Hot Chicken. Featuring live music and bike nights, Scoreboard is sure to be your favorite summer hangout.
Alex Hawker
Editor in Chief – Nashville To Do
Alex is an Australian expat living and working in Nashville, TN. After marrying a Nashville native and moving permanently to the USA, he realized what an amazing place Tennessee is. Alex is raising two children in the Volunteer State so not only is entertainment, amazing food and cool experiences at the top of his to do list, but family friendly activities as well.