---
Hot Chicken Nashville Restaurants
---
Every city has its favorite food. Chicago has pizza, and New York has bagels. Nashville is more than just the home to great music and southern charm. It's also the home of hot chicken. You'll find that in Nashville, the chicken has a special taste than just traditional hot chicken. As an Australian coming to Nashville, I had to try it!
In this post, I will describe the non-negotiable, must-visit hot chicken restaurants in order.
As you'll read below, hot chicken in Nashville goes back generations. Families in the South have been perfecting the recipes for decades.
People travel from around the USA and the world to see two types of foods in Nashville: Nashville BBQ and hot chicken. Consequently, you'll probably have to wait in line for a feed. I would suggest that it's worth the wait at least once.
Each restaurant uses a mix of Cayenne pepper and habanero but adds its own unique recipe. One thing that is unmistakable with the restaurants listed below is their crunch. The chicken is crispy on the outside and tender on the inside with a flavorful blast. These are the best hot chicken restaurants in Nashville. Enjoy!
Where's your favorite hot chicken restaurant in Nashville? Let me know in the comments below.
---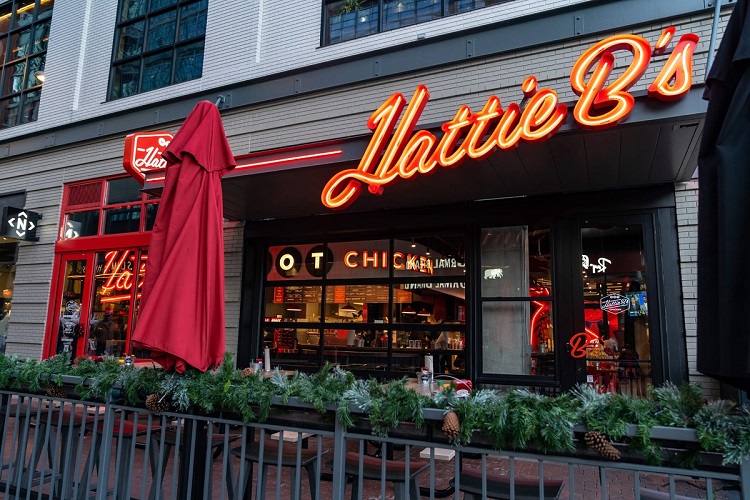 Hattie B's HOT Chicken
Hattie B's has mastered Nashville hot chicken. It's usually the first place the Nashville visitors go for hot chicken when they visit Nashville. They joke about their little room for suitcases since they jump off the plane and run to Hattie B's.
Hattie B's is famous because of the batter. It's crispy and spicy on the outside, and the chicken is tender on the inside.
They have several cuts of chicken, and you can get them all at varying heat levels.
The southern level has no heat, and the mild has a little heat. At the hot level, you'll start to feel it. Finally, the levels Damn Hot and Shut the Cluck Up will start the fire burning!
I used to visit Hattie B's when I worked downtown in Nashville. So if you want to taste real Nashville hot chicken, this is where you need to go. Learn more here.
---
Prince's Hot Chicken
It's said that Prince's Hot Chicken is where it all started in Nashville. Although the city has many spin-offs, nothing compares to the original.
The legend goes that Thornton Prince was served hot chicken as a punishment! The woman he was living with at the time was so mad at his late arrival one night that she cooked him up the spiciest hot chicken anyone had ever seen. The jokes on her because he liked it!
In 1936, the Princes Chicken shop came into existence, and it was the first time the hot chicken was served to customers.
The store has now been a staple in the black community for as long as the collective memory goes back.
It's located near the Ryman Auditorium and was popular when the Grand Ole Opry was there. Learn more here.
---
Party Fowl
Party Fowl is a newer restaurant serving hot chicken in Nashville. The main attraction is the fried chicken; however, it's different from Prince's and Hattie B's in that it has a full sit-down restaurant and bar.
The owner, Austin Smith, saw an opportunity for a full-service and full-bar hot chicken restaurant anywhere in the country.
As a result, Party Fowl has been awarded one of the top five hot chicken restaurants in America. In addition, they've been on HBO and shot shows with Shaquille O'Neal.
The spices they use are Cayenne and Haberneo pure, which takes it to the next level. All this is served on a large piece of Texas Toast bread that soaks up the mud (the leftover sauces that come off the chicken).
They serve local beers and boozy slushies, which Austin says "puts the flame out."
---
Pepper Fire
Pepper Fire does hot chicken in a way you won't see anywhere else. As a result, they have loyal and devoted local customers who come for their locally sourced chicken.
Owner and Founder Isaac Beard says that what makes them stand out is that they have always been "flavor first and heat second, but we definitely bring the heat, no doubt about that!".
The original hot chicken is served from the leg and breast quarters with a lot of heat and flavor.
You'll find sandwiches, tenders, fried pickles, fried green tomatoes, and sides on the menu. Everything is fresh and crispy.
Even if you are accustomed to high heat, most find the mild temperature hot!
The marinade is made daily in-store, and the chicken is tender. Learn more here.
---
Wildhorse Saloon
The Wildhorse Saloon is a fantastic bar in downtown Nashville. They have a vast space accommodating FREE line dancing lessons, a bar, and a restaurant. They are the most extensive bar in Tennessee.
The Saloon has some of the best hot chicken in Nashville.
They have a few options, like fried pickles and chicken wings covered in hot chicken spices. The crowd-pleaser is the hot chicken sandwich, one of the best in town. They also have a platter of hot chicken on bread, regular french fries, or waffle fries on the side. Learn more here.
---
400 Degrees
In a survey of Nashville residents, 400 Degrees was rated as one of the top hot chicken restaurants in North Nashville.
The owner, Aqui Hines, is a Nashville local (one of the few!) who grew up addicted to Princes Chicken, the founder of Hot Chicken in Nashville. Aqui was bored in the corporate world, and since she knew she was sitting on a winning hot chicken recipe, she decided to start her own business. Aqui and her business have since been featured on the Cooking Channel and the Food Network.
400 Degrees ships its products worldwide and has grown in Nashville as the hot chicken industry has grown.
Aqui's recommendation is the 200-degree breast quarter with mild heat. You're going to sweat at that level, and your nose will run.
For beginners, she suggests 100 degrees. For experienced hot chicken veterans, she recommends the 400 degrees, which is hot! Learn more here.
---
Check out next…