Who is the best barber in Nashville? That's hard to say. However, for this post I researched almost EVERY SINGLE men's barber shop. I took into consideration the online reviews, website, how professional they appeared and how long they have been in business.
In this post you'll find where to get the best men's haircut in Nashville. This is a curated list of the most current and best barber shops in Nashville. They mostly serve men's tastes or men only. Some, as you will find below, also serve women and kids. There are no Supercuts or cheap $10 haircut places listed. These are premium, service orientated, master barbers who specialize in men's hair.
I've listed below the places to get the fanciest, full experience. Do want to watch football, drink a beverage and be waited on while you and the boys get treated. We've got you.
BUT…. What if just want a great haircut for a good price without the frills. We've got that too.
This is the most up to date guide on Nashville Barber Shops that you will find. A lot of posts online are out of date. Not us, this is the best roundup of shearers in Nashville.
Fair warning! It's going to sound like I'm advertising for these places. I'm not. The reason all the reviews sound good is because I've only selected the best in Nashville. Each barber shop has it's own flair, unique setting, or personality that makes it stand out. I've tried to highlight that here.
So, if you're looking for barber near Nashville, TN – Enjoy this list!
Which place is your favorite? Tell me in the comments below!
---
Best Nashville Barber Shops
---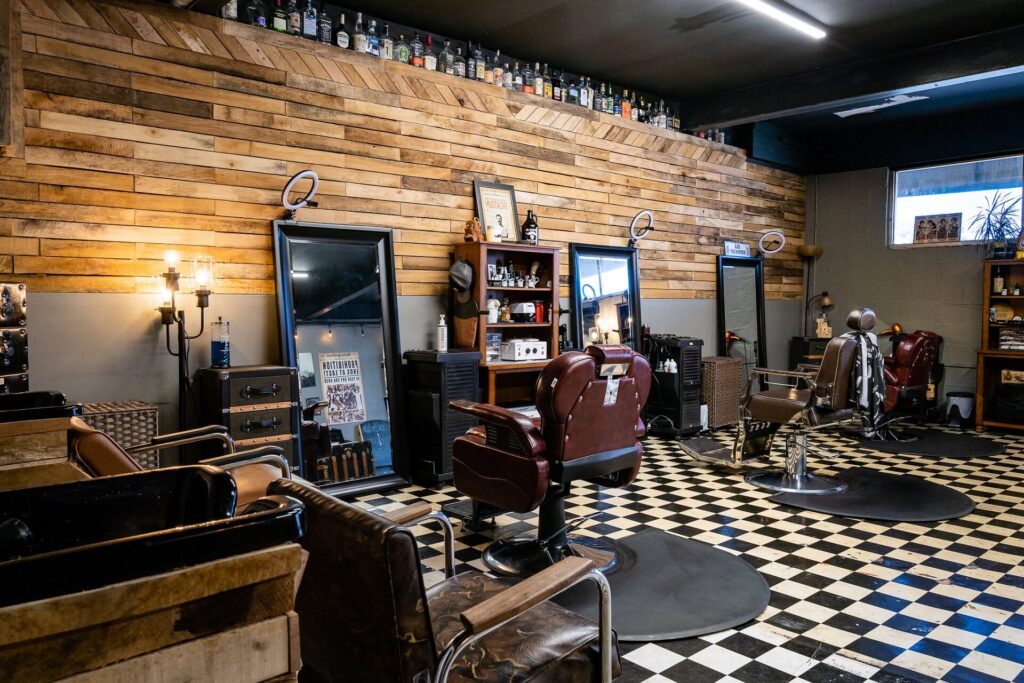 Prohibition Proper
120 Reviews | Rating: 5/5 | Address | Website
Prohibition Proper is a barber shop specializing in men's grooming. They have achieved the rare privilege of attaining a 5 out 5 rating after 120 reviews. These master barbers are friendly, skillful, and know how to provide an exceptional experience.
Pam, the owner, has created a cool, vintage look and feel with wood paneling and empty bottles. The chairs, flooring and décor give a 50's vibe. It's a cool experience and upon arrival you'll be provided a complimentary Whiskey, Bourbon, or Scotch of your choosing.
Located on Fessler's Lane, it's less than 10 minutes drive from downtown Nashville.
Compared to the other premium barber shops in Nashville, prices are standard, starting at $49 for a top shelf haircut.
They also serve bachelor parties. I recent reviewer said "Their barbers are awesome. I brought my groomsman for my wedding in October and man they did a good job. Come here, get drinks,"
---
Kingpin Barber Co.
74 Reviews | Rating: 4.8/5 | Address | Website
Stephen Bertram is the founder of Kingpin Barber Co. in Nashville and he made a splash when first opened his store in 2015. Stephen had been a barber for over a decade when he decided to take a creative turn and start making his own products. Needless to say, it's been a success.
Kingpin is located on the historic Music Row in Nashville and is a fan favorite of the local rock stars.
Kingpin specializes in grooming goods but that's not all it is. To this day, Stephen and his girlfriend are still cutting hair to the rave reviews of his customers.
Haircuts are by appointment only. Parking is easy and free on 18th Avenue where the barber shop is located.
Stephen, it seems, is a local hair celebrity in Nashville. Reading through the Google reviews you come across comments like this: "Stephen gave my husband a great haircut! He was fun to talk to and provides a laid-back atmosphere to get groomed. We will probably end up making trips to Nashville just to go to Kingpin!".
Might be worth checking out!
---
Hawkins Barbershop
133 Reviews | Rating: 4.9/5 | Address | Website
Michael Martin, the owner of Hawkins Barber Shop has been a barber for almost 14 years. He's been featured in GQ, Garden & Gun, The Scene, and Nashville lifestyles magazines. He's traveled the world for post barber school education, including the Netherlands, Greece, and Vidal Sassoon in LA. He's also an educator here in America where he travels the country teaching classes and doing stage work at hair shows.
He specializes in classic or traditional men's haircuts, so if you're looking for a mullet, look elsewhere😂.
And finally, he made the world's top 10 barber IG page, which features traditional haircuts, going as high as number 7. Also, he's the only American ever to make the list.
The barbershop is located in a private studio on 8th Ave South in the Sola Salon Suite.
Michael has been called an "artist with clippers". Another recent commenter said that all you need is one visit and you'll be a customer for life.
His new location is by online appointment only as he no longer has a phone!
Services include a classic barber haircut, skin fade haircut, clean up, beard shaping, and buzz cut.
Michael doesn't have specific cuts for kids. If your child is old enough to be able to sit unaccompanied in the chair then they're welcome.
---
Bowtie Barber Club
269 Reviews | Rating: 4.6/5 | Address | Website
The Bowtie Barber Club offer men a complete range of grooming options from a simple clean cut to the full experience, including a wedding day prep if needed.
Owned by Keith Weiser, a former professional Baseball player with the Colorado Rockies, he wanted to continue the family tradition. Keith's grandfather was a barber with a small shop in Ohio. He wanted to create a comfortable place where you can relax and get a stylish, fantastic haircut.
They are located on Old Lebanon Rd, just a 15-minute drive from Downtown Nashville.
You'll find it hard to find a single bad word about Bowtie. Judging by the reviews online you'll find a very friendly and professional bunch of stylists.
I never promised that these would be the cheapest places in town. Bowtie is neither the cheapest, nor the most expensive. Remember, if you get an $8 hair it will look like, well, an $8 haircut.
---
Oxford Barber Shop
169 Reviews | Rating: 4.6/5 | Address | Website
Many barber shops in this post offer the full experience. I must include a more "no-frills" option if you just want to get in and out with a great haircut. Maybe you don't need football on the tv or beverages on demand. This is the place for you.
They are in a great location on Acklen Avenue. Tucked within the hip 21st Avenue, Hillsboro/West End Area. They are right next to the Pancake Pantry, Fido's coffee shop (my favorite places) and close to Vanderbilt University.
No appointments are necessary, and walk-ins are welcomed and encouraged. They aim to provide a no-fills, traditional experience with a modern touch.
Amy Charlton, a local guide said that she took her son here and he came home feeling confident with an amazing fade. Like other shops on this page, you'll struggle to find a negative review.
What sets Oxford in the Village apart is access to a simple, great haircut at a great price from friendly people.
---
The Moose
379 Reviews | Rating: 4.8/5 | Address | Website
The Moose is the full service, top tier grooming and barber shop for men.
This is the place you go for custom/tailored cuts, whiskey, craft beer, cigars, a game of pool and hair products. Yep, I said beer and cigars. In fact, the price includes whiskey!
The Moose is located on the historic, Music Row in Nashville and it's the kind of place that you pay to experience.
The building feels like a man cave. The cigar room downstairs is a great place to smoke, and they have a simple selection of Bourbons and Scotches to sip before, during and after your cut.
It's clear that they are serious about doing a professional job. Check em out.
---
Collins and Co. Barbershop
167 Reviews | Rating: 4.7/5 | Address | Website
Collins & Co. Barber Shop is a top-tier, full-service barber shop. They are by appointment only and are a busy shop (that should tell you something).
They are in the true heart of downtown Nashville on 4th Ave N.
They offer haircuts, beard trims, fades, line up cuts, buzz cuts, child cuts, shaves, razor shaves, steam towel treatments and more.
They are busy and book every 30 mins. You have a 5-minute grace period until your appointment is given to another client.
After reading dozens of reviews, what stands out to me is the top-notch quality that you can expect. That's why they are busy. They take their customers seriously and only expect the highest quality from the stylists.
True to Nashville, the place is vibes with great music and fun personalities.
---
Boardroom Styling Lounge
99 Reviews | Rating: 4.3/5 | Address | Website
The Boardroom Styling Lounge has two locations in Nashville: West End and Brentwood.
Like other up market men's barbershops, Boardroom will provide free beer and a pool table.
Their signature service is "The Benchmark". It includes a personal consultation, custom haircut, and neck shave. Following this you have the options of the spa services that include paraffin hand dip, shampoo, scalp massage, pressure point massage, steamed towel, and hand massage.
If The Benchmark is too much for you, they have other, simpler services like an express haircut.
You may also want to take advantage of the "Fountain of Youth" option and camouflage those greying hairs with some coloring.
There is also option for kids tailored cuts, wash and style.
I'll admit, not all the reviews are wonderful but on the whole, this looks like a good spot.
---
Scout's Barbershop
931 Reviews | Rating: 4.7/5 | Address | Website
Scouts Barbershop is a unisex, old-school, walk-in barbershop with 6 locations in Nashville and one in Chattanooga.
Upon entering you'll be greeted by either a complimentary local craft beer or sparkling water.
But what about the haircuts?
They serve all comers, men, women, boys, and girls. You'll also find that their prices are better than a lot of the fancier barbers in Nashville. Most barbers (that aren't Supercuts) will charge at least $45-50 for a simple cut. At Scouts they start at $32 for a short cut, $44 for a long cut and $24 for a kid's cut. Not bad at all!
Customers say that the atmosphere of the shop is cozy, welcoming, and classy.
No appointment is necessary, and you can simply walk in off the street. However, calling ahead gets you on the list before you arrive.
---
Monty's Barbershop
99 Reviews | Rating: 4.7/5 | Address | Website
Monty's Barber Shop is a vintage, old school, Nashville shop. They have two locations in Nashville: Charlotte Ave. and Smyrna. The Charlotte Ave location is only a 12-minute drive from downtown.
The shop was founded in 2013 by Monty Weathers who walked away from the telecom industry, became a Master Barber, and changed the trajectory of his life.
Monty seeks to bring back the old-fashioned service industry in Nashville, TN.
This men's barber shop provides haircuts, straight razor shaves, beard trims and neck shaves.
Monty's is also on the affordable end of cuts, starting at $30.
---
If you're heading down south on vacation, you may be asking yourself, "what is the best time to visit Memphis?" …
Read more