Nashville is packed with intimate, fun, novel, and conversation-inspiring things for couples to do. It just takes a local like me to unearth the hidden gems.
Here's what you can expect from this post:
Perfect places for a date night in Nashville.
Activities and things to do as couples that are unique to Nashville.
Why listen to me? Hey! I'm Alex, a local Nashvillian who is originally from Australia. I met the woman who would become my wife when I traveled to Nashville to meet her in 2009. We dated for a short time, then got married in Nashville. We've done all sorts of things in this city. Learn more about me here.
---
Quick Ideas for Couples:
---
Try a great Nashville restaurant. Here are some good ones:

Luogo in the Gulch.
Ophelia's downtown.
Noko in East Nashville.

See a comedy show at Third Coast Comedy Club
See a movie at the Belcourt Theatre in Hillsboro.
Get cocktails at Patterson House, Midtown.
Grab drinks and play pool at Martha My Dear, East Nashville.
Take a cocktail class at Standard Proof Whiskey.
Get dinner at the famous Skulls Rainbow Room on Printers Alley.
Explore Franklin, Tennessee.
Hike at Radnor Lake.
Vinyl Tap in East Nashville. It's a bar within a record shop.
Visit the Farmers Market in downtown Nashville.
Get a cocktail on the rooftop of L.A. Jackson in the Gulch.
Visit the Bowery Vault and see some live music.
---
Restaurants for a Perfect Date Night:
---
Jacqueline Bar
The Jacqueline Bar is a great outdoor bar at The Optimist Restaurant in Germantown.
It's only open on Friday and Saturday starting at 5 pm. It's a fun place to play some boche and try a frozen drink.
You should then go inside the Optimist Restaurant and head upstairs to visit Le Loup. It's a very cozy (and somewhat hidden) bar with unique cocktails and snacks – perfect for a date night.
---
The Continental
This is a great spot to kick off your evening. I suggest sitting at the bar and enjoying cocktails; the atmosphere encourages good conversation.
You can get $8 cocktails at Highball Hour between Thursday and Saturday from 3–6 p.m.
---
The Standard at Smith House
The Smith House was started in the 1840s. It was a townhouse that was converted into a restaurant and bar.
It's part of the storied history of Nashville. Union soldiers occupied the house during the Civil War and planned for the Battle of Nashville.
It's dimly lit today with a real fireplace and candles—a very romantic place for a particular date night.
Memorable meals include the file mignon, red wine, and loaded mashed potatoes with cheese, bacon, and butter.
---
Things to Do in Nashville for Couples
---
1. Take a Romantic Stroll Through the Cheekwood Estate
Established in the 1930s, the Cheekwood Estate is a 36-room Georgian-style mansion with elaborate gardens and art galleries.
With 12 gardens encompassing 55 sprawling acres of land, couples could spend an entire day just walking around the botanical heaven.
Walk through the bucolic, English-style garden of Cora Howe's Wildings, witness the bright blooms of Bradford Robertson Color Garden, and enjoy an intimate book reading in the Sigourney Cheek Literary Garden's amphitheater.
When done with the outdoors, enter the estate and browse through the famous art pieces of Robert Rauschenberg, Andy Warhol, and more. The museum has rotating exhibits, so each visit is a unique one!
To make the most out of the trip, make sure to visit during seasonal festivities. From mid-March through April, more than 100,000 tulips emerge from the ground and open their petals. Throughout the summer, drop by the estate's Thursday Night Out and enjoy live music, delicious food, and kid-friendly entertainment. In Fall, don't miss the Halloween Pooch Parade!
2. Dance the Night Away at the Honky-Tonks on Lower Broadway
Downtown Nashville is home to some of the best honky-tonks not only in Texas but across the United States. With live music blasting out from nearly every rooftop and window, it rivals the bustling streets of Ocean Dive, Bourbon Street, and the Vegas Strip.
Featuring rustic interiors, cold drinks and warm plates, live country music, and line dancing, Nashville's honky-tonks are a must-visit if you're looking to have a good time with your partner. Some of the best honky-tonks include:
3. Catch a Show at the Historic Ryman Auditorium
What was once the home to the Grand Ole Opry is now regarded as one of the state's best music venues.
The 2,363-seat Ryman Auditorium hosts some of the biggest and most influential performers of all time, including Lizzo, Harry Styles, The Byrds, Michelle Obama, and Wu-Tang Clan. Entertainers, musicians, political figures, and comedians of all nationalities perform at the auditorium to bring it to life.
As the alleged birthplace of bluegrass music, the Ryman Auditorium is a must-visit for couples who want to experience the heart and soul of Nashville. The Auditorium hosts live entertainment and concerts almost every night of the week, with unique acts coming through weekly.
If you want to further elevate the experience, grab a Premium Pass for you and your partner. The Premium Pass offers unlimited drinks, specialty food, and a private bar and restroom!
---
Related: Things To Do in Downtown Nashville (You don't want to miss!)
---
4. Enjoy a Picnic in Centennial Park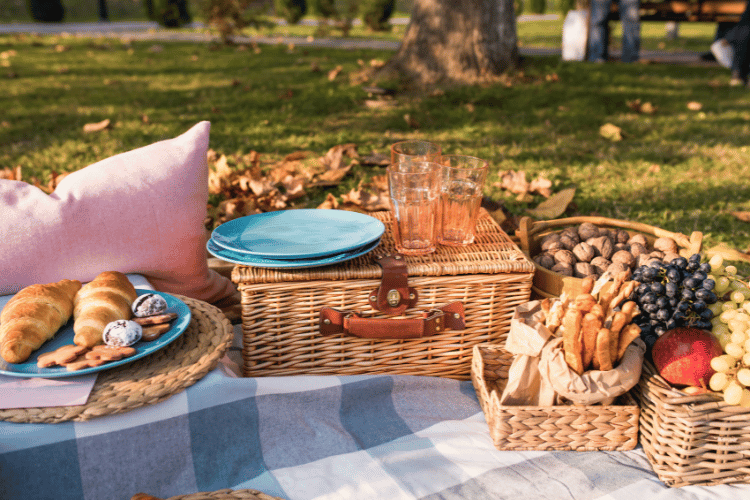 If nothing else, why not enjoy a romantic picnic in Centennial Park? Spread out a cozy blanket, indulge in homemade snacks and desserts, and soak in the peaceful ambiance.
As you converse with your partner, take the time to admire the park's beautiful lakes and lush greenery. If you're lucky, you might even catch a live performance or event happening nearby. It makes for an excellent backdrop for a memorable and intimate picnic experience.
The 132-acre park features dozens of attractions, including the Centennial Art Center, Lake Watauga, a full-scale replica of the ancient Greek temple the Parthenon, and wartime memorabilia like Civil War-era cannons, steam locomotives, fighter jets, and more.
5. Take a Romantic Horse-Drawn Carriage Tour Around Nashville
Carriage rides let couples experience the intimate details of Nashville.
By slowly meandering through Nashville's streets, couples can take in the picturesque sights of Downtown Broadway's honky-tonks, the timeless beauty of the Ryman Auditorium, and the vast banks of the Riverfront Park.
Some of Nashville's best carriage ride services include the Sugar Creek Carriage Ride, the American Melody Carriages, and Southern Comfort Carriage Tours.
6. Indulge In Southern Cuisine
A date wouldn't be complete without indulging in Nashville's fall-off-the-bone ribs, sticky barbecues, and soulful Southern dishes!
You're spoiled for choice in Nashville when it comes to eateries. You'll find a cafe or restaurant on every corner, offering an array of culinary delights to satisfy even the pickiest palettes.
If you don't know where to start, I recommend stopping by Josephine's for brunch, trying local favorites at the Assembly Food Hall, or ordering a dozen or so tacos at the Redheaded Stranger Tex-Mex eatery.
If you're willing to splurge, you can't go wrong with The Melting Pot's Wisconsin cheddar fondue, Jeff Ruby's double burger, and Rolf and Daughters squid ink Paccheri pasta.
For those with a bit of a sweet tooth, head on over to Goo Goo and try their famous Goo Goo Clusters, a marshmallow nougat, roasted peanut cluster covered in milk chocolate.
Searching for paleo and vegan desserts? Five Daughters Bakery has you covered.
7. Take a Scenic Horseback Ride in Percy Warner Park
Percy Warner Park is a 3,180-acre park located nine miles from downtown Nashville. It's considered Nashville's Emerald Gem, known for its lush forests and rolling hills, expansive green spaces, and recreational opportunities.
But instead of enjoying the sights by foot, embark on a thrilling horseback ride through Warner Park's forests and mountains, with the rhythmic sound of hoofbeats as your companion.
Nashville Equine TreK offers one of the best horseback ride services in Nashville, leading a group of two to three people in and around Middle Tennessee.
8. Go Hiking at Radnor Lake State Park
Located eight miles south of downtown Nashville, Radnor Lake State Park is one of the best stops for nature enthusiasts and lovers that want to escape the hustle and bustle of the city.
The park offers an abundance of wildlife viewing opportunities, with owls, waterfowls, herons, and dozens of mammals, reptiles, and amphibians appearing every so often.
This hiking destination offers a variety of well-maintained trails that wind through meandering creeks, dense forests, and glittering lakes to refresh the mind and body.
9. Attend the First Saturday Art Crawl
On the first Saturday of every month from 5:00 pm to 8:00 pm, more than 20 galleries scattered across downtown Nashville open their doors for exhibit openings and special events.
These events showcase a diverse range of contemporary and classic works, presented by local and world-renowned artists alike.
The First Saturday Art Crawl event is free and open to the public; no ticket or RSVP is needed! Some galleries may even serve light refreshments for couples to enjoy.
Art galleries in the event include:
Hatch Show Print's Haley Gallery
Old School Farm Pottery
Chauvet Arts
Dan Dion Gallery
Frist Art Museum
Swipe Right Art
The Studio 208
Tinney Contemporary
Art Beat Nashville
---
Related: Things To Do in Nashville and Beyond
---
10. Tour the Iconic Belle Meade Plantation
The Belle Meade Plantation is Nashville's oldest winery, built in 1807. It started out as a 250-acre land but eventually expanded to a 1200-acre plantation.
For a small fee, couples can enjoy a 30-to-45-minute guided tour to learn more about Belle Meade.
The Mansion Tour retells the stories and experiences of the Jackson and Harding families, as well as the men, women, and children who worked at the plantation more than a century ago.
The Jubilee Tour explores the stories of enslaved African American from 1807, while the Southern Food Traditions Tour takes a look at the roots of Southern culinary foods.
Each pass comes with complimentary wine tasting at the on-site winery.
11. Explore the Depths of Nashville's Waters
Foster a unique sense of cooperation, trust, and shared adventure as you and your other half set your sights on Nashville's vibrant coral reefs and ocean life.
Ohana Dive Co., Neptune Scuba Diving, and Scuba Shack are among the best scuba diving services in Nashville and are well worth the trip.
They offer access to a diverse range of dive sites, each with its own unique underwater landscapes and marine ecosystems. They handle one small group at a time, making the trip all the more intimate and personalized.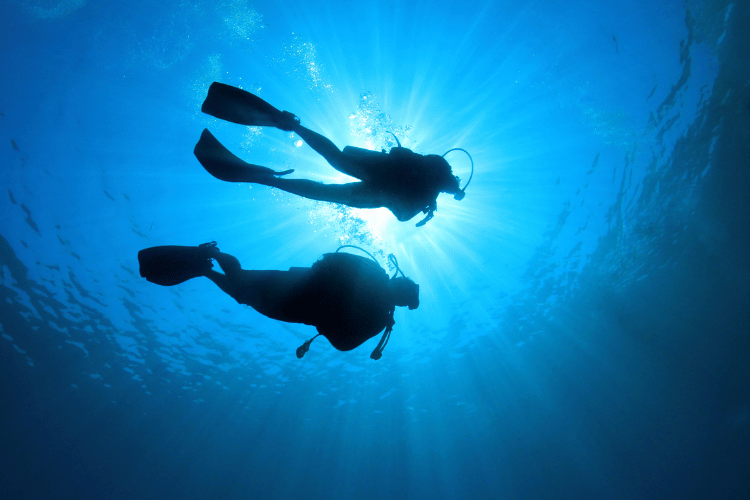 12. Altitude Trampoline Park
Defy gravity, unleash your inner child, and create memories at the Altitude Trampoline Park, a high-energy park with wall-to-wall trampolines, foam pits, and soft play structures.
These zones feature basketball hoops, dodgeball courts, and balance beams, adding extra excitement to the activity. You can challenge your partner to a friendly competition of dodgeball, test your balance on slacklines, or attempt a somersault with your other half at your side.
13. AdventureWorks Zipline Forest
If trampoline jumping doesn't satisfy you and your partner's thrill-seeking desire, book a zipline tour with the AdventureWorks Zipline Forest.
With AdventureWorks, you get to sail through the air on steel cables, conquering your fears and taking in the breathtaking views as the wind rushes through your hair.
The AdventureWorks Zipline Forest features multiple courses connected by ropes, bridges, and other aerial obstacles to best your agility and courage.
Once you get through the initial shock of the speed, you'll find it to be an enjoyable experience. If you or your other half is afraid of heights, don't worry: AdventureWorks offer a "starter trail" with less speed and height!
14. Nashville Shores Lakeside Resort
Nashville Shores is a full-fledged water park with first-class amenities and spectacular views. Water attractions feature water slides, interactive splash areas, and lazy rivers, while on-land attractions offer zip-lining, wall climbing, and rope courses.
Since the resort is situated on the shores of Percy Priest Lake, couples can spend a few hours relaxing on the beach, renting paddle boards or kayaks, swimming in the lake, or renting a jet ski.
If you time it right, you might catch the Lakeside Resort's special events and live entertainment, which includes firework displays, concerts, and themed parties.
15. Admire the Animals at Nashville Zoo
Located 6 miles southeast of Downtown Nashville, the Grassmere Nashville Zoo lets couples marvel at nature's captivating wildlife.
The zoo is built upon 188 acres of beautifully landscaped grounds, which are home to majestic primates, playful big cats, odd-looking reptiles, and rare amphibians.
It houses more than 3,000 animals of more than 325 different species, including the endangered Mexican Spider Monkey, Cotton-Top Tamarin, and White-Cheecked Gibbons.
The zoo tends to its animals with utmost care and goes to lengths to educate the public about habitat and wildlife preservation. If you or your partner are animal or nature lovers, the Nashville Zoo is well worth the visit.
---
Related: 29 Non-Touristy Things To Do In Nashville
---
Wrapping Up
Nashville offers a whole host of activities and experiences that makes it an ideal destination for couples. From its culinary delights and historic attractions to its vibrant music scene, Nashville provides a memorable backdrop for couples of all ages to create lasting memories together.
The activities above are just a sampling of the many things Nashville has to offer for couples. Don't be afraid to explore the city, visit lesser-known restaurants, and immerse yourselves in Nashville's natural attractions. Good luck, and have fun!
---
If you're heading down south on vacation, you may be asking yourself, "what is the best time to visit Memphis?" …
Read more