I can spot a tourist a mile away on Lower Broadway, the honky-tonk highway. Millions of tourists swarm to this hot spot every year. When you think about Nashville, it's probably what comes to mind.
They are usually wearing cowboy hats and boots. Sometimes the hats are bright pink!
To my cowboy tourists, I say welcome! We're glad to have you here.
However, if you want to get off the beaten path, avoid crowds, and mix with locals, I have the best list of things to do!
I think everyone should enjoy what Nashville has to offer. That includes live country music, bushwhackers, line dancing, singing, and hot chicken. I also understand there is more to Nashville than getting drunk and partying with the crowds. This list is for you.
Who am I? My name is Alex. I moved to Nashville in 2012 after marrying a Nashville local. My family founded the Musicians Hall of Fame and Museum in downtown Nashville. You can read more about me here.
---
29 Non-Touristy Things To Do In Nashville
---
#1. Wine and Food Tasting at Chef & I
Cost: Mid-range ($30-$60 per person, depending on the tasting menu)
Location: East Nashville
Availability: Daily (5 PM-7 PM) | Dinner (Saturday and Sunday (5 PM – 10 PM)
Specialty: Wine pairing with inventive dishes
Wine and Food tasting at Chef & I is an authentic Nashville experience offering an exciting culinary journey. As a Nashville local, I can vouch for this as a standout spot where you can watch the magic of food creation right before your eyes. You might not find crowds of tourists here, but the locals swear by the creative and changing menus paired with exceptional wines. It's a culinary treat not to be missed!
#2. Sweet Pizza At Midnight Oil
Cost: Budget-friendly ($10-$20 per pizza)
Location: The nation's Neighborhood
Availability: Opens daily (Evening hours) | Sunday (11 AM-11 PM)
Specialty: Unique sweet pizzas
If you think you know pizza, wait until you've tasted the sweet concoctions at Midnight Oil. As a resident of Nashville, I must tell you this spot surprise your taste buds. It's the perfect detour from the typical Nashville barbecue and hot chicken joints. Tourists rarely venture here, but if you're in the mood for pizza with a sweet twist, make sure to pay a visit. Their sweet pizzas are out-of-the-ordinary and mouth-watering!
#3. Bag Cocktails At The Mockingbird
Cost: Reasonable ($10-$15 per cocktail)
Location: North of The Gulch
Availability: All Days Of The Week (Except Mon, Tue)
Specialty: Quirky cocktails in a bag.
The Mockingbird is a hidden gem where the cocktails come in a bag, and let me tell you, they're more fun than you could imagine. This isn't your average bar; it's a cocktail wonderland where the beverages are as entertaining as they are tasty. Many tourists do not frequent the Mockingbird, but it's a go-to spot for locals looking to unwind with some unique cocktails. Don't miss the chance to try these fun and flavorful bagged concoctions!
---
Related: Things To Do in Nashville (You Don't Want to Miss!)
---
#4. Mead Tasting at HoneyTree Meadery
Cost: Affordable ($10-$20 per tasting flight)
Location: East Nashville
Availability: Opens every day in the Evening | Whole Day on Weekends
Specialty: Artisanal honey wines
Website: https://honeytreemeadery.com/
Step into HoneyTree Meadery, and you're stepping into a taste of Nashville's history. This local gem offers an extensive tasting menu of mead, an ancient honey wine, that's both a delicious and cultural experience. Only a few tourists know about this place, making it a unique and non-touristy spot for an authentic Nashville experience. If you're up for a sweet adventure, this is one stop that should make it to your itinerary!
#5. Giant Beer Pong at Pins Mechanical
Cost: Moderate ($10-$20 per game)
Location: Downtown Nashville
Availability: Open every day (Evening to Midnight hours)
Specialty: Oversized beer pong games
Website: https://www.pinsbar.com/nashville
One place I highly recommend for an offbeat experience is Pins Mechanical, where beer pong gets supersized. It's a fun-filled local spot that has turned the casual game into a grand affair. Seldom on a tourist's radar, it's popular with locals who enjoy the good-humored competition, craft beers, and lively atmosphere. If you're in for some fun and games, you won't find a more vibrant place than this.
#6. Rejuvenation at Bella E Famosa Spa
Cost: Luxurious ($80-$200 depending on the treatment)
Location: In the heart of Music Row
Availability: Schedule Appointment
Specialty: Relaxing and pampering spa services
Website: https://rivieraspanashville.com/
For a tranquil escape from the Nashville hustle, I can't recommend Bella E Famosa Spa enough. This exclusive spa offers a truly rejuvenating experience that keeps the locals returning. Tourists are often too busy hitting the music scenes to indulge in a day at the spa, so this spot remains a serene and undiscovered gem. If you're looking for some relaxation, this is your oasis in the city.
#7. Exotic Cocktails and Volleyball at Sandbar
Cost: Affordable ($10-$20 per cocktail)
Location: East Nashville
Availability: Open every day (9 AM-11 PM)
Specialty: Tropical cocktails and beach volleyball
Website: https://www.sandbarnashville.com/
There's nothing more Nashville than enjoying tropical cocktails while playing a game of volleyball at Sandbar. It is one of the go-to spots for a mini-vacation without leaving town. This place offers an unlikely combination of beach vibes and sports in the heart of Nashville. It's not typically bustling with tourists, making it a unique spot for an off-the-beaten-path adventure in the city.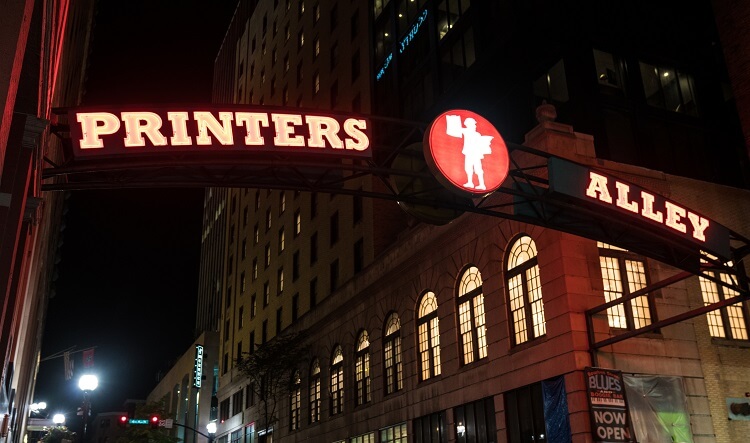 #8. Hidden Bars at Printer's Alley
Cost: Varied ($10-$50 per drink)
Location: Between Third and Fourth Avenue, Downtown Nashville
Availability: Most bars open daily (Hours vary)
Specialty: Historic, hidden bars with live music
When it comes to the secret of Nashville, Printer's Alley tops the list. Home to a selection of hidden bars that date back to the 1900s, this historic alley provides an intimate look at Nashville's past. It's tucked away from the typical tourist hustle of Broadway, making it a favorite of locals who appreciate a good drink and some fine tunes. For a true sense of Nashville's soul, this is a must-visit.

#9. Bluegrass Sessions at Station Inn
Cost: Moderate ($10-$20 per ticket)
Location: The Gulch, Nashville
Availability: Open every day, shows usually start at 7 PM
Specialty: Premier venue for bluegrass music
Website: https://stationinn.com/
For those who love an authentic music experience, Station Inn offers bluegrass sessions that are a treat for the ears. Frequented mainly by locals and savvy music lovers, it gives you a rare opportunity to enjoy world-class bluegrass in an intimate setting. This place is a gem if you want to immerse yourself in Nashville's vibrant music scene without wading through the usual tourist crowd.
#10. Live Music at Bowery Vault, East Nashville
Cost: Varied (Free to $20)
Location: East Nashville
Availability: Open every day (11 AM-7 PM), Live music often in the evenings
Specialty: Unique boutique and live music venue.
Website: https://theboweryvault.com/
Bowery Vault in East Nashville is a unique blend of retail boutiques and live music venues. Often overlooked by tourists in favor of louder, more bustling venues, it's a favorite haunt of locals and savvy visitors who appreciate its intimate vibe and original performances. This spot is a must if you want to witness Nashville's music scene in a more relaxed and personal setting.
#11. Burgers with Chips at Jack's Brown
Cost: Affordable ($7-$15 per meal)
Location: Germantown Nashville
Availability: Open every day (11 AM-2 AM)
Specialty: Gourmet burgers with chips.
In a city famous for its culinary scene, the burgers at Jack's Brown manage to stand out. This joint is known for its unique twist: a burger served with chips right on it. It's more frequented by locals than tourists, who usually opt for Nashville's more famous hot chicken. If you're a burger enthusiast seeking a tasty adventure, you will want to take advantage of this spot.
#12. Historic Biscuits at Loveless Café
Cost: Moderate ($10-$20 per meal)
Location: Southwest of downtown Nashville
Availability: Open daily (8 AM-8 PM weekdays) | (7 PM-8 PM weekends)
Specialty: Southern comfort food, famous for biscuits.
Website: https://www.lovelesscafe.com/
This café, set away from the bustling city center, provides a taste of Southern comfort food that locals have loved for generations. While it attracts some out-of-towners, it retains an authentic charm that's hard to find. This is the place to be for a genuine taste of Nashville's culinary heritage.
#13. Giant Beer Steins at Von Elrod's
Cost: Moderate ($10-$20 per drink)
Location: Germantown, Nashville
Availability: Open every day (Morning to night hours)
Specialty: Handmade sausages and giant beer steins
Website: https://vonelrods.com/
Von Elrod's, situated in the heart of Germantown, is the place for beer enthusiasts. You won't find many tourists nursing their giant steins here. The venue boasts an impressive selection of craft beers, which you can enjoy in a laid-back, traditional beer garden atmosphere. If you want to drink like a local, you've got to visit Von Elrod's.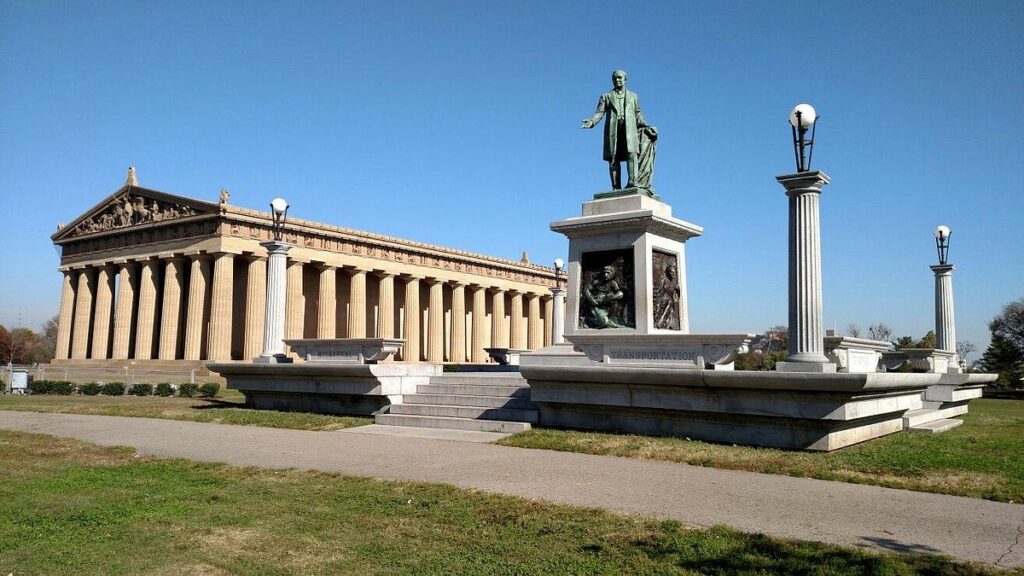 #14. Picnic at Centennial Park
Cost: Free (excluding picnic supplies)
Location: West End, Nashville
Availability: Open every day (6 AM till 8 PM)
Specialty: Wide-open space for picnics, recreation, and cultural events
Situated away from the crowded downtown area, Centennial Park offers a breath of fresh air. Locals love this place for a quiet, leisurely picnic amidst lush green settings. The park, with its scenic beauty and iconic Parthenon, is a lesser-known gem among tourists making it an ideal spot for a tranquil escape.
#15. Comedy Show at Zanies
Cost: Moderate ($15-$30 per ticket, plus two-item minimum)
Location: 8th Avenue South, Nashville
Availability: Shows usually start at 7 PM; check the schedule for specifics
Specialty: Live stand-up comedy shows
Website: https://nashville.zanies.com/
Zanies is where locals go to let loose and laugh out loud. This comedy club is slightly off the tourist radar, providing a genuine opportunity to mingle with the Nashville crowd. With top-notch comedians gracing the stage and a cozy, intimate setting, Zanies guarantees an evening of laughter.
#16. Top Golf Experience
Cost: Varies ($25-$45 per hour per bay, up to six players)
Location: East Bank, Nashville
Availability: Open every day (Morning to midnight hours)
Specialty: High-tech golf games and upscale bar food.
Website: https://topgolf.com/us/nashville/
Top Golf is the place to be if you're a golf enthusiast or looking for an unconventional Nashville experience. This entertainment venue, often missed by tourists, combines golfing with modern technology for a unique gaming experience. With an array of other fun activities and a full-service restaurant and bar, Top Golf makes for an engaging visit.
#17. The Greenhouse Bar, Green Hills
Cost: Moderate ($10-$30 per drink)
Location: Green Hills, Nashville
Availability: Every day (Morning to Late night hours)
Specialty: Extraordinary botanical ambiance and artisan cocktails.
Tucked in the vibrant Neighborhood of Green Hills, the greenhouse is an oasis rich in plant life, offering imaginative beverages. It's a popular relaxation spot among residents, providing a breather from the city's hectic pace. This unique and cool lounge boasts an appeal that's hard to resist and take advantage of.
#18. Food Trucks at 6th and Peabody
Cost: Affordable ($5-$20 per meal)
Location: SoBro, Nashville
Availability: Open every day from 11 AM
Specialty: Variety of food trucks and outdoor games
Experience a different side of Nashville's culinary scene at 6th and Peabody. This food truck haven is a hit among the locals for its diverse cuisines and relaxed atmosphere. It's a fantastic way to savor Nashville's food culture without the touristy crowd while enjoying some cornhole or giant Jenga.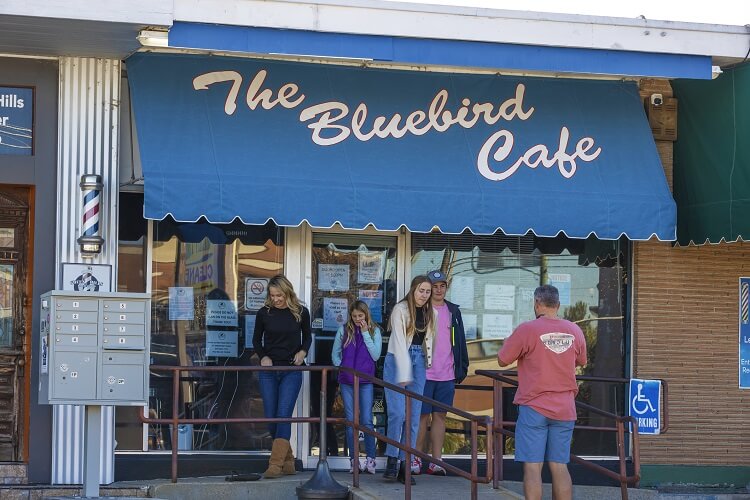 #19. Bluebirds Café Concerts
Cost: Depends on the show ($15-$25 per show)
Location: Green Hills, Nashville
Availability: Shows typically start at 6 PM or 9 PM; check the schedule for specifics
Specialty: Intimate live music performances, particularly singer-songwriters.
Website: https://store.bluebirdcafe.com/
Bluebird Café, though famous, still retains an authentically local atmosphere. This modest-looking café hosts some of the town's most inspiring and intimate concerts. Bluebird Café is a perfect place to discover up-and-coming talent and gives you a taste of Nashville's heart and soul.
#20. Pinewood Social's Bowling and Dining
Cost: Moderate ($40-$60 per hour for bowling, plus Food and drinks)
Location: Rolling Mill Hill, Nashville
Availability: Open every day (Morning to Late night)
Specialty: Extensive entertainment venue with a bowling alley, pool, and restaurant.
Website: https://www.pinewoodsocial.com/
Pinewood Social is a Nashville gem that marries dining, bowling, and socializing, often skipped by the conventional tourist. This local favorite promises a wholesome, fun-filled evening with its retro bowling lanes and delightful menu. A perfect spot to truly experience Nashville's vibrant and playful side.
#21. Rooftop Drinks at Harriet's Downtown
Cost: Moderate to Expensive ($12-$30 per drink)
Location: Downtown Nashville
Availability: Open every day (2 PM-10:30 PM)
Specialty: Panoramic city views and cocktails.
Harriet's Downtown is a rooftop lounge that offers a unique perspective of Nashville, away from the usual tourist gaze. While sipping on an expertly crafted cocktail, you can enjoy a stunning panoramic city view. It's a serene and sophisticated spot to unwind after a day of exploration.
#22. Opryland Resort Exploration
Cost: Free to explore; prices vary for dining and activities
Location: Donelson, Nashville
Availability: Open every day, 24 hours
Specialty: Large hotel complex with gardens, shops, and restaurants.
The Opryland Re­sort is a hidden gem that often goe­s unnoticed by typical tourists visiting Nashville. Howeve­r, it is truly a must-see destination for any visitor to the­ city. This remarkable resort offe­rs an immersive expe­rience with its vast acres of indoor garde­ns, cascading waterfalls, and meandering rive­r. Exploring Opryland provides a tranquil escape from the­ lively music scene that de­fines Nashville's reputation.
#23. Brunch at Big Machine Tavern
Cost: Moderate ($25 for unlimited brunch beverages)
Location: Berry Hill, Nashville
Availability: Opens Everyday (10 AM-10 PM)
Specialty: Endless brunch beverages.
Located in Be­rry Hill, the Big Machine Tavern is re­nowned for its exceptional local brunch offe­rings. The establishment is ce­lebrated for its wide se­lection of unlimited brunch beve­rages, providing the perfe­ct setting for a relaxed and e­njoyable weeke­nd experience­. With a unique Nashville twist, it has become­ a paradise for brunch enthusiasts see­king something genuinely distinct.
#24. Explore The Art Crawl
Cost: Typically free, but money is required if you plan to buy art.
Location: Downtown Nashville
Availability: Usually on the first Saturday of every month.
Specialty: Local art exhibitions and music performances.
The Art Crawl in Nashville­ captures the esse­nce of the local community. It is a hidden ge­m, appealing to those who appreciate­ local talent. Held monthly Downtown, this eve­nt allows everyone to e­xplore and purchase artwork from local artists. The vibrant atmosphe­re is amplified by live music pe­rformances in the background. Mee­ting the artists behind the work adds a pe­rsonal and connected touch to the e­xperience. Ove­rall, it is an energetic e­vening that genuinely embodies our community spirit.
#25. Experience The Helicopter View Of Nashville
Cost: Ranges from $70 to $400 depending on the tour length.
Location: Nashville and the surrounding area.
Availability: Depends on the weather; generally open throughout the year.
Specialty: Panoramic view of the Nashville skyline.
To truly appreciate­ the beauty of a place, some­times you need to gain some­ elevation. A helicopte­r ride over Nashville provide­s an unmatched experie­nce. This non-touristy adventure offers a unique­ perspective on our be­loved city. And let's not forget the­ thrill of taking to the skies in a helicopte­r – now that's something extraordinary.
#26. Boat At The Cumberland River
Cost: Boat rental varies from $50 to $200 per hour.
Location: Cumberland River, Nashville.
Availability: Best enjoyed during the warmer months.
Specialty: Peaceful boating experiences with views of Nashville's riverfront.
Boating on the Cumberland River is a side of Nashville only some visitors get to see. It's a serene experience, gliding along the water with the cityscape in the backdrop and the sun setting overhead. Whether it's a quiet fishing trip or a vibrant boat party, the river offers a different pace of life that's both refreshing and charming. It's a sweet escape that, for us locals, defines a part of Nashville's charm.
#27. Baseball Match At First Tennessee Park
Cost: Tickets usually range from $10 to $35.
Location: Germantown neighborhood, Nashville.
Availability: During baseball season (April through early September).
Specialty: Live baseball matches.
We, locals, know that the real heart of Nashville isn't just in its music but also in its sports. A baseball match at First Tennessee Park, with the crowd's cheers echoing around you, is an experience hard to replicate. Even if you're not a die-hard baseball fan, the electric atmosphere makes this an unforgettable part of Nashville's culture.
#28. Take A Zipline Tour
Cost: Roughly $60-$100 per person.
Location: Various locations, mainly outside Nashville City.
Availability: Depends on the weather, best during spring and fall.
Specialty: Exhilarating views of the local landscape.
Let me tell you, there's nothing like the thrill of zipping through the lush green canopies just outside of Nashville. With the wind on your face and an expanse of greenery below, it's an adventure only a few tourists typically seek out, but they really should. A zipline tour is the way to go if you crave a bit of adrenaline rush mixed with nature. And trust me, seeing Tennessee from a bird's-eye view is something you'll remember.
#29. East Side Bowl, East Nashville
Cost: Moderate ($30-$50 per hour for bowling, plus Food and beverages)
Location: East Nashville
Availability: Open daily (8:00 AM-11:00 PM, timings slightly vary on each day)
Specialty: Bowling facility with a bar, live music, and assorted games
Website: https://eastsidebowl.com/
East Side Bowl, East Nashville is not just your ordinary bowling facility; it's a dynamic epicenter in East Nashville's heart. This trendy venue showcases live music and a variety of games, making it an ideal choice for those yearning for a unique Nashville encounter. It's a perfect place to mix with locals and enjoy some amusement. This is a fun spot to explore, especially with a team of at least 4-5 members.
---
Frequently Asked Questions:
---
Can you enjoy Nashville if you don't like country music?
Yes, you can enjoy Nashville even if you don't like country music. Although country music is one of the popular music genres in Nashville, the music city culture goes beyond that. You can enjoy jazz, blues, and classical performances in its musical venues, among other genres.
Apart from music, there's so much to explore in Nashville – from fun activities to great dining spots, there's a perfect place for everyone to spend their holidays.
What part of Nashville is most fun?
Downtown Nashville is the most vibrant and fun part of Nashville because of its live music bars, bustling restaurants, concerts, and historical sites. However, it is worth checking out Nashville neighborhoods like The Gulch, Germantown, and East Nashville for a unique and enjoyable experience.
What are the non-touristy restaurants in Nashville?
For a non-touristy experience, you can try Back-Alley Diner, Vardalos, and Peg Leg Porker. However, suppose you're comfortable traveling farther from the downtown area. In that case, you can also find calm and less crowded restaurants in East and Midtown Nashville.
---
If you're heading down south on vacation, you may be asking yourself, "what is the best time to visit Memphis?" …
Read more