If you're a teetotaler, designated driver, allergic to fermented beverages, or like to keep your wits about you in the land of Tennessee Whiskey and Moonshine, fear not, my sober friends.
I'm here to guide you on a wild, booze-free adventure through the Nashville streets. It's a no-hangover-guaranteed, friendly travel guide to experiencing Tennessee. So prepare to be entertained as we uncover hidden gems to discover without the beer goggles!
What to do in Nashville if I Don't Drink?
None of the attractions in Nashville require you to drink to have a good time. You can immerse yourself in rich musical experiences by attending live performances at venues like the Grand Ole Opry, the Ryman Auditorium, or the Bluebird Café. You can visit a plethora of museums and art galleries or stroll through nature. In this post we discover all the options.
---
Table of Contents
---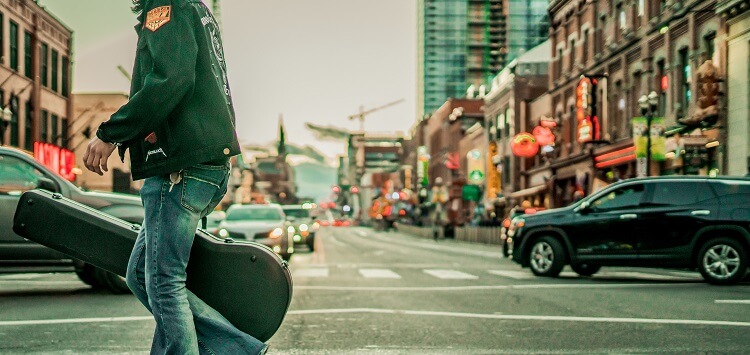 Go to Broadway and Don't Drink
There's no rule that says you have to drink on Broadway to have fun. Lower Broadway has Nashville's Honky-Tonk Highway. It has over 32 bars featuring live music of all sorts (not just country music), dancing, and great food.
If you'd prefer to skip the crowds and the excess drinking, my recommendation would be to visit during the day on a weekday. The music plays 24/7. There are also many other bars and restaurants with amazing live music where the emphasis is on the music and not the alcohol. I've written about those here and here.
Nashville Sounds Baseball Game
Watching the Nashville Sounds baseball game with family is fun at the stadium in the Germantown neighborhood, about a 5 to 10-minute drive from Downtown. Parking is easy next to the stadium.
You'll have a blast watching a live baseball game with cheering crowds supporting the local team, hot dogs, and a cracking bat.
The price of tickets is usually between $10 and $20, depending on the seating area and the game day.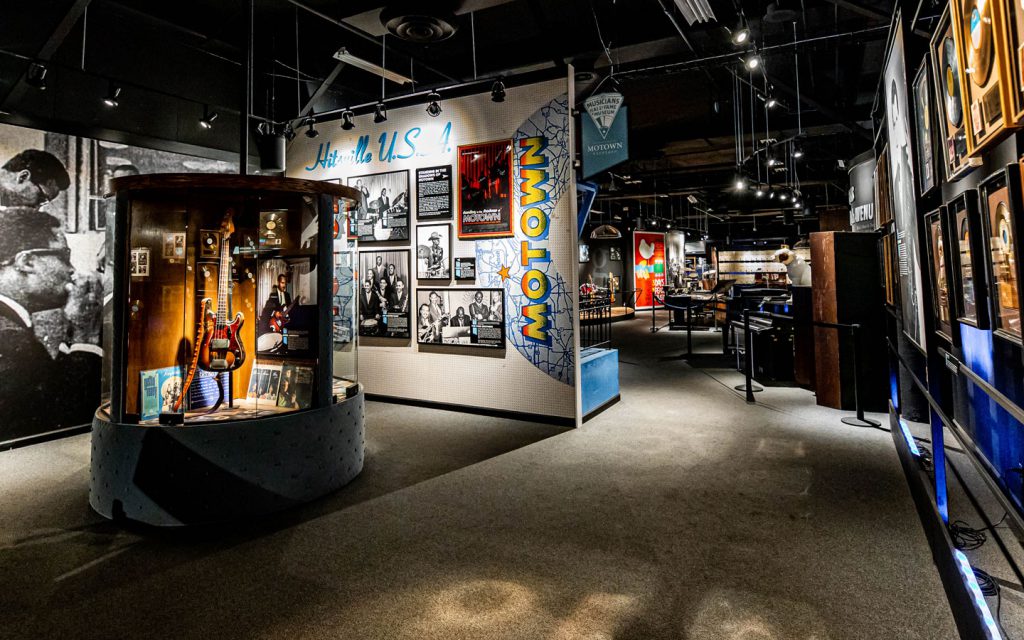 Musicians Hall of Fame & Museum
If you're interested in how some of the finest musicians in the country were made, the Musicians Hall of Fame & Museum is a worthwhile place to visit with your family in downtown Nashville.
It is the only Museum in the world that honors musicians who played on the greatest recordings of all time. You can even try some of the instruments yourself.
You'll find everything from Elvis Presley's recording studio, Glen Campbell's guitar to Johnny Cash and The Rolling Stones memorabilia there.
Tickets for the tour are $28 for adults, $15 for youth (6-15 years), and free for kids under 5.
You can purchase tickets individually or as part of the Nashville Sightseeing Pass (recommended).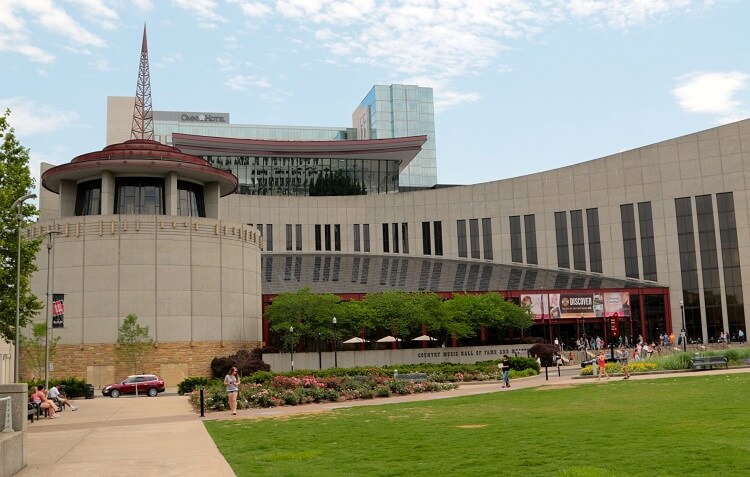 Country Music Hall of Fame
You can learn all about country music history at the Country Music Hall of Fame, located within walking distance of Downtown.
It's got exhibits about country music legends' lives, cars, guitars, clothes, and careers, memorabilia from iconic artists, and interactive displays.
They offer different tours starting at $28 for adults, $18 for youth, and free tickets for kids under 5.
You can purchase tickets individually or as part of the Nashville Sightseeing Pass (recommended).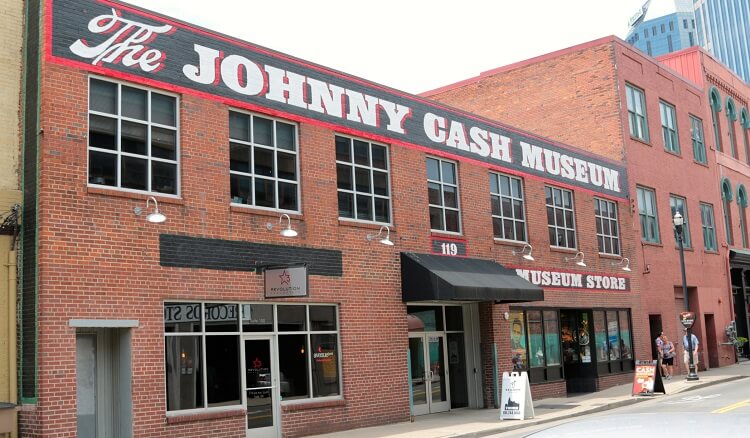 The Johnny Cash Museum
In this Museum, you can experience the life and music of Johnny Cash, one of the most iconic figures in country music history, through interactive and audio-visual displays.
You'll find memorabilia, including Cash's belongings, stage costumes, instruments, awards, and photos.
It's located in the heart of downtown Nashville, and you can park around the Museum easily.
Tickets for general admission cost about $25 for adults, $14 for seniors and military, and $21 for kids ages 6-15. Kids under 6 are free. Get tickets here.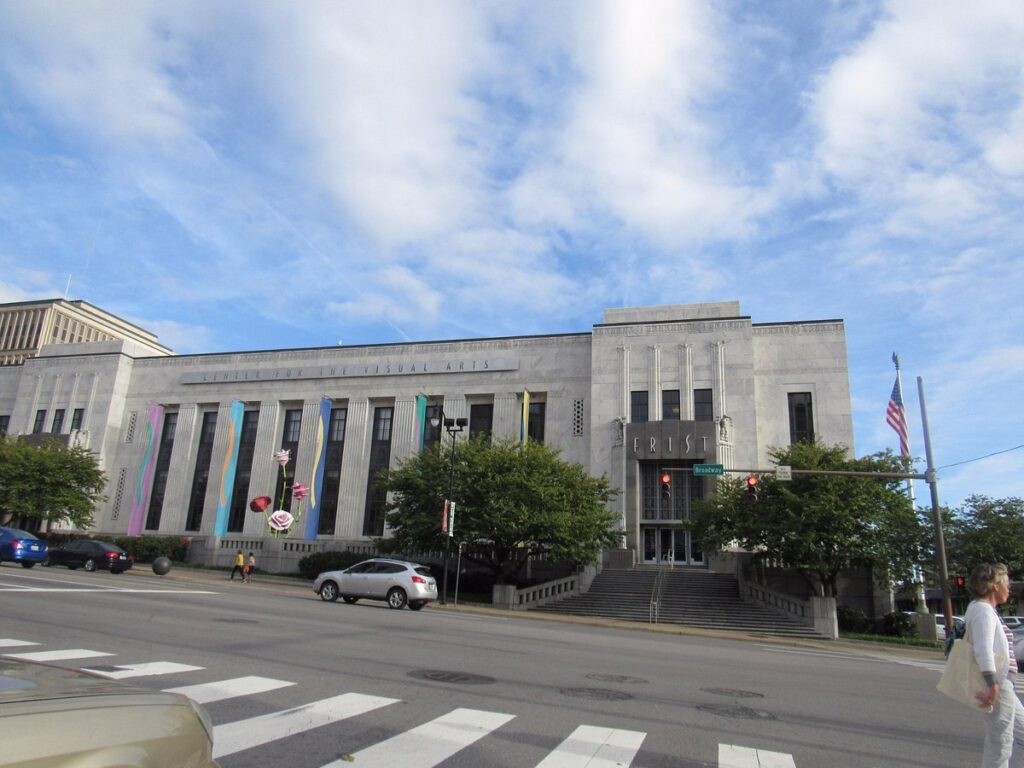 Frist Art Museum
Located Downtown, the First Art Museum has exhibitions by local, regional, national, and international artists and rotating collections from other museums and galleries.
It was a post office before 2001, and its architecture combines classical and modern elements.
This Museum has a great collection of sculptures, photography, and contemporary art. There's also an arts and craft area where your kids can get creative.
I enjoyed the Eric Carle exhibit, which gave us an in-depth look at the creative process.
As an adult, you can tour this Museum for $15, and if you're 18 or younger, it's free.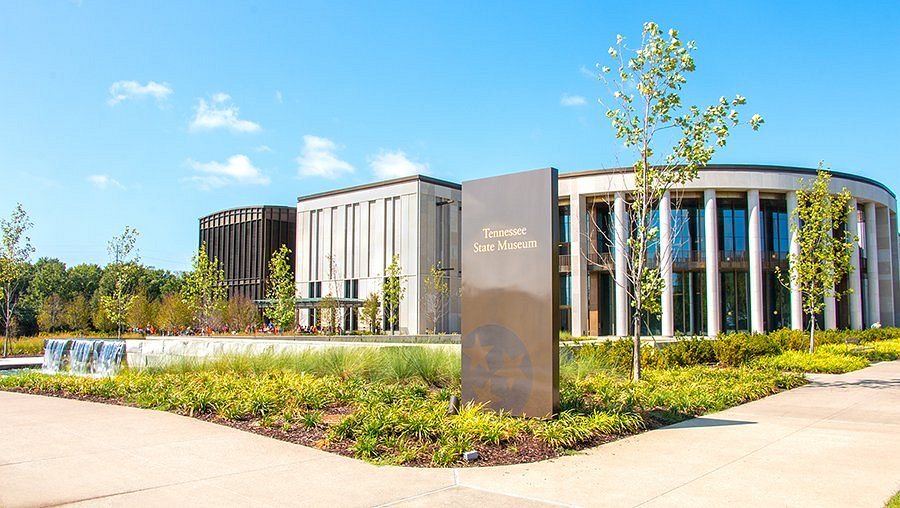 Tennessee State Museum
The Tennessee State Museum is a must-see destination in downtown Nashville if you are a history buff and traveling with your kids for free.
It's a museum where you can see unique exhibits that are well-curated and laid out really nicely about Tennessee's history from 200 years back, modern history, and the Civil War.
You can park for free in the parking lot between the Museum and the Nashville Farmers' Market.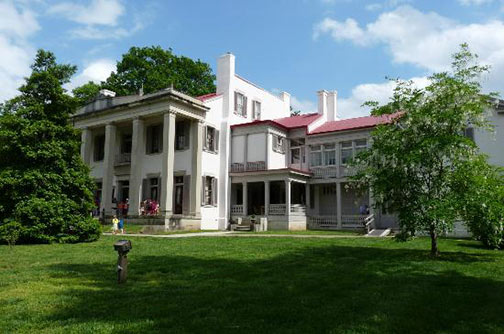 Belle Meade Mansion
Located 8 miles southwest of Downtown, Belle Meade is a historic mansion now operating as a museum, winery, restaurant, and family-friendly place to visit.
Here you can learn about the city's past and connection to Old South culture and traditions. Additionally, it's connected to thoroughbred racing, which sets it apart from other historical sites.
You can visit a Hardy House restaurant and an ice cream shop on the grounds for lunch. There is also a gift shop.
You can choose between different tickets, but general admission is $24 for adults and $28 for adults on weekends. Access to the grounds only costs $15 for adults.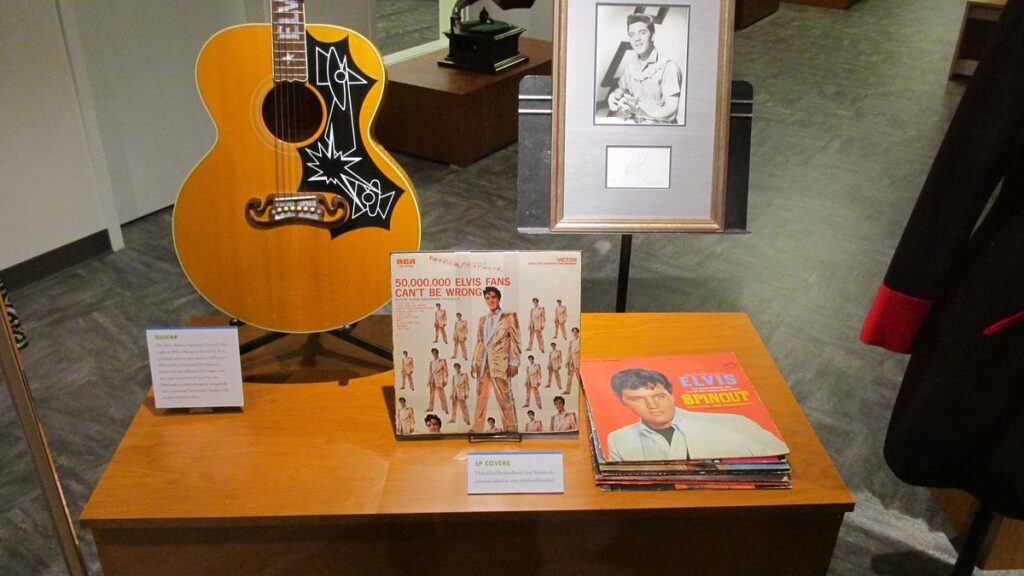 RCA Studio B
RCA Studio B opened in 1957 and is a legendary recording studio just a few miles from Downtown. Many legendary artists have recorded their hits, Including Elvis Presley, Willie Nelson, and Dolly Parton.
You'll get to hear many songs recorded here over the course of the tour. This studio recorded 35,000 songs, and 1,000 ended up being hits.
Adult tickets are $50, and youth tickets are $40 under Studio B Experience, which includes the RCA Studio B Tour and the Country Music Hall of Fame. Learn more here.
Lane Motor Museum
The Lane Motor Museum is a hidden gem for motor and engineering enthusiasts. You'll find Aircraft, Motorcycles, and Lightweight Experimental cars and bikes from around the world, mainly from Europe.
It's located about 5 miles from downtown Nashville. There's a big parking lot on site.
The Museum has more than 500 vehicles, including 150 unique cars and motorcycles, many running.
It offers guided tours so you can learn about the vehicles' history. Also, There's a play area that'll keep the kids entertained.
Ticket prices are $12 for adults, $8 for seniors (65+), $3 for youth, and free for kids under 5.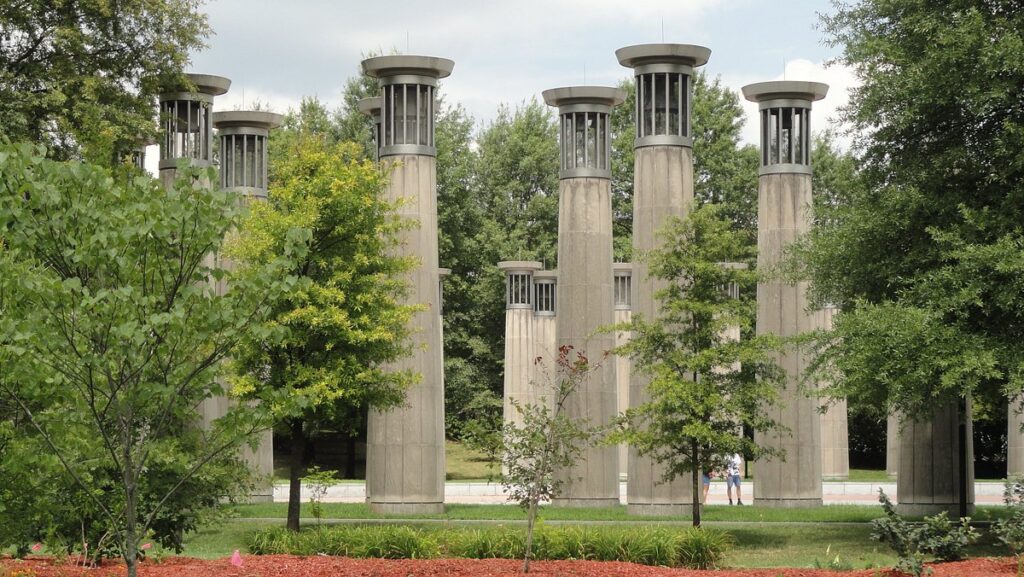 Bicentennial Mall
Bicentennial Mall is a great park in the heart of downtown Nashville, where you walk and read about Tennessee's rich history and culture beautifully and interactively.
It's a stunning place to visit with your family and explore interactive exhibits, displays, beautiful gardens, and fountains.
You should spend some time at this park if you're around and looking to get away from Broadway. You can park for free at both ends of the mall.
Arrington Vineyards
Arrington Vineyards are located about 35-40 minutes from downtown Nashville.
It boasts rolling hills and vineyards on a beautiful 95-acre private property in a picturesque setting.
There are live music events, food trucks, and a guided vineyard tour at the winery during the summer.
You can bring your own food or purchase it there and enjoy a picnic on the grounds.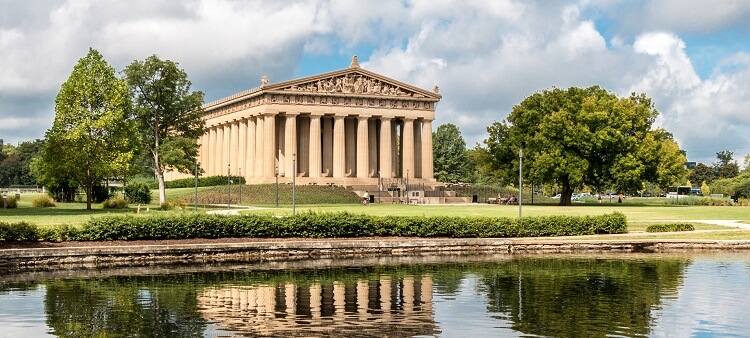 The Parthenon
The Parthenon is a full-scale replica of the original in Athens, Greece. It's in Centennial Park, just a few miles from downtown Nashville.
There is an impressive structure at the Parthenon, including ornate details and grand columns. It'll give you a feel for what the original must have been like.
You'll find a 42-foot statue of the Greek goddess Athena inside, along with art exhibits and historical artifacts. It also gives a glimpse into Greek mythology and architecture.
For only a $10 adult entry fee, this is an excellent place for history buffs.
There is free parking available outside the Parthenon. You can eat outside. There are lots of local shops and food trucks at Centennial Park.
Percy Priest Lake
About 10 miles east of Nashville, Percy Priest Lake is a beautiful lake surrounded by greenery, with lots of outdoor activities for families to visit.
You'll love Percy Priest Lake's natural beauty and its many water-based activities.
You can enjoy fishing for bass or catfish, swimming in the refreshing water, or lying on the shore of the lake.
There's no fee to visit the lake, but you'll have to pay for parking or boat rentals.
The Hermitage
Located about 12 miles east of Downtown, the Hermitage is the historic home of President Andrew Jackson. Free parking is there.
You can tour the mansion and grounds to learn about Andrew Jackson's life, legacy, and U.S. history during his administration.
It's a peaceful and scenic escape from Nashville, with plants, wildlife, and scenery.
From $19 to $65, you can choose from four types of tickets. You can get lunch at FKS Kitchen in Andrew Jackson Center if you're hungry.
Ascend Amphitheater
The Ascend Amphitheater is an open-air outdoor concert venue with beautiful views of the water and the cityscape in downtown Nashville, located along the Cumberland River.
It hosts country, rock, pop, and other performances throughout the year.
I recommend you go there if you are a live show lover. There, you can have a once-in-a-lifetime experience with your family.
Tickets cost around $50 to $50, depending on the show and your seat. Unfortunately, free parking is difficult to find.
Cheekwood Estate & Gardens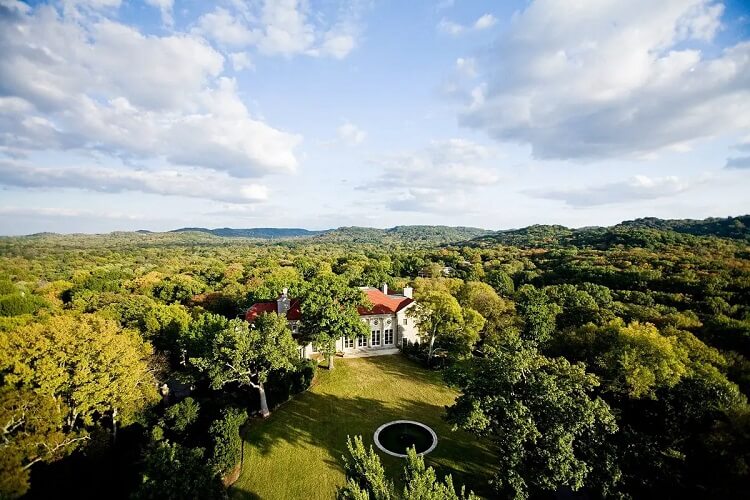 The Cheekwood Estate and Gardens is a historic mansion and botanical garden on 55 acres with beautiful gardens.
There are art galleries that showcase contemporary and traditional art and original furnishings and artwork in the mansion itself.
It's best to visit in the spring or summer when the gardens are most spectacular. However, the grounds remain impressive all year round. Tickets cost from $18 to $29, depending on age.
You can drive to Cheekwood from downtown Nashville in about 20-25 minutes, and parking is free.
The Frist Learning Center Courtyard has a café that serves sandwiches, smoothies, salads, and other foods.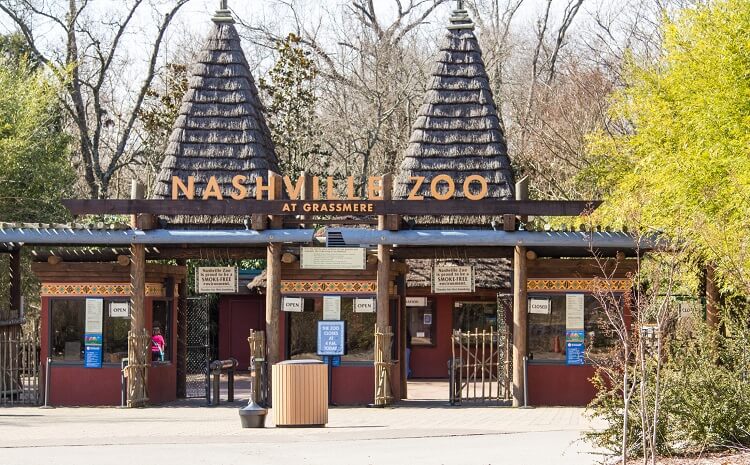 Nashville Zoo
Nashville Zoo is a great place to visit if you love animals or want to have fun with your kids in Nashville. Located in Grassmere, 10 miles from Downtown.
The zoo has animals from all over the world, including Andean bears, clouded leopards, zebras, a zip line, a playground, and a ropes course.
The exhibits have different angles, so you can get a better look at the animals. You can get tickets from $16-24.
Musicians Corner
You must attend live music in the city of music. Right? You can have a blast with the family at Musicians' Corner.
You can see talented musicians for free at the Musicians Corners. It's 3 miles from downtown Nashville; parking is usually free.
When you're hungry, get some food from the food trucks lining the outside of the venue. Luckily, there are plenty of local tastes to try.
It's fun for kids to play at Kidsville and the springs. Every time Musicians Corner happens, Kidsville is there.

The Ryman Auditorium
Just a few blocks from Nashville's downtown area, the Ryman Auditorium is one of the city's most iconic music landmarks. Parking is next to the auditorium.
As the original home of the Grand Ole Opry, it launched countless country music legends. It has hosted big names like Johnny Cash, Dolly Parton, and Elvis Presley.
It's still a significant venue for established and up-and-coming artists. During the tour, they'll take your picture on stage.
Tickets can cost $25 to $100 or more to attend a concert or other event.
Here, you can enjoy live music in the unique atmosphere of a historic music venue with your family.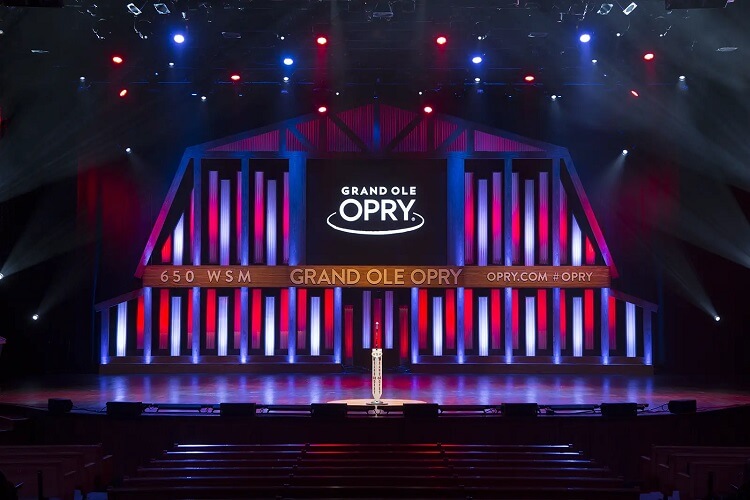 The Grand Ole Opry
Founded in 1925, the Grand Ole Opry is where country music was born and is the mother church of country music. It takes 15-20 minutes to get there from Downtown.
Ryman Auditorium in downtown Nashville was the original home of the Grand Ole Opry from 1930 to 1974.
You can enjoy live music performances from legendary and upcoming country artists in an elegant venue steeped in tradition.
Tickets usually cost $50 to $100, depending on the show and seating area.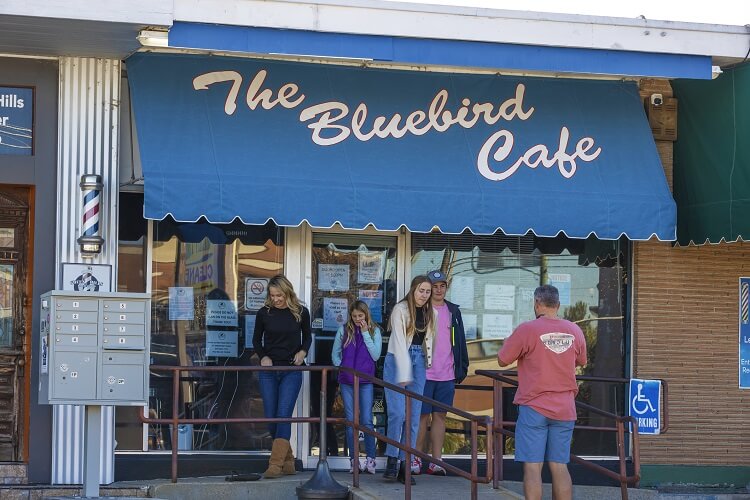 The Bluebird Cafe
Bluebird Cafe is the most iconic spot for live music, where you can see performances by up-and-coming and hit songwriters. With its intimate setting, you'll have an unforgettable concert experience.
It's about a 20-minute drive from Downtown in a strip mall, and you can park in front of the cafe.
This is a cute little bar with live music. You don't have to drink. Just relax and enjoy the local cuisine. Since the cafe is more of a bar, I would not recommend taking your kids there.
It's where Taylor Swift, Keith Urban, and Garth Brooks were discovered.
A ticket will cost you about $10-25 depending on the show, and tickets go on sale one week in advance. They are sold out within ten seconds, so you must be quick.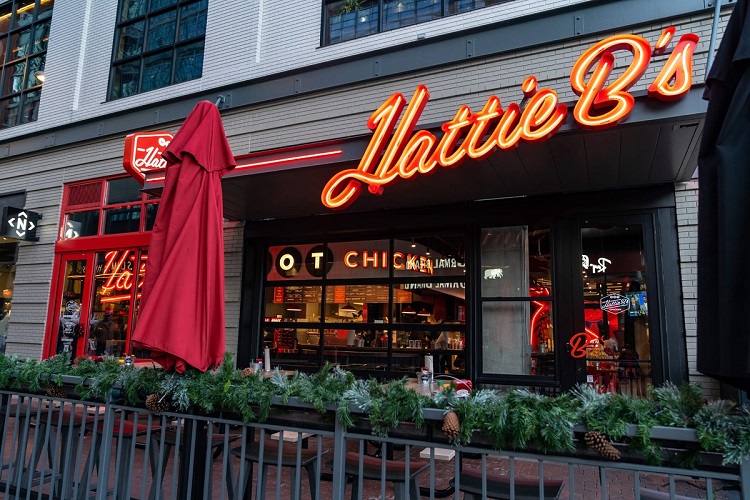 Hot Chicken
Nothing beats hot chicken for the most delicious food in Nashville.
What makes Nashville hot chicken famous? First, it was born here in Nashville, and Prince's Hot Chicken is the dad of it. There is a fascinating story behind it. You can read it here.
Second, it has a kick to the recipe. It's coated with hot sauce and cayenne, and the top is brushed with a spicy sauce. From mild to spicy, it's fried at different heat levels. To balance the heat, they serve the fried chicken with pickles and white bread.
Nashville has a lot of places where you can try hot chicken, but two of them stand out: Prince's Hot Chicken and Hattie B's Hot Chicken. I recommend you try it.
Southern BBQ
After the hot chicken, you should try Nashville's mouth-watering smoked meat.
Nashville's southern BBQ is known for slow-cooking meats on a pit, using either oak wood or hickory.
To make it even tastier, they use a dry rub with a blend of spices, salt, and sugar before smoking the meat rather than the sauce.
Try BBQ from Bringle's Smoking Oasis and Peg Leg Porker. Learn more about the best BBQ restaurants here.
Trendy Restaurants
The trendy restaurants are known for serving fusion cuisine, mixing flavors from different cultures, and creatively decorating their places.
My favorites are White Limozeen and Culture + Co. in Nashville. You can learn more here.
White Limozeen is a trendy rooftop restaurant at the Graduate Hotel with pink decorations.
Culter + Co. has a knack for combining flavors and creating unique dishes.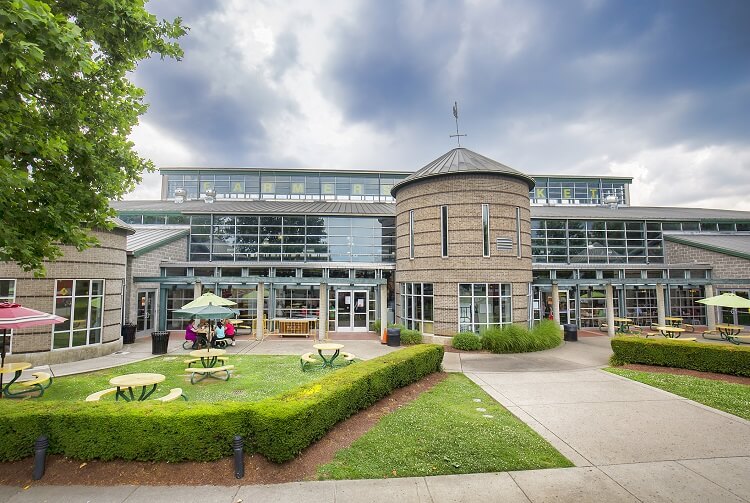 Farmers Markets
Farmer's Markets are the best place to find locally grown produce, meats, baked goods, crafts, live music, and restaurants.
Also, you'll find many restaurants serving everything from southern BBQ to tacos, ice creams, smoothies, and booze.
The Nashville Farmers Market and East Nashville Farmers Market are the most famous farmer's markets.
Here's a list of all the farmer's markets in Nashville.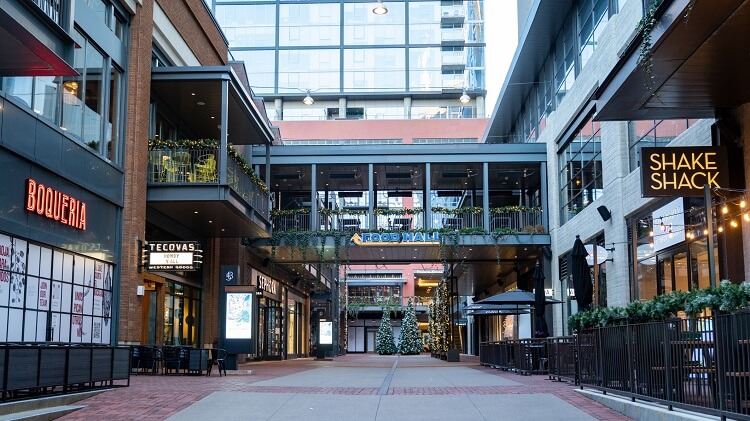 Fifth & Broadway Shopping & Eating
Fifth + Broadway is the best shopping destination in Nashville, where you can have tasty food and live music with your family.
There is underground parking located beneath the complex.
You can try Hattie B's and Prince's, Eddie V's upscale seafood restaurant, and Mexican restaurant Blanco with its skinny margaritas and delicious queso.
I'd recommend going during the week when it's less crowded.
Interesting & Unusual Things
Workout on the Capitol Steps
Suppose you want to focus on something other than drinks. In that case, a workout on Capitol Steps is an excellent activity on Mondays and Thursdays at 6:00 p.m. in downtown Nashville.
James Crumlin will guide you, and the event is free, but you must register online.
It'll be a challenging and inspiring experience climbing Capitol Steps and doing lunges, planks, and ab exercises.
There's parking on the other side of the Capitol near Rosa L. Parks Ave & Charlotte Ave, where they meet near the northeast corner.
Social Gaming Meetups
The GONG Nashville community is an excellent place without alcohol to play social games and make new friends.
You'll always be greeted by one of the event hosts or long-time GANGsters who share the same welcoming spirit.
It's a place where you'll see people holding a beer. However, You don't need to drink and can enjoy delicious food.
They usually play board games and party games, as well as outdoor events like putt-putt, picnics, trivia, and TTRPGs.
You can find GONG events around Nashville at New Heights Brewing Company, Diskin Cider, Fat Bottom Brewing, and other fun bars and restaurants.
Renaissance Festival
Tennessee Renaissance Festival occurs annually in Arrington, Tennessee, about 35 miles south of Nashville.
It celebrates the Renaissance period, from the 14th to 17th century, which saw remarkable cultural, artistic, political, and scientific achievements.
I was thrilled to watch knights try to knock each other off their horses with lances in the jousting tournament, archery, live music, comedy, and knife-throwing.
You can also buy food, especially turkey legs, handcrafted jewelry, clothing, pottery, leather goods, swords, and shields.
Tickets cost $25 for adults, $10 for kids (6-12 years) for a single day and $100 for a season pass. Parking is free, and kids under 6 get in for free.
Third Coast Comedy Club
Third Coast Comedy Club is the best comedy club for a night of downright hilarious laughter and entertainment, located in the neighborhood of Marathon Village, a few miles from downtown Nashville.
You'll have a blast watching stand-up, improv, and sketch comedy. They rotate comedians, so it's always fun.
With a diverse crowd of comedy lovers, from locals to tourists, you'll experience an intimate and cozy atmosphere. This comedy club has an attached bar; don't drink, but you can get some snacks.
You can get tickets for most shows for around $10-20. They offer a lot of family-friendly shows.
Climb Nashville
Located about three miles west of Downtown, the Climb gyms offer an indoor rock climbing activity that challenges your footwork and hand strength. There is a private parking lot.
You should avoid going in the evening, as it will be crowded, but it will calm down later.
This gym offers various routes of varying difficulties, bouldering, and training areas, as well as friendly and helpful staff who can help you with the rental process and safety instructions if you're a first-time climber.
The first-time pass costs $20, and the monthly membership costs $120. If your kids are 13 or older, you can bring them along.
---
If you're heading down south on vacation, you may be asking yourself, "what is the best time to visit Memphis?" …
Read more