What is the funnest thing to do in Nashville?
The most fun you can have in Nashville is to immerse yourself in all the music and culture that Nashville offers. Most of the action takes place downtown. You can experience live country music on Broadway, go line dancing, visit a museum, grab great food, or jump on a pedal tavern. This is Music City, and we have so many hidden gems; we will explore ten of them in this post!
Hi! My name is Alex, I'm a Nashville local and an expert on Nashville.
The great news is that some of the best attractions in Nashville are free. Simply take a walk down Music Row where popular music is still written or take a walk through Nashville's beautiful Centennial Park.
This post isn't exhaustive; make sure you check out our guide on planning the perfect day in Nashville. Can't decide whether to visit Nashville or Memphis? Click here to learn the differences between them.
---
10 Hilariously Fun Things to Do in Nashville
---
Immortalize Yourself on Broadway
Ask for a Sharpie and a stapler at the Tin Roof on Broadway. Pull a dollar from your wallet, write a message, and staple it to the wall.
It's like the Pont Des Arts, a bridge in France famous for being loaded with locks where visitors attach padlocks and throw the keys in the river.
At the Tin Roof, look at the wall, and you'll find messages written on dollar bills from Nashville visitors before you. So, immortalize yourself in Nashville by doing the same thing. Tin Roof also has a fun photo booth and some basketball hoops on the second floor.
While you're there, grab some food and drink from the menu. The service, food, and live music are one of the best on Broadway.
---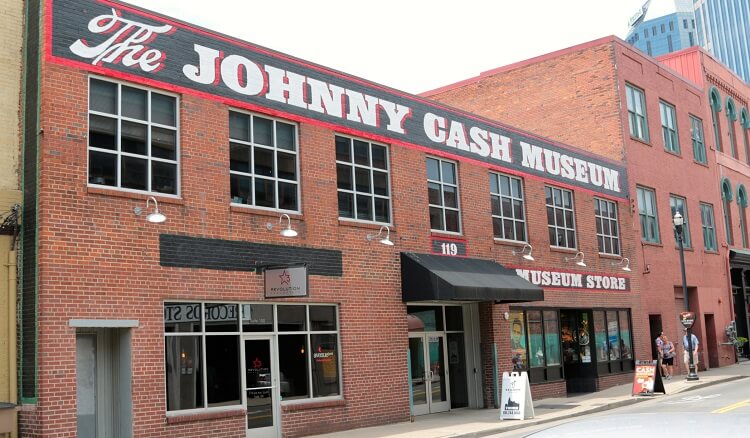 Johnny Cash Museum
Next, you should check out the Johnny Cash Museum on Broadway. Forbes magazine rated it as one of the best music museums in the world.
Johnny is still an icon in the Nashville music scene. Just down the street from the museum, he used to perform and even got banned!, from the Ryman Auditorium.
While you're there, check out the Sun Diner.
The museum is a must-see in Nashville, even if you are not a Johnny Cash fan. The amount of Johnny Cash memorabilia that was donated by Johnny himself is unbelievable. Learn more here.
---
Live Music on Broadway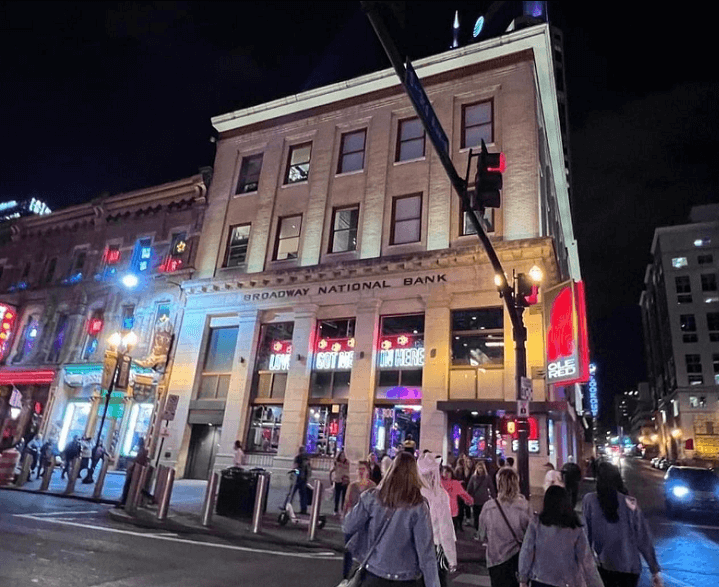 Lower Broadway in Nashville is where the party is at. You'll find famous bars like Roberts Western World or Tootsies. There are also celebrity-owned bars like Ole Red by Blake Shelton, AJ's Good Time bar by Alan Jackson, and Luke's 32 Bridge by Luke Bryan.
You'll be sure to find the best live music in the world. Broadway is pumping live music into the streets 7 days a week. There are 32 bars and honky-tonks on Broadway as well as restaurants with amazing southern BBQ, tacos's and cocktails.
---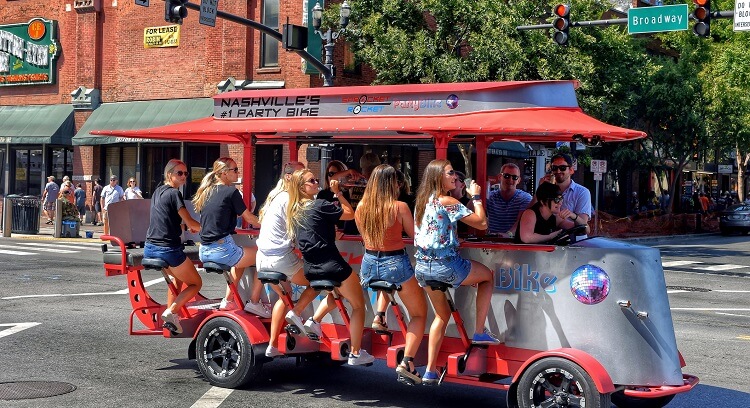 Ride a Party Bike or Pedal Tavern
When you come to Music City, you'll find pedal bars (sometimes called pedal taverns) all around the streets of Nashville. Pedal yourself around downtown Nashville with a dedicated driver, experienced bartender, premium sound system, party lights, and more. Don't worry; it's not totally powered by sweat. They also come with a built-in electric motor. Learn more here.
---
Savannah's Candy Kitchen
In Savannah's Candy Kitchen, you can find every candy that has ever existed since childhood. Imagine how children feel in this store when even the adults freak out! Their store is simply filled with barrels of old-fashioned candy. Things like saltwater taffy, peanut brittle, cotton candy or thousands of other southern confections. They've been doing it for 40 years. This would also make a sweet (pun intended) place to wander into on a date. It's sure to spark some interesting conversation. Learn more here.
---
The Music at Acme Feed and Seed
Acme Feed and Seed is a multi-level music venue. On the first floor, you can hear some great Nashville live music, including southern rock. On Sundays, you can listen to some Jazz. From the rooftop, you'll find excellent views of the Nashville skyline.
It's called "Feed and Seed" because before it was a music and food venue, it sold feed and seed to local farmers.
---
Adventure Park Nashville
With over 150 tree-top platforms and 15 ziplines, this will be a really fun time. They are located in West Nashville, only 30 minutes from downtown. They are open from Thursday to Sunday.
The park offers roughly 162 treetop platforms that are connected by bridges, ropes, ladders, zip lines, and more. It's an ideal day for kids from as young as three years.
---
Go Line Dancing (FOR FREE!)
Take an authentic line-dancing class in Nashville! Free classes are available at the famous Wild Horse Saloon 5 days a week. No reservations are required and the instructors can tailor dances to any age and ability. Learn more here.
---
Discover the Most Hidden Bar in Nashville
Walk into the phone booth, dial the secret passcode, if you get it right, someone will come and open the phone booth door, which leads to a giant speakeasy. A speakeasy was a place during prohibition where alcohol was illegally sold from 1920 – 1933. Back in those days you needed to know someone to get in or know the secret passcode. Speakeasy's are still present in Nashville, particularly in Printers Alley.
They have an extensive cocktail menu that includes the history of the cocktails. They also have a huge cigar room (if you don't like the smell of cigars, give this a miss).
---
GRAMMY Gallery at the Musicians Hall of Fame & Museum
The GRAMMY Museum Gallery is a permanent exhibit at the Musicians Hall of Fame and Museum in Nashville and appeals to all ages and allows you to interact with the music production process. It's an authentic Nashville experience! Visitors can play drums, keyboard, bass, and guitar and sing along with Ray Charles!

The Gallery is located within the Musicians Hall of Fame and Museum. The regular price of a museum ticket grants you access to the Grammy Gallery.
---
If you're heading down south on vacation, you may be asking yourself, "what is the best time to visit Memphis?" …
Read more