Nashville bike bars are the perfect way to explore and experience the city. Whether you want to explore the city's iconic sights or take a leisurely ride with friends, these bike bars are a great way to do it.
The best Bike bars in Nashville include Nashville Pedal Tavern, Sprocket Rocket Party Bike, Nashville Bar Bike, and the Music City Crawler. These pedal-powered pubs offer seating for groups of 6-15 people, allowing you to explore the streets of Nashville in style. Just remember, generally, you must be 21 or older to participate in their tours.
| | | | |
| --- | --- | --- | --- |
| Bike Bars: | Price Per Person: | Time | Seats: |
| Nashville Pedal Tavern | $49 | 90 min | 6 – 15 |
| Sprocket Rocket | $49 | 95 min | 6 – 15 |
| Nashville Bar Bike | $30 | 102 min | 6 – 15 |
| Music City Crawler | $38 | 90 min | 6 – 15 |
.
---
Nashville Pedal Bars
---
#1 Music City Crawler
Music City Crawler is Veteran and Women-owned and is Nashville's premier pedal and electric-assist-operated beer bike experience!
Are you ready to pedal and sing your way through downtown Nashville, making stops at one to three honky-tonks along the way? These bars have prepared special drink deals just for you, so you can enjoy a cold one while taking in the sights and sounds of Music City.
Their Pedal Pub Tour is a nice activity for tourists visiting Nashville.
For just $38, you'll discover the city's hottest bars on Honky Tonk Row while riding on their 15-passenger party bike.
The tour lasts for 90 minutes and features special drink deals from their honky-tonk partners.
You can choose to book a private tour or join in on one of their public rides; the choice is yours. And don't forget, Veterans and Brides pedal for free on the Music City Crawler! Seniors, teachers, and all first responders also receive a discount.
Each ride can accommodate up to 15 people, and we require a minimum of 6 riders to operate. Before you get started, you'll need to have a valid ID and sign a waiver on board.
The tour time may vary depending on how long you stay at each bar, downtown traffic, and road closures.
You must be 21 years old with a valid ID to ride the Crawler.
You're welcome to bring your own alcohol on the Crawler. However, all alcohol must be in a can.
Visit Music City Crawler Website To Learn More.
---
#2 Nashville Pedal Tavern
Nashville Pedal Tavern is the ultimate way to experience the city's vibrant music scene and party atmosphere!
Imagine a giant party bike that seats up to 15 people, equipped with a bartender and a sound system for your own personal entertainment. You'll pedal through the streets, stopping at the best bars and honky-tonks the city has to offer.
One of the unique features of Nashville Pedal Tavern is that they offer pickup and drop-off points at various locations in the city, so you can plan your route according to your preferences.
The rides are typically 90 minutes long. But be prepared to have 2-3 hours in hand, considering all the loading and onboarding stuff.
And Nashville Pedal Tavern does take group bookings, making it perfect for birthday parties, bachelorette parties, or any other special occasion.
There should be six people in the group, and at maximum, there can be 15 people. Don't worry, if your group is bigger than that, you can easily book multiple bikes.
You'll see some of Nashville's most famous landmarks and attractions on your ride, including Music Row, Broadway, and the famous Country Music Hall of Fame.
The Pedal Tavern also makes pit stops at some of the city's best bars and honky-tonks, where you can enjoy drinks and live music. The bartender on board will be serving drinks, and you'll have the option to bring snacks or food on board.
The Pedal Tavern is a unique and fun way to experience Nashville, and it's definitely something you won't want to miss out on. Keep in mind that you must be 21 years of age or older to participate, and a valid ID is required.
Related Read: How to Get into Nashville Bars at 18 + Top 5 Suggestions!
The Pedal Tavern also provides a cooler filled with ice and cups to enjoy your drinks. So book your tour now and get ready for a pedal-powered good time!
Visit the Nashville Pedal Tavern Website To Learn More
---
#3 Sprocket Rocket
With prices beginning at only $49, the Sprocket Rocket party bike is a nice opportunity to experience the city.
You and your party of up to 15 adults may cruise through Nashville on these bikes while sipping beer or seltzer and taking in the sights and sounds.
The minimum number of passengers required for one of their public trips is 6, and seats are distributed at random by the attendant.
Booking a public tour is still possible if there are less than six of you; the tour company will pair you with strangers to round up your group. If you expect more than 15 people in your party, just make a few more bike reservations.
Lower Broadway and the neighboring streets are a staple of the downtown party circuit. Your driver will try his or her best to avoid steep inclines or blocked roads, but if the Nashville Predators are in town, they will have a backup plan and ride you to a lively neighborhood nearby.
From the moment you check in to the time you are dropped off, your trip will take around 95 minutes. They have ice, coolers, and beverages on board, so there's no need to bring your own.
Order a beer or seltzer in advance or pick one up at the counter when you check-in.
Avoid bringing alcoholic beverages, wine, or glass on the party bike since city rules don't allow them. You should dress casually, with shoes that cover your toes.
You should not wear high heels when cycling since they will cause you to fall.
Visit Sprocket Rocket Website To Learn More.
---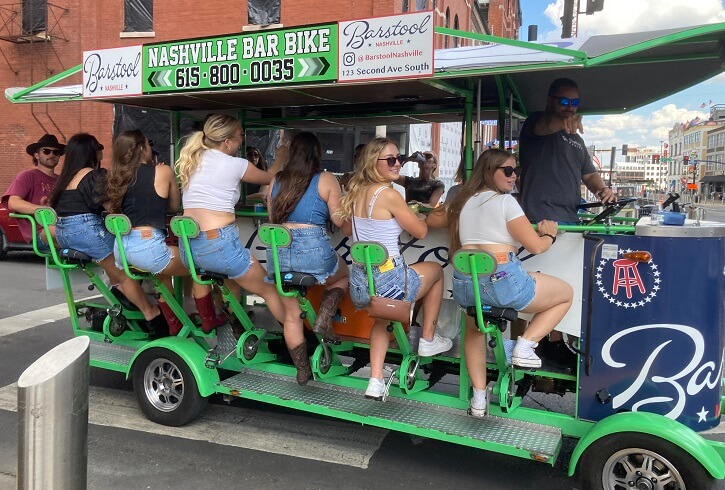 #4 Nashville Bar Bike
Gather your group of 6 to 15 passengers and enjoy a fun-filled night, or grab a couple of seats for a memorable experience in the Nashville Bike Bar.
Perfect for special events such as birthday celebrations, bachelor parties, corporate outings, and other similar events.
The tour includes a stop at a local tavern and individual prices starting at $30 and private tours starting at $350.
Provide your own cans, but not glasses, and be sure to bring identification showing that you're at least 21 years old. Also, please notice that the alcohol content can't be higher than 8%.
When you rent out the whole bike for a party, you may play any music you choose and decorate it as you see fit. A cooler, ice, water, and glasses are provided for you.
You'll need at least six people to get the bike going, and as many as fifteen if you want to go fast. Their trips last between 1.5 and 1.7 hours, during which time you may relax and enjoy the sights of the city.
To put it simply, they want everyone to feel at ease. Take into account how the raised bike seats may affect your clothing in the event of a wind from above.
High heels are not suitable for the event. Each trip will include one or two stops at one of their favorite local bars and pubs where you may get a drink, take a break, and use the restroom.
Visit Nashville Bar Bike Website To Learn More.
---
Can You Drink On Pedal Bikes In Nashville?
You can drink on Pedal Bikes in Nashville but there are some restrictions. For instance, glass bottles are not allowed on the bike per city regulations.
If your beverage of choice is in a glass bottle, you'll need to pour it into a plastic container before your ride commences.
Beer, High Noons, seltzers, and water are welcome on board – just make sure your alcoholic beverages are no higher than 7.9% alc/vol. Unfortunately, wine and champagne are not permitted on Pedal Bikes at any time.
How Much Is A Pedal Bar In Nashville?
It is common for the rental of a pedal bike in Nashville to range from $30 to $45 for an individual. Private bookings, however, may cost a few hundred dollars.
I also highly recommend checking out our guide on Nashville Bars with the best Live Music.
What Do You Wear At A Pedal Tavern?
| | |
| --- | --- |
| Summer Season Ideal Clothing Options | Winter Season Ideal Clothing Options |
| Shorts | Jeans |
| Short sleeve clothes | Jacket |
| Sunglasses | Shirt |
| Appropriate shoes | Appropriate shoes |
When you're cruising around Nashville on the Pedal Tavern, be sure to dress appropriately, especially based on the season!
We recommend comfortable clothing that you can move around in. Don't forget to bring a light jacket as the breeze can get a bit chilly at night.
To get into the Nashville spirit, accessorize with some of your favorite hats, sunglasses, and jewelry.
Now you're ready to explore the city and have a great time with your friends!
---
Check out next…
---