Music Row is a historic district in Nashville, Tennessee, southwest of downtown. It is widely considered the heart of Nashville's music industry.
If you haven't been to Nashville before, Music Row is probably not what you think. It's not a strip of honky-tonks and bars like lower Broadway. It's a quiet Nashville neighborhood.
However, Music Row has become the name you think of when you picture the music industry, particularly in country, gospel, and contemporary Christian music. Although the area has changed and somewhat moved on, it's hallowed ground in Nashville and still a hotspot for music industry professionals who record new songs daily.
---
What is Music Row?
---
Music Row is a quiet and tucked-away neighborhood in the heart of Nashville, Tennessee. Yet, it holds profound significance in the world of music.
In essence, it has been the lifeblood of Nashville's identity as "Music City," housing an impressive array of recording studios, music publishing houses, and the offices of various record labels.
The famous strip has witnessed the making of many a hit and nurtured generations of musicians, producers, and songwriters, encapsulating the creative spirit and collaborative ethos that underpins Nashville's vibrant music scene.
The area is home to some of the most iconic record labels, recording studios, and publishing houses in the United States, including Elvis Presley's former studio.
Don't be confused! – Music Row is different from Broadway, although they are close to each other. For a detailed guide on the difference between Downtown Nashville and Music Row, click here.
Music Row might only interest some people coming to Nashville. It's much like a suburban Nashville neighborhood. You'll find houses converted into recording studios next to traditional homes that people live in. However, it's easy to walk through and safe with lots to do in the area.
If you're a music fan – it's paradise!
Why Listen to Me? I've lived and worked in Nashville for 12 years. My father-in-law was the late Joe Chambers, founder, and CEO of the Musicians Hall of Fame and Museum. I still work for the Museum, filming music industry icons for their YouTube channel. Learn more about me here.
Visitors can take guided tours of the area to hear fun anecdotes about its history and see where some of the biggest names in music have recorded their hits.
The Country Music Hall of Fame offers tours of RCA Studio B. The studio helped form the "Nashville Sound." It includes interactive exhibits and recordings. Learn more here.
---
How to Experience Music Row
---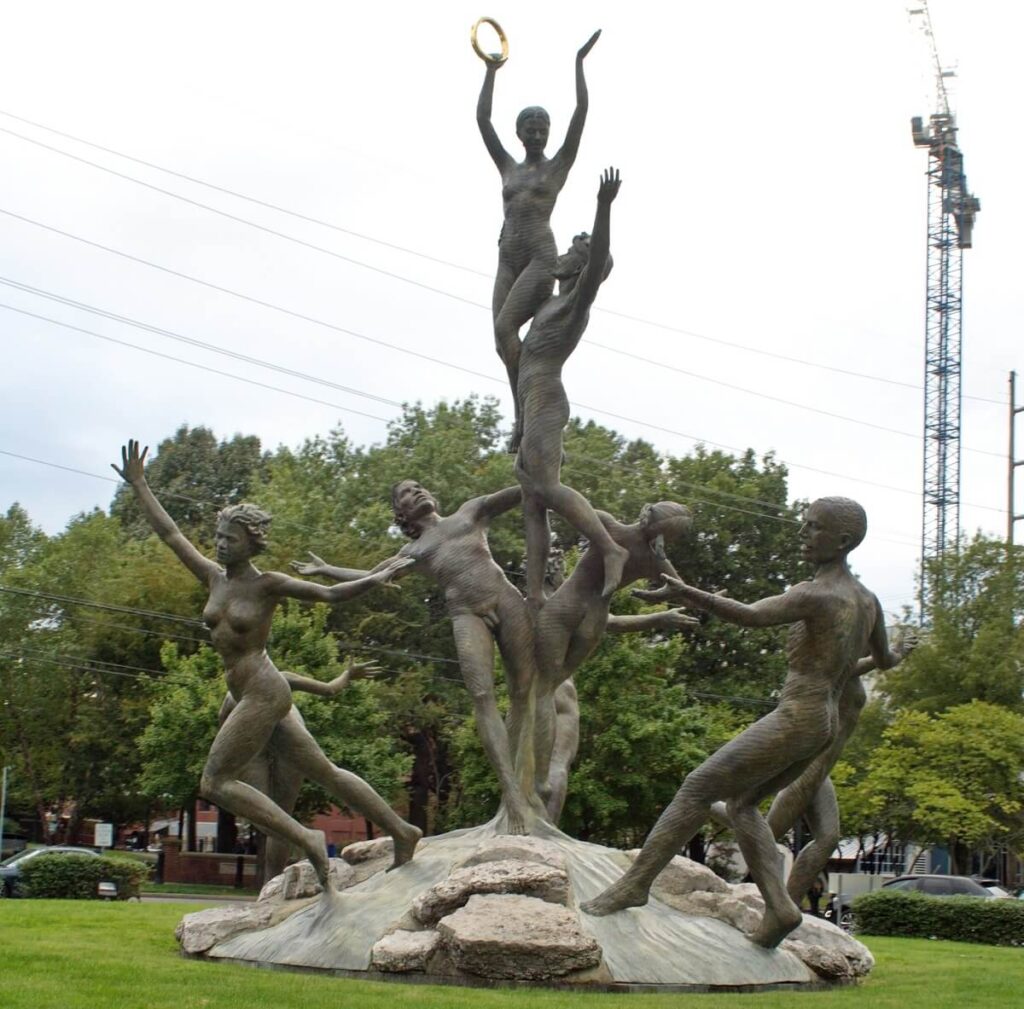 I recommend finding somewhere to park on Broadway and walking past the famous "Musica" bronze statue (that most people hate) that marks the entrance through the neighborhood.
There is also public parking on Music Square itself. Check out this map to help you find a spot.
Walking through the neighborhood, you'll find it quiet and safe.
The Hop on Hop Off Trolley Bus is another fantastic way to experience Music Row. They have over 100 stops around music city for a great price, plus live commentary along the way.
Nashville Hop On Hop Off Trolley Tour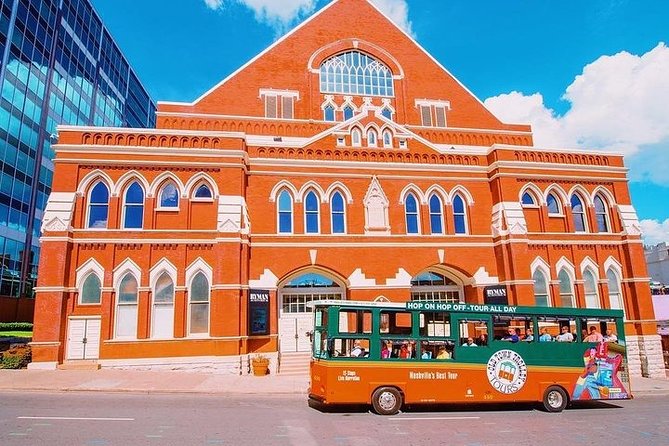 The trolley drives all around Nashville for a 90-minute round trip with live commentary. When the weather is warm, the windows are open. It covers over 100 points of interest. I recommend it as a great way to see what Nashville has to offer on a single trip. It covers Broadway, Music Row, Centennial Park, the Ryman Auditorium, Nashville neighborhoods, and more.
Suppose you're a music fan or just interested in learning more about the music industry's history. In that case, Music Row is an essential stop on any trip to Nashville.
---
History of Music Row Nashville
---
In the 1950s, several recording studios, record labels, and radio stations opened shop on 16th and 17th Avenues, eventually becoming Music Row.
Fun Fact: There is a life-sized statue of Chet Atkins located at the Musicians Hall of Fame and Museum. Chet was a native of Tennessee, and after he died in 2001, the Bank of America commissioned a sculptor to make a bronze statue. It sat for decades on the corner of Fifth Avenue North and Union Street. Finally, on June 9th, it was moved and unveiled at its new location at the Museum. Visitors can take their photos with Chet and sit in the chair beside him.
One of the first was the RCA Studio B, opened by music producer and guitarist Chet Atkins in 1957. This studio became a recording site for many legendary musicians, including Elvis Presley, Dolly Parton, and the Everly Brothers.
The success of Studio B attracted other businesses related to the music industry. By the end of the 1960s, Music Row was home to hundreds of companies, including publishing houses, recording studios, and agencies representing songwriters and performers.
Most visitors to Nashville need to realize (I didn't know when I first moved here) that Nashville is more than just Country Music. Over the decades, Music Row evolved to embrace a wide array of music genres beyond country, including pop, rock, gospel, and Americana, reflecting Nashville's diverse music scene.
Despite challenges such as the rise of digital music and the 2008 recession, Music Row proved resilient, adapting to changes and continuing to thrive. However, the area also faced pressures from Nashville's rapid urban development, leading to concerns about preserving its historic character.
Recognizing its cultural significance, the National Trust for Historic Preservation added Music Row to its list of America's Most Endangered Places in 2019.
Today, Music Row remains a symbol of Nashville's rich musical heritage and a vital part of its ongoing music production, embodying the city's unique blend of tradition and innovation.
---
Early Days of Music Row
---
Music Row was originally the site of several stables and carriage houses converted into recording studios and offices in the 1950s. The first recording studio on the Row was Castle Studio, which opened in 1947. The area quickly became a hub for the country music industry, with record labels, publishers, and other music-related businesses setting up shop in the area.
---
The Golden Age of Music Row
---
In its heyday, Music Row was focused on 16th, 17, and 18th Avenue with numerous studios. However, in the below video, Butch Baker, a Nashville songwriter, artist, and publisher, says, "With the advent of digital, you can have ProTools in your house, so the need for big studios wasn't as much."
Before the advent of Digital, stars like Dolly Parton, Willie Nelson, Waylon Jennings, Elvis, and more came to record in the studios on Music Row and recorded many hit records.
---
Decline and Resurgence of Music Row
---
Music Row started to decline in the 1980s and 1990s as the music industry changed.
Many of the more prominent record labels and publishing companies moved out of the area, and the remaining studios struggled to stay afloat.
In recent years, Berry Hill in Nashville has become the new epicenter of music recording in Nashville. As a result, Berry Hill became what Music Row was in the '60s and '70s.
Even though music has become more digital, artists still cut tracks and write and record songs together in studios.
---
Must See Music Row Attractions
---

RCA Studio B
RCA Studio B is a legendary recording studio that has been in operation since 1957. The studio has played an essential role in developing country music, with many famous artists recording their hits here. Elvis Presley, Dolly Parton, and Roy Orbison are just a few musicians who have recorded at RCA Studio B. In addition, the studio is open for tours; visitors can see the original equipment and instruments used to record some of the most significant hits in music history.
A visit to RCA Studio B is highly recommended if you are an Elvis fan. You can get a picture in Elvis's recording room!
Quonset Hut
The Quonset Hut is still on Music Row. It was used as a recording studio for Columbia Records. It was part of the combined Columbia Studio A and B complex. Many famous artists recorded there, including Johnny Cash, Bob Dylan, and Patsy Cline.
However, it was taken over by Belmont University's Mike Curb College of Entertainment and Music Business in 2006, and they've been using it for educational purposes since then.
Even though you can't go inside, you can still drive or walk by the building. In addition, many tours offer a tour down music row with live commentaries, such as the Hop on Hop Off Trolley.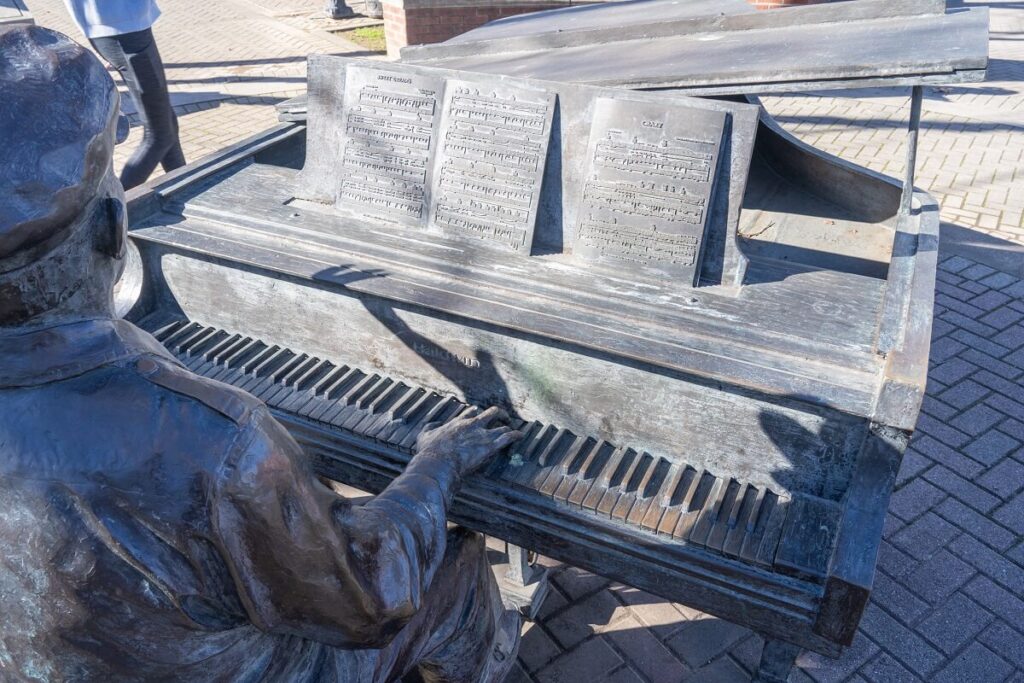 Owen Bradley Park & "Musica" Statue
At the head of Music Row is the Buddy Killen Circle. Buddy started his career as a bass player on the Grand Ole Opry. In the middle of the circle is the "Musica" Statue that is universally disliked.
Right next to the circle and statue is Owen Bradley Park. Owen was a producer and music business executive and had an outsized impact on shaping the city's country music industry. Today, there is a statue of him on the piano that makes for an excellent photo opportunity.
ASCAP
ASCAP, the American Society of Composers, Authors, and Publishers, represents and protects the rights of songwriters, composers, and music publishers. It has done so since 1914.
BMI
As you meander down Music Row, you'll come across BMI. It stands for Broadcast Music Inc., the largest performing rights organization in the United States. It represents the rights of songwriters, composers, and music publishers.
Curb Records
Curb Records is an independent record label, still in operation today, that was founded by Mike Curb in 1963. Mike Curb was inducted into the Musicians Hall of Fame and Museum for his achievements and contribution to music. Successful artists on the label include LeAnn Rimes, Tim McGraw, and many others.
---
Where To Stay Near Music Row
---
Virgin Hotels – Music Row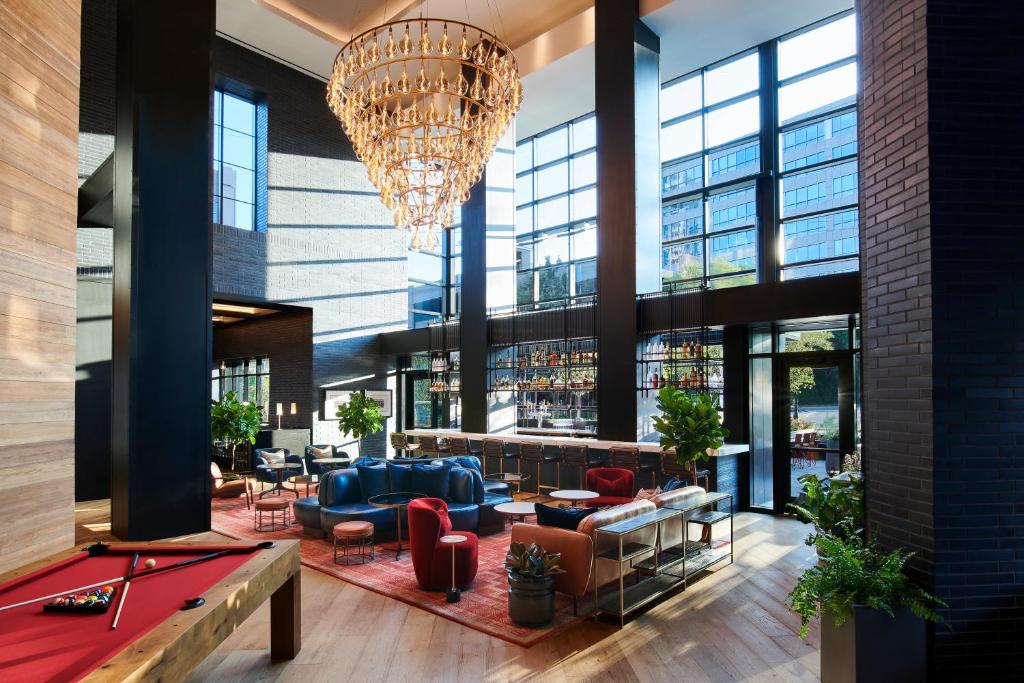 Housed within the vibrant Music Row neighborhood, Virgin Hotels Nashville presents a striking fusion of chic elegance and laid-back Southern charm. The hotel's aesthetic is a delightful blend of modern design and Nashville's rich cultural history. Each of the 262 "chambers" (as they call their rooms) offers an intimate yet spacious haven featuring ergonomic designs, plush amenities, and floor-to-ceiling windows that offer sweeping views of the city's lively skyline.
Placemakr Music Row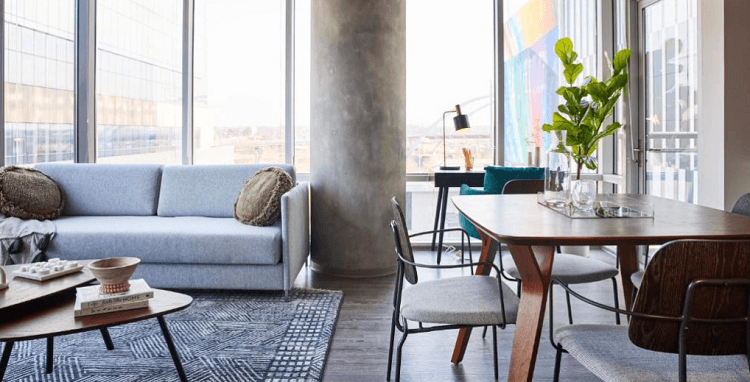 One of the most popular hotels in Nashville, it has quickly gained a reputation as a hub for creative energy and artistic collaboration. Its spacious, modern design merges functionality with inspiration, offering a versatile workspace that caters to the diverse needs of the city's music community.
Hilton Garden Inn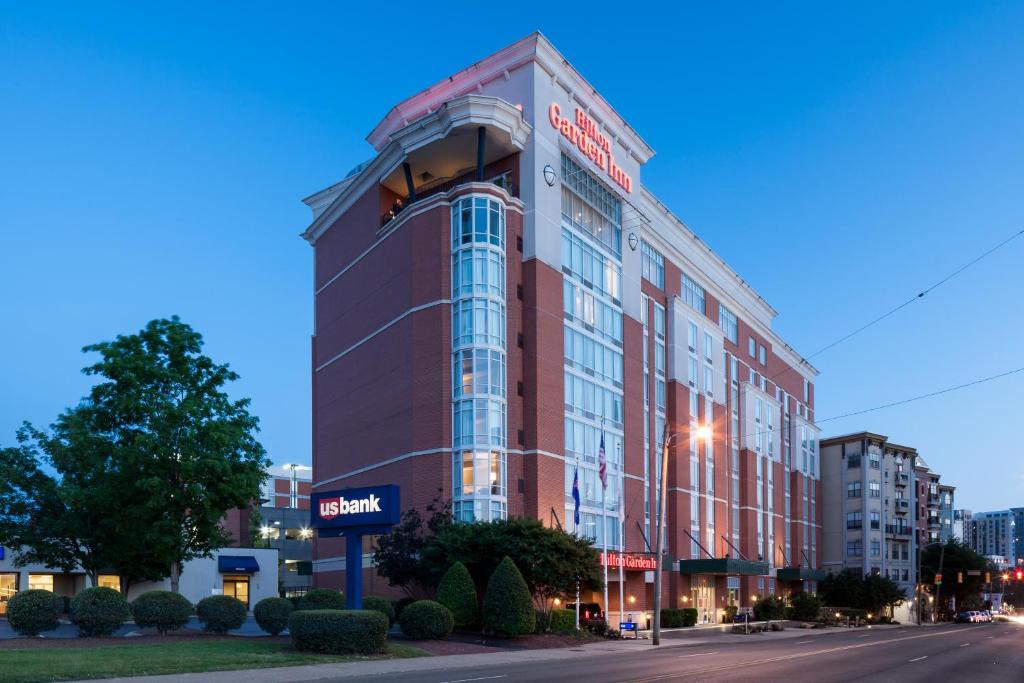 Hilton Garden Inn offers a comfortable and convenient stay for both business and leisure travelers. The hotel is renowned for its exceptional customer service and comprehensive amenities, making every guest feel right at home. The rooms are spacious and well-appointed, equipped with modern comforts like a flat-screen TV, mini-fridge, and complimentary Wi-Fi.
---
Where to Eat on Music Row
---
The heart of Music Row is simply the music industry hub with studios and offices. There are few places to eat and drink directly on the Row. However, the below nearby establishments are highly recommended.
The Row Kitchen & Pub
The Row is an American southern-style restaurant and pub as close to Music Row as you can get. It's a live music venue that pays homage to the music industry in Nashville. The walls are decked with pictures of stars like Johnny Cash, Roger Miller, and more. They serve traditional southern food like hamburgers, slaw, fries, BBQ, and cold, local beer. Learn more here.
The Catbird Seat
For a more upscale dining experience, head to The Catbird Seat at 711 Division St. The Catbird Seat is one of Nashville's most sought-after reservations. They only take reservations for 22 people per night. Learn more here.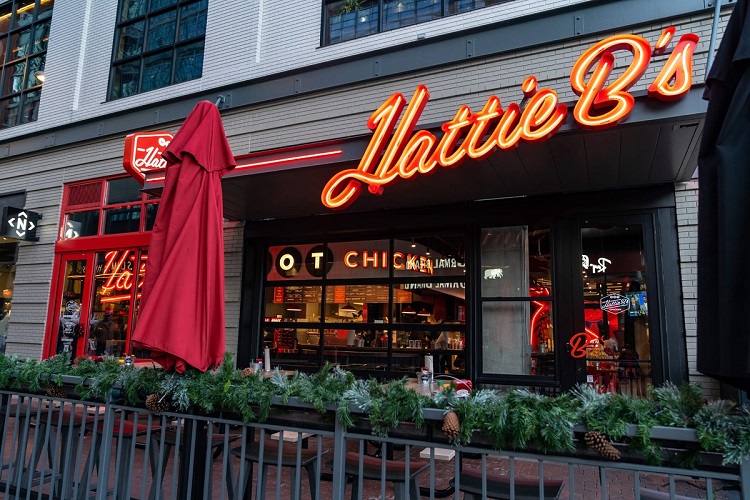 Hattie B's Hot Chicken
Regarding Nashville's hot chicken scene, Hattie B's and Prince's Hot Chicken stand out. But, of course, there's an array of other eateries, too. I've even dedicated an entire blog post to Nashville's hot chicken, which you can find here. However, if time is not on your side, I recommend visiting either or both of these establishments. Learn more here.
Adele's
Adele's is within the Gulch, just a short walk from Nashville's lower Broadway and Music Row. They offer southern comfort food, cocktails, and a highly reviewed brunch menu. Learn more here.
Velvet Taco
Velvet Taco in Midtown is just a street over from Music Row. Some popular dishes include the Angus Brisket Taco and the chicken and waffle taco. Learn more here.
---
If you're heading down south on vacation, you may be asking yourself, "what is the best time to visit Memphis?" …
Read more