If you plan to visit Nashville, where do you go to see the best live music?
How can anyone claim that they know what the best live music bar in Nashville is? Answer? You can't. It's entirely subjective, and there's a bar with live music on every corner.
Because everyone has different tastes, I've recommended the best places to see live music of ALL TYPES in Nashville in this post.
If the rowdy and noisy downtown district is not for you, I've listed below some venues that provide more of a sit-and-listen-to vibe. After all, downtown is not the only place to get a drink and enjoy live music. You also have to see the historic Printers Alley or Midtown.
Last night I went to the Ryman Auditorium to see Vince Gill and Amy Grant's Christmas show. As I walked up the steps of the great building, I stopped for a moment to look around. I could see live music on every floor and corner of every establishment: rooftops, street performers, and more. You can indeed walk almost anywhere and hear live music.
However, there are better places you can go that are the top-rated music bars. So I will recommend the best places for a genuine, live music experience.
What are your favorite live music bars in Nashville? Let me know in the comments! For a guide on what to wear on your night out, check out Nashville Bar Scene: What to Wear.
---
Best Live Music Bars in Nashville
On Broadway
---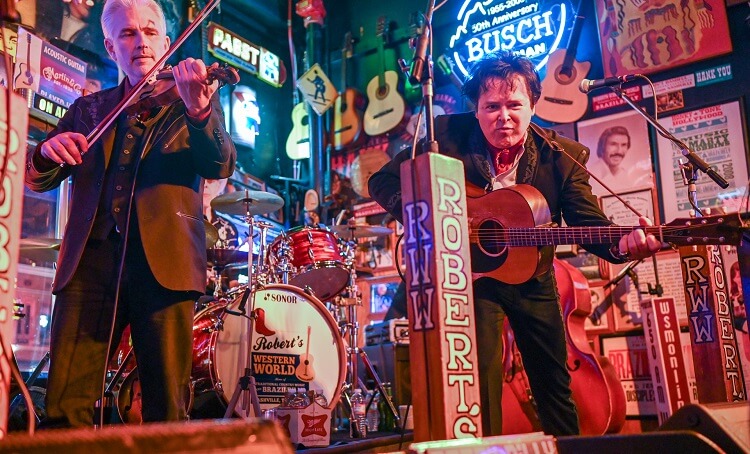 Roberts Western World
For the last eight years, Roberts Western World has been the one honky-tonk consistently named the "Best Honky-Tonk" in Nashville by the long-running magazine The Nashville Scene. Is it the best bar on Broadway in Nashville? You'll have to decide. Every year it's voted the best country music on Broadway. The honky-tonk has a long history. It's previously been called "Roberts Three Doors Down," "Roberts Lounge Room," and "Rhinestone Western Wear."
Jesse Lee Jones (pictured above) owns Roberts Western World. Jesse is from Sau Paulo, Brazil, and was passionate about country and gospel music. Feeling out of place in Brazil, he moved to the United States to pursue his dream. When Jesse arrived at Roberts, it began to change from being a western clothing store into a honky-tonk. He bought it from Robert and, combined with a lot of blood, sweat, and tears, has made it what it is today.
Roberts has hosted some of the best pickers and players in Nashville who have gone on to great things. Such names as Don Kelley, Guthrie Trapp, JD Simo, Daniel Donato, and guitarist of the year Brent Mason.
Roberts has hosted some of the best pickers and players in Nashville who have gone on to great things. Such names as Don Kelley, Guthrie Trapp, JD Simo, Daniel Donato, and guitarist of the year Brent Mason. Today, the staple bands include Kelley's Heros and Brazibilly. To see the entire band schedule, click here.
If you want to experience the best live country music in Nashville while eating a bologna sandwich and drinking a beer, you must stop by Roberts Western World. It's a Nashville staple. Don't you dare leave Nashville without experiencing this place at least once? It's a seriously good time!
---
The Basement East
The Basement East is a prime music venue for live music in Nashville. Since 2015 the club has hosted Dashboard Confessional, Alice Cooper, Dawes, Cage The Elephant, Lukas Graham, Brandy Clark, Maren Morris, Chris Stapleton, and more.
It's located in East Nashville and is known by local musicians as one of the top places to see live music in Nashville. Learn more here.
---
The Flamingo Cocktail Club
The Flamingo is a cocktail club and coffee bar with a diverse selection of live music throughout the week. They showcase local bands/artists who showcase their talent. They have renowned cocktails, disco balls, lights, and music. It creates a cool vibe.
---
The Exit/Inn
The Exit/In is a legendary music venue in Nashville that has been supporting alternative music acts since 1971 despite the city's strong country music scene. It was the first place in Nashville to host songwriters' nights and has hosted acts from a variety of genres, including Kings of Leon, Sheryl Crow, Jerry Lee Lewis, and Steve Martin. The venue remains a treasure and an important part of Nashville's music scene.
---
The 5 Spot (East Nashville)
The 5 Spot has live events every night of the week. This includes Motown Monday, Country, Urban Music Writers Rounds, 80's dance parties, Funky Good Times, Topo Tuesday, and more. To check out upcoming events at this popular Nashville music venue, click here.
---
The East Room
The East Room is a music and comedy venue in East Nashville. It's a great place to see up-and-coming local and touring talent. They have free open mic comedy on Tuesday nights and a monthly dance party. Shows start at 8 pm and the club is only open to 18+. Learn more here.
---
The End
The End is a Rock N Roll dive bar in Nashville in Midtown. The bar has hosted such bands as R.E.M., The White Stripes, and Sleater-Kinney. This venue provides a small club experience with all kinds of music genres. It's a major stepping stone for many up-and-coming local and touring acts. Learn more here.
---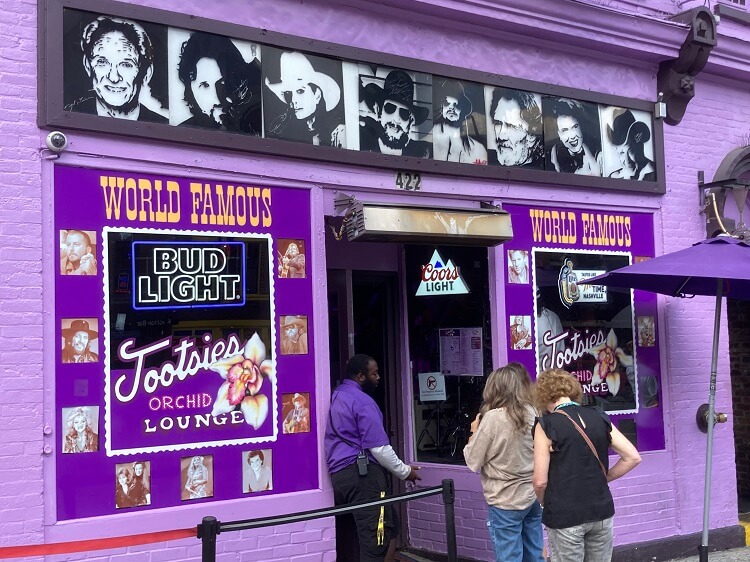 Tootsies
Tootsies is where artists, songwriters, and pickers want to earn their chops by playing on this hallowed ground. It's a place where musicians can network and practice before hitting the bigger stage. It's the most famous bar in Nashville and a breeding ground for talent.
Today, it would be a crime to visit Nashville without visiting Tootsies. Ask any local which bar you should see; this is one of the first to roll off the tongue. Like most bars on Broadway, they are open seven days a week from 9:30 a.m. to 3 a.m. You'll find three live music floors, including a rooftop bar with a view overlooking Nashville. You can feel the history of Nashville within these hallowed walls.
---
AJ's Good Time Bar
AJs Good Time Bar has been voted the number one honky-tonk in Nashville by Billboard Magazine. As the name suggests, it was founded by country music legend Alan Jackson. On each floor of the building, you'll notice that it represents a part of Jackson's career. You're only a step away from the Ryman and Tootsies, so when you're done over there, swing into AJ's.
AJ's will knock your socks off with live country music on every floor, every night of the week. They even have karaoke every night of the week starting at 7 p.m.
---
Best Live Music Outside Broadway
---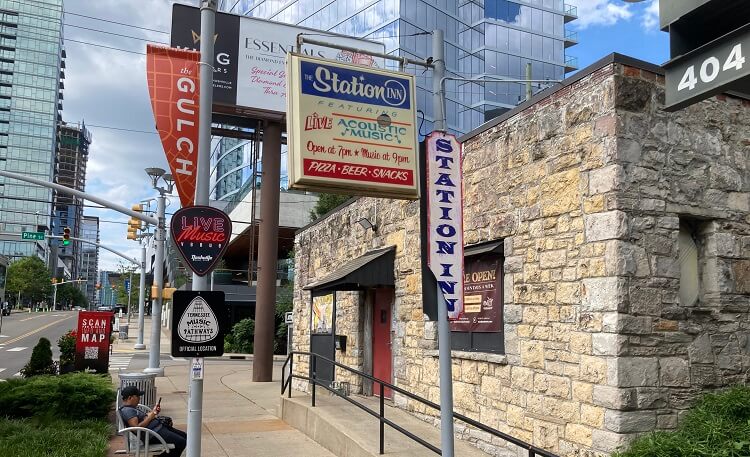 The Station Inn
For over 40 years, The Station Inn has been the hub of bluegrass and American roots music for fans worldwide. However, only the best players make it to this stage in a city known for its live music. So if you want an authentic Nashville pickers experience, this is your place.
You may know the names of Dierks Bentley, The Time Jumpers, Sturgill Simpson, or Alison Kraus, who used to play here and had their start and early success here. You'll also enjoy the tribute nights they host to honor all the bluegrass greats.
On Lower Broadway, you can hop in and out of various honky-tonks and bars. The Station Inn is a different model. It's a listening room set up like a theatre. The doors open at 7 pm every night, and the show starts at 9. Also, unlike bars on Broadway, they have a charge at the door with no tip jars passed around. Broadway is a loud place where you can be as rowdy as you want. At the Station Inn, attendees are asked to be quiet and appreciate the show.
The Station Inn is in the Gulch in downtown Nashville. The bar opens two hours before the show, serving pizza, nachos, hot dogs, and other snacks. To learn more or see the show lineup, click here.
---
3rd & Lindsley
Located just a few blocks from the Country Music Hall of Fame, 3rd & Lindsley Bar & Grill is a live music venue with great music, food, and drink. Each week, they have a packed schedule of live bands ready to go. So if you are in Nashville and don't want to go to the rowdy downtown district, this is the place to go.
It's located in an old building in Nashville, and the staff is well-organized. It features a large stage with many tables and seating in the large restaurant and bar area.
You will find all kinds of bands, from country to rock, and all sorts of performers, from local bands to big names like Vince Gill and Steve Wariner. Learn more here.
---

The Ryman Auditorium
I have included the Ryman Auditorium in this list because although it isn't a music bar per se if you are visiting Nashville and want to hear incredible live music, how could I leave it out? You'll find jazz, pop, blues, comedy, and more almost every night of the week.
It doesn't matter who is playing; if you're in town, you need to buy tickets. It's known as the mother church of country music.
The Ryman was the original home of the Grand Ole Opry that hosted country music icons like Hank Williams, Kitty Wells, Johnny Cash, Dolly Parton, and Loretta Lynn.
On display at the Ryman are George Jones's blue suit and Johnny Cash's suit, among others.
For a list of shows, click here.
---
The Bluebird Café
The Bluebird Café started as simply a café. Today, it's a songwriter's listening room and probably the most well-known café in Nashville. Music, songwriting, and Nashville come together at the Bluebird. Being a songwriter's town, Nashville needed a place to host local musicians who wanted to share their music. The Bluebird Café established itself as just that place.

The Bluebird Café is in the Nashville neighborhood of Green Hills. You must buy a ticket online for each show, which sells out fast. There are usually only about 75 seats available after artists' guests.

The experience will leave you feeling like you experienced the music rather than just being in the audience. Learn more here.
---
Backstage Nashville
Backstage Nashville is a songwriter's show attracting crowds from all over. It features a weekly show with Nashville's top songwriters and rising talent. You'll hear the most significant country hits live and learn the stories behind them.
Food, drink, and great seats are available. There isn't a bad seat in the house. It's been described as a place where the Grand Ole Opry meets the Bluebird Cafe.
You've heard that Nashville is a songwriting town; this is where the songwriters gather.
The building is in the heart of downtown Nashville and within walking distance of most of the downtown hotels. Unfortunately, the shows are only once a week, and you'll need to buy your tickets online. Click here to see upcoming shows.
---
If you're heading down south on vacation, you may be asking yourself, "what is the best time to visit Memphis?" …
Read more