Get ready for a deep dive into some real-deal karaoke bars right here in the heart of Music City.
I've been doing the legwork for you – chatting with folks, hitting the pavement, combing through social media, and diving into reviews. Why? Bring you the best karaoke spots where you, your pals, or your whole crew can have an unforgettable night of singing and laughter.
Not all of these bars are going to be everyone's jam. They're as different as a country ballad and a rock anthem, but that's the beauty of it. Variety is the spice of life.
In this post, you'll discover spots on the lively Broadway, the legendary Printers Alley, bustling Midtown, and even some secret treasures tucked away beyond the city hustle.
Each bar on this list promises one heck of a good time, and they've got the atmosphere, tunes, and crowd to prove it.
They're not just run-of-the-mill good; they're the absolute tops.
So, grab your boots, tune up your vocal cords, and get ready to sing your heart out in the best of Nashville! You won't regret it!
---
Best Karaoke Bars In Nashville
---
Sid Gold's Request Room.
Sid Gold's Request Room is one of my top recommendations.
It's the only piano karaoke bar in Nashville, and locals and visitors love this Nashville hidden gem. In many bars in Nashville, you're required to pay money, then either take a while to get called or not get called to the stage at all to sing.
Sid Gold's is different. You scan a QR code, put in the song you want to sing, and you're usually called up within minutes.
Every singer is backed up by an incredible pianist who also provides backing vocals. You're very fortunate if you get Kyle, who knows an astounding 3700 songs!
Everybody who visits comments on the great vibe that the place has. It is a friendly, inclusive place that welcomes all kinds of folks, as long as they're 21 and up. From the moment you walk in, you are greeted and taken to your seat.
You may be surprised that even the managers and servers sing – everyone is so talented.
I recommend the following:
One of the great things about this venue is it's small, so you can usually sing quickly. Walk-ins are always welcome, but reservations are recommended to guarantee seating.
Try the cocktails. The drinks are amazing and well-priced. I recommend the Strawberry Fields cocktail. Oh! And if you're celebrating something special, sometimes management will bring shots to the table in an adorable piano music box. It's really cool.
All the food is good, but try the chicken quesadilla – it's fantastic.
---
Lonnie's Western Room
Lonnies Western Room has been voted the #1 local karaoke bar.
They are open from Thursday – Sunday from 6 pm – Close.
What makes them so good?
They are a dedicated karaoke bar with a family vibe.
They are located on Printers Alley, a historic part of town away from the hustle and bustle of Broadway.
Huge range of song selections from country, rock, hip-hop, oldies, and more.
Have featured stars like Jimmy Fallon, Dale Earnhardt Jr, and Kathy Griffin!
They are great at accommodating groups.
Their inviting atmosphere, coupled with their friendly staff, makes every visitor feel welcome and comfortable.
They also offer a well-stocked bar with various drinks to complement your fun night.
FYI -> There is a 5 – 10 dollar cover charge.
Michael Cruz, a local guide, said, "Absolutely the best karaoke spot in the downtown area. There was a $5 cover on the Saturday night we went, but it was more than worth it. Nice stage. The sound was great. KJ was super cool. The crowd was so supportive."
---
Ms. Kelli's Karaoke
Ms. Kelli's is the largest karaoke Bar in the city. It's located on the famous Printers Alley, a destination that is a must-visit in Nashville and one I have written a lot about here.
The talent within the bar is a major attraction, from the patrons who take up the microphone to the multi-talented DJs and barbacks. The stage is open to all, and among the highlights, there's Jenna, the KJ who not only sparks up the karaoke session but also mesmerizes the audience.
The friendly, engaging staff, like bartenders Haley and Tara, or the DJs like Cat Daddy and JC, add flavor to your visit, serving you killer drinks. Be sure to try their Margaritas or the Blue Hawaiian.
The cherry on top is the drink specials and the memorable renditions of classics like 'Tennessee Whiskey.'
Ms. Kelli's isn't your typical karaoke bar – it's one of the best karaoke spots in Nashville, by popular opinion.
The crowd is supportive, and the employees are supportive, showing southern hospitality.
Another advantage to Kelli's is that it's away from Broadway, which might appeal to you since Broadway can get loud and obnoxious.
A few suggestions/tips:
Remember that it costs $5 per song to sing Karaoke.
There's no cover charge.
The bartenders are quick and friendly, and the prices are not unreasonable like many downtown bars.
---
WannaB's Karaoke Bar
WannaB's Karaoke Bar gives you a chance to join country music superstars and sing your heart out in the middle of Nashville's famous honky-tonk highway.
It's situated within the Tequila Cowboy Bar & Grill.
You never know who will show up and sing with you. Blake Shelton has been known to pop his face in the door!
The vibe is always upbeat, with plenty of laughing and singing. Certainly, everyone is there for a good time, so no one cares if the singers are not always pitch-perfect.
Even if you don't want to sing, the bar has a great selection of drinks, and the bartenders are friendly and attentive.
A tip from a local:
If you go mid-week, you will likely get right no stage; during the weekend, there can be an extended wait.
They don't allow ballads to be sung after 8 pm. If ballads are your thing, get there before 8.
It can get crowded, so get there early, preferably before 6 pm if you can.
A local guide on Google gave this review: "Super fun place! Sing your heart out on Broadway! Thousands of songs, trust me, they have that one song you think they won't. Super friendly staff and great drinks. A typical price is $12 for mixed drinks at any bar on Broadway. You never know who will show up to sing with you."
---
Wild Beaver Saloon
Have I got a karaoke spot for you? The first place I recommend is the Wild Beaver Saloon.
This Nashville bar's glamour, glitz, and charm make it such a fun place. Once you enter the door, you are transported into an environment that combines the charm of a hunting lodge and the flamboyant flair of a drag queen's fantasy.
A massive draw to the bar is the mechanical bull, you could say it's the star of the show.
For those who enjoy observing bachelorette parties daringly ride this beast throughout the day, the Wild Beaver Saloon delivers a spectacle that can't be beaten.
It's an unforgettable experience that brings laughter, cheers, and many photo opportunities!
There's also a pool table, cozy corners to relax, and cocktails.
A recent visitor said, "What a fun place! Just off Broadway, so it is not as crowded as those bars up and down Broadway. There is Karaoke and a bull you can ride! I went with a group of 3 couples. We did a little singing, a little bull riding, a little dancing, and a whole lot of drinking! The staff was fun, friendly, and great to joke around with."
Local tips: If you want to sing, write your song by the DJ, and she'll go down the list. If you want to go sooner than later, give her a tip.
---
Kung Foo Saloon
Don't miss out on the private karaoke room and the outdoor mini-bar at the Kung Foo Saloon.
It's a much-loved Midtown watering hole that boasts an AstroTurfed outdoor patio space with a large screen for your game viewing.
The bar has two private karaoke rooms. Every room is spacious enough to host groups of 10 to 15 guests and offers an extensive list of songs spanning all musical styles!
The karaoke rooms are open from 4 pm to 3 am on weekdays and from 11 am to 2 am on weekends.
The cool thing about Kung Foo is that you will find a host of FREE vintage arcade games, like Pacman, NBA Jam, Mortal Combat, and Galaga, alongside a ping-pong table. The ambiance is easy-going; it's a lovely retreat during the hot days and a cozy, fire-column-heated space in winter.
From Friday through Sunday, the venue hums with the sound of music from a live DJ, potentially making conversation a challenge. On the other hand, the atmosphere during the weekdays is decidedly more tranquil.
The fried pickles and cheeseburger egg rolls are must-try menu items. In sum, Kung Foo Saloon receives top marks.
A recent reviewer said, "Love this place!! We went to Karaoke, and they have private rooms where it will be just you and your friends. We had a ball!! I wish I had taken more pictures. The food was delicious!!"
---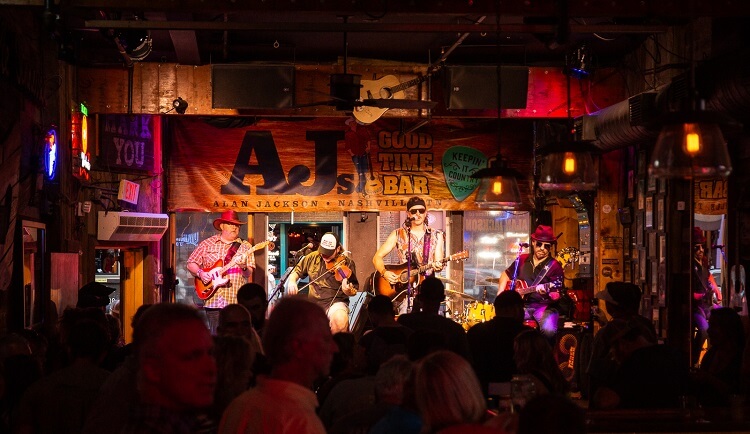 AJ's Good Time Bar
It could be said that AJs Good Time Bar is the best bar on Broadway. It was voted the number one honky-tonk.
Located in the heart of Broadway, the AJs Hullbilly Karaoke Bar Karaoke at AJs starts at 7 pm from Sunday – Thursday, 5 pm Fridays, and 2 pm Saturdays on the 3rd floor. AJs present Karaoke as a show and are really entertaining.
They go to great lengths to make you sound great on stage.
AJs was founded by Country Music Super Star Alan Jackson and is housed in the oldest building on Broadway.
Each floor is a different theme. The rooftop bar features incredible views of Nashville as well as multiple floors. Each floor reflects one of the facets of Alan's career.
Tracy, a recent visitor, said, "The DJ for Karaoke (Phil) was amazing! He is very talented, he can sing and line dance at the same time! He knows and has every single song you can think of. Very relaxing yet fun atmosphere."
---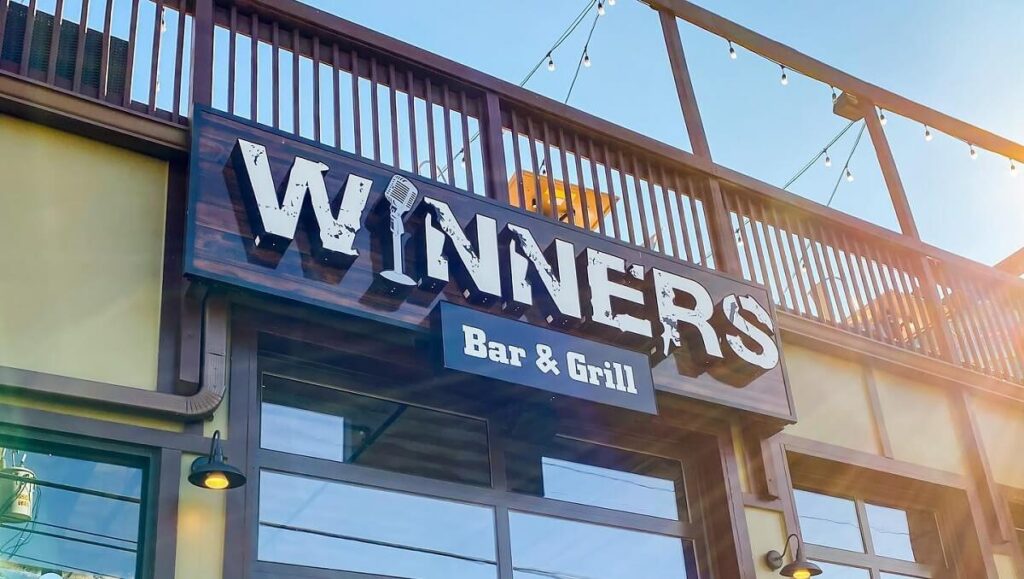 Winners Bar and Grill
Winners Bar & Grill is a popular bar in the neighborhood of Midtown, just 10 minutes from downtown Nashville.
They host a karaoke night every Friday and Saturday from 10 pm to 2 am on the Winner's stage with DJ Angelo.
Winners is a nice escape from the touristy feel of Lower Broadway – it's a favorite spot for locals.
The Whiskey Jam is a local favorite that happens every Monday and kicks off around 9 pm. You find amazing talent that is heading for major record labels. – Music Row is just blocks away!
The rooftop bar is amazing, with views of the street and Nashville. Great atmosphere on warm nights when the live music is pumping, and the beer is ice cold.
A local Nashville guide named Grace recently said the following:
Great place. So much fun, EXCELLENT live local artists, and a great rooftop bar experience up top. I highly recommend this place for a good, chill night out with friends. We will be back very soon.
---

Santa's Pub
Santa's Pub is a cash and beer-only karaoke bar – and it's one of a kind.
Over the last 12 years, the Pub has grown to become a destination for tourists and locals alike, from Ed Sheeran singing Karaoke onstage with fans to Music City artists filming music videos.
The owner, Denzel Irwin, says it's common for artists who have just sold out a huge venue in Nashville to end their night here.
Santa's Pub is open from 4 pm to 3 am, Wednesday through Sunday.
FYI -> They only serve cold beer; there's no cover charge, no cussing, and no cigarettes. Learn more here.
---
If you're heading down south on vacation, you may be asking yourself, "what is the best time to visit Memphis?" …
Read more