You've come to the right place and chosen the right blog to answer the question, "what food should you not miss in Nashville?".
There is definitely food that you should NOT miss in Nashville.
In this post, I will highlight the dishes that you must try, at the very minimum.
I understand that you won't be able to go to every fantastic bar and restaurant in the city…it would be impossible. I've lived here for 10 years and still have not made it everywhere!
What Food Should You Not Miss in Nashville?
Nashville boasts six notable dishes that are worth trying: hot chicken, meat and three, biscuits, barbecue, fried fish, and desserts. Additionally, locally brewed beers, Tennessee Whiskey, and coffee are recommended for drinks. For extra credit, local burgers, pizza, and fried pickles are also worth exploring. This post provides a detailed breakdown of each dish, so let's begin exploring!
---
Table of Contents
---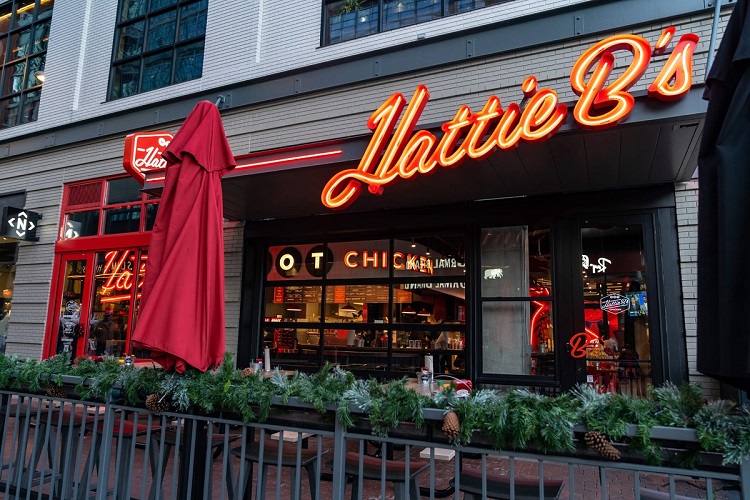 Nashville Hot Chicken
Did you know that hot chicken started in Nashville, Tennessee? Generations of families have been working on the recipe for decades. Sometimes, Nashville visitors will go straight to a hot chicken restaurant from the airport. Hattie B's even provides a place to store luggage!
Recommendation No. #1: Hot Chicken from Hattie B's or Princes Hot Chicken.
The two hot chicken restaurants that reign supreme in Nashville are Hattie B's and Princes. There are other places, of course. I wrote a whole blog dedicated to Nashville hot chicken here. If you had to choose the top places to visit with limited time, I'd recommend one (or both!) of these locations.
Hot chicken in Nashville is known for having a crispy crunch on the outside and tender chicken on the inside. You can choose various heat levels, so if, like me, you can't stand it too hot, you have options.
Prince's was founded in 1936 and has been a staple of the black community for as long as collective memory can recall. It's located in a great spot in downtown Nashville, right next to the Ryman Auditorium.
Hot chicken is simply a rite of passage to get hot chicken when you're in Nashville, Tennessee.
---
Meat & Three
Meat and three is a meal that can genuinely be called "Nashvillian." It's comfort food to the extreme and very satisfying.
The meat and three refers to one protein like beef or chicken with three sides, usually vegetables.
As a staple meal of the south, it comes from farming communities where it's all people had to eat. So when transitioning to the city, the food traditions were bought with them.
Meat and three restaurants in Nashville are cafeterias where you grab your tray and walk down a line. First, you can ask for what you want, like "fried chicken." Then you say what you want it with, like mashed potatoes, green beans, and corn casserole.
It's always topped off by pie or banana pudding.
Top Meat and Three Recommendations:
Arnolds Country Kitchen
Silver Sands Cafe
Puckett's
---
Brunch
Did you know that brunch was part of a counterculture movement in the 1960s to rebel against traditional mealtime conventions? Well, brunch is a popular mealtime in Nashville, and you'll be spoiled for choice.
You can choose traditional southern dishes like biscuits and gravy from Biscuit Love in the Gulch, chicken and waffles from Hattie B's, or shrimp and grits from Urban Grub.
Nashville has also enjoyed an explosion in gourmet chefs moving here to access local and fresh ingredients and the creative atmosphere.
Henrietta Red was founded by Julia Sullivan, a local Nashvillian who studied at the country's top restaurants before returning to open one here. She serves wood-roasted oysters, caviar, and smoked mackerel.
Mother's Ruin, another popular brunch location, offers classic breakfast food like Burrito's, Mushrooms and eggs, chicken, waffle, and fries. They also have an extensive cocktail menu.
For a complete list of fantastic brunch restaurants, click here.
---
Southern BBQ
Nashville's smoked meats are a favorite and an integral part of the city's food culture. We have a long-standing tradition of slow-cooked meats using a variety of woods to impart the flavor.
The local Bar-B-Que joints have been here for decades and are famous.
Jack's Bar-B-Que on lower Broadway, amid honky-tonk highway, is one of the famous spots you have to try.
Founded and run by Jack himself, it's a cross between Texas and Tennessee. You have 6 different sauces, and they cook their meat for 18 hours!
My following two recommendations are Bringle's Smoking Oasis and Peg Leg Porker. They were founded by award-winning grill master and Nashville native Cary Bringle. His family has been smoking meat for generations.
The menu includes smoked brisket, pulled pork, ribs, and beans. It's southern smoking and grilling at its finest.
For a complete list of the best BBQ joints in Nashville, click here.
---
Chocolate
Would you believe that Nashville is a sweet tooth's paradise as well? Yep!
There are two locations that I want to tell you about.
First, did you know that Nashville is the starting place of the famous Goo Goo Cluster?
The Goo Goo Shop was started in 1912 by Howell Campbell, who wanted to blend chocolate like fine Tennessee Whiskey.
The Goo Goo cluster recipe has stayed the same for over 100 years except for minor tweaks. Today, you can still visit the Goo Goo shop in Nashville and experience it.
Not only can you buy pre-packaged Goo Goo Clusters, but they will also make them to order while you wait.
Next, you should visit Savannah's Candy Kitchen. Savannah's contains every candy that has existed since our childhoods. They have old-fashioned saltwater taffy, peanut brittle, cotton candy, or other southern confections.
---
Burgers
I love burgers but am not fond of burger chains.
Nashville has the most gourmet burgers I have ever had with one of the kind restaurants.
The first recommendation is Fido's Coffee Shop (yes, you read that right). Fido consistently wins the award for the best Burger in the Nashville Scene Magazine. My wife and I have been coming here for over a decade. It's also the first place we take friends from out of town.
I recommend you try the Local Burger. You have the choice of beef or lamb with local and grass-fed meat. It comes with Tennessee White Cheddar, caramelized fennel, and more…try it!
The following recommendation is for Hugh Baby's. It was started by Pat Martin, the founder of Martin's BBQ, one of the best pit masters in the country. You can expect slow-cooked, smoked hamburger meat. Amazing.
For a complete list of burger recommendations, click here.
---
Coffee
Nashville has some great coffee shops that the locals love, but visitors probably don't know about. Let's fix that! 😉
I'm from Melbourne, Australia, which is Australia's coffee capital. So naturally, I have high standards when it comes to coffee!
Nashville has several local roasteries like Bongo Java, Crema, and The Roast.
Bongo Java is the oldest coffee shop in Nashville and is close to Belmont University. They also own my favorite coffee shop in Hillsboro, Fido's Coffee Shop. I wrote about them here.
Barista Parlor in the Gulch (part of downtown Nashville) is definitely one of the best coffee shops in Nashville.
Also, check out Frothy Monkey in Franklin. They consistently win the award for Best Coffee Shop.
---
Thai
Nashville has a thriving Thai restaurant community. My wife and I have tried as many as possible; here are our favorites:
Smiley Thai and Sushi Restaurant.
Located in Mount Juliet, the menu features a wide variety of dishes, including classic Thai curries and soups and creative sushi rolls and sashimi.
We got the Panang Curry and Green Curry. All the ingredients are fresh the food is excellent.
I love sushi and have tried many restaurants in Nashville; this is the number one place to enjoy in Nashville.
The Smiling Elephant.
This is located closer to downtown. A trendy Thai restaurant, they boast pictures of various celebrities (Keith Urban caught my eye) on the wall near where you eat.
---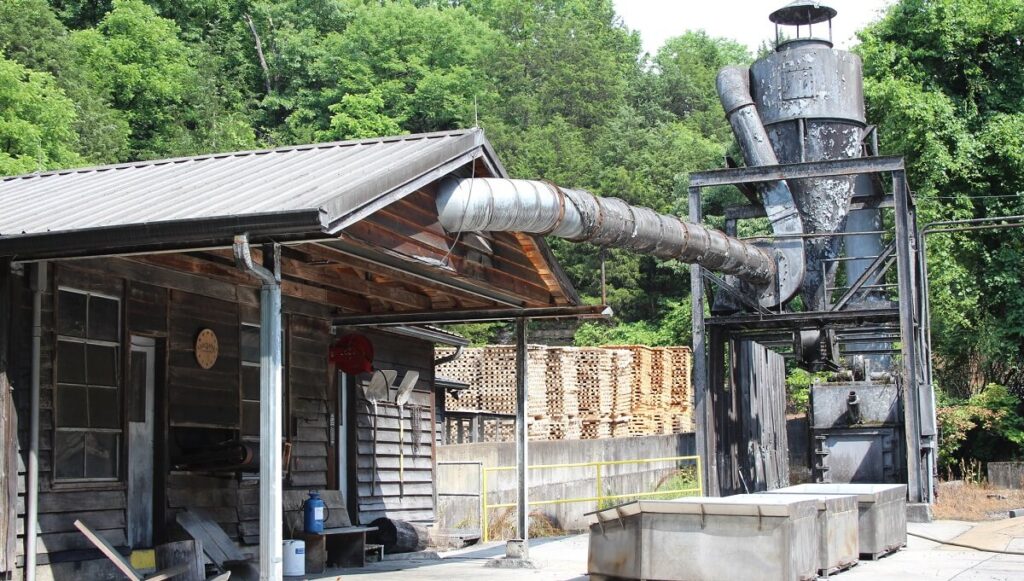 Tennessee Whiskey
Tennessee Whiskey is emblematic of Southern culture. It is filtered through a layer of maple charcoal before it is aged in the Lincoln County Process. It removes impurities and adds a distinctive flavor to the whiskey.
To officially be labeled "Tennessee whiskey," it must be made in Tennessee and aged for at least two years in new, charred oak barrels. It must also be made from at least 51% corn mash.
The best place to experience Tennessee whiskey is at the Jack Daniel's Distillery. You can embark on a tasting tour and sample several tastings of premium Tennessee Whiskey in beautiful Lynchburg, Tennessee.
---
Nashville Food FAQ's
---
What is Nashville's Signature Dish?
Nashville's signature dish is hot chicken. Hot chicken originated in Nashville in the 1930s. It's made by marinating chicken in a spicy seasoning blend, then frying it until crispy and serving it on bread to soak up the sauce. Hattie B's and Prince's Hot Chicken are the two most popular restaurants. Many restaurants now offer the dish as it's become popular.
Each restaurant mixes cayenne pepper and habanero but adds a unique spin to the recipe.
There are two main dishes that people travel across the country to try: Nashville BBQ and hot chicken. For some people, it's their first stop after getting off the plane.
There are varying degrees of spice. If you can't take the extreme heat, there are milder options. Click here for a complete guide to Nashville hot chicken restaurants.
---
Is Nashville a Foodie City?
Nashville has gained a reputation as a foodie city in recent years thanks to its diverse culinary scene and a growing number of acclaimed restaurants. Nashville also hosts several food festivals throughout the year, such as the Nashville Wine and Food Festival and the Music City Food and Wine Festival.
Nashville has been featured in national food publications like Bon Appetit, Eater, and Food and Wine.
Many acclaimed chefs are also moving here from around the country. This includes Sean Brock, who moved to Nashville and opened the award-winning restaurant Husk.
Julia Sullivan, the founder of Henrietta Red and Nashville native, moved away, studied at world-class restaurants, and returned to combine her tastes and flavors with southern cuisine.
---
What Sweets is Nashville Known for?
Nashville is known for a few sweets that have become popular within the city and beyond. One of the most famous is the Goo Goo Cluster. This candy bar dates back to 1912 and contains peanuts, caramel, and marshmallow nougat, all covered in milk chocolate. Another well-known Nashville sweet is the Hot Chicken Cone, created by Chick'nCone, a waffle cone filled with hot chicken nuggets, coleslaw, and pickles.
The city is home to several bakeries and dessert shops that offer a variety of sweets, including the Buttermilk Sky Pie Shop, which specializes in Southern-style pies, and the Five Daughters Bakery, known for its decadent cronuts and other pastries. In addition, Savannah's Candy Kitchen has been in Nashville for 40 years and has barrels of southern confections.
You should also check out the best ice cream in Nashville here.
---
What is Meat and Three Nashville?
Meat and Three is a dining style popular in the Southern United States, particularly in Nashville, Tennessee. "Meat and Three" refers to a meal that serves meats, such as fried chicken, country ham, or meatloaf, alongside three side dishes. The sides usually include vegetables like green beans, collards, baked beans, and potatoes. Other items include mac n cheese or cornbread.
Some of Nashville's most well-known Meat and Three restaurants include Arnold's Country Kitchen, Monell's Dining & Catering, Swett's Restaurant, Pucketts, and Silver Sands Cafe.
These casual, family-style restaurants are usually cafeteria style, where you take your tray and move down the line while picking your "meat and three."
If you're visiting Nashville, it's a great way to experience a traditional Southern meal and culture.
---
What is Tennessee's Official Dessert?
Depending on who you ask, Tennessee's official dessert is Banana Pudding, Pumpkin Pie, or Chess Pie. There has been a push by lawmakers to make Pumpkin Pie an official symbol for the state. Others believe it is the Chess Pie made with cornmeal, eggs, butter, and sugar. Still, others will claim that it is undoubtedly Banana Pudding.
As someone who has lived here in Nashville for over ten years and tried all of them, I believe it is the Banana Pudding. You'll find it at Thanksgiving, every meat and three restaurants and BBQ joint. Trust me, locals get very opinionated about their recipes.
---
What is Tennessee's Signature Drink?
Tennessee's signature drink is Jack Daniel's Tennessee Whiskey. It's commonly served as a Jack and Coke with ice, Jack Daniel's Old No. 7, and Classic Coke. The whiskey is distilled in Lynchburg, Tennessee, and is known for its smooth, slightly sweet flavor. Jack Daniel's is often enjoyed neat or on the rocks. It is also popular in cocktails, such as the Lynchburg Lemonade and the Tennessee Mule.
Jack Daniel's is the oldest distillery in Tennessee, but it's not the only one. About 10 distilleries in Nashville serve local spirits, including Corsair, Nelson's Green Brier Distillery, and Nashville Craft Distillery.
---
Welcome to our 2023 Nashville Christmas Gift Guide, a curated selection of unique and delightful items that embody the spirit …
Read more