Nashville is a super pet-friendly city. If you're traveling to Nashville, please feel free to bring your pet, regardless of the size.
There are many pet-friendly hotels to choose from. There are also over 292 pet-friendly bars and restaurants.
In this post, I've highlighted the best places to stay and take your pets in the city. It's impossible to cover every location, but I've done my best to highlight the best areas!
I've also linked to sites that provide even more detail.
However, this guide will show you the most recommended, welcoming hotels, attractions, restaurants, and bars that allow you to vacation in Nashville with your pet!
Why listen to me? Hey! 👋, My name is Alex; I've lived in Nashville since 2012. My wife and I have 2 kids; we got married here and have made Nashville our home. We're connected with the Musicians Hall of Fame and Museum downtown, so drop in and say hi when you're in town. Learn more about me here.
Important Note: Most attractions in Nashville, such as the Country Music Hall of Fame, Grand Ole Opry, Ryman Auditorium, Johnny Cash Museum, Musicians Hall of Fame, etc., do NOT allow animals that are not service animals onto the premises. This rule applies to most of the major attractions. Many hotels, restaurants, and bars make accommodations for your pets, which I have highlighted below.
---
Table of Contents
---
---
Best Nashville Hotels for Dogs
---
You're going to need a place to stay. These are the best, most accommodating hotels in Nashville. For even more options click here.
Loews Vanderbilt Hotel
Loews Vanderbilt is a beautiful, centrally located hotel that welcomes your pet.
Here are some details:
Additional cleaning fee of $75
Two pets per room
Will receive a gift bowl, treat and placemat
Gourmet menu for your dog.
Pet not allowed in the pool, spa, or fitness centre
Can take your pet to the lobby, bar, and restaurant.
---
Noelle Hotel
Noelle Hotel is one of the top recommendations as a place to stay with your pet in Nashville. It even welcomes your pet into the bar.
Here are some details:
Additional cleaning fee of $100
40-pound weight limit
2 pets per guest
No cats allowed
Dog bed and bowl included
CBD dog treats
---
Union Station Hotel
Pets are welcome at the historic Union Station Hotel. It's within walking distance of many Nashville attractions.
Here are some details:
There is a $100 non-refundable pet fee per stay.
The maximum weight limit for pets is 65 pounds.
Only two pets are allowed per room.
Pets must be leashed and under control at all times.
Pets are not allowed in the pool, spa, or fitness center.
Pets are allowed in the lobby, bar, and restaurant.
---
Dog-Friendly Nashville Bars & Restaurants
---
Café at Bobby
Peg Leg Porker
Joyland Restaurant
Von Elrod's Beer Hall & Kitchen
Sandbar Nashville
Jack Brown's Beer and Burger Joint
Address: 1123 3rd Avenue North, Nashville, TN 37208
Phone: (615) 818-0318
Hugh-Baby's
Rosemary Bar
Address: 1102 Forrest Ave, Nashville, TN 37206
Phone: (615) 730-7700
Tennessee Brew Works
Address: 809 Ewing Dr, Nashville, TN 37219
Phone: (615) 224-2739
Website: https://tnbrew.com
Butchertown Hall
Adele's
Redheaded Stranger
M.L. Rose Craft Beer & Burgers
Address: 2535 8th Ave S #107, Nashville, TN 37204
Phone: (615) 712-8160
Website: https://mlrose.com
Red Bicycle Coffee and Crepes
Marsh House
Nicky's Coal Fired
Find some great information here at Nashville Eater and here at Bring Fido.
---
Best Nashville Dog Parks
---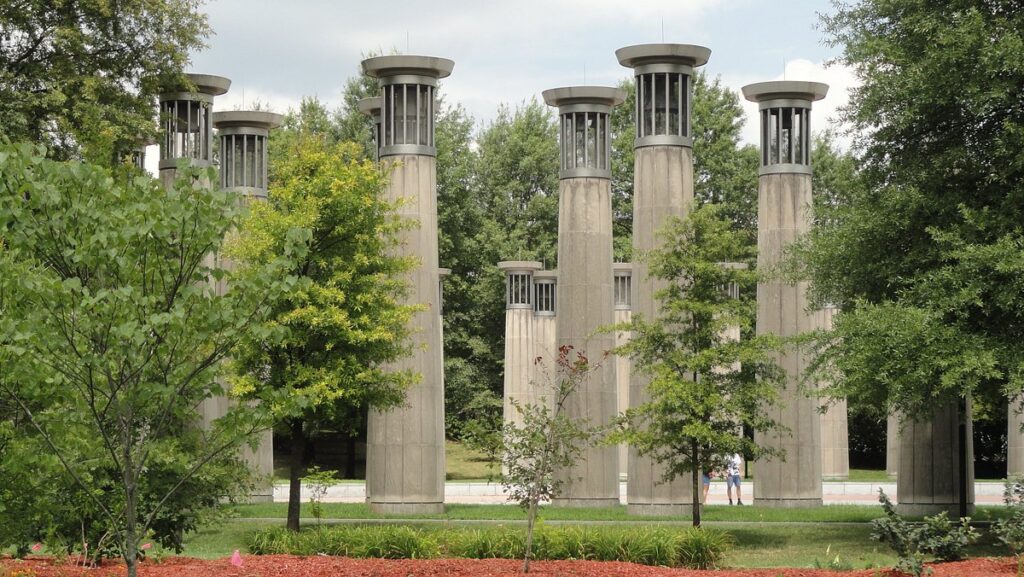 Centennial Park
Centennial Park is centrally located in the popular West End neighborhood and next to the famous Nashville landmark, the Parthenon. It's free to enter and move about anywhere you like. Keep in mind that dogs are not allowed inside the Parthenon.
It's helpful to know that this park has areas for both large and small dogs.
If you are visiting Nashville, it's a great spot because of its central location to the main Nashville attractions.
Nashville has brutal heat in the summer, and Centennial Park has plenty of shade, benches, and water fountains for both dogs and people.
Off-leash allowed.
It's open from dawn until 8 pm.
---
Two Rivers Dog Park
Two Rivers Dog Park is open from dawn to dusk and is a favorite Nashville park. It's the biggest dog park in Nashville and has a paved walking trail around the park, about a quarter mile.
It includes a lot of free parking, picnic tables, shade, woods, and trails.
There is not a small dog section, but it's so big that you should be able to find a part for yourself.
It's also near the Two Rivers Greenway trail. There's also a golf course, skate park, and more. It's very well maintained.
Off-leash allowed.
---
Stone Rivers Dog Park
It's right near a greenway walking trail. You can take a dog for a walk off-leash. It has excellent human restroom facilities and water fountains for humans and dogs.
A con of this park is the need for shade trees.
It has easy parking and a good size, so you will keep sight of your pet.
Easy access to the greenway trail system.
Open from dawn to dusk.
---
Shelby Dog Park
Located in East Nashville. It is near the shabby park fitness trail and part of a larger community that maintains it well.
No small dog area. It's spacious, has water fountains, and it can get muddy. Has a paved sidewalk. Lots of benches and shade.
Off-leash allowed.
---
Bark Park
Bark Park is an enjoyable, membership-based dog park that doubles as an excellent human hangout.
The park includes free Wi-Fi, comfortable seating, and restrooms, encouraging BYOB.
It's open from 6 am to 9 pm.
---
Gulch Dog Park
This dog park is a safe haven for your fur babies, encircled by secure fencing.
Your dog can run, sniff, and explore to their heart's content from the moment the sun peeps out till it dips down for the night. It's open all day, every day, quite perfect for your schedule.
The park has particular areas just for big dogs and little ones. That's handy if your little terrier is still getting ready to romp with the Labradors. And while your pups are busy making friends, there are these neat benches for you to kick back, relax, and even talk with fellow dog owners.
The park's not just about running and chasing. Their agility stations allow your pup to show off their jumping, tunneling, and weaving skills. It's fantastic for letting your furry friend stretch their legs and keep their minds sharp.
Right next door, there's a bunch of restaurants and cafes, all with patios that love having dogs around. So, whether it's a pre-park cappuccino or a post-playtime burger, you've got that covered, too.
---
Frankie Pierce Park
Frankie Pierce Park is named after the civil rights activist and is conveniently located in the middle of downtown. If you're visiting Nashville with your pet, this is a lovely spot to stop by.
It's only 1500 feet from the State Capitol and covers 2.5 acres of ample green space.
The park has picnic tables and a playground for the kids
in addition to a sand volleyball court, dynamic playground, and yoga lawn, the space includes a huge area for your four-legged friends to enjoy.
---
Percy Warner Park
Percy Warner allows dogs off the leash and is a local favorite; this expansive green space spreads over 868 acres, offering numerous trails perfect for hiking, running, and even horseback riding. You'll appreciate how the trails meander through dense forests, open fields, and bubbling streams. There's an equestrian center and an 18-hole golf course if you want a different outdoor activity.
The park is also home to the historic stone steps, an impressive piece of craftsmanship from the 1930s that's sure to be a unique photo opportunity. Picnic areas and playgrounds are scattered throughout, so it's an excellent spot for a relaxing family outing.
---
Radnor Lake State Park
Radnor Lake State is a massive park at Oak that spawls about 1368 acres. It's fantastic for hiking and walking. It indeed shows off how beautiful Tennessee is.
Dogs are only allowed on the asphalt parking lot and road, not on the trails.
---
Percy Priest Dam Dog Park
Situated by the beautiful Percy Priest Lake, this expansive dog park offers plenty of room for your pup to stretch their legs and enjoy some off-leash freedom. It's the perfect spot for a game of fetch or a casual stroll. The park boasts a clear view of the dam. The surrounding trees provide an abundance of shade, keeping you and your pet cool, even on the sunniest days. Percy Priest Dam Dog Park is known for its friendly atmosphere. Fellow pet owners here are generally respectful and conscious of maintaining a clean, safe environment for all. So why not pack up your pet's favorite toys and head out for an enjoyable day at the park?
Off-leash allowed. The park is open between Sunrise and 8 pm daily.
---
Frequently Asked Questions
---
Is Nashville a dog-friendly city?
Yes, Nashville is very dog-friendly! The city opens its arms wide to dogs of all types and sizes. Most hotels welcome your pet; some even roll out the red carpet with treats, toys, and dedicated menus for your pet. Also, most attractions, bars, and restaurants are welcoming to dogs. There are 292 pet-friendly restaurants.
Are Dogs Allowed in Opryland?
Dogs are generally prohibited at Gaylord Opryland Resort and Spa unless they are service animals. The resort does make accommodations for service animals to ensure accessibility for all their guests. While pets aren't allowed in the rooms or resort areas, the establishment features spacious outdoor walking areas for service animals and pet-friendly dining options. Please ensure your service animal is always controlled and behaving appropriately in public spaces.
Can I Bring My Dog to Nashville?
Yes, Nashville is generally a welcoming place for your pet. Many hotels welcome your dogs and allow them to stay for an extra cleaning fee. 300 or more restaurants and bars will enable you to bring your dog. Some require you to only take them on the outdoor patio. Many parks in the city provide green space and off-leash areas, notably Centennial Park in the heart of Nashville.
Can I Bring My Dog to the Nashville Zoo?
Pets, including dogs, are not permitted on Zoo grounds or in the parking lot due to potential health and safety risks to the zoo's animal collection. However, an exception is made for service animals, which are allowed within the Zoo premises.
Can dogs go to Broadway?
Dogs can be walked up and down Broadway. Service dogs, by law, must be allowed to enter. Many bars will enable you to bring your dog; the Stage is a good example. For the policies of specific bars, I suggest giving them a call ahead of time.
---
If you're heading down south on vacation, you may be asking yourself, "what is the best time to visit Memphis?" …
Read more