Nashville is famous for many things: hot chicken, country music, cowboy boots, and moonshine. But you're probably coming to Nashville for its countless bars and a good time.
With so many great bars, how do you know where to start? Well, buckle up; we're about to dive into the boozy heart of Nashville, where the good times' roll.
This post will explore where to start and where to go.
What Part of Nashville Has All the Bars?
The heart of the Nashville bar scene is lower Broadway, also known as the Honky-Tonk Highway. The iconic and historic strip has over 30 bars and honky-tonks offering live music year-round. Although other neighborhoods have superb bars, the downtown district offers an unforgettable experience.
Lower Broadway has over 32 bars on its short, walkable strip. You will be spoiled for choice.
You'll find multi-floor honky-tonks featuring live bands, gourmet food (or simple bar food), and the possibility of bumping into one of your favorite country music stars.
Other notable areas to go bar hopping include Midtown and East Nashville. We'll explore them all in this post.
Not mentioned is the historic Printers Alley, which also features many jazz, cocktail, and burlesque bars. I've written a complete guide to Printers Alley here.
Lower Broadway is a must-visit if you only have time for one stop while in Nashville.
Over half the bars on lower Broadway were founded by country music artists. Each bar has its theme, food, and drinks.
The area is walkable, and visitors can enjoy the music without any cover charges. Just remember to tip the artists. Across the street, you'll find the Bridgestone Arena, which hosts concerts and other events.
The bars open around 10 am and close at around 3 am on all days of the year.
If you don't want to experience large crowds and a lot of drunk people, I suggest visiting the honky-tonk highway during the day on weekdays. You'll still enjoy the best live music and drinks in the world without the extra rowdiness.
---
Popular Bars on Lower Broadway
---
While new bars are opening all the time, some famous bars and honky-tonks have become must-see, iconic destinations that you can't miss when you visit.
Tootsies' Orchid Lounge
Tootsies' is the famous honky-tonk on the strip. It backs up the Ryman Auditorium. Tootsie Bess supported up-and-coming stars who would play at the Grand Ole Opry that is next door. Today, you can still find the Wall of Fame with photos of the music icons played there.
It features three floors of live music with a rooftop bar and a stunning view of Nashville.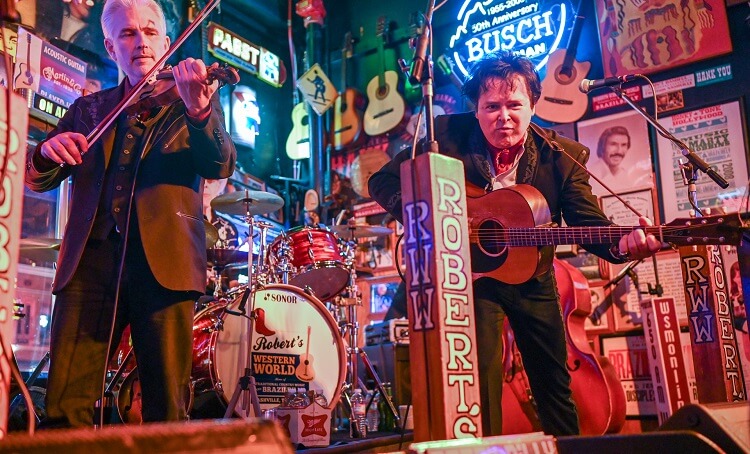 Roberts Western World
Roberts is consistently named the "Best Honky-Tonk" in Nashville. Every year it's also voted the best country music bar on Broadway. A staple of the Nashville scene, Roberts's house band Kelley's Heroes never disappoints. In addition, the food menu constantly serves up classic bar food.
The Stage
The Stage is another popular venue known for its live country music and ample dance floor. It features signed guitars and photos of the famous artists who have performed there. Again, you'll find a mainly contemporary country with the occasional rock, blues, and hip-hop.
Nudie's Honky Tonk
Nudie was a Ukrainian who came to America and designed rhinestone-covered suits known as "Nudie Suits ."He also had a business working cars by adding a silver-dollar studded dashboard. His Cadillac El Dorado is still on the main stage's wall. He designed outfits for Hank Williams, Johnny Cash, Elton John, and Elvis.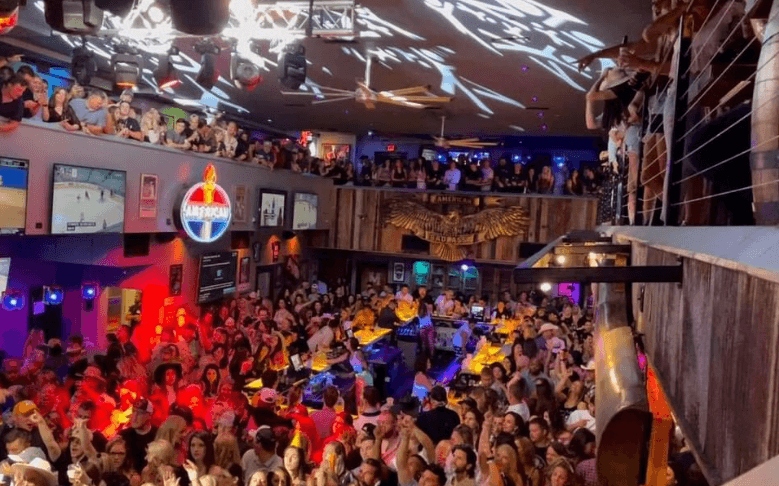 Kid Rock's Big Honky Tonk
Musician Kid Rock owns this five-story bar and restaurant. He offers a blend of country and rock music. The atmosphere is unique, and the top level provides rooftop views.
It boasts five floors, four stages, and six bars.
The kitchen serves steak and ribeye; every floor features 4k TVs.
For a complete guide to the must-visit Nashville bars on Broadway, click here.
Honky Tonk Central
Experience an epic three stories of live music. It's been described as a mini Las Vegas. It's entertainment all night with many different drinking, dining, and live music experiences on each floor.
They have little balconies on each floor that overlook the rest of the strip.
---
Midtown
---
Just a short 10-minute ride up Broadway is the neighborhood of Midtown. It also has a vibrant bar and nightlife scene. Midtown is a well-kept secret and has a different feel to Broadway. It's not as rowdy and crazy as lower Broadway and worth a visit.
Division Street is a popular, walkable strip with multiple sports, dive, and cocktail bars.
Here are some must-see bars in Midtown. This list isn't exhaustive, so I wrote a guide to Midtown bars here.
Winners Bar & Grill
One of the favorite spots in Midtown, they are known for serving great live music from local artists. In addition, they have a great rooftop bar, and the beer is ice-cold.
Losers Bar & Grill
Losers is a classic Nashville dive bar you'll love or hate. They have a rooftop bar that is packed through the weekend. Enjoy live music and great DJs.
Hopsmith Tavern
Hopsmith is a more upscale bar and restaurant. The staff are friendly and serves genuinely good food with a cold beer on tap.
Included is a private karaoke room and kid-friendly indoor and outdoor dining.
For a complete guide to Midtown bars for a fun night, click here.
---
East Nashville
---
East Nashville is a trendy, artistic part of town that has become an excellent bar spot.
Here are my top recommendations for drinks and food:
The Pharmacy
The Pharmacy is a great burger joint with a unique beer selection and beer garden. It's very well-known and popular – you should check it out.
Fat Bottom Brewing
They specialize in craft beers and bar food. They have a vast selection of beer. In addition, the brewery has a taproom and outdoor space. Make sure you catch a brewery tour while you're there!
East Nashville Beer Works
World-class beer, dog friendly, 20+ beers on tap, whole food menu with pizza, outdoor space.
Rosemary & Beauty Queen
They are considered the SPOT in Nashville. Featuring a great outdoor drinking and dining experience. It's hugely hip. You'll love the nightlife, brunch, dinner, drinks, and excellent DJs.