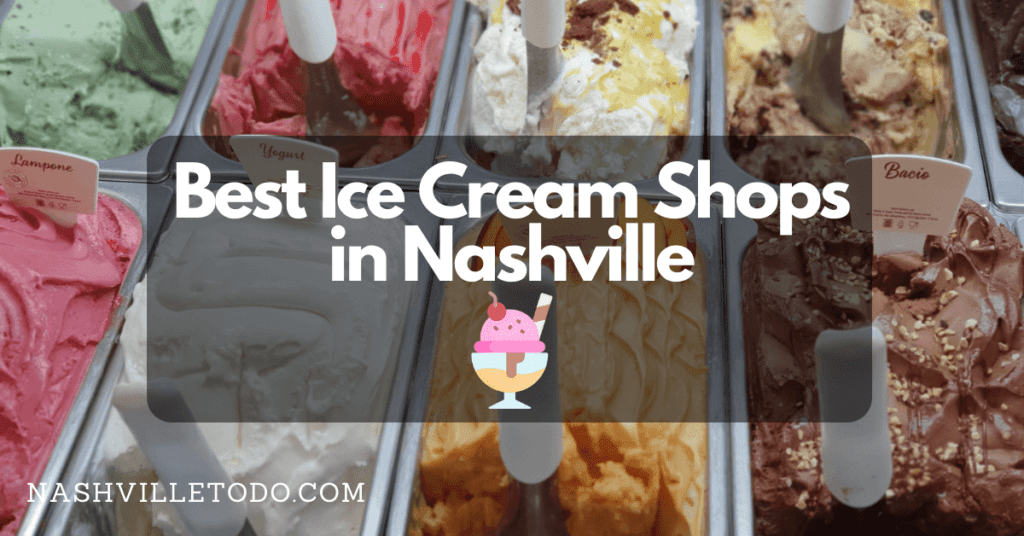 You must be reading this because you're in Nashville and looking for an ice cream fix. Well, you won't be disappointed. The only question that you must ask yourself is "what kind of ice cream do I feel like today?"
Let's start at the most artistic, creative, and outrageous options. You've got the choice of the Legendairy Milkshake Bar who serve giant, colorful creations that you'll wonder how to get your mouth around. Perfect for a fun night out. Second would be Gracie's who, like Legendairy's, will provide you with an incredible experience you won't forget.
But if you are simply out walking in downtown Nashville you might not want the extravagant. Instead, you could stop into The Baked Bear for a custom, homemade cookie filled with ice cream. Or, consider Mike's Ice Cream Fountain. These guys serve perfect, hand scooped ice cream smack bang in the center of downtown Nashville.
Elliston Place Soda Shop would be my next recommendation. Established decades ago it was recently acquired and given new life. It's possibly where the phrase "meat and three" came from. It's a Nashville icon.
For more of a "touristy" destination I would suggest the Goo Goo Shop. You may have heard of the GooGoo Cluster? Well, it was created in Nashville in 1912. Today they offer chocolate experiences where you can make your own candy and chocolatiers build it in front of your eyes.
Not only does Nashville have the world's best musicians, but we also have the world's best ice cream too.
In this post I go into detail on the stores mentioned above. Enjoy!
Did we miss your favorite? Comment below and we'll add it!
---
The Best Ice Cream in Nashville
---
Legendairy Milkshake Bar
It would be safe to say that the folk over at the Legendairy Milkshake Bar are artists more than mere ice cream vendors. Just checkout their Instagram feed for a taste of the unbelievable work that they do.
Every ice cream comes in a frosted mason jar overflowing with color and pizzazz. They call the people who make your ice cream "milk shake artists". I can't think of a better description!
Each of the pieces of your dish are handmade, painstakingly, and lovingly put together. The ice creams and milkshakes are creamy and cold, packed full of flavor and so big that you won't know where to start eating!
Each milkshake is so decadent and a little over the top, but you won't care. This place is perfect for kids.
Neighborhood: Downtown Nashville
---
Kokos Ice Cream Scoop Shop
Are you ready for creamless, non-dairy ice cream? Since I've been in Nashville, I've seen more and more vegan and vegetarian food options appear. Produce is readily available in Middle Tennessee.
Koko's Ice Cream is a plant-based ice cream. They have vegan, gluten-free, soy-free, and nut-free options.
Neighborhood: Midtown
---
Gracie's Milkshake Bar
Gracie's create handcrafted shakes and fries. They specialize in the outrageous and fun art of milkshake art, and they create fantastic things!
At Gracie's you're not just paying for a shake, you're paying for an experience. Take for instance The Unicorn shake. It has fresh strawberries topped with a massive heap of whipped cream, with a waffle cone and part of a pop tart projecting from the cream, gummy worms protruding and covered in sprinkles. Ridiculously fun. How are you supposed to eat that thing?
Gracie's has been described as masterfully artistic and good quality at the same time.
The downside is that it's a little pricey and messy. However, for the experience, probably worth doing it once. Plus, the kids will love it.
Neighborhood: Downtown Nashville
---
Ben & Jerry's

This one a simpler option: Ben & Jerry's. I stumbled across it when I was visiting family in Vanderbilt. It's a great location if you're in the area. It's just down the street from 21st Avenue in Hillsboro.
At this location you can take your time and try as many samples as you want, and they are open late. There's not a lot of seating so best to go when the weather is warm and walk outside.
Neighborhood: Hillsboro
---
The Ice Cream Bar
The Ice Cream bar is a popular place that offers a HUGE selection of desserts, ice cream and popsicles. In total you will find 50 different flavors of popsicles, 32 flavors of ice cream, milkshakes, ice cream combinations like ice cream hot dog, ice cream spaghetti, ice cream burgers. Basically, anything that you can think of, they can do.
To give you an example, recent visitors have recommended the chocolate martini, banana split, strawberry and cream shake, and the churro treat. You can make any combination of flavors.
It's a little bit out of downtown Nashville at 5572 Nolensville Pike.
Neighborhood: Hickory Valley
---
Goo Goo Shop
The GooGoo Cluster is a special type of candy in Nashville. It was created in Nashville in 1912 and continue to be sold here to this day.
Today, they have a storefront in downtown Nashville that offer "Chocolate Experiences". This includes the chance to make your own candy bar, pair wine or spirits with Goo Goo chocolate with hands-on candy making.
In this store they also have "Design Your Own" kiosks where you can use a digital panel to have chocolatiers build your own custom candy in front of your eyes.
They're open 7 days a week from 10am-6pm right in the heart of downtown Nashville. Check out their website for details on where to park.
Neighborhood: Downtown Nashville
---
The Baked Bear
The Baked Bear sells custom, homemade cookies and ice cream. This is another one of those spectacular Nashville locations that sell more ice cream art than just ice cream itself. Just check out their Instagram page for a sample of their work.
The goods look like a giant ice cream hamburger – the most colorful and delicious hamburger you've ever seen.
As you move around the different stations you get to choose the type of cookie, followed by the toppings and then the fillings. Everything is made in house and there are a ton of amazing flavors.
It's in a great location on Division Street surrounded my restaurants like Chuy's, Hattie B's, The Row Kitchen & Pub, and Losers Bar and Grill. So, if you are eating or going on a date in the area I would 10/10 recommend as a fun time.
Neighborhood: Downtown
---
Mimi's Ice Create & Coffee Shoppe
Mimi's Ice Cream Shoppe is a Nashville staple that locals love. All the ice cream is made and handcrafted onsite.
A favorite menu item is the Derrick Henry Banana Split that includes whipped cream and toppings of your choice. If you have a candy in mind, they have it – you can create anything you like.
Another favorite is the Birthday Cake Ice Cream cone (the cones are also made in-house). It's a cake batter ice cream that is a favorite with the kids.
Another restaurant created by the same family is Caney Fork River Valley Grille that has one the Tripadvisor Travelers' Choice award for 6 years.
I have a fond memory of this place when I visited with my father-in-law, Joe Chambers. That day we were riding in his brand-new red Corvette. I ordered us both the vanilla ice cream cone dipped in chocolate. It was a hot summer day and as we drove home the ice cream melted all down our hands and onto our clothes. A miserable but memorable experience.
Neighborhood: Near the Gaylord Opryland Resort and Convention Center
---
La Michoacana Premium
Located near the Nashville Zoo is the Spanish themed La Michoacana Premium. They have over 32 ice cream flavors and over 50 popsicles.
The favorites include the mango ice cream in a waffle cone, the Pistachio, and Mangoneadas.
Neighborhood: Paragon Hills
---
Hattie Jane's Creamery
Hattie Jane's Creamery has 3 locations in Tennessee. Nashville, Murfreesboro, and Franklin. The fan favorites include Hattie's Vanilla, Nana's Puddin', Mule Kick Espresso that is made from a Columbia coffee bean, and Potato Chip, PB&J, and Golden Milk which is dairy free.
Everything is made in-house, from scratch. That includes ice cream, toppings, cones, and whipped cream.
Neighborhood: Nashville
---
Jeni's Splendid Ice Creams
Jeni's Ice Cream is a brand that you might have heard of. The company is a pioneer of ice cream flavors that go well beyond the normal flavors. Take Bangkok Nut for example, it was inspired by a Thai woman and includes coconut milk and cayenne. Other mega popular flavors include Salty Caramel, and Wild berry Lavender. Jeni has used ice cream as an art canvas to experiment with different flavors and mixes.
Today, the pints are sold across the world. The ingredients are sourced from locally sourced produce.
The store is in Franklin and has rave reviews. A recent customer said "Beautiful little spot, great atmosphere, and lovely staff. Ice cream was amazing and the range of flavors on offer was incredible!"
Neighborhood: Franklin
---
Mike's Ice Cream Fountain
Mike's Ice Cream is in a fantastic location in downtown Nashville. Although they don't serve up beautiful, artistic creations, they serve reliably great ice cream.
It's a very convenient spot to get an after-dinner dessert. Everything is made on site and includes hand scooped ice cream, soft-serve yogurt, waffle cones, sundaes, sodas and more.
A recent visitor said, "The ice cream was smooth and flavorful and the coffee was the perfect accompaniment."
You'll find it hard to find a bad review. Highly recommend.
Neighborhood: Downtown Nashville
---
Fryce Cream
The "Fryce" in the name Fryce Cream comes from the fact that this store specializes in two things. French fries and ice cream. There is literally nothing else on the menu. It's just French fries and ice cream.
It's a fairly new establishment, opening in the first half of 2022. It's the site of an old sandwich shop on 12th Avenue South.
They serve almost any flavor of soft serve ice cream with an almost unlimited number of toppings with a side of fresh French fries with almost any combination of herbs, or spicey sauce.
On a hot summer day, it's a nice place to visit with outdoor seating in the lovely 12 South area. They are bundled up next to some other stores so grab some ice cream, fries and a beer and enjoy the warm Nashville outdoors.
Neighborhood: 12 South
---
Elliston Place Soda Shop
Elliston Place Soda Shop is known for more than just it's ice cream. It sells sodas, malts, fried chicken, and pies. Known as a southern icon it does southern cooking better than most.
It was built in 1912 and turned into a soda shop in 1939. The developer has kept the original building with the retro feel that includes cool original artwork, neon signs, juke boxes and stage.
Most people stop by for the classic southern food. You can sit down in the large dining hall or sit at the bar. A favorite is the pot roast and chicken. As far as drinks are concerned you need to try the Bourbon Ball Milkshake.
For dessert, they make fresh meringue pies that are huge and delicious.
Elliston Place has been beautifully preserved, and a celebrity sighting is not unusual.
Neighborhood: Midtown
---
Bobbie's Dairy Dip
Bobbie's Dairy Dip has been open in Nashville since 1951 serving soft serve ice cream in a cone. It's an easy place to pull and order from the window with outdoor seating.
Neighborhood: Sylvan Park
---
Janarty's Homemade Ice Cream
Janarty's has been added due to popular demand but it's about 20 minutes out of Nashville in Smyrna, TN. After reading the raving reviews, we couldn't leave them out. They are known for the quality of the ice cream and the family friendly atmosphere.
Some of the favorite include the home made waffle cone, mint flavor, brownie, and double chocolate. Some went so far as to say it was the best ice cream they've had in Tennessee. Check out the review here.
Neighborhood: Smyrna
---
Remember to Check Out…