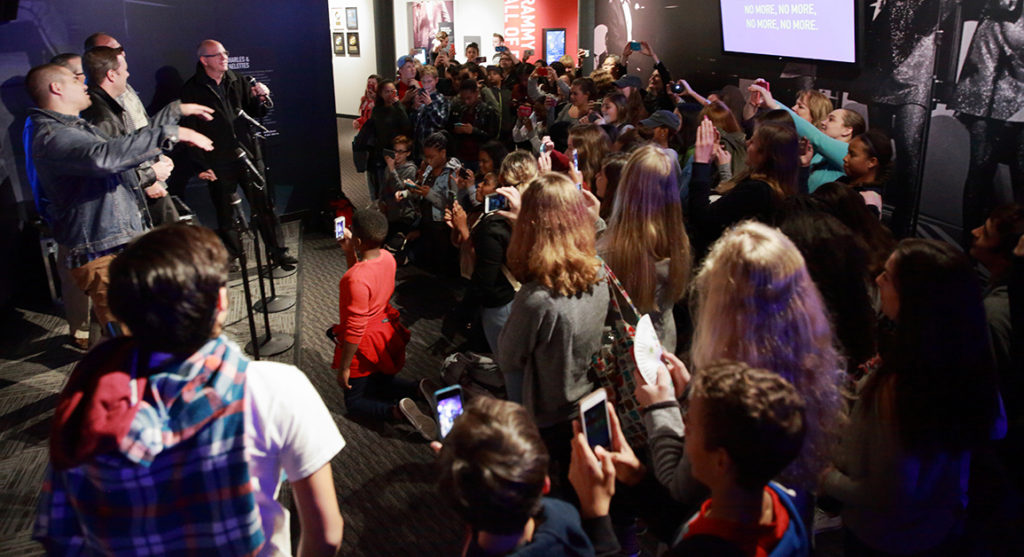 I have two young boys and always try to keep them occupied. Since I live in Music City, I've explored almost every aspect of it with kids in mind. In this post, you'll get my distilled wisdom and advice.
We'll start with my top ten recommendations. I'll then break it down into categories to help you decide what to pick.
Nashville is a child-friendly town, depending on age. Sure, honky-tonk highway at night might not be the best option for youngsters. But believe it or not, Nashville is more than just loud country music bars and honky-tonks. This is Tennessee. It's a beautiful state filled with parks, history, and music.
Why Should You Listen to Me? I've lived in Nashville for 12 years and have two children under 10. I've been to almost every attraction and know Nashville front and back. I'm always looking for things to do with kids, so this is a topic I know very well. To learn more about me, click here.
Before diving in, I recommend the Nashville Hop on Hop Off Trolley Tour. They stop at over 100 places around Nashville, have live expert commentary, and are open-air. You and your kids will love it, and it's a very convenient way to see the city and many of the sites mentioned below. You can learn more about it here.
Nashville Hop On Hop Off Trolley Tour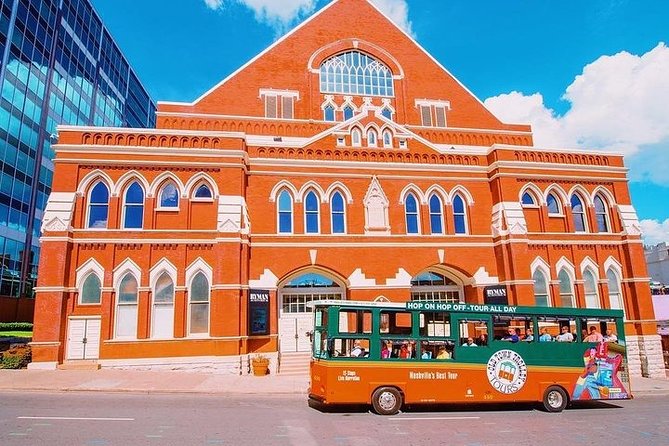 The trolley drives all around Nashville for a 90 minute round trip with live commentary. When the weather is warm the windows are open. It covers over 100 points of interest. I recommend it as a great way to see what Nashville has to offer on a single trip. It covers Broadway, Music Row, Centennial Park, the Ryman Auditorium, Nashville neighborhoods and more.
---
Things To Do in Nashville with Kids
---
---
Top 10 Kid Friendly Activities in Nashville
---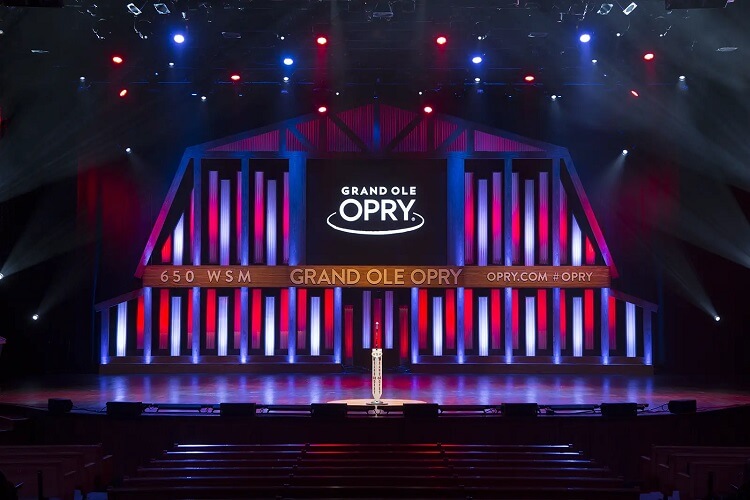 1. Grand Ole Opry
The Grand Ole Opry is child friendly. A child 4 or younger does not need a ticket if they can sit in your lap. The shows start at 7pm. They last about two hours and are appropriate for kids.
Of particular to your family might be the Grand Ole Opry tours. This allows you to go backstage at the Opry and hear the stories, see the artist's entrance, and see photos from the Opry's most significant moments. The tour is 45 mins long, and discounts are available for kids between 4-11 years old. Learn more here.
2. Gaylord Opryland Resort Gardens
The Gaylord Opryland Resort and Convention Center is an epic nine acres of indoor gardens. There are loads of fun things that your kids will love. For example, there is a boat ride and a chariot ride. There are also open spaces and safe pathways, so don't be afraid to let them run around. There are beautiful gardens and waterfalls to discover. For the parents, the shopping is excellent. There are gift shops and boutiques to explore. Large glass dome rooms with plants, trees, and water features are throughout. The trails that connect the restaurants and shops are fun for the kids to discover. It's about a 20-minute drive from downtown Nashville to the resort. The resort is a good, family-friendly option if you stay in Nashville overnight. Learn more here.
3. Andrew Jackson's Hermitage
Did you know that a President of the United States used to live in Nashville? Yep, Andrew Jackson called Nashville home, and you can still tour the house where he lived.
Visiting Andrew Jackson's Hermitage with your kids offers a dynamic history lesson. They'll experience the everyday life of the 7th US president through original furnishings and get a feel for 19th-century Southern society. In addition, the plantation provides context to discuss complex topics, like the lives of aristocrats versus enslaved persons. As a day trip, the Hermitage offers an engaging, educational escape from bustling Nashville, allowing your family to step back in time and appreciate history firsthand. Learn more here.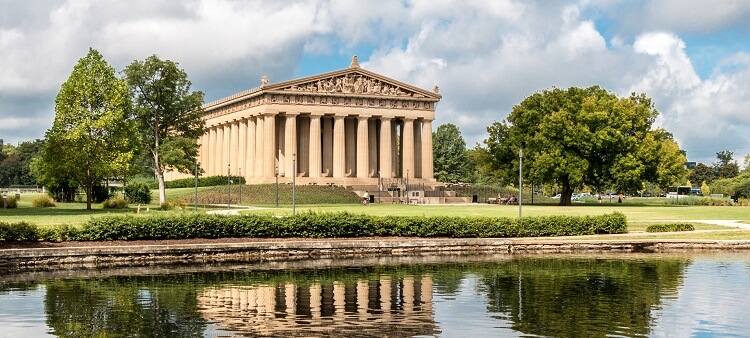 4. Nashville Parthenon
In Nashville, there is a full-size replica of the original Greek Parthenon. It's located in Centennial Park (great for kids!) and is a cool educational opportunity. Inside the Parthenon is a 42-foot statue of the Greek goddess Athena. It's an opportunity for the young ones to learn about Greek history and culture. The Parthenon was built as a homage to the Greek philosophy that influenced the thinking and structures of the West. Inside the Parthenon is also an Art gallery that is interesting to explore. Keep an eye on the calendar as Centennial Park often puts on events. If nothing is happening, there is a lake, pathways, and plenty of grass to enjoy a picnic. Learn more here.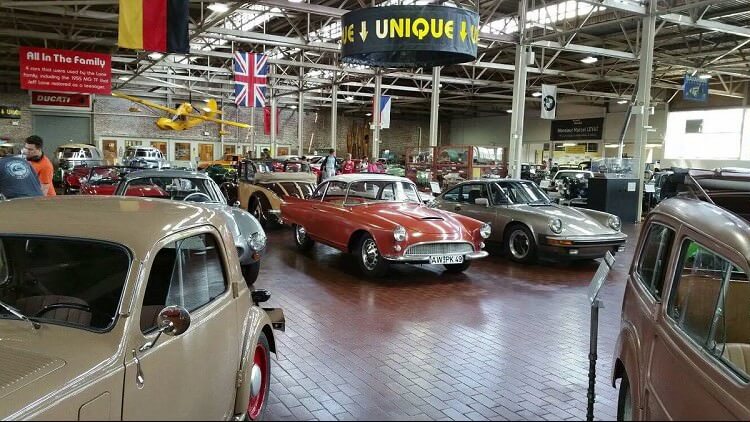 5. Lane Motor Museum
The Lane Motor Museum in Nashville is a must-visit spot your little ones will adore. This unique Museum showcases a fascinating collection of unusual cars and vehicles, sparking kids' curiosity and wonder. As they explore, children will be captivated by the vibrant colors, intriguing shapes, and eye-catching designs. The Museum not only appeals to young automobile enthusiasts but also provides an educational experience as they learn about the history and evolution of transportation. Located near downtown, the Lane Motor Museum is easily accessible from nearby hotels. Just remember, they're closed on Tuesdays and Wednesdays, so plan accordingly for a fun family outing. Learn more here.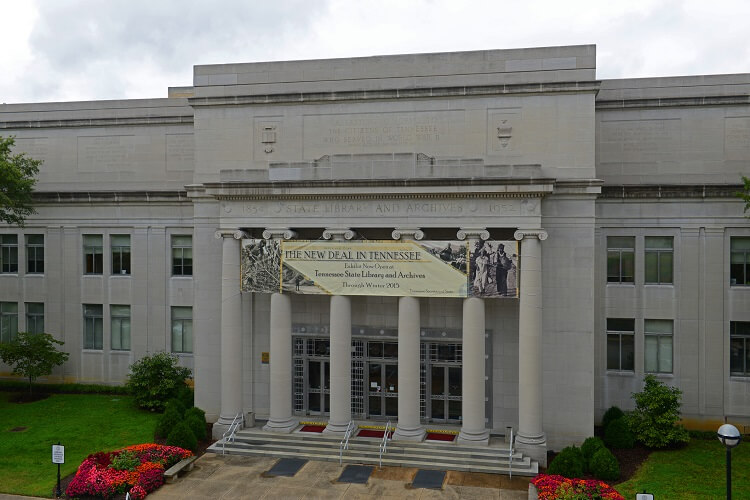 6. Tennessee State Museum
The Tennessee State Museum in Nashville is a must-visit for families with curious kiddos. This Museum offers an engaging journey through Tennessee's rich history, with interactive exhibits that captivate young minds. Kids will love exploring the hands-on activities, such as artifact touch carts and scavenger hunts. Parents and children alike will appreciate the diverse exhibits covering fascinating topics like Civil War, Native American history, and natural history. Housed in a striking modern building, the Museum is conveniently located near the Bicentennial Capitol Mall State Park. Remember, it's closed on Mondays, so plan accordingly for a fun-filled, educational day! Learn more here.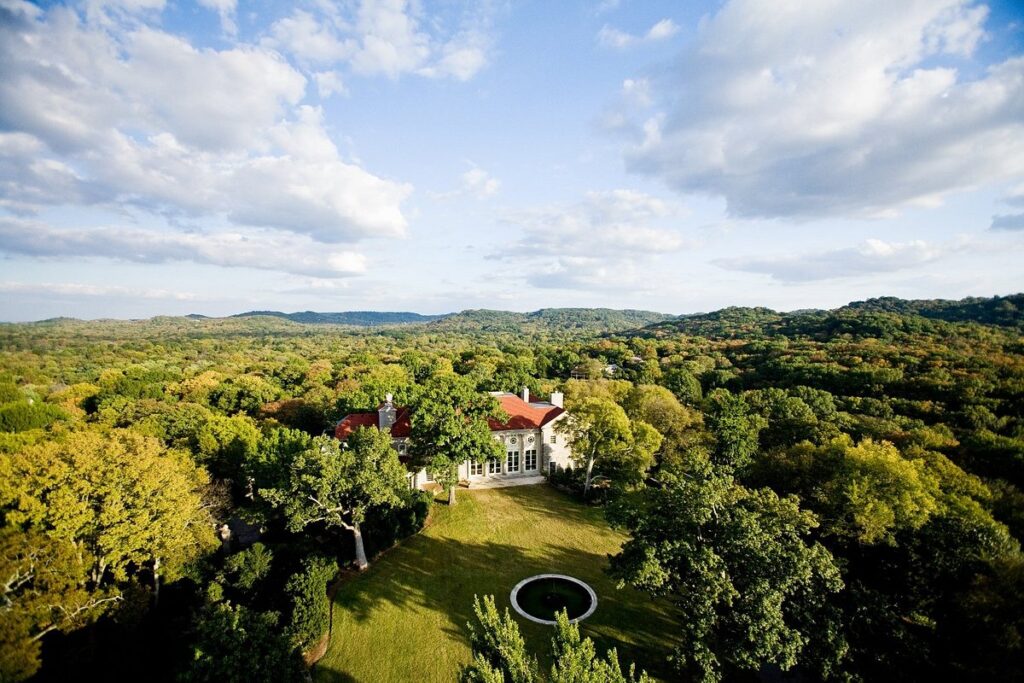 7. Cheekwood Estate
Cheekwood Estate and Gardens are about a 25-minute drive from downtown Nashville. It has several great things kids love, such as the Bloom Festival in spring, the fall harvest festival, and the winter holiday lights.
What my kids love is the train exhibit. They have a large model train display that runs through a detailed landscape with miniature buildings and bridges.
As well as the fascinating historical value that the grown-ups will enjoy, there are dedicated areas for children, such as the Bracken Foundation Children's Garden. It has play structures, water features, and more. Learn more here.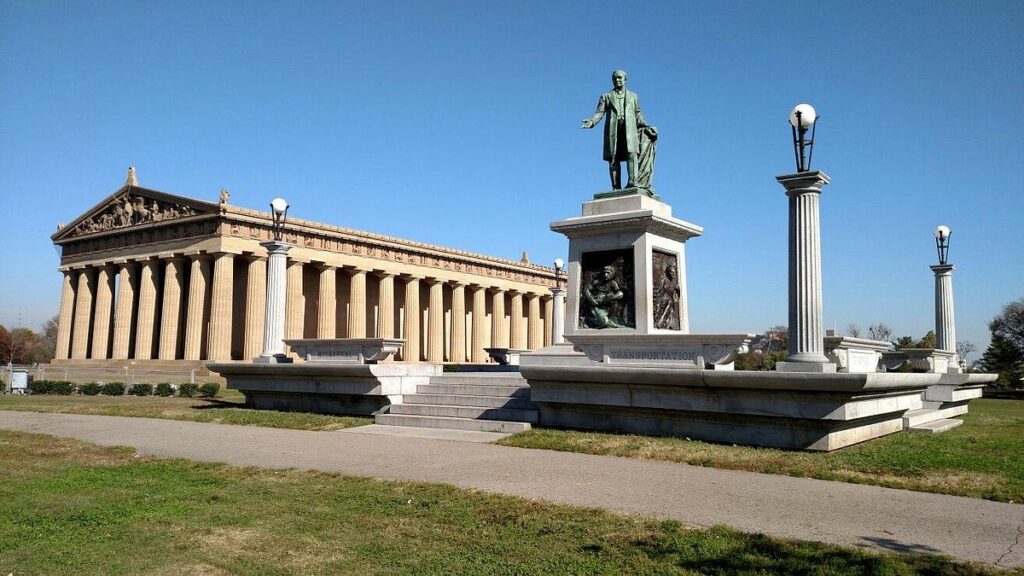 8. Centennial Park
Centennial Park is a giant park in the middle of downtown. As mentioned above, this is where the Nashville Parthenon is located. The park has a bunch of playgrounds where kids can climb and play on different equipment. There are picnic areas with plenty of established trees for shade. I think the best part is the large lake that runs through the middle of the park. There is a lot of birdlife which is fun for kids. Grab a ball, as there is plenty of room for soccer, softball, or volleyball. Learn more here.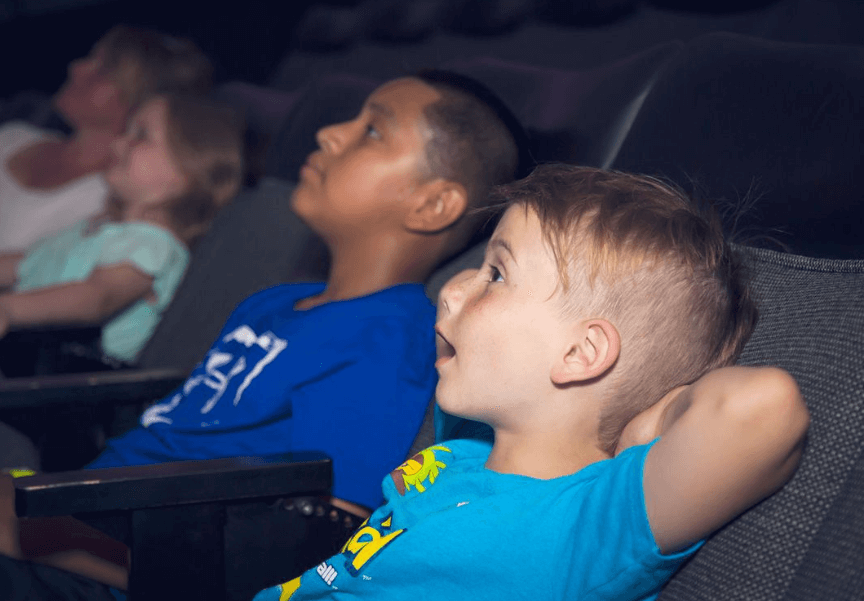 9. Adventure Science Center
The Adventure Science Center in Nashville is a great place to take kids. After you buy a ticket, you can let your kids loose, and all ages will be entertained. There are interactive and creative games to play and science experiments to do that are very hands-on. They also have a planetarium in the Museum. The entry price is between $11-15 dollars. Another nice touch is that lunch is available for purchase inside.
They have different rooms to explore that highlight various themes. Rooms like the solar system and human body room. Some people have said that teenagers can get a little bored. Learn more here.
10. Soundwaves Indoor Waterpark
SoundWaves is within the Gaylord Opryland Resort. It's a water park with indoor and outdoor rides, swimming, and surf pools. The park caters to all ages with dedicated kids' areas, including splash pads and shallow pools. SoundWaves also hosts interactive activities and offers private cabanas for families to relax. The temperature-controlled indoor section ensures year-round enjoyment. SoundWaves hosts interactive activities like poolside games and a water obstacle course, which keep children engaged and entertained. One of the great things is that they are open year-round, regardless of the weather. Plus, it's a family-friendly environment with lifeguards and clean restrooms. Learn more here.
---
Parks & Outdoors
---
Fannie Mae Dees Park
Fannie Mae Dees Park is the best park in Nashville for kids. It has a lot of space to run around safely and a really cool dragon sculpture that kids are welcome to climb on. We recommend it as a great place to visit with kids while in Nashville. The playground itself is large and safe for all age groups. It includes picnic chairs and tunnels for kids to crawl through. It's also helpful to know that it is safe and clean, with onsite bathrooms. The park is only a 12-minute drive (3.8 miles) from downtown Nashville. Learn more here.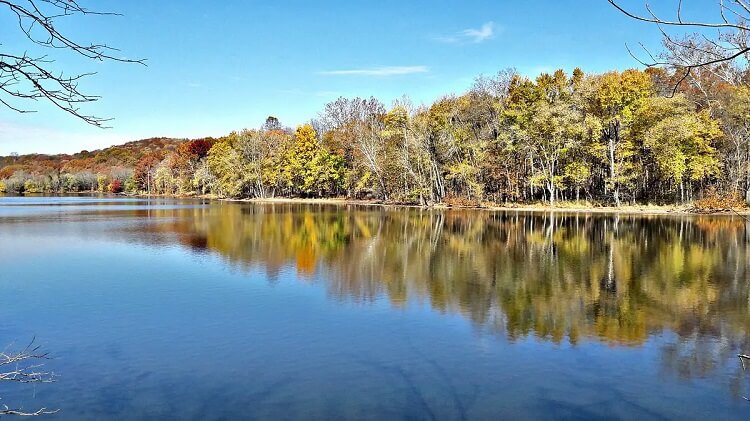 Radnor Lake State Park
Radnor Lake State Park is only 25 minutes from downtown Nashville. Parking is easy, and many paved trails make it easy to walk or stroll. The park is home to deer, otters, turtles, beavers, and birds which are usually easy to see.
There is an onsite visitor center where kids can learn about the park's ecosystem and wildlife. There are even guided tours.
You can take kids canoeing and kayaking during the warmer month, and many picnic opportunities exist.
Radnor provides a way to experience the incredible natural beauty of Tennessee if you are from out of state. It's conveniently located close to the city. Learn more here.
Percy Warner Park
Like the Radnor State Park, Percy Warner Park is just 25 minutes from downtown and provides a chance to experience the stunning beauty of Tennessee. There are numerous hiking and nature trails, ranging from easy to challenging. In addition, Percy Warner Park features several playgrounds with age-appropriate equipment where children can run, climb, and play. The park also has designated picnic areas where families can enjoy a meal together in a peaceful and scenic setting. Mossy Ridge Trail is one of the more popular trails, just 4.9 miles long. There is plenty of shade along the way, and easy for most walkers. Learn more here.
---
Fun & Educational
---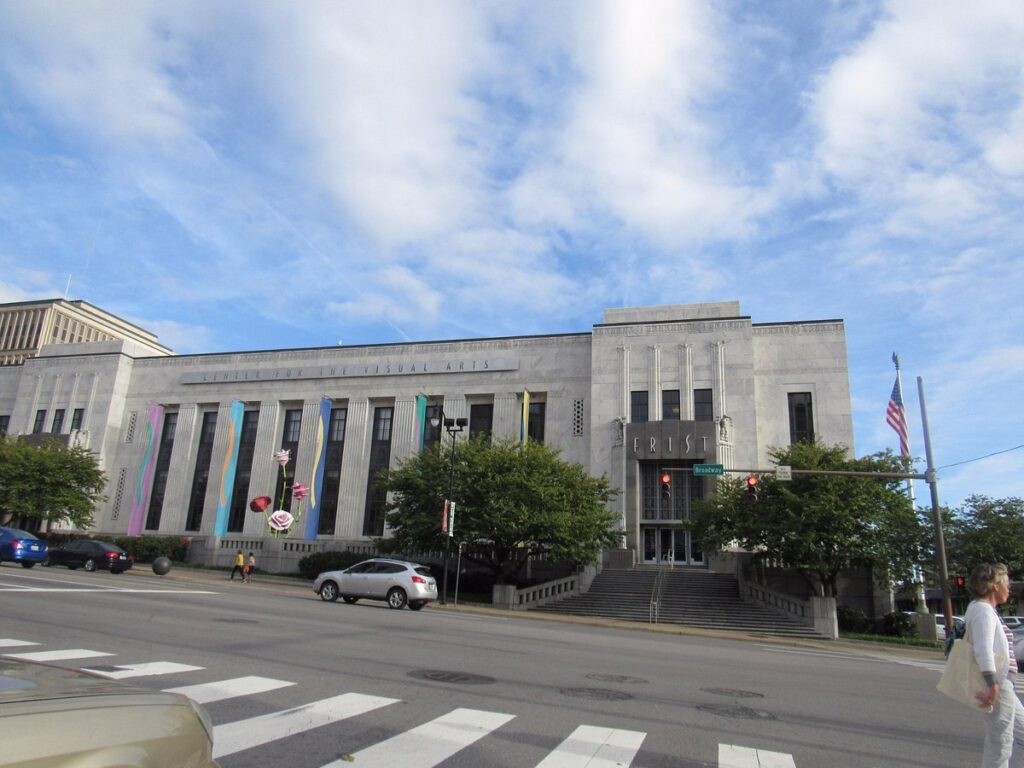 Frist Art Museum
The Frist Art Museum in downtown has interactive exhibits that your kiddos will enjoy. There are hands-on activities like the Martin ArtQuest Gallery. They also feature many traveling exhibits that the kids and parents will both enjoy. The building itself is historical, located in the old Nashville postal office. Many interactive exhibits allow kids to sketch, draw, paint, and learn. Since children are visually drawn, they enjoy the Museum's colors, shapes, and patterns.
The Museum is located on Broadway and is within easy walking distance of most hotels. However, keep in mind that they are closed on Tuesdays and Wednesdays. Learn more here.
Nashville Children's Theatre
The Nashville Children's Theater is probably somewhere you weren't expecting to be recommended. However, they provide children's educational theatre and entertainment that are appropriate for all ages of kids. As of this writing, they are performing The Wizard of Oz, Llama Llama Red Pajama, and Hip-Hop Cinderella. The parking is free, right in the middle of downtown. The theatre is designed to be welcoming, ensuring a comfortable family experience. Engaging performances, age-appropriate content, and a friendly atmosphere make NCT an ideal destination for visiting families seeking a unique, memorable Nashville experience. Learn more here.
Escape Game
The Escape Game in Nashville presents interactive adventures your whole family will love. Kiddos and parents alike will be captivated by the immersive, themed rooms, requiring teamwork and problem-solving. Each escape room experience is tailored to different age groups, ensuring everyone can join the fun. Plus, it's an educational outing, helping kids develop critical thinking skills while enjoying the thrill of the game. Conveniently situated in Nashville, The Escape Game is accessible and close to other popular attractions. So take advantage of this unique family bonding activity that combines excitement, learning, and teamwork. Learn more here.
Opry Mills
Opry Mills is a family-friendly environment that kids love. Here are some excellent options. First is the Aquarium Restaurant. You're surrounded by a 200,000-gallon aquarium filled with more than 100 species of tropical fish. It's a fun experience.
Second, there is an Opry Mills IMAX theatre.
Third, right next door is the Gaylord Opryland Resort and Convention Center; as mentioned above, it has stunning gardens and waterfalls. Also, a short distance from Opryland is the Grand Ole Opry, which is very kid-friendly.
My biggest recommendation is the Aquarium Restaurant. Learn more here.
Bridgestone Arena
The Bridgestone Arena is the location that serves the most significant events in Nashville. If it's too big for the Bridgestone (rare), the event is moved to the Nissan Stadium over the river.
When you come to Nashville, you should check the schedule to see what's happening, as there are always a lot of events that kids might love.
I took my five-year-old to the Monster Jam earlier in the year, and we had a blast. Other events include the Nashville Predators games, ice skating, and more. The Bridgestone is in the middle of downtown, so access is easy. Learn more here.
---
Museums
---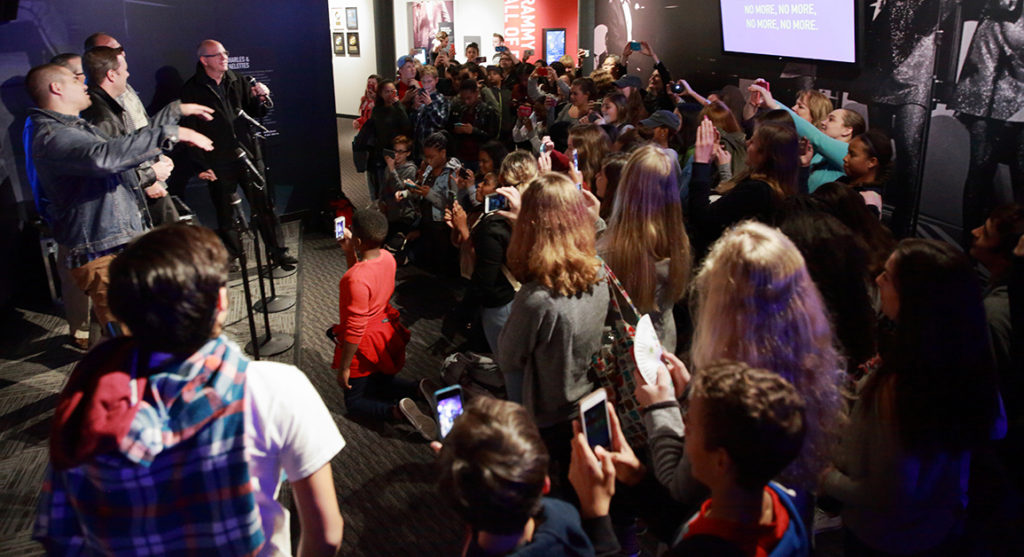 Musicians Hall of Fame and Museum
The Musicians Hall of Fame and Museum honors the musicians, songwriters, producers, and engineers who created the music we all know and love. It's a very educational experience, and kids love it. For the price of admission, you also get access to the GRAMMY Museum Gallery. My kids love this part!
Kids of all ages (my youngest is 2) can play drums, keyboards, or guitar on a stage, just like a real performer would. There is also the chance to sing along with Ray Charles and Raelettes. It's common for school groups to tour through the Museum as it's a believed location for kids. I highly recommend it. Learn more here.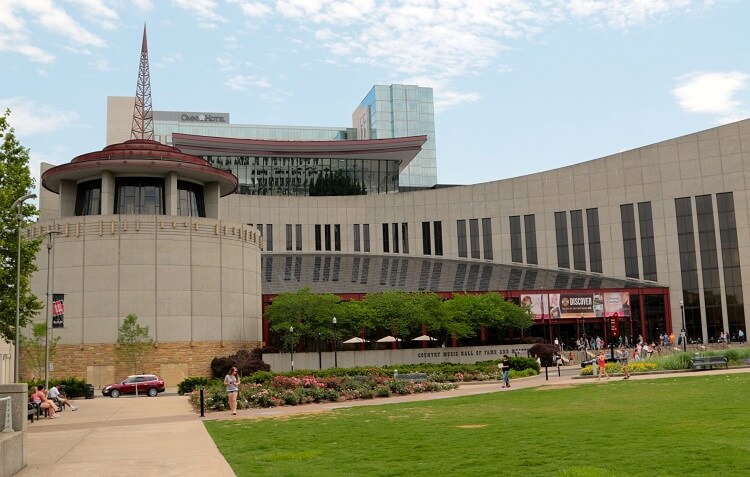 Country Music Hall of Fame
The Country Music Hall of Fame in Nashville is a must-visit spot for families with kiddos. Your little ones will be thrilled by the interactive exhibits, like the Taylor Swift Education Center, where they can explore music-making and songwriting. In addition, the Museum showcases a variety of memorabilia, such as sparkly costumes and flashy instruments, which will catch children's attention with their vibrant colors and unique designs. It's located in the heart of downtown and easily accessible from most hotels. So, you're looking for a family-friendly outing that blends music, history, and fun. In that case, the Country Music Hall of Fame is a surefire hit. Just remember to check their operating hours before planning your visit. Learn more here.
---
Musical Venues
---

Ryman Auditorium During the day tour
The Ryman Auditorium operates fantastic tours that kids, especially teens and up, will love. They allow you to set up on the stage and have an expert guide you through the stories and memorabilia of the Ryman. This is where it all started in Nashville, as it was the original location of the Grand Ole Opry. Visitors get to see the dressing rooms, exhibits and explore the history. It's not every day you get to stand on the same stage as Johnny Cash or Dolly Parton did. Also, the good news is that kids from 4-11 are half-price. Learn more here.
---
Restaurants
---
Meat and Three
Traditional southern meat and three restaurants include a buffet and a choice of protein, like fried chicken. You then have a selection of mashed potatoes, green beans, or corn casserole dishes. If you're coming from a different part of the United States or the World, you should try meat and three restaurants at least once.
When I first arrived from Australia, it was the first place that my father-in-law, Joe Chambers, took me.
To get you started, here are my top Nashville Meat and Three recommendations:
Arnold's Country Kitchen – a classic with a reputation for the best roast beef in town.
Silver Sands Café – a hidden gem serving up irresistible soul food.
Puckett's – a local favorite, known for their smoked meats and classic Southern sides.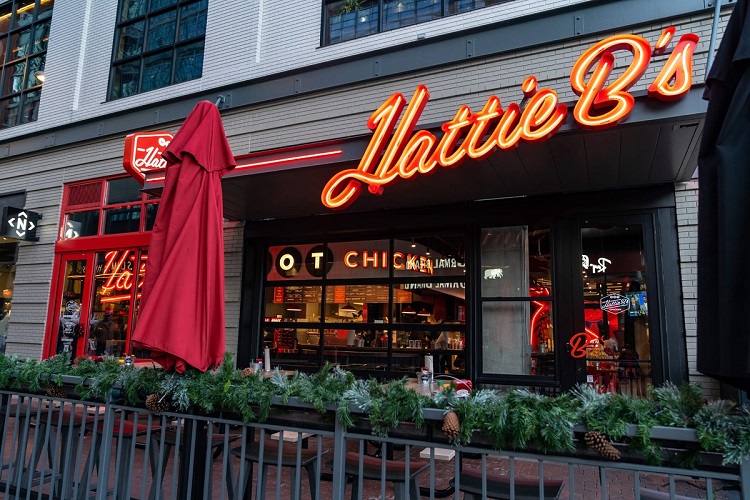 Hot Chicken
Did you know that hot chicken was invented in Nashville? Yep, it started at Prince's Hot Chicken. You can read the whole story here. Needless to say, trying hot chicken is a fun thing to do for both kids and adults alike.
I know from experience that kids don't like it super hot, so you can start with low heat, and there are many options like chicken tacos, burgers, etc.
Prince's Hot Chicken and Hattie B's are the two best places in Nashville to get hot chicken.
Ice Cream
The Nashville ice cream scene is known for its creativity. Kids will love sampling innovative flavor combinations featuring local ingredients and themes inspired by the city's music and culture. Many shops also introduce seasonal selections, allowing children to discover different tastes each time they visit.
One spot worth visiting is Mike's Ice Cream, a family-owned and operated store in downtown Nashville. With a friendly atmosphere and a wide selection of flavors, it's an ideal spot for kids to explore new tastes.
Another great place is Jeni's Splendid Ice Cream. Jeni's is known for its creative flavors, crafted with high-quality ingredients. Children will delight in Jeni's options beyond standard options, like Wildberry Lavender and Brown Butter Almond Brittle.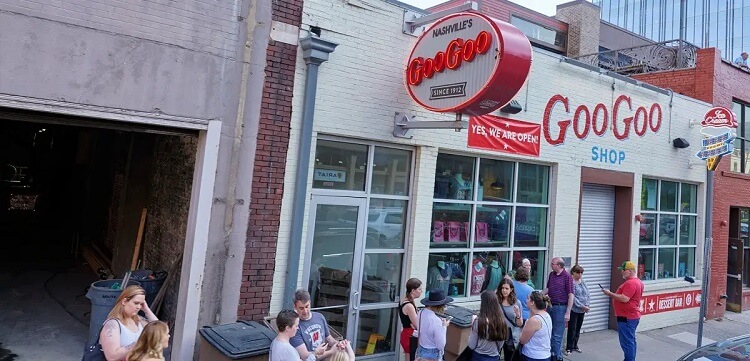 Goo Goo Candy
You've probably heard of the Goo Goo Cluster. But did you know its birthplace was Nashville? The recipe has stayed the same for 100 years.
It's a fun place because it's not just a chocolate store. You can design your own Goo Goo. First, you can choose the chocolate, fillings, nuts, etc. After that, you can watch them made by hand in front of you and have them hand-delivered in a box.
---
Free Activities
---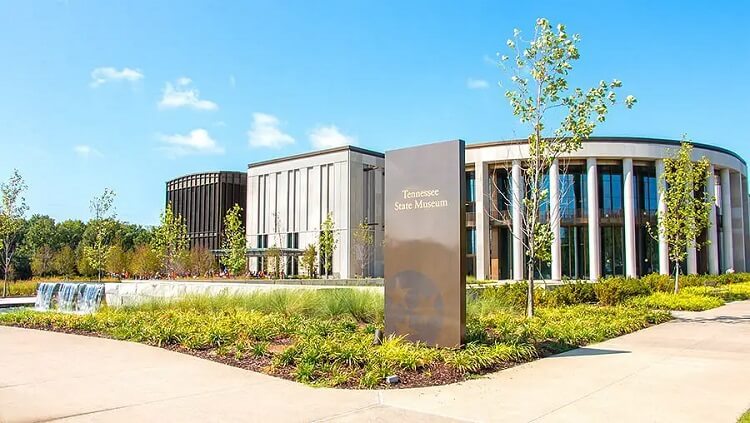 Tennessee State Museum
The Tennessee State Museum is completely free of charge to enter. On one side, you have the Nashville Farmers Market; the other is the Centennial Park. All three options are free!
The Museum is popular with kids, with enough exhibits to occupy the younger ones. It's also accommodating to strollers.
Different sections are dedicated to the state's natural history, civil war history, and more. It's popular with school groups, and I'm sure you'll enjoy it. There is even free parking. Learn more here.
Murals
There are over 50 creative and artistic murals in Nashville. Of course, they are free to visit, enjoy and take pictures in front of. Besides being great backdrops for memorable photos, these murals can foster meaningful discussions about art and expression, giving your kids an appreciation for diverse perspectives. Walking from mural to mural also introduces kids to different neighborhoods, blending exercise with exploration for an engaging, educational experience. Learn more here.
---
Frequently Asked Questions
---
Is Nashville a good place to take kids?
Yes, Nashville is an excellent place to take kids. The city offers many family-friendly attractions suitable for all ages. In addition, the town provides many musical experiences like the Country Music Hall of Fame and the Grand Ole Opry, where children can learn about and experience music. Kids can also enjoy many outdoor activities like the Zoo and Centennial Park. The Nashville hotels are kid-friendly, although you may want to avoid rowdy areas like Lower Broadway. Of course, you wouldn't think a city called "Nash-Vegas" would be kid-friendly. However, there's more to Nashville than just loud music and moonshine.
What is the Arcade in Nashville?
The Arcade in Nashville, Tennessee, is a historic site between Fourth and Fifth Avenues in downtown Nashville. Built-in 1902 by entrepreneur Daniel C. Buntin, The Arcade debuted to a crowd of thousands on what was purported as "the city's first night of Mardi Gras."
Modeled after an Italian arcade, it was designed in a two-story, enclosed passageway featuring a glass skylight. The structure replaced Overton Alley and was designed by local architect Henry C. Hibbs. The building features an entrance at each end, like a traditional European arcade.
Today, The Arcade has various shops, restaurants, and art galleries. It's a vibrant spot, especially during the monthly Art Crawl, a local event on the first Saturday of every month when art galleries in the area stay open late. Visitors can browse the artwork, often with the bonus of complimentary wine and hors d'oeuvres.
Can kids go to the bars in Nashville during the day?
Most bars in Nashville have a strict age requirement of 21 and over, regardless of the time of day. However, some bars have restaurants where children are allowed, mainly during the day. Places like the Wildhorse Saloon and BB King's Blues Club, which serve food and offer live music, allow all until around 9pm. Other famous places like the Bluebird Café are all-ages friendly.
I know a server who worked at the Stage honky-tonk and other places on Broadway; if you are less than 21 and get access before 8 or 9pm and stay, there is a chance you can stay longer if you make yourself inconspicuous. Sometimes, however, the security will walk around and check ids.
Does Nashville have an Aquarium?
No, Nashville does not have an aquarium. However, a fantastic aquarium in Chattanooga is about a 2-hour drive east of Nashville. The next best thing to an aquarium in Nashville is the Aquarium Restaurant near Opryland. It has a 200,000 thousand gallon with more than 100 species of tropical fish.
Are Kids Allowed in Nashville Underground?
The Nashville Underground is a family-friendly venue. They welcome families of all sizes and ages until 9pm. After that, you must be 21 years old with proof of ID.
Can kids go to Margaritaville, Nashville?
Yes, Margaritaville is a family-friendly atmosphere. They will accommodate children of all ages. They have places to put a stroller and also have baby seats.