In this post, you'll find the complete guide to the Nashville Farmers Markets. The best markets in the Nashville area are listed below to see fresh produce, baked goods, meats, crafts, dairy, live music, and more. As part of a perfect day in Nashville, the markets shouldn't be overlooked!
Each market has a unique story to tell with individual vendors and communities. However, there is a reason chefs and restaurants have been moving to Nashville in droves. It's because of the abundance of locally grown, organic, and crisp sources of ingredients. Nashville has the best markets in the region and could be a reason alone to visit Nashville.
Nashville markets are held in parks, train stations, mansions, and parking lots. You're not just going to a market. You're attending a community event steeped in music history and Nashville culture.
My Advice: Get to the market early. Think of it like a yard sale. All the best stuff goes quickly! On some days, most vendors may be out of stock of everything by 11am.

Let me know your favorite market (and why) in the comments below! – remember to check out our list of top 25 things to do in Nashville.

Table of Contents
---
Nashville Farmers Markets
---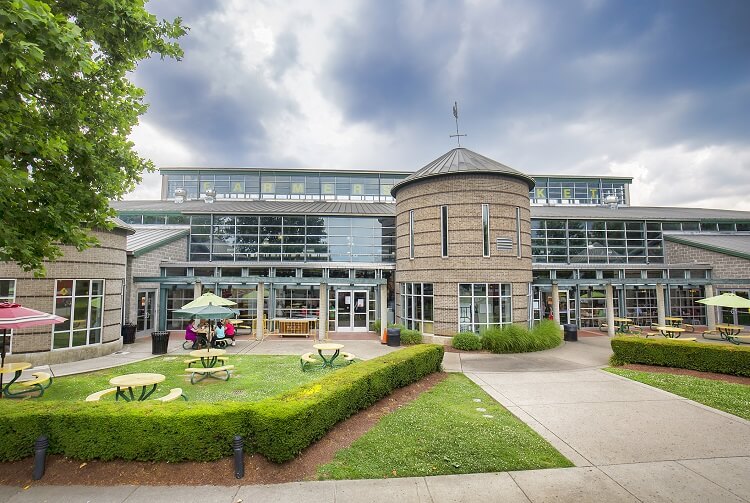 Nashville Farmers Market
Overview:
The Nashville Farmers Market is the mecca of farmers' markets in Nashville. You'll find over 150 vendors in the open-air (covered) area.
The building that houses the farmer's market is expansive and sprawling. You won't just find fruit and vegetables. You'll also find dairy, cheese, baked goods, artisans, crafters, and flea markets.
The market is open year-round; however, the peak (and best?) season to visit is April to July, when the spring and summer vegetables hit. You'll find fresh produce straight from the farm that includes tomatoes, sweet corn, watermelon, and more.
Our family always stops by to get the fantastic Georgia peaches.
If you're a green thumb, they have an onsite, permanent garden center – convenient if you want to grow your own. It's an 18,000-foot nursery and landscaping company called Gardens of Babylon.
Not only will you find fresh market produce, but there are also about 20 shops and restaurants serving everything from southern BBQ, sushi, candles, art, crepes, wine, and beer. You can find a whole list here.
I'm always impressed with the parking availability. There's always a spot close by.
When They're Open: Year-round
Hours: Sunday to Thursday from 8:00 am to 4:00 pm | Friday to Saturday 8:00 am to 6:00 pm
Address: Nashville Farmers' Market, 900 Rosa L. Parks Boulevard, Nashville, TN 37208
---
East Nashville Farmers Market
Overview:
The East Nashville Farmers' Market is a year-round, friendly neighborhood market just across the Nissan Stadium. Parking can be difficult.
They feature over 60 vendors who serve fresh produce, seafood, baked goods, dairy, organic food, and more. For a map and vendor list, click here.
Situated in a large paved and vacant lot, the open area is a great place to hang out with family. The kids will love the drinks and treats that are on offer. For example, at a recent stand, a Mexican baker created skull-shaped candy and cookies for Halloween. In addition, you'll find treats like pumpkin spice-stuffed caramel apples and cookies.
For the adults who need groceries, you'll find all manner of fresh vegetables, fruits, berries, and meat. Also, the flower vendors are the best!
Their Facebook page is a great resource; I recommend checking it out for up-to-date vendors and opening times.
The market also features plenty of food trucks and a seating area, so it's a great place to grab lunch or dinner.
They quite often put on special events. For example, the yearly Nashville Tree Fest includes live music, storytime, free trees, and 60+ vendors serving food. Keep an eye on their Facebook page for details.
When They're Open: April 5, 2022, to October 25, 2022
Hours: Tuesdays from 3:30 pm to 6:30pm
Address: 511 Woodland Street, Nashville, TN 37206
---
Richland Park Farmers Market
Overview:
Established in 2010, the Richland Park Farmers' Market is located about a 12-15mins drive from downtown Nashville. As the name suggests, they are in the picturesque Richland Park. A great place to play or picnic on the grass. I would suggest that you arrive by 8am to make sure you get what you want.
It's a favorite spot for locals as it's close to hundreds of homes, and plenty of free parking. It's also dog friendly! There are a lot of dogs so bring them along.
They feature fresh fruits, vegetables, flowers, and herbs year-round that has been grown organically in Scottsboro-Bells Bend only 10 miles away!
You'll also find eggs and flowers grown in Kentucky, and tomatoes from Portland, Tennessee. As you can guess, the dairy, beef, and vegetables are also grown right here, in Tennessee. You'll find fresh milk, cream, and yogurt that is produced just 40 miles from the market.
This is just a small taste of what's available. Come along for the fresh, locally sourced fish, cereals, meal kits, pasta, coffee, baked goods, houseplants and more.
AND…don't forget that while you are shopping for groceries, grab some lunch and picnic in the park. They have around 12-20 vendors who sell great, precooked things to eat while you shop.
Check out their Facebook page for up to date information. Also, check out their list of vendors here.
When They're Open: Year-round
Hours: Saturdays from 9:00am to noon
Address: Richland Park, 4701 Charlotte Avenue, Nashville, TN 3720
---
Hip Donelson Farmers Market
Overview:
Located 20 minutes from downtown Nashville, Hip Donelson Farmers Market is located on the grounds of Two Rivers Mansion and has been in operation since 2012. May I suggest that this is a GREAT date night location 😉
The grounds that the market is located on is historic. Two Rivers Mansion is an 1859 antebellum mansion that was once part of a 1100-acre plantation.
They boast that they are a "producer only market" meaning that the fruit, vegetables, and other produce is coming directly from the farm to you. All the producers are located within 150 miles of Donelson. You are guaranteed to get locally grown and made products.
It's possible that the produce you are buying was picked the same morning!
A favorite vendor of mine is Daddy's Dogs. They are a unique hot dog vendor with incredible creations. You can find their permanent address in Printers Alley.
From May to October every year the market is held on the grounds of the mansion. This lovely location is perfect for family outings with space for picnics and lunch. There is access to the Greenway and Two Rivers Park from the market.
It's run by volunteers and their Facebook page is a great source for events and times. You'll find a lot of community events, live music and fun things going on. For a list of vendors, click here.
When They're Open: May 6, 2022, to October 28, 2022
Hours: Fridays from 4:00pm to 6:30pm
Address: Two Rivers Mansion, 3130 McGavock Pike, Nashville, TN 37214
---
Vanderbilt Farmers Market
Overview:
The Vanderbilt Farmers market is an extension of the Nashville Farmers Market. It's located within the Vanderbilt Medical Center Plaza and is open between June and October.
It has all the great produce and food that you would expect, including locally grown produce, food and baked goods.
Previous vendors include Essie & Olive, Fountain of Juice, Laurel Mountain Bakery, Nature's Promise, SE Daughtery & Sons, Smokin Oaks Organic Farm, The Peach Truck, and TN Artisan Honey.
When They're Open: June to October
Hours: Thursdays 1:30 pm – 5 pm
Address: 2211 Garland Ave, Nashville, TN 37212
---
Hantouli Farmers Market
Overview:
Hantouli Farmers Market is on the side of the road in Nolensville. It's simply a shed with ample parking next to it.
Don't be deceived by the fact that it's just a shed on the side of the road 😉.
The produce is freshly farmed from the surrounding farms and the customer service is friendly.
Depending on the time of year, you'll find tomatoes, watermelon, mangos, strawberries, honey, cucumbers, and more.
When They're Open: Tuesday – Sunday
Hours: 9 am – 6 pm
Address: 5404 Nolensville Pk, Nashville, TN 37211
---
Wedgewood Houston Farmers Market
Overview:
As the name suggests, this farmers market is in the Wedgewood-Houston neighborhood of Nashville, a short drive from downtown.
The market is proud to house such vendors as the Cooper Creek farm in Inglewood, Tennessee. They are a neighborhood farm that produce organic fruits and vegetables using only hand tools, without any chemical inputs, in partnership with the countless lifeforms that inhabit and create the Inglewood soil.
Featuring over 40 farm suppliers, bakers, chefs, food trucks, makers, and more.
It's located on the luscious green space of The Outfield, an acre of grass featuring the old Greer Stadium guitar-shaped scoreboard.
Free garage parking is available at the garage next door.
You are encouraged to bring a rug for a picnic or use one of the onsite benches.
When They're Open: June 16, 2022, to October 20, 2022
Hours: Every 3rd Thursday from 4:00 pm to 7:00 pm
Address: The Outfield, 416 Chestnut Street, Nashville, TN 37203
---
12 South Farmers Market
Overview:
Located in Sevier Park, about a 15-minute drive from downtown Nashville, is the 12 South Farmers Market. It's off Granny White Pike, in the middle of Nashville.
The market was among the names for the "Best of Nashville" section for the last 7 years.
12 South is known as one of Music City's hottest neighborhoods and is popular among young families.
Each week, from May to October, you'll find the best locally grown produce, a fantastic selection of food trucks, meat, dairy, baked goods, crafts and more. The food is all sourced locally from the surrounding areas.
It's a great place to bring a chair or picnic rug. There are also built-in structures with roofs, tables, and chairs to sit and enjoy the music and food.
When They're Open: May 3, 2022, to October 25, 2022
Hours: Tuesdays from 4:00 pm to 7:00 pm
Address: Sevier Park, 3000 Granny White Pike, Nashville, TN 37204
---
The Bellevue Farmers Market
Overview:
Located in Red Caboose Park, The Bellevue Farmers market is about a 20 min drive from downtown Nashville. It's a community gathering place that supports small family farms.
You'll be able to meet with local farmers and form a relationship with the food that you eat. You're literally eating from the hands that grew it.
The vendors are known as being helpful and knowledgeable about the produce.
It's a fun, family environment with live music, food trucks, fresh produce, artisan baked goods, flowers, and a nearby playground.
You'll find vendors such as M.L. Rose Craft Beer & Burgers, Riptide Acai bowls, Blinky's BBQ, Jay's Meats, and Honey.
When They're Open: May thru October
Hours: Every Thursday 4pm to 7pm
Address: 656 Colice Jeanne Rd, Nashville, TN 37221
---
Amqui Station Farmers Market
Overview:
The Amqui Station was preserved by the community in Madison and today hosts a farmers' market between May and September. It's located just a 15-minute drive from downtown Nashville. It opens on Sundays only.
The station was built in 1910 to support the days when trains would regularly transport people across the country. Passenger service flourished here for 50 years. Since 2010 it's been opened as a fully restored museum and visitors center.
Johnny Cash was a frequent visitor here. He loved the station and would visit the workers quite often. In 1979 Johnny saved the station from being torn down.
The farmers market provides fresh, locally grown fruits, vegetables, meats, and other agricultural products. The aim is to have a sense of community and promote the benefits of eating fresh, local foods.
When They're Open: May 1, 2022, to September 25, 2022
Hours: Sundays from 10:00 am to 1:00 pm
Address: 303 Madison Street, Madison, TN 37115
---
Welcome to our 2023 Nashville Christmas Gift Guide, a curated selection of unique and delightful items that embody the spirit …
Read more