Looking for fun things to do in Nashville?
You'll find that Nashville is an authentic, accommodating and friendly town.  Known as Music City, Nashville is a hive of amazing places to visit. Nashville grew out of music and is still the life and soul of the city that has weaved its way into the cultural, business and social life.
Nashville has a recently built a modern convention center and is home to the Musicians Hall of Fame, the only museum in the world that honors the greatest musicians of all time.
Musicians flock from around the world to perform so it's the best place to enjoy music (obviously).  But did you know that Nashville is a foodies paradise? You'll be blown away by the options for amazing food and drink. Or maybe you like to shop, go to a sports game or soak up the rich and deep history.  Nashville has a creative heart and soul and there is so much to do. 
We didn't pull this list out of the air – this is according to reviews and bestsellers in Nashville.  
What are your favorite Nashville destinations? Comment below!
Let get into the top 25 things to do in Nashville!
1. The Musicians Hall of Fame & Museum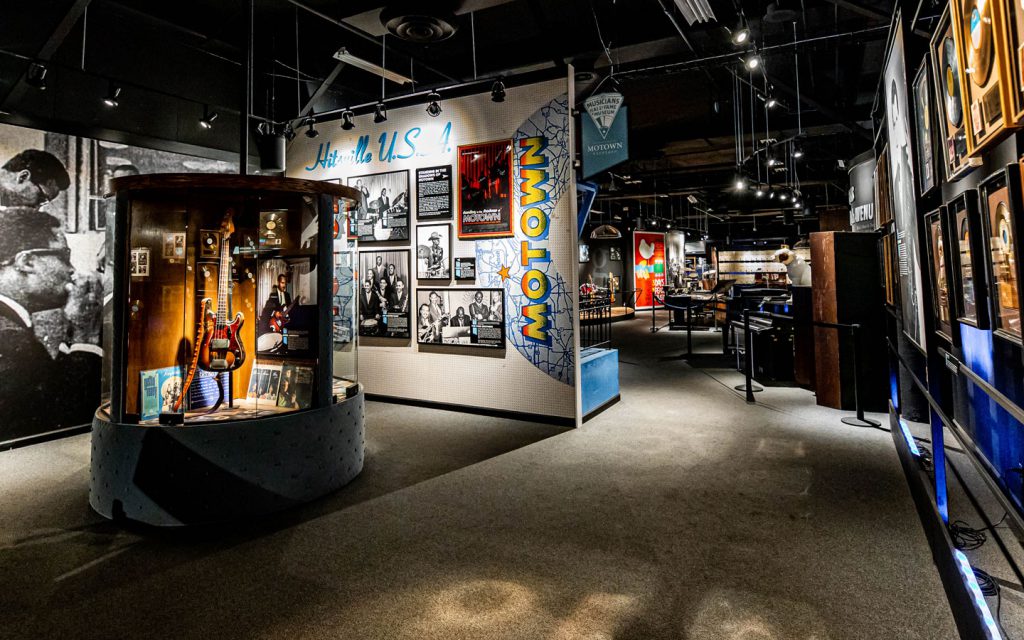 The Musicians Hall of Fame and Museum honors musicians from stars to studio players, from all genres of music. Historic artifacts include instruments played on original recordings of Red Hot Chili Peppers, Hank Williams, Sr., George Harrison, Frank Sinatra, The Supremes, Elvis Presley, Bob Dylan, Chicago and more. See the original stage where a young Jimi Hendrix played. 
"To be recognized by this institution is the greatest honor a musician can have." -Neil Young.
Each exhibit tells the story of a musician that you may have heard but may have never seen. The Musicians Hall of Fame is a premiere Nashville attraction and the one and only museum in the world that honors the talented musicians who actually played on the greatest recordings of all time.
Admission Price: $28 for Adults
Address: 401 Gay Street, Nashville, TN 37219
Phone: 615 244 3263
Hours: Monday – Saturday, 10-5pm
Website: musicianshalloffame.com
Click here to view on map
2. Grand Ole Opry
The Grand Ole Opry, an American Icon and Nashville's number one attraction, is known for creating one-of-a-kind entertainment experiences for audiences of all ages. It's where unforgettable moments happen every week…moments like the night Trace Adkins revealed a tweet inviting his pal Blake Shelton to become a member of the Opry. 
With country music's new stars, superstars, and legends live on stage, you never know what'll happen next. See the show that made country music famous.
We highly recommend the guided backstage tour that allows you to walk in the footsteps of country music superstars in a behind-the-scenes tour. It's very popular and usually sells out quick. Reserve your spot here.
Click here to view on map
3. Ryman Auditorium
The Ryman Auditorium is a Nashville icon that is steeped in history. Having been to many different types of events I can say that it's truly a special experience. It is truly located in the heart of downtown Nashville within walking distance of Broadway, Honky Tonks, Bars and restaurants.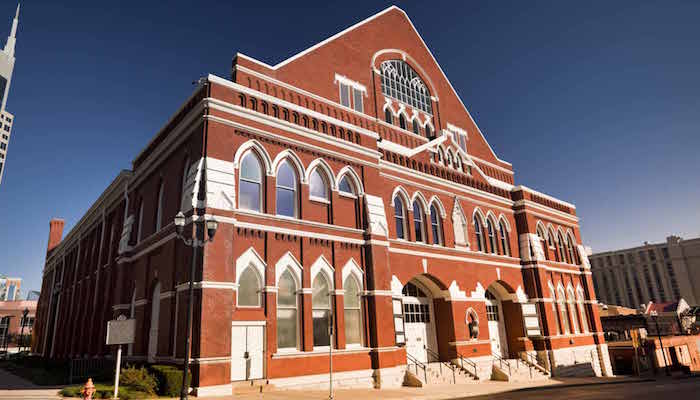 After debuting in 1925, the local country music radio program known as the Grand Ole Opry (originally called the WSM Barn Dance) became a Nashville institution. Broadcast over clear-channel AM radio station WSM, it could be heard in 30 states across the eastern part of the nation. Although not originally a stage show, the Opry began to attract listeners from around the region who would go to the WSM studio to see it live. When crowds got too large for the studio, in 1934 WSM began broadcasting the show from the Hillsboro Theatre (now Belcourt Theatre). The Opry moved to East Nashville's Dixie Tabernacle in 1936 and then to War Memorial Auditorium in 1939.
We highly recommend the Ryman Auditorium "Mother Church of Country Music" Self-Guided Tour in Nashville. This popular tour fills up quick. Learn more here.
Click here to view on map
4. Belle Meade Historic Site & Winery
To experience the south, Belle Meade is a must visit to breath in the history and stand in a place that is so rich with the history of the USA. Belle Meade includes a fabulous winery and restaurant. Make sure to add list to your list.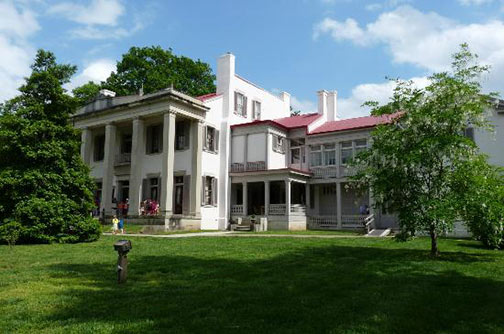 Belle Meade began in 1807 with a log cabin and 250 acres. Over time, with the dedication of the Harding and Jackson families and the hard-working laborers who lived here before and after emancipation, this site became one of the largest thoroughbred horse farms in the South. They are committed to tell the story. The full story.
Their mission is to create innovative and inclusive guest experiences, engaging educational opportunities, and a fulfilling team environment, while preserving the historic relevance of the site for future generations.
Admission Price: From $28
Hours: Open Daily: 9-5pm
Address: 110 Leake Avenue, Nashville, TN 37205
Phone: 615 356 0501
Website: https://visitbellemeade.com/
Click here to view on map
5. Andrew Jackson's Hermitage
You don't have to be a United States history buff to enjoy Andrew Jackson's house. This place is incredible. Set on a 1,120-acre National Historic Landmark with over 30 historical buildings, it's an opportunity to experience the past. The Hermitage was the home of President Andrew Jackson. It's one of the largest and most visited presidential homes in the country.
The most memorable part of my visit was a tour of his home. We got to stand in the living room, walk the stairs and see the bedrooms of the people who lived there. Very little has been touched since the time of Andrew Jackson. Everything has been kept as original as possible. It's amazing. I highly recommend. You will want to allow up to 3 hours for your visit.
The Hermitage is just 20 minutes from downtown Nashville and 5 miles from both the Gaylord Opryland Resort and Convention Center and the Nashville International Airport.
Admission Price: From $19
Hours: 9-6pm
Address: 4580 Rachel's Lane, Hermitage, TN 37130
Phone: 615 889 2941
Website: https://thehermitage.com
Click here to view on map
6. Downtown Nashville
Downtown is the energetic hub of Nashville's country music scene, with crowded honky-tonk bars lining Broadway, the area's main street. The 1892 Ryman Auditorium offers big-name concerts and backstage tours, while over in the District, the Johnny Cash Museum displays artifacts from the singer's life. The Country Music Hall of Fame and Museum in the SoBro area features hands-on exhibits and audio tours. 
Nashville's downtown area features a diverse assortment of entertainment, dining, cultural and architectural attractions. The Broadway and 2nd Avenue areas feature entertainment venues, night clubs and an assortment of restaurants. North of Broadway lie Nashville's central business district, Legislative Plaza, Capitol Hill and the Tennessee Bicentennial Mall. Cultural and architectural attractions can be found throughout the city.
Admission Price: from $19.50
Hours: 24/7 baby!
Click here to view on map
7. The Johnny Cash Museum
The Johnny Cash Museum opened in April 2013 in Nashville, Tennessee, to honor the life and music of the country superstar often referred to as the "Man in Black". It houses the world's largest collection of Johnny Cash memorabilia and artifacts, including a stone wall taken from his lake house in Hendersonville, Tennessee, and is officially authorized by Cash's estate.[1]
Admission Price: from $23.95
Hours: 9am – 7pm, 7 days a week
Address: 119 3rd Ave. S. Nashville, TN 37201
Phone: 615 256 1777
Website: https://www.johnnycashmuseum.com
Click here to view on map
8. RCA Studio B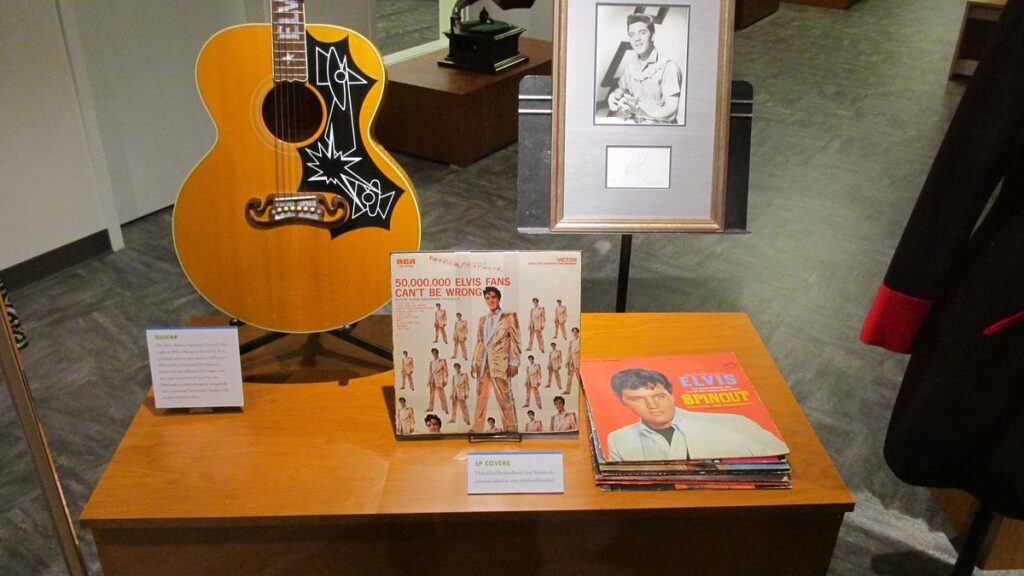 Historic RCA Studio B — once home to musical titans such as Elvis Presley, Chet Atkins, Dolly Parton, and the Everly Brothers — is one of the world's most famous recording facilities. If you're planning a tour, advance tickets are highly encouraged. Buying online ahead of time is the best way to ensure that you get your chosen date.
After years of using portable equipment to record projects in various recording facilities around Nashville, in 1954 Steve Sholes and Chet Atkins established RCA Victor's first Nashville recording facility within the Methodist Television Radio & Film Commission building at 1525 McGavock Street.[2][3][4] In January, 1956, Sholes and Atkins produced a session with Elvis Presley, during which he recorded the song Heartbreak Hotel that would become his first gold record and the biggest-selling single of 1956.
Admission Price: from $47.95
Hours: Monday – Sunday: 10:30am – 3:30pm
Address: 222 Rep. John Lewis Way S, Nashville, TN 37203
Phone: 615 416 2001
Website: https://studiob.org
Click here to view on map
9. Gaylord Opryland Resort
Situated in the heart of Nashville, Gaylord Opryland Resort & Convention Center welcomes guests to a stunning, one-of-a-kind resort experience. From SoundWaves, the city's premier aquatic attraction, to an exciting lineup of family-friendly activities and entertainment, there's something for the entire family to enjoy. Guests can explore 9 acres of airy, indoor garden atriums, a wide selection of award-winning restaurants & bars, the world-class Relâche Spa, and a state-of-the-art fitness center.
For those planning or attending their next meeting or event, the resort features over 750,000 sq ft of flexible meeting space, 2,712 beautiful guest rooms, and 176 spectacular suites. The resort is located near Nashville Intl Airport, downtown, and attractions like the Grand Ole Opry and Ryman Auditorium for guests wishing to explore Music City. From seasonal events and entertainment to high-end amenities and stunning spaces, Gaylord Opryland welcomes you to enjoy more of everything you love.
Click here to view on map
10. Nelson's Green Brier Distillery
Charles Nelson was born July 4, 1835 in Hagenow, a small town in the Mecklenburg-Schwerin state of northern Germany. He was the eldest of six children whose father, John Philip Nelson, owned a soap and candle factory. When Charles was 15, his father decided he wanted to move his family to America for a better life. He sold his soap and candle factory, converted all of the family's earthly possessions to gold and had special clothing made to hold all of that gold on his person during the journey.
In late October of 1850, he gathered his family and boarded the Helena Sloman to set sail for America. As fate would have it, on November 19 of that year, intense storms and gale force winds sent many of the nearly 180 passengers overboard. John Philip Nelson was one of those unfortunate souls and weighed down by the family fortune, he sank directly to the bottom of the Atlantic Ocean. Luckily, the rest of the family arrived safely in New York, but with only the clothes on their backs, and 15 year-old Charles found himself man of the house.
Admission Price: from $15
Hours: Saturday – Thursday 11am-6pm/Sunday – Thursday 11am – 6pm
Address: 1414 Clinton St, Nashville, TN 37203
Phone: 615 913 8800
Website: https://greenbrierdistillery.com
Click here to view on map
11. Bicentennial Capitol Mall State Park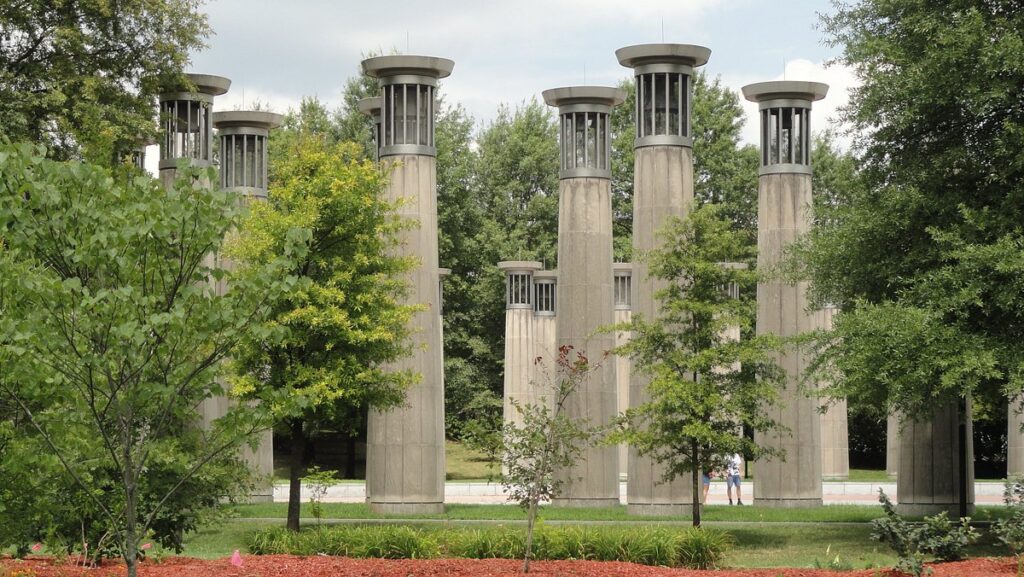 Located in the shadow of the Capitol in downtown Nashville, Bicentennial Capitol Mall gives visitors a taste of Tennessee's history, natural wonders and serves as a lasting monument to Tennessee's Bicentennial Celebration, which was June 1, 1996. With just a simple walk in the 11-acre park visitors can experience many facets of Tennessee's history including a 200-foot granite map of the state, a World War II Memorial, a 95-Bell Carillon, a Pathway of History and the Rivers of Tennessee Fountains.
The 11 planters along the Walkway of Counties show native plant species from different regions of the state. The two-page park map is a helpful and informative tool for those wishing to take a self-guided tour of the park.
Admission Price: Free
Hours: 8am-4pm daily.
Address: 600 James Robertson Pkwy, Nashville, TN 37243
Phone: 615 741 5280
Click here to view on map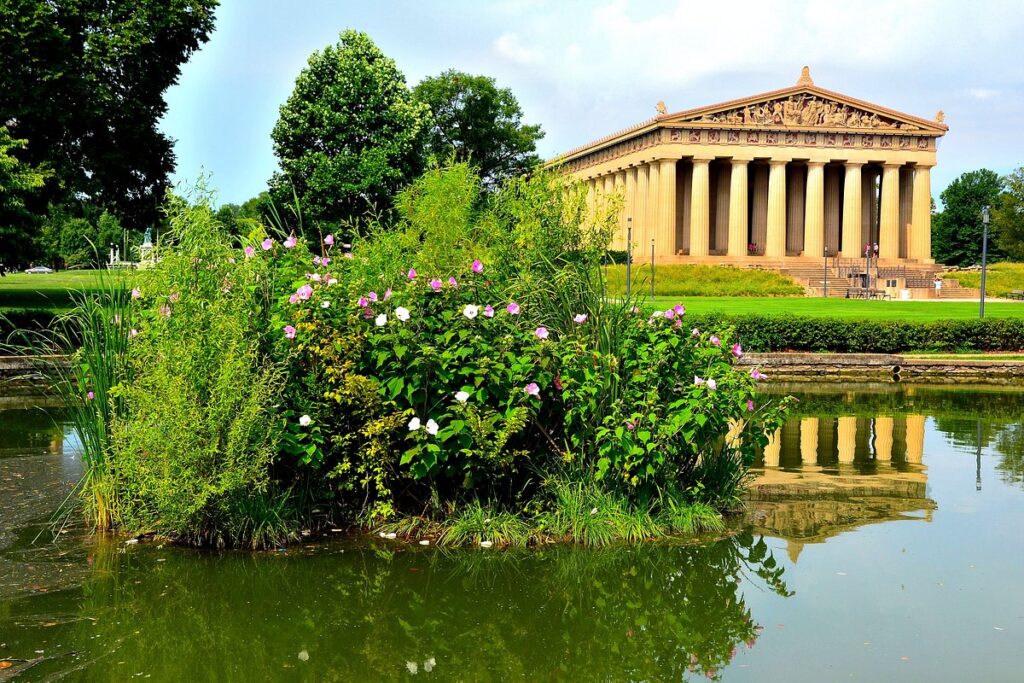 12. Nashville Parthenon
The Parthenon stands proudly as the centerpiece of Centennial Park, Nashville's premier urban park. The re-creation of the 42-foot statue Athena is the focus of the Parthenon just as it was in ancient Greece. The building and the Athena statue are both full-scale replicas of the Athenian originals.
Originally built for Tennessee's 1897 Centennial Exposition, this replica of the Parthenon in Athens, Greece serves as a monument to what is considered the pinnacle of classical architecture. The plaster replicas of the Parthenon Marbles found in the Naos are direct casts of the original sculptures, which adorned the pediments of the Athenian Parthenon dating back to 438 B.C. The originals of these powerful fragments are housed in the British Museum in London.
The Parthenon also serves as Nashville's art museum. The focus of the Parthenon's permanent collection is a group of 63 paintings by 19th and 20th century American artists donated by James M. Cowan. Additional gallery spaces provide a venue for a variety of temporary shows and exhibits.
Admission Price: Adults: $10
Hours: MON: Closed | TUES: 9 AM – 7:00 PM | WED-SAT: 9 AM – 4:30 PM | SUN: 12:30 PM – 4:30 PM
Address: 2500 West End Avenue, Nashville, TN 37203
Phone: 615 862 8431
Website: https://www.nashvilleparthenon.com
Click here to view on map
13. Ole Smoky Distillery & Yee-Haw Brewery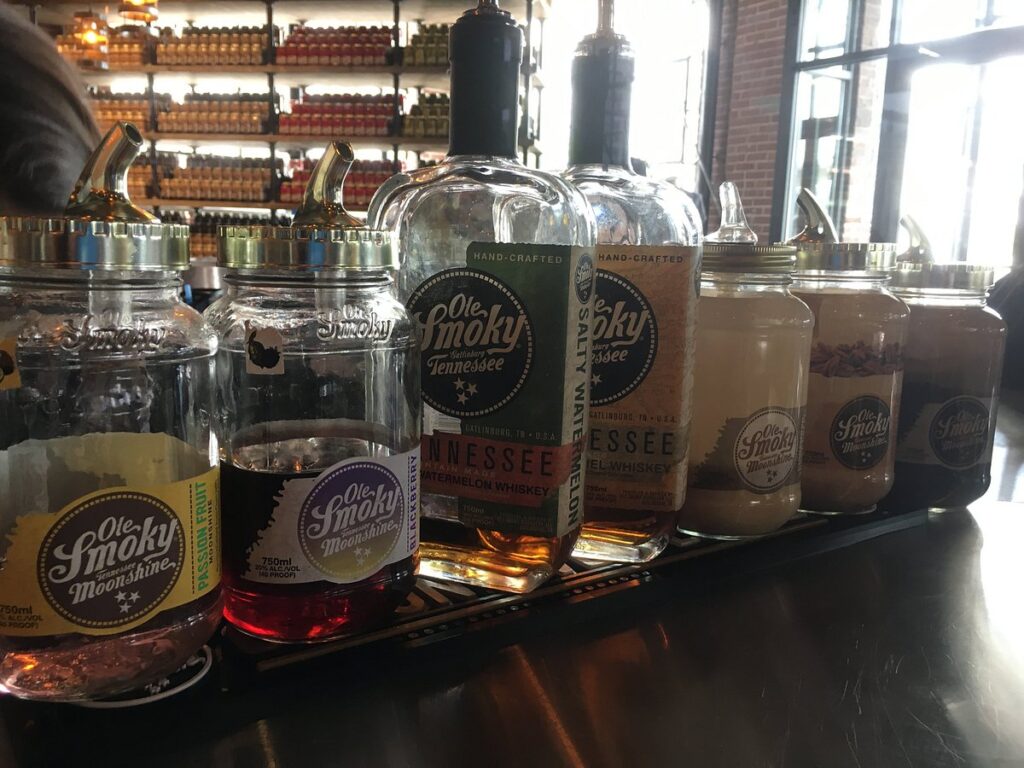 Ole Smoky has been making moonshine in the Smoky Mountains ever since our great, great mawmaws and pawpaws stepped foot in them over a hundred years ago—but it wasn't until Tennessee state law changed that we were able to legally open up our first federally licensed distillery in Gatlinburg. That's right, the moonshine business hasn't always been on the right side of the law, but since it led us to where we are now, crafting some of the best moonshines and whiskies you're ever gonna taste, you could say it was totally worth it. (And you'd be right.)
Today, they still make that kick-in-the-mouth moonshine folks have loved for over a century, but we've also continued to innovate with flavors like Lemon Drop, Peach and Apple Pie that have made us famous; because having a heritage you're proud of is great and all, but being really great today is even better.
Admission Price:
Hours: Monday – Wednesday: 11am – 10pm, Thursday – Sunday: 11am – 11pm.
Address: 423 6th Ave S, Nashville, TN 37203
Phone: 615 647 8272
Website: https://yeehawbrewing.com
Click here to view on map
14. Cheekwood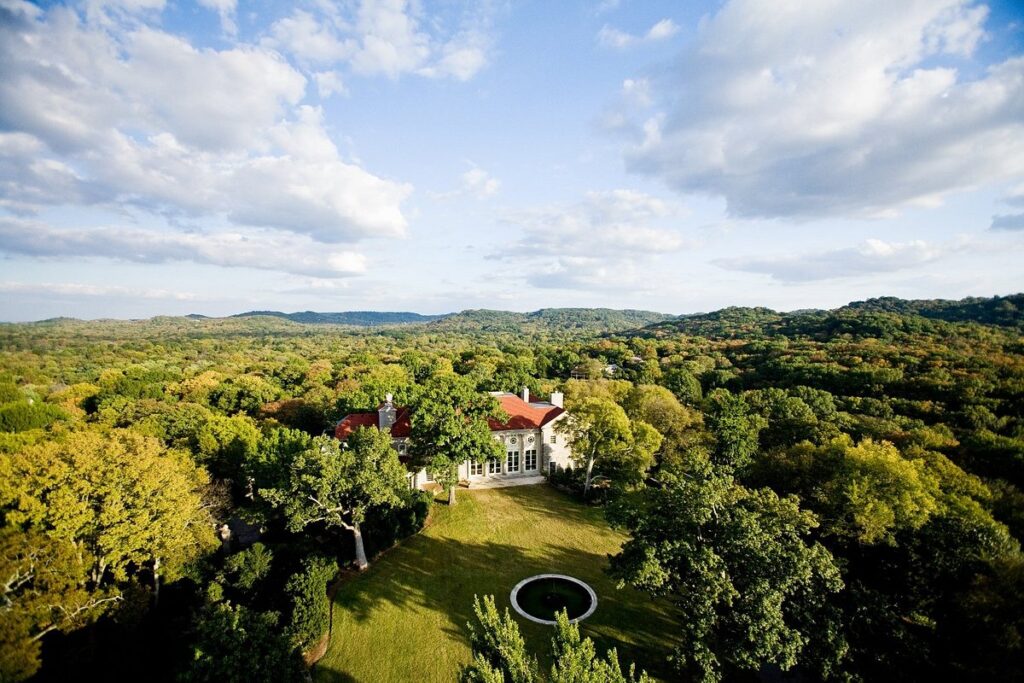 Cheekwood is a 55-acre botanical garden and art museum located on the historic Cheek estate. Originally built as the home of Leslie and Mabel Cheek in 1929, Cheekwood is one of the finest examples of an American Country Place Era estate. Since being converted into a museum of art and botanical garden in 1960, Cheekwood has presented world-class art exhibitions, spectacular gardens and an historic estate unlike anything else.
Each year, Cheekwood welcomes over 400,000 visitors, making it one of the city's top cultural attractions, with over 20,000 member households. Visitors enjoy family activities, programming for all ages and year-round festivals celebrating the four seasons. From 250,000 blooming bulbs in the spring to one mile of holiday lights in the winter, there's always something to see at Cheekwood.
Admission Price: from $20
Hours: Tuesday – Sunday: 9am-5pm, Sunday: Closed.
Address: 1200 Forrest Park Dr, Nashville, TN 37205
Phone: 615 356 8000
Website: https://cheekwood.org
Click here to view on map
15. Nashville Zoo
Nashville Zoo is a progressive and dynamic zoological park located just 6 miles south of downtown Nashville. With just 90 of 188 acres developed, Nashville Zoo is the 9th largest zoo in the country by landmass. The Zoo is one of the top tourist attractions in the state and has been named the Best Regional Attraction and Best Day Trip by The Tennessean.
Located at Grassmere is a zoological garden and historic plantation farmhouse located 6 miles southeast of Downtown Nashville. As of 2014, the zoo was middle Tennessee's top paid attraction and contained 6,230 individual animals, encompassing 339 species. The zoo's site is approximately 188 acres in size.
Admission Price: Adults and Teens: from $16
Hours: 7 days a week, 9am – 6pm.
Address: 3777 Nolensville Pike, Nashville, TN 37211
Phone: 615 833 1534
Website: https://www.nashvillezoo.org
Click here to view on map
16. Centennial Park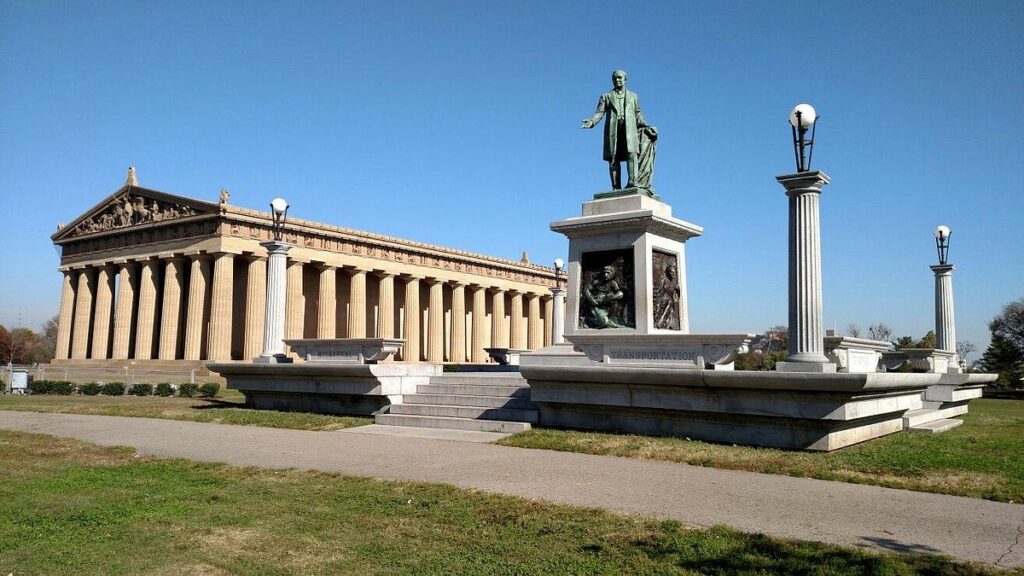 Centennial Park is a large urban park located approximately two miles west of downtown Nashville, Tennessee, across West End Avenue from the campus of Vanderbilt University. The 21st-century headquarters campus of the Hospital Corporation of America was developed adjacent to the park.
Metro Parks and The Nature Conservancy have partnered on a new initiative called "If Trees Could Sing," a set of 18 Web videos with Nashville music artists talking (and sometimes singing) about trees, their benefits and how to take care of them. Custom tree signs were installed in Centennial Park that have QR codes and web addresses so visitors can use their smartphones to view videos of Nashville talent telling tree stories. The initiative will provide park visitors a reason to approach the trees and offer a creative way to engage with them.
Hours: 6am – 8pm daily.
Address: 2500 West End Avenue, Nashville, TN 37203
Website: https://www.nashville.gov/departments/parks/parks/centennial-park
Click here to view on map
17. Belmont Mansion
Belmont Mansion revolves around the life of one woman, Adelicia Hayes Franklin Acklen Cheatham. Born on March 15, 1817, into a prominent Nashville family she wed three times, had 10 children and lived a life that reflected the patterns of 19th century Americans of means.
Belmont Mansion was built in the style of an Italian villa and was set amidst elaborate gardens.  There were numerous outbuildings, including the water tower, which still stands, that provided irrigation for the gardens and supplied water for the fountains. In front of the water tower stood a two-hundred-foot long greenhouse and a conservatory. Also on the grounds were an art gallery, gazebos (still standing today), a bowling alley, a bath house, and a zoo. The Acklens opened the estate to the citizens of Nashville to enjoy the zoo and gardens.
Guided tours of Belmont Mansion are offered daily with specialized options available by reservation.
Admission Price: from $18
Hours: Monday – Saturday 10am – 4:30pm
Address: Belmont University campus corner of Acklen Avenue & Belmont Blvd – behind Freeman Hall, Nashville, TN 37212
Phone: 615 460 5459
Website: https://www.belmontmansion.com/visit
Click here to view on map
18. Tennessee State Museum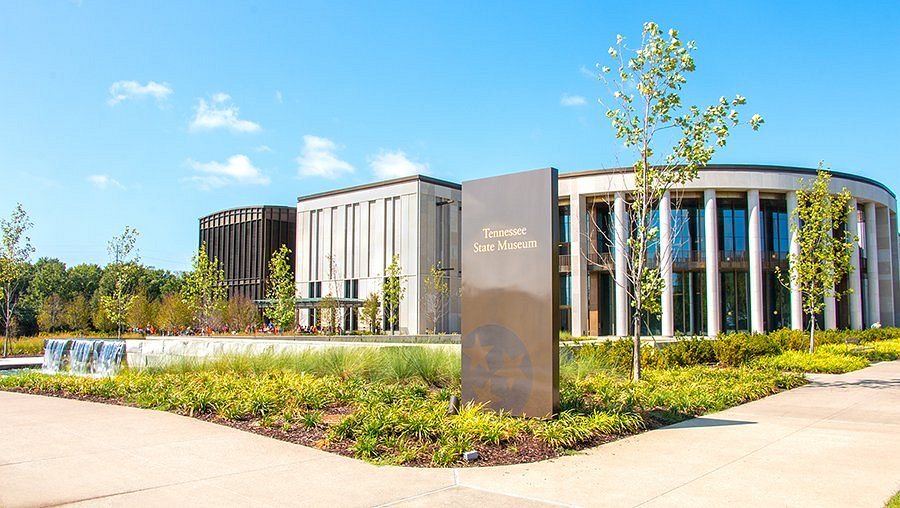 The Tennessee State Museum that sits on the corner of Rosa L. Parks Blvd. and Jefferson Street at Bicentennial Capitol Mall State Park can trace its roots back to a museum opened on the Nashville public square in 1817 by a portrait artist, Ralph E.W. Earl. A young boy who visited that museum in 1823 wrote home that he had seen a life-size painting of then General Andrew Jackson. That same painting is now part of the Tennessee State Museum collection.
In 1937 the Tennessee General Assembly created a state museum to consolidate World War I mementoes and other collections from the state, the Tennessee Historical Society and other groups. This museum was located in the lower level of the War Memorial Building until it was moved into the new James K. Polk Center in 1981. It remained there for more than 35 years until, in 2015, Gov. Bill Haslam proposed a new home for the museum on the northwest corner of the Bicentennial Mall in Nashville. The Tennessee General Assembly appropriated $120 million to build the Museum, with the additional funding to complete the project to be raised in private contributions.
The new Tennessee State Museum, encompassing 137,000 sq. ft. of administration and gallery space, opened to the public on October 4, 2018.
Admission Price: FREE
Hours: Tuesday – Saturday: 10am – 5pm, Sunday: 1pm – 5pm, Monday: Closed.
Address: 1000 Rosa L Parks Blvd, Nashville, TN 37208
Phone: 615 741 2692
Website: https://tnmuseum.org
Click here to view on map
19. Lane Motor Museum
In 2002, Jeff Lane established Lane Motor Museum. Jeff has been an automotive enthusiast since an early age. He began restoring his first car—a 1955 MG TF—when he was a teen. His personal collection was the donation that began the foundation. Lane Motor Museum unveiled its collection to the public in October of 2003. As director, Jeff Lane continues to search out cars for the collection that are technically significant or uniquely different. The goal of Lane Motor Museum is to share in the mission of collection and preserving automotive history for future generations.
The Museum is a non-profit 501(c)(3) organization.
Lane Motor Museum is one of the few museums in the U.S. to specialize in European cars. It is a working museum with the goal of maintaining all vehicles in running order. Some cars are in showroom condition, while others represent typical aging. Efforts are made to restore each vehicle to near-original specifications.
Admission Price: from $8
Hours: Thursday – Monday: 10am – 5pm
Address: 702 Murfreesboro Pike, Nashville, TN 37210
Phone: 615 742 7445
Website: https://www.lanemotormuseum.org
Click here to view on map
20. The Bridgestone Arena
Bridgestone Arena (originally Nashville Arena, and formerly Gaylord Entertainment Center and Sommet Center) is a multi-purpose venue in downtown Nashville, Tennessee United States. Completed in 1996, it is the home of the Nashville Predators of the National Hockey League.
The Predators hosted the NHL Entry Draft here in 2003; it was also the location for the 2016 NHL All-Star Game.
In 1997, it was the venue of the United States Figure Skating Championships, and in 2004 hosted the USA Gymnastics National Championships. It was the home of the Nashville Kats franchise of the Arena Football League from 1997 until 2001, and hosted the team's revival from 2005 to 2007, when the Kats folded.
The arena has hosted college basketball events, including both men's (2001, 2006, 2010) and women's tournaments of the Southeastern Conference and the Ohio Valley Conference. Nashville will serve as a primary venue for the SEC Men's Basketball Tournament nine times between 2015 and 2025 (2015–2017, 2019–2021, and 2023–2025) after the SEC signed a long-term agreement with the Nashville Sports Council in 2013.[7] It hosted the 2014 NCAA Women's Final Four, the 2018 SEC Women's Basketball Tournament and will host again in 2022 and 2026.[7]
In odd-numbered years, the arena was regularly one of eight sites to host the first and second rounds of the men's NCAA Basketball Tournament for the first ten years of its existence, though it was taken out of the rotation for several years, partly due to the obsolete octagonal mid-1990s-style scoreboard that hung above the arena floor. It was replaced in the summer of 2007 by a new $5 million scoreboard and digital control room.[8] The NCAA Tournament returned to Nashville in 2012.
Click here to view on map
21. John Seigenthaler Pedestrian Bridge
The John Seigenthaler Pedestrian Bridge, formerly the Shelby Street Pedestrian Bridge, connects downtown Nashville to the residential suburbs of East Nashville. It was built from 1907-09 and was originally named the Sparkman Street Bridge. 
The county employed Howard M. Jones, Chief Office Engineer of the Nashville, Chattanooga, and St. Louis Railway, to design and supervise the construction. Jones worked with local contractor Foster and Creighton Company and Gould Contracting Company of Louisville. The bridge contains 48 spans including four steel trusses and two reinforced concrete trusses. Spans over the old Tennessee Central Railroad tracks (now CSX) are the only concrete trusses identified in Tennessee. The bridge was closed to automobile traffic in 1998 and has been restored for pedestrian use, providing outstanding views of the river and downtown skyline.
Click here to view on map
22. Frist Art Museum
The museum is housed in a white marble building that was built in the 1930s to serve as Nashville's main post office. Designed by Marr & Holman Architects, it was built in 1933-34 for $1.5 million. Its location near Union Station was convenient for mail distribution, since most mail at that time was moved by train.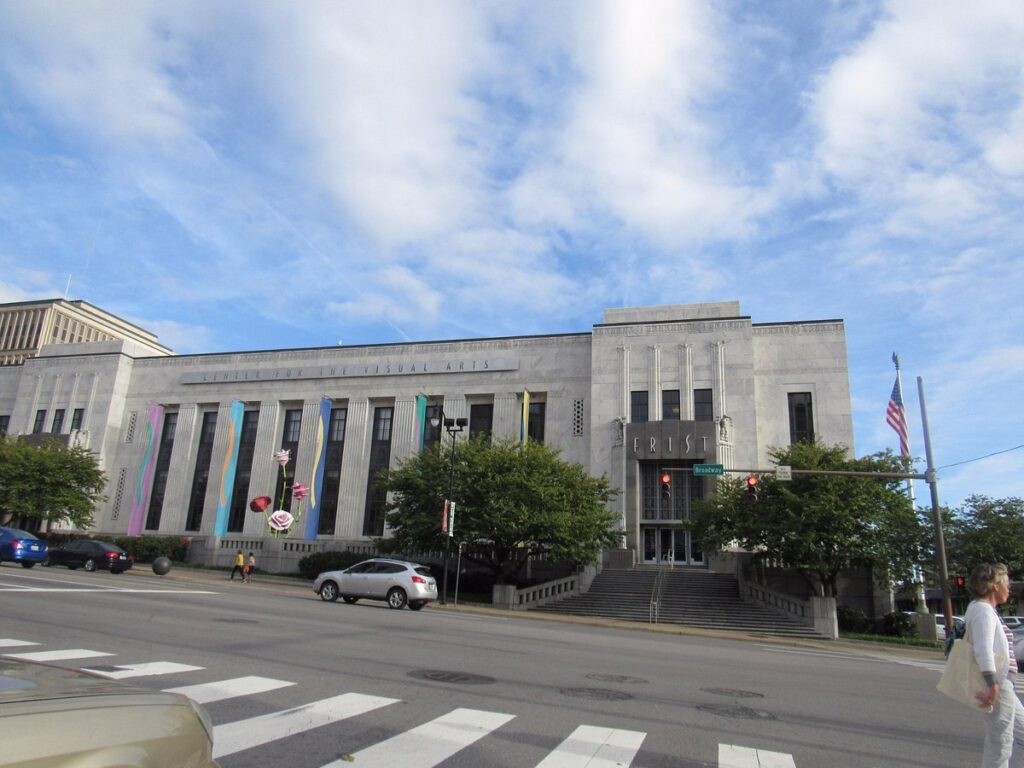 By the 1980s, downtown was no longer a good location for postal distribution. When a new main post office was built near the airport in 1986, the historic old facility became a downtown branch using only a small portion of one floor.
In the early 1990s Thomas F. Frist, Jr., and his family, through the charitable Frist Foundation, identified the post office building, an example of Art Deco and Stripped Classicism style, as a good location for a proposed downtown art museum. The Foundation implemented a public-private venture between the foundation, the U.S. Postal Service, and the city of Nashville. In 1999 the City of Nashville acquired the building from the U.S. Postal Service for the purpose of creating the Frist Center for the Visual Arts, paying $4.4 million. The city contributed $15 million toward renovating the building, and the Frist Foundation and Frist family contributed $25 million for the renovation and to start an endowment for the art museum. The city owns the building but granted the Frist a 99-year lease for $1 per year. A renovated post office branch was opened in the basement in 1999.
The art center opened in April 2001 with approximately 24,000 square feet (2,200 m2) of gallery space presenting visual art from local, state and regional artists, as well as major U.S. and international exhibitions.
Admission Price: from $15
Hours: Thursday – Saturday: 10am – 5:30pm, Sunday 1 – 5:30pm
Address: 919 Broadway, Nashville, TN 37203
Phone: 615 244 3340
Website: https://fristartmuseum.org
Click here to view on map
23. Radnor Lake State Park
Radnor Lake State Park is a 1,368-acre park and is protected as a Class II Natural Area. It is unique due to the abundance of wildlife viewing opportunities, environmental education programs, hiking opportunities, and its location in an urban area. The park is day-use only and the 7.75-miles of trail are strictly used for hiking, photography, and wildlife observation. Pets, jogging, and bicycles are only allowed on the Otter Creek Road trail. The Lake Trail is accessible to people with all-terrain wheelchairs.
The park is perfect for nature enthusiasts to observe owls, herons, and waterfowl as well as many species of amphibians, reptiles, and mammals such as mink and otter. Hundreds of species of wildflowers, mosses, fungi, ferns, and other plants, as well as trees, shrubs, and vines, add to the natural ecological diversity of the area. Several ranger-led programs are planned throughout the year including canoe floats, wildflower walks, astronomy night hikes, nature hikes, programs on snakes, off-trail land acquisition hikes, and birds of prey. 
Hours: 6am – 20mins after sunset year round.
Address: 1160 Otter Creek Road, Nashville, TN 37220
Phone: 615 373 3467
Click here to view on map
24. Madame Tussauds Nashville
Millions and millions of people have flocked through the doors of Madame Tussauds since they first opened over 200 years ago and it remains just as popular as it ever was. There are many reasons for this enduring success, but at the heart of it all is good, old-fashioned curiosity.
This is where your musical journey begins. Before you immerse yourself in our amazing lyrical attraction, get a sample of the star power that awaits you.
The artists that greet you here can be found at the top of the charts in Pop & Country music and are our Madame Tussauds Nashville ambassadors.
Welcome to Madame Tussauds Nashville.
Admission Price: from: 24.99
Hours: Monday – Saturday: 11am – 7pm, Sunday: 12 – 6pm
Address: Opry Mills, 515 Opry Mills Dr, Nashville, TN 37214
Phone: 615 485 4867
Click here to view on map
25. The District
The District is a downtown neighborhood packed with Southern eateries, honky-tonk bars with live music, and long-standing stores selling western wear or vintage vinyl. It is comprised of three historic and important city districts: Broadway, 2nd Avenue, and Printer's Alley. Each of these districts represent key elements to the history and character of the city, and also its future and continued growth.
Photos and memorabilia document the careers of iconic country singers at the Johnny Cash Museum and the Patsy Cline Museum. Known as the "Mother Church of Country Music," the 1890s Ryman Auditorium hosts varied concerts and backstage tours. 
Click here to view on map
Alex Hawker
Editor in Chief – Nashville To Do
Alex is an Australian expat living and working in Nashville, TN. After marrying a Nashville native and moving permanently to the USA, he realized what an amazing place Tennessee is. Alex is raising two children in the Volunteer State so not only is entertainment, amazing food and cool experiences at the top of his to do list, but family friendly activities as well.