As I was preparing to break down the best places to eat in Nashville I thought "what is the top Nashville restaurant?".
According to Tripadvisor, the top Nashville restaurant is Bourbon Steak by Michael Mina, a Nashville Steakhouse. It's been voted number one by visitors out of 1503 restaurants in Nashville for 3 years in a row. It's located on the 34th floor of the JW Marriott and boasts a 360-degree panoramic view of the Nashville skyline.
Are you looking for the best dinner Restaurants in Nashville for your next night out? In this post we cover the best dinner restaurants for a date night, celebration, girls night out or whatever the occasion is. We cover the best places where the locals eat in Nashville by neighborhood. We cover Downtown, 12 South, East Nashville, The Gulch, and Germantown.
You may also like our comprehensive guide to the best bars and honky tonks on Broadway!
Click below to jump directly to the:
---
Best Restaurants in Downtown Nashville, Tennessee
---
Stationairy
Menu | 1001 Broadway, Nashville, TN, 37203 | (615) 726 1001
With an incredibly luxurious yet cozy environment, Stationary is one of the best restaurants Nashville TN. They offer a bistro-style American Menu that serves a diverse range of innovative food options. They also serve cocktails and wines that are equally creative and delicious.
---
Etch
Menu | 303 Demonbreun St | (615) 522 0685
A globally inspired restaurant owned by award winning chef Deb Paquette who has curated the menu to include some of the finest and most eclectic dishes from all around the world, Etch is a magnificent and lavish establishment. It is without a doubt one of the best dinner restaurants in Nashville. It has two private dining rooms, a full bar and a chef's bar where you can and are encouraged to interact with the chef.
---
The Continental
Menu | 1000 Broadway; Suite 101 | (615) 622 3225
Inspired by restaurants and hotels of the 19th and early 20th century, The Continental provides an impeccable environment with world class service. It has a large plush booth with a very cozy and comfortable atmosphere. You will find two bars, one very close intimate and the other open and lively. Due to Chef Sean Brock's passion for American culinary history, he and his team imparts a fine dining experience with simpler, more delicate and refined, dashing dishes.
---
Jeff Ruby's
Menu | 300 4th Avenue N | (615) 434 4300
Serving acclaimed U.S.D.A Prime Steaks, Seafood & Sushi, flawless service and an impeccable experience, Jeff & Ruby's is without a doubt one of the best restaurants downtown Nashville TN. They also serve an amazing collection of wine and even cigars. The atmosphere is extremely elegant and perfect for a dine out. The Jeff Ruby experience is popular all over the country and is completely accessible to you
---
The River House
Menu | 313 Demonbreun St. | (615) 271 7868
One of the best restaurants downtown Nashville, Tennessee. The river road is a very sophisticated and classy diner with fantastic service and a diverse menu filled with mouth watering dishes. You can have everything from a range of eclectic sushi dishes to delightful desserts.
---
Yolan
Menu | 403 4th Ave S | (615) 231 0405
Run by Michelin Star chef Tony Mantuano along with wine and hospitality expert Cathy Mantuano, Yolan brings authentic, Italian fine dining to Nashville. It is one of the finest Nashville diners. It has a very modern design and a classy environment. The food options are diverse with two types of tasting menus and two types of à la carte menus. The selection of wine and beverages is wide as well.
---
Josephine
Menu | 2316 12 Ave S | (615) 292 7766
Ever since the start of the restaurant, Chef Andy Little has received two James Beard semifinalist nominations for the outstanding food and service offered at Josephine.

With the Chef's Pennsylvania Dutch roots and Southern hospitality, this is an incredible diner. You are sure to find flavorsome food cooked by their skillful team, a carefully selected list of wine curated by the general manager Sommelier Karen Van Guilder-Little and expertly selected signature cocktails. It is indeed an excellent choice for a diner.
---
City House
Menu | 1442 4th Ave N. Nashville| (615) 736 5838
City House has a diverse menu that changes depending on the day of the week. They offer a wide range of incredible dishes that includes starters, course meals, pizza and dessert.
You will also find mind-blowing beer and cocktail options, wine, bourbon, whiskey and an array of other alcoholic beverages. With incredible food, awesome drinks and genuine hospitality, you are sure to have a good time at the City House.
---
Lyra
Menu | 935 W Eastland Ave, Nashville | (615) 928 8040
If you want to experience modern middle Eastern cuisine in Nashville, this is the place for you. The dishes are eclectic and memorable. The setting here is very creative and vibrant. The service is also very adept. Dining in Lyra will for sure be an experience you will treasure.
---
Pelican & Pig
Menu | 1010 Gallatin Ave, Nashville | (615) 730 6887
Run by a husband and wife duo Nick & Audra Guidry, Pelican & Pig offers an exceptional dining experience. With an open kitchen and a wood burning hearth in view, they provide you with a cozy atmosphere and yet an incredibly sophisticated service. Winner of the 2019 Eater Awards, you are sure to love the food at Pelican & Pig.
---
East Side Banh Mi
Menu | 1000 Gallatin Ave, Nashville | (615) 953 7424
One of the best places to have dinner Nashville TN, East Side Banh Mi is a family owned restaurant serving authentic Vietnamese sandwiches, rice and noodle bowls with Chef Gracie Nguyen's original recipes. Food here is prepared with ingredients sourced locally. With top tier food and world class hospitality, East Side Banh Mi is sure to win your heart.
---
Redheaded Stranger
Menu | 305 Arrington St, Nashville | (615) 840 7933
A taco place that offers freshly made tacos, brisket, hatch green chiles & other South-western inspired food. With incredible cuisine curated by Texas born Chef Bryan Lee Weaver, friendly and bright atmosphere and quality service, you are sure to enjoy your time at Redhead Stranger.
---
Big Al's Deli
Menu | 1828 4th Avenue North, Nashville | (615) 242 8118
Big Al's Deli is a soul food Haven with a menu that consists of an extensive list of Southern comfort food. Chef Big Al cooks with aspiration to impart joy by making your taste buds dance in delight. The service here is exceptional and the vibe is homelike.
---
The Dutch
Menu | 300 12th Ave S, Nashville | (615) 379 9000
Among the best The Dutch, contrary to its name, serves American food. The menu is notably diverse with delicious cuisines all around, ranging from seasonal green market salad to deluxe streak. They also serve alcoholic beverages that include cocktails mixed with fine wine and respectable American spirits.
---
Carne Mare
Menu | 300 12th Ave S. | (615) 379 9000
Operated by Chef Andrew Carmellini, Carne Mare is an Italian chophouse. Menu here is curated by Chef Carmellini himself along with Chef Della Cucina Levi Raines. It begins with fine seafood, cocktails, oysters, traditional antipasti, salads and carpaccio. For entrees, you will find house made pastas, seafood. And for the main course, the jewel of the restaurant: prime-aged beef, wagyu and prime rib, served with a selection of steakhouse contorni. It's an incredibly posh set-up with superb service and outstanding food.
---
Kayne Prime Steakhouse
Menu | 1103 McGavock St. | (615) 259 0050
An innovative undertaking that attempts to fuse creative, boutique style management with the traditional great American Southern Steakhouse type environment. The food here is a modern interpretation of classic cuisine.
They boast their menu that consists of delicious farm to table food options. Kayne also features an expansive wine program and artistic craft libations. It is a spacious establishment with numerous bar and lounge environments and private rooms.
---
Best Restaurants in The Gulch
---
Chauhan Ale & Masala House
Menu | 123 12th Ave N. | (615) 242 8426
With Celebrity Chef Maneet Chauhan's Indian roots and passion for travel, Chauhan Ale & Masala house offers nectarous Indian food fused with traditional Southern dishes. The restaurant has a very royal feel to it. The service is remarkable. The beverages offered range from curated wine, spirits, cocktails and an array of beers including Mantra Artisan Ales.
---
Sunda
Menu | 592 12th Ave S. | (615) 610 7566
Sunda puts forward modern interpretations of food from all over southeast Asia. Sought after dishes from countries like China, Japan, Philippines, Vietnam, Thailand and many more can be found and enjoyed here. Along with their Michelin-rated signature dishes, they also serve delicious sushi, sashimi and nigari. Their beverage scene is just as diverse with an assortment of premium Asian beers, sake, wine and seasonal craft cocktails.
---
Superica
Menu | 605 Overton St. | (615) 709 3148
Here you will find what is known as the "Tex Mex" cuisine. A wonderful amalgamation of Mexican and American food. The restaurant is colorful and lively with the atmosphere of the Old West that has been preserved for the enjoyment of the guests. The menu is extraordinarily vast with incredible dishes and drinks.
---
Virago
Menu | 1120 McGavock St. | (615) 254 1902
Having been named as the best sushi place on multiple occasions by numerous sources, Virago is an excellent place for anyone to visit. Chef Himmi, who has a sixteen-year experience of creating makimono and nigirizushi masterpieces, is sure to serve you with some of the best cuisines that you've tasted in your life. The vibe at Virago is tantalizing yet inviting. You will also find Nashville's most extensive Japanese whiskey and sake lists here.
---
Tansuo
Menu | 121B 12th Ave N. | (615) 782 6786
The name of the restaurant "Tànsuo", translates to "to explore". And the operators uphold that meaning marvellously. With a very rich and spacious setting, they provide Chinese contemporary dishes and dim sums with a modern twist, curated by Chef Maneet Chauhan. The environment is truly rich and sophisticated. With an exotic menu and an equally exotic list of beverages, Tànsuo has established its own league.
---
Adele's
Menu | 1210 McGavock St. | (615) 988 9700
With an open kitchen and a chef's counter, Adele's offers a very casual yet elegant dining experience. They serve elevated farm-to-table comfort food and mind blowing cocktails. They also have weekend brunch and buffet events. It is a very spacious setting with a heated outdoor patio and outstanding assistance.
---
STK
Menu | 700 12th Ave S. | (615) 619 3500
STK steakhouse is one of the best dinner restaurants in Nashville. It is an establishment with an incredibly festive and affluent environment. With a diverse menu with selectable dishes and an extensive list of alcoholic drinks, STK offers everything that will make your night noteworthy.
---
Moto
Menu | 1120 McGavock St. | (615) 736 5305
Declared as "The Best Italian Restaurant" by several sources like Love Food, Nashville Lifestyle and Nashville Guru, Moto should definitely be on your list of restaurants to try out if you are a foodie. It has a diverse menu that ranges from lighter dishes to the most indulging ones. The atmosphere here is quite luscious.
---
404 Kitchen
Menu | 507 12th Ave S Fl 2 | (615) 251 1404
With a heated outdoor dining patio overlooking the gulch, incredible dining rooms and gertie's whiskey bar, the 404 Kitchen has a very warm tenor. Their menu is extensive and filled with delicious cuisines. They also serve fantastic wine, whiskey, cocktails and spirits.
---
Biscuit Love
Menu | 316 11th Ave S. | (615) 590 9584
Biscuit Love is a family owned local business that serves breakfast and lunch made from scratch with locally sourced ingredients. It has a very wholesome and homelike ambiance. The owners aim to make you feel right at home when you visit them. They have won multiple awards and have been featured in numerous prominent magazines for their incredible service.
---
Sambuca
Menu | 601 12th Ave S. | (615) 248 2888
Sambuca is a zestful place with a vibrant environment. Their menu consists of delicious and soulful American food and an array of modern cocktails. Holding up their tagline "Dine. Dance. Entertain.", they throw a magnificent party for their guests every night.
---
The Mockingbird
Menu | 121 12th Ave N. | (615) 741 9900
With a very fun and playful setting, The Mockingbird serves innovative dishes that are inspired by food from all over the world and holds the essence of American food regardless. Beverages, alcoholic and non-alcoholic alike, are terrific as well.
---
12 South Dinner Restaurants
---
Bartaco
Menu | 2526 12th Ave S. | (615) 269 8226
An establishment that has a bustling and energetic ambiance with engaging service. Bartaco's menu is diverse. They serve heavenly Mexican and American food. Their menu also includes dishes from other cultures. For beverages, they have beers, cocktails, sangria & wine and non alcoholic drinks.
---
Burger Up
Menu | 205 Demonbreun Street, 2nd Ave S | (615) 840 7933
Serving flavorful soul food cooked with locally sourced, sustainable ingredients that are not only good for your overall well being but also honors the community, the environment and encourages humane treatment of animals. The hospitality is terrific and the food is delicious and incredible for both your health and soul.
---
Edley's Bar B Que
Menu | 2706 12th Ave S, Nashville | (615) 840 7933
Edley's Bar B Que is one of the most fantastic diners in Nashville. They serve food made carefully and with intent. The steaks are smoked low and slow using Southern white oak. They make the sides fresh from scratch every day and every other dish with equal love and care. They also take pride in treating every person that walks into their restaurant like an old friend and with amazing service.
---
Emery
Menu | 2500 12th Ave S, Nashville | (615) 739 5813
An incredible option for casual and chic dining but with extremely elegant and crafty food options. Emery has a compact but impressive contemporary American menu with delicious cuisines cooked with great care. There is also a list of curated craft cocktails and an eclectic wine program.
---
Best Restaurants in East Nashville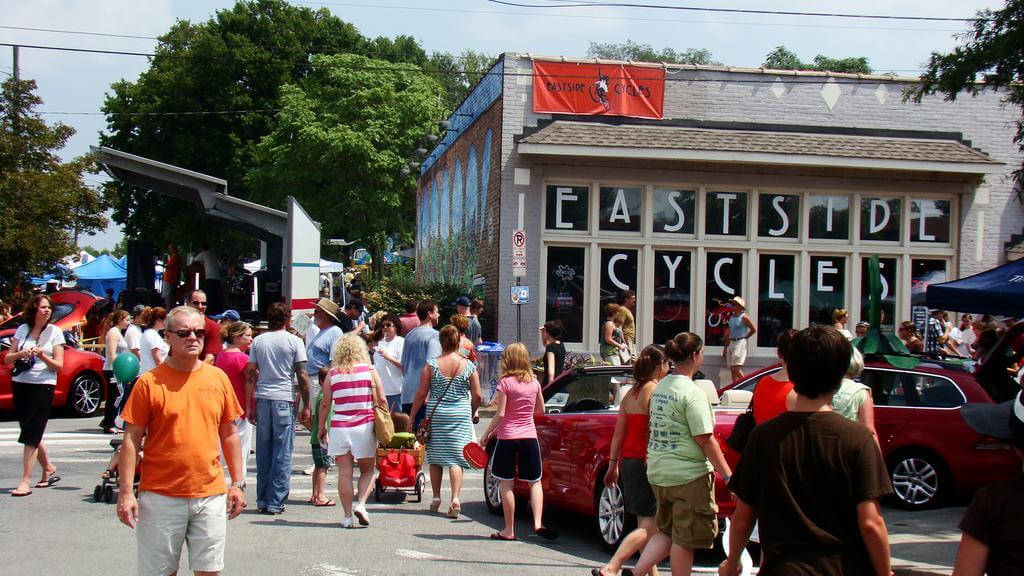 ---
Folk
Menu | 823 Meridian St, Nashville | (615) 610 2595
The meal and dessert menu at FOLK is very compact as well but filled with delicious dishes. The drinks options however are as diverse as they can get. The service is amazing too with an environment that is intimate and classy.
---
Margot Cafe & Bar
Menu | 1017 Woodland St, Nashville | (615) 227 4668
Owned and operated by Chef Margot McCormack, Margot Café & Bar is inspired by French food, it also has Southern influence fused with it. At Margot, they focus on fresh and simple food cooked with locally sourced and seasonal ingredients. The décor here makes the ambiance warm, comfortable and vibrant. They have an open kitchen, a brick covered patio, a garden filled with flowers and a pet friendly open air dining area.
---
Two Ten Jack
Menu | 1900 Eastland Ave #105 | (615) 454 2731
Serving eclectic Japanese food cooked with local Southern ingredients, Two Ten Jack is a Japanese inspired neighborhood pub. They offer a comfortable and casual experience and a sense of community. Their beverage selection features craft beers, wine, handcrafted cocktails, sake and shochu.
---
Five Points Diner
Menu | 1016 Woodland St, Nashville | (615) 747 9955
With an vibrant and festive environment, 5 Points Diner is the perfect place if you want to go out for a night out and experience memorable drinks and equally delicious food. They offer a wide array of incredible dishes as well as beverages.
---
Acqua by RJ Cooper
Menu | 1300 3rd Ave N, Nashville | (615) 974 0121
Owned by critically acclaimed chef RJ Cooper, Acqua is a posh sea-life avant-garde restaurant that offers delectable Italian seafood. The very carefully crafted, compact menu changes frequently to maintain freshness.
---
Best Germantown Restaurants
---
Rold & Daughters
Menu | 700 Taylor St, Nashville | (615) 866 9897
Rolf & Daughters, as the name suggests, is a family owned restaurant, offering a fabulous eating experience to its guests. They have a focused menu with incredible dishes. They have an extensive list of beverages. With a wide range of wine, they also serve beer, cocktails, spirits and other alcoholic and non-alcoholic drinks.
---
Monell's Dining and Catering
Menu | 1235 6th Ave N, Nashville | (615) 248 4747
At Monell's Dining & Catering, you will be served Southern dishes and comfort foods in a family style setting, shared with your neighbors. They aspire to harbor a sense of familyhood and community among their visitors with their food and service. Definitely on the list of best restaurant in East Nashville.
---
5th & Taylor
Menu | 1411 5th Ave N, Nashville | (615) 242 4747
Owned and operated by Chef Daniel Lindley, 5th & Taylor serves American Family meals made in their open kitchen with great care. Their premises is very spacious and comfortable. The décor is incredible with a life-size sculpture of Nashville's namesake General Francis Nash. They seek to foster a sense of community within their guests with their endeavor.
---
Mother's Ruin
Menu | 1239 6th Ave N, Nashville | (615) 953 7317
With an open door policy and a friendly & comfortable décor, Mother's ruin is a perfect blend of your favorite local bar and cocktail temple. With ample options for dishes in their menu and sensational drinks made by incredible bartenders, it is a great diner option for anyone looking to have a good time.
---
Emmy Squared
Menu | 1121 5th Ave N, Nashville | (615) 502 1025
Emmy Squared Pizza is known for its incredible pizza with diverse options and famous double stack burger, Le Big Matt. It "voted one of 'The Best New Burgers in NYC' by Gothamist, listed as one of the '20 Best Burgers in NYC' by the Infatuation, and was named '#1 Best Burger in Nashville' by The Tennessean and Nashville Lifestyles!". They also have a diverse selection of salads and sandwiches all made to be incredibly delicious and are served on Pretzel buns.
---
Check out next…