When walking through the flashy lights and neon signs of Printers Alley in Nashville you'll find the Fleet Street Pub by stepping down some steep steel stairs. What you'll find is an underground British pub. It feels like an English pub. Overhead the speakers softly play British tunes while the TV's on wall play soccer. It's a popular Printers Alley Nashville bar.
As an Australian living in Nashville I'm always looking for a little slice of home. A staple of Aussie culture is the corner pub. In Australia, the local pub (or watering hole as we call it), is a place for cold beer, connection with your mates and of course, some excellent pub food.
That's why I'm always on the search for a genuine pub that makes me feel at home. True, the Fleet Street Pub is a British pub (not Australian). Even the owners are British. But the Brits and the Aussies have a common bond. We share a similar culture. We get the same jokes, love the same music and enjoy a lot of the same food. We even share the same monarchy (long live the King!). I figured that I would feel at home in a British pub.
It opens at 11am – 1am every day. Recently, when my parents were visiting from Australia, we decided to go to the Fleet Street Pub on Printers Alley in Nashville. Here is my complete review. Enjoy!
---
Printers Alley has a facinating history and is a unique place to visit when coming to Nashville. Most people know about the honky tonks of Lower Broadway, but most don't about the fantastic bars and restaurants of Printers Alley, just a couple of blocks away. For a full list of the best places to visit on Printers Alley in Nashville, click here.
---
What I Liked:
The pub is spacious with a cozy feel. We visited on a Tuesday night at 6:30pm. There are lots of areas to sit or eat. You have the choice of large comfy couches, tables and stools, large tables that could hold between 5-10 people or private rooms. They don't take reservations so it's first in, best dressed.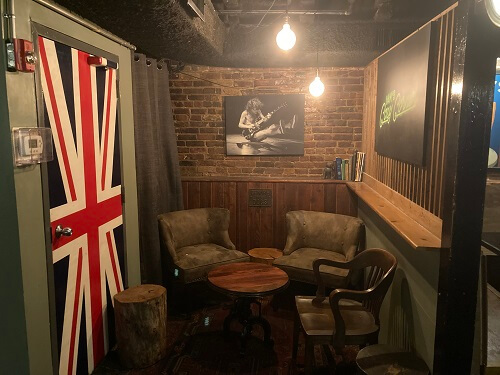 As you can see from the images, the inside is decked out nicely in British memorabilia. The stylish flag shows up in many places as well as various pictures of The Rolling Stones and the Beatles. I even appreciate that the light fixtures are printed with the flag. As pictured above, you'll find many old school posters. Seen above is the pelican with a Guinness Stout on it's beak.
I liked the ambiance. As you walk in from the alley, you walk down a steep set of steel stairs into the underground pub. Friends tell me that the whole room used to be filled with smoke. I don't know if they banned cigarettes from being smoked here or if we are just lucky enough to have not had any smokers present on this evening. Either way, there was no smell of cigarettes.
It was quite. There was British music playing over the speakers but it wasn't loud. I was able to have a conversation with my mom and dad without yelling.
Overall, I enjoyed the laid back atmosphere, the customer service was good without being over the top. I would have played a game of darts except that it was already taken.
The beer was great. I was looking forward to trying a London beer and I wasn't disappointed. I tried the Fuller ESB which is a genuine English beer that is brewed in London. 100% recommend.
What I Didn't Like
I was particularly looking forward to the fish and chips. This is the type of meal that Americans find hard to get right IMHO 😉 . I had heard good things so my expectations were high. The fish was overcooked and just didn't seem fresh. Maybe I'll get better luck next time?
The food is all cooked in house. There is no imported or manufactured products. Also, their menu is expansive. They have everything from fish and chips to chicken pie, lamb burgers, and (the very English) Scotch egg, and Shepherd's Pie. All the comfort food that you can imagine! Although I wasn't thrilled with my over cooked fish and chips, next time I'll try the Shepherd's Pie, they deserve another chance. Besides, even as I write this I'm craving another beer.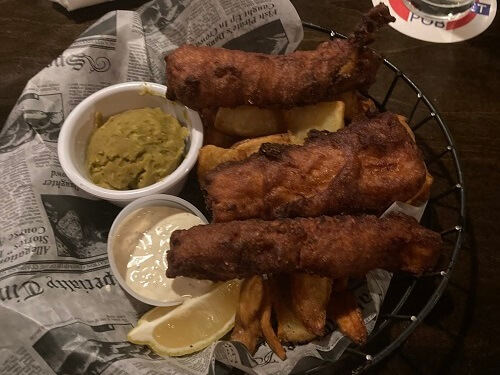 Overall, I had my craving for a British pub satisfied. My parents are fussier than me and wouldn't likely return. After all, it's pub food in a basement on Printers Alley. I appreciated being able to step away from American hustle and bustle for a moment to enjoy a British flavor. I'd give it an 8/10.
I'll be back to try the Shepherds Pie and a Guinness.
---
Printers Alley Nashville Bars
Printers Alley in Nashville has about 11 great bars and restaurants that are worth visiting. As you walk up and down the alley you'll be spoiled for choice. The Bourbon Street Blues and Boogie Bar is a great first stop that still plays world class music today and has done for decades. The Whiskey Shot and Alley Taps feel like holes in the wall that also serve diverse drinks and support live music. For a full breakdown of bars, click here.
Visiting Nashville soon? Not only will you want to visit the Fleet Street Pub. Along Printers Alley you'll find many historic bars and restaurants. The Skulls Rainbow Room still features burlesque and has hosted huge stars in it's storied history. It's owner, David Schulman was killed in the bar. For an overview of the history and a complete list of bars and restaurants that you should visit, click here.
What is the Most Popular Street in Nashville?
The most popular street in Nashville is Broadway. Not only is it home to more than 30 bars and honky-tonks, it winds it's way through many popular Nashville neighborhoods. Lower Broadway houses the party strip including Roberts Western World and Tootsies. You'll also find the newly developed 5th & Broad. It's also walking distance to the Ryman and Bridgestone Arena. To learn about the must-visit bars on Broadway, click here.
---
If you're heading down south on vacation, you may be asking yourself, "what is the best time to visit Memphis?" …
Read more