Choosing the right area to stay during your visit can make all the difference in fully experiencing what Nashville has to offer.
In this post I'll provide any overview of the top 5 Nashville neighborhoods for visitors. I'll also provide a comprehensive guide to each neighborhood to help you plan your trip.
Nashville has 5 major neighborhoods that you should consider staying. Most stay downtown which is understandable as the area has the greatest access to most of the major attractions. Downtown features iconic locations such as Broadway and the Country Music Hall of Fame, staying downtown offers a full Nashville experience, with honky-tonk bars and live music venues at your doorstep.
If nightlife is your main priority, consider staying in Midtown, a bustling neighborhood known for its fantastic music scene, unique eateries, and late-night hotspots. However, if you're more interested in a trendy environment with distinctive shopping and dining options, The Gulch may be more your speed.
I'm here to help you make the most of your stay by providing insider tips and recommendations to ensure your Nashville visit is truly unforgettable.
Why Should You Listen to Me? I've lived in Nashville for 12 years and have two children under 10. I've been to almost every attraction and know Nashville front and back. I'm always looking for things to do with kids, so this is a topic I know very well. To learn more about me, click here.
---
What is the Best Area in Nashville to Stay?
---
Here, we will cover some of the most popular neighborhoods for visitors, providing insights and tips to help make your getaway truly memorable.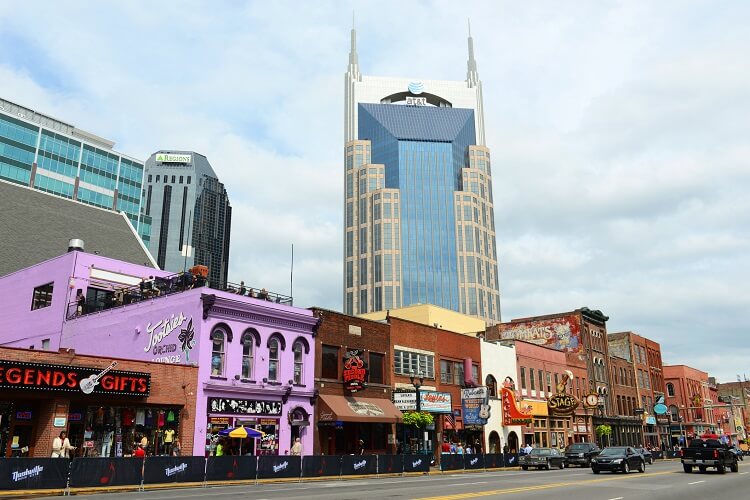 Downtown Nashville
Welcome to the heart of Nashville, where the city's lively atmosphere and iconic attractions intertwine. In Downtown Nashville, you'll be surrounded by honky-tonk bars, live music venues, and historical landmarks like the Ryman Auditorium and the Country Music Hall of Fame – all within walking distance. It's easy to Immerse yourself in the local culture by strolling along Broadway and soaking up the sounds of aspiring musicians and the sights of bustling souvenir shops.
The Gulch
Just a stone's throw (20-minute walk) from downtown, The Gulch is an upscale, trendy neighborhood perfect for those seeking a mix of culinary delights and chic boutiques. This former industrial area has been transformed into a lively hub of dining options, breweries, and art galleries. Savvy travelers will relish the opportunity to explore the neighborhood's murals and snap some Instagram-worthy shots. The Gulch is a quieter option, away from the noise and bright lights of lower Broadway. Remember to catch my guide to the Gulch here.
The Gulch offers an urban atmosphere that is a little more family friendly with great places for breakfast, brunch, and other great dinner options.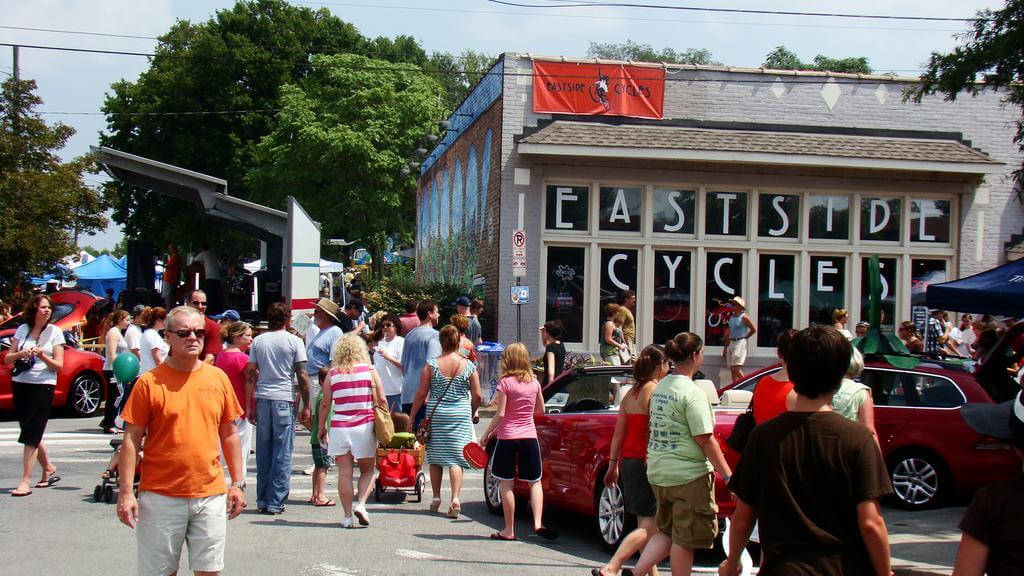 East Nashville
For a laid-back yet engaging experience, consider exploring the artsy and diverse area of East Nashville. Here, you'll find an eclectic mix of local restaurants, bars, and coffee shops catering to every palate while vintage stores, art galleries, and parks are scattered throughout the neighborhood. Wander around Five Points and indulge in the creative atmosphere that defines East Nashville.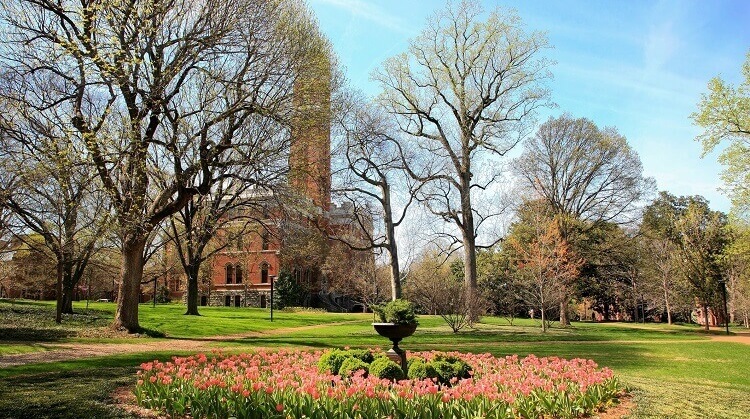 Midtown
If nightlife is your cup of tea, Midtown should be high on your list. Known for its vibrant music scene and late-night revelry, this neighborhood is a go-to spot for partygoers and music enthusiasts alike. Midtown is just a short ride up from lower Broadway and close to West End, Vanderbilt and the Bicentennial Mall. You'll find plenty of live music venues, bars, and restaurants catering to any preference, making it an enjoyable neighborhood to lose yourself in the sounds and flavors of Nashville.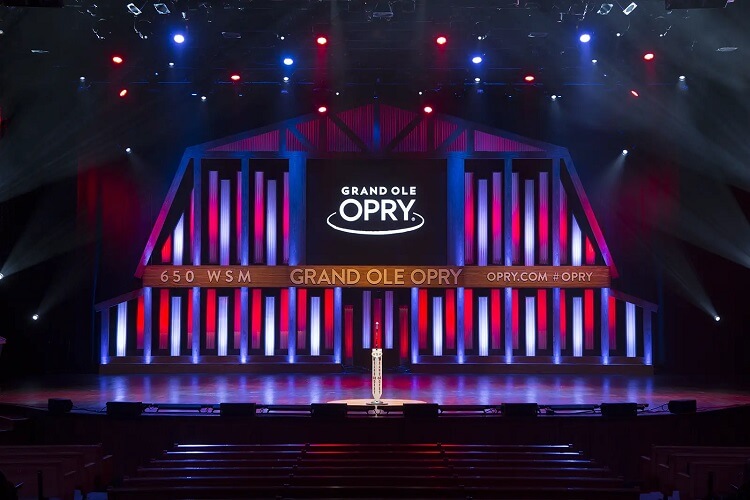 Music Valley
Traveling with family? Then set your sights on Music Valley, an area known for its wealth of family-friendly attractions and entertainment. Nestled just outside of downtown, this neighborhood is home to the renowned Grand Ole Opry, the Gaylord Opryland Resort's indoor gardens, and the General Jackson Showboat. Music Valley offers a wholesome, engaging experience for visitors of all ages.
Accommodation Options
Nashville is a city that caters to all types of travelers, from music enthusiasts to history buffs to families on vacation. With a wide range of accommodations to choose from, you'll have no trouble finding the perfect place to stay during your visit. In this section, we'll explore some luxury hotels, budget-friendly hotels, and other lodging options in Nashville.
Luxury Hotels
If you're in the mood to spoil yourself, Nashville has some fantastic luxury hotels to choose from. Here are some of the top options:
Budget-Friendly Hotels
If you're on a tighter budget but still want a comfortable stay, Nashville has plenty of budget-friendly hotels for you. Here are some excellent choices:
Nashville Attractions and Entertainment
As a Nashville tour guide, I am excited to share some of the best attractions and entertainment options that Nashville has to offer. While staying in Nashville, immerse yourself in the rich cultural scene with various museums, galleries, music venues, and outdoor spaces.
Museums and Galleries
If you're a history or art lover, be sure to check out the Country Music Hall of Fame and Museum and the Johnny Cash Museum. Just a short walk from the heart of downtown, you'll find the Ryman Auditorium, a historic music venue and museum. In the West End, near Vanderbilt University, you can visit the Parthenon, a full-scale replica of the original Parthenon in Athens.
I highly recommend the Musicians Hall of Fame and Museum as an authentic place to see the instruments and musicians behind the greatest hits of all time.
Music Venues and Honky Tonks
As a center for country music, Nashville is home to iconic music venues like the Grand Ole Opry and Music Row. The city is also known for its lively honky tonks, which host live music year-round. When you're downtown, don't miss the chance to visit Robert's Western World and other bars along Lower Broadway.
Major Sports and Event Venues
Nashville is also a hub for major sports events. Stay in the downtown area, and you'll be close to Nissan Stadium, the home of the Tennessee Titans. Ascend Amphitheater, an outdoor venue located near Riverfront Park, hosts concerts and events throughout the year.
Shopping Centers and Shops
For a shopping experience, head over to the trendy neighborhood of The Gulch. Here, you'll find a mix of upscale shops, boutiques, and artisan stores. Be sure to grab some souvenirs and check out local crafts at Five Points in East Nashville.
Parks and Outdoor Spaces
To enjoy Nashville's natural beauty, visit Bicentennial Capitol Mall State Park close to downtown Nashville. In East Nashville, stop by Lockeland Table for a bite to eat before heading out to explore the area's parks and green spaces.
As a local, I know that staying in the right neighborhood can make or break your Nashville experience. I recommend looking for accommodations in downtown Nashville or The Gulch for easy access to attractions, entertainment, and dining. Remember, Nashville is more than just country music; it's a city filled with history, culture, and endless opportunities for enjoyment.
Dining and Nightlife
When visiting Nashville, it's essential to dive into its legendary dining and nightlife scene. Nashville has a wide variety of culinary delights and entertainment offerings to make your stay truly memorable.
Distinctive Local Restaurants
Indulging in delicious local cuisine is a key part of a great Nashville experience. Among many must-try dining establishments, you can't miss out on the famous Hattie B's for its renowned hot chicken or Biscuit Love located in The Gulch neighborhood.
For a more upscale dining experience, try the outstanding Italian cuisine and creative cocktails at Moto, or head over to Saint Anejo for unforgettable Mexican flavors.
Bars and Pubs
Nashville boasts an impressive variety of bars and pubs gracing every corner of town. If you're seeking a refreshing craft beer, stop by Hops & Crafts in the buzzing Gulch neighborhood.
For a more sophisticated experience, take in the gorgeous city views while enjoying a glass of wine at one of the Vanderbilt district's top wine bars.
Cafes and Casual Dining
Taking a break from exploring Nashville, you'll want to refuel at one of the many inviting cafes in town. Pop into the Frothy Monkey for coffee, sandwiches, and an inviting atmosphere that's perfect for reconnecting with friends or simply people-watching. And don't forget to try their famed biscuits and gravy.
Nightclubs and Live Music
As a visitor to Nashville, it's hard to resist the pull of the city's world-famous music scene. The venues are as diverse as the artists themselves, with places like Wildhorse Saloon offering three floors and a massive dance floor, while the Station Inn, situated in The Gulch, is renowned for its intimate live shows.
In Midtown, the nightlife continues to buzz, with a plethora of top-notch nightclubs playing host to both local and touring musicians, ensuring that you're never far from the soundtrack of your Nashville adventure.
So, while you explore the wonder that is Nashville, make sure to enjoy its incredible dining and nightlife, letting both its flavors and sounds serve as the backdrop for memories you'll cherish for a lifetime.
---
If you're heading down south on vacation, you may be asking yourself, "what is the best time to visit Memphis?" …
Read more