Are you coming to Nashville for the first time and curious about the best place to stay?
As a Nashville local intimately familiar with all the Nashville neighborhoods and attractions, I will lay it out for you. Just follow the guide!
The most convenient place to stay is downtown Nashville because it's close to all the major tourist attractions. Downtown Nashville is significant because the city is densely packed with incredible attractions.
When staying in the Nashville area, nothing is really that far apart. Each neighborhood just has a different feel. It also depends on how close you want to be to certain Nashville attractions.
I've put the details below to help you make a decision.
The below recommendations are in order. We recommend staying in downtown Nashville first as it's most convenient to Nashville attractions, but it's not the only option!
---
Table of Contents
---
---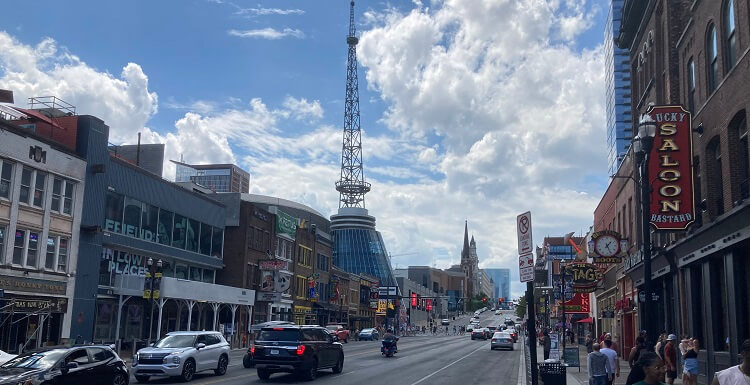 Downtown – Most Convenient
To prove my theory that downtown is the most convenient place to stay, I recently walked from the Musicians Hall of Fame down to Broadway all the way to the Cumberland River, then walked past the Country Music Hall of Fame and then had lunch at the fantastic new development, Fifth and Broadway.
I also passed the Johnny Cash Museum, National Museum of African American Music, and Hard Rock Cafe along the way. Downtown really is the most convenient and gives you walking access to almost everything.
Downtown Nashville is also ideal if you are coming for a bachelorette or bachelor party or business trip.
When I say "downtown," I mean a five-block radius from the Cumberland River to 7th Avenue. Here's a helpful walking map.
If you stay downtown, you can walk to the following places:
Honky-Tonk Highway on Lower Broadway. This is the strip of over 32 bars, half owned by country music stars. You'll hear live music seven days a week. It's a major reason that tourists flock to the city. See the must-visit Broadway bars here.
Musicians Hall of Fame & Museum. A short walk from Broadway is the famous Musicians Hall of Fame, which will give you an inside look at the Nashville music industry. Get your walking map here. Learn more here.
Country Music Hall of Fame. This huge institution exhibits some of the most incredible artifacts and history of country music in the USA.
Johnny Cash Museum. The Johnny Cash Museum and Cafe holds the entire history, including original artifacts owned by Johnny during his long career.
Printers Alley is a historic alley that dates all the way back to prohibition in the USA. You'll find Jazz bars, burlesque, karaoke, and more on the streets that presidents and superstars have walked on. Learn more about Printers Alley here.
Fifth & Broadway. Located on Broadway's upper side is a new development that includes the Assembly Food Hall, where you'll get Hattie B's, Prince's Hot Chicken, and more. It also has great shopping.
Also downtown, you'll find endless places to dine on hot chicken, southern BBQ, live music at the Ryman Auditorium, or a concert at the Bridgestone Arena or Nissan Stadium.
It's all within walking distance! – I haven't even addressed the shopping, restaurants, bars, or other attractions. There's just so much to do.
I wrote an entire guide on things to do in downtown Nashville that you can find here.
You don't even need a car if you are staying downtown. Just get an Uber from the airport and stay put.
There are two cons to saying downtown:
It can be expensive. Due to demand and constant festivals and special events, prices can skyrocket at certain times. You can avoid this by staying in neighborhoods outside the downtown area. More on that below.
The hustle, bustle, and noise. Downtown Nashville is a lively place. If you prefer a quiet, more laid-back atmosphere, you may want to consider the Gulch or Midtown.
Here's a roundup of the best hotels downtown. These spots will put you within walking distance of bars, restaurants, and attractions.
If you stay in downtown Nashville, you don't need a car. We highly recommend the Nashville Hop-On Hop-Off Trolley. Check prices and availability here.
Nashville Hop On Hop Off Trolley Tour
The trolley drives around Nashville for a 90-minute round trip with live commentary. When the weather is warm, the windows are open. It covers over 100 points of interest. I recommend it as a great way to see what Nashville offers on a single trip. It covers Broadway, Music Row, Centennial Park, the Ryman Auditorium, Nashville neighborhoods, and more.
---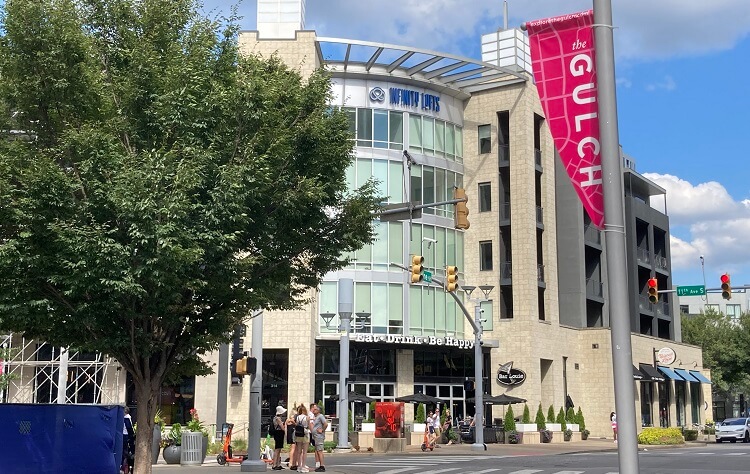 The Gulch
If you want to avoid Broadway's noise and hustle and bustle but still be within brisk walking distance of the action, the Gulch is the place to be.
The Gulch is about a 20-minute walk or 5-minute drive from Lower Broadway and is considered to still be in the downtown district.
It has an urban, progressive, and relaxed atmosphere with restaurants, bars, and live music. It's also a popular spot for bachelorette parties.
The Gulch is home to the famous Wings Mural.
If you are coming to town to enjoy the downtown attractions like a concert or game at the Bridgestone Arena or Nissan Stadium to explore the honky-tonks or visit a museum, these are all still walkable from the Gulch. However, if you want to be able to walk home from your concert on Lower Broadway, you should stay in the downtown district, closer to Lower Broadway.
In the Gulch, you'll have access to unique venues like The Station Inn, a Nashville pickers, bluegrass, and American roots music venue, Rudy's Jazz Rooms, guitar stores, and restaurants and bars.
For a complete guide on the Gulch vs. downtown Nashville, click here.
Here's a roundup of the best hotels in the Gulch.
| | | |
| --- | --- | --- |
| 🥂Luxury | W Nashville | Voted by Forbes and USA Today as the most exciting hotel in Nashville. |
| 💵 🐶Great value & Dog Friendly | Fairfield Inn & Suites | Award-winning chefs, rooftop bar, and city views. |
| 🏩Boutique | Thompson Nashville | Award-winning chefs, rooftop bar, and city views. |
---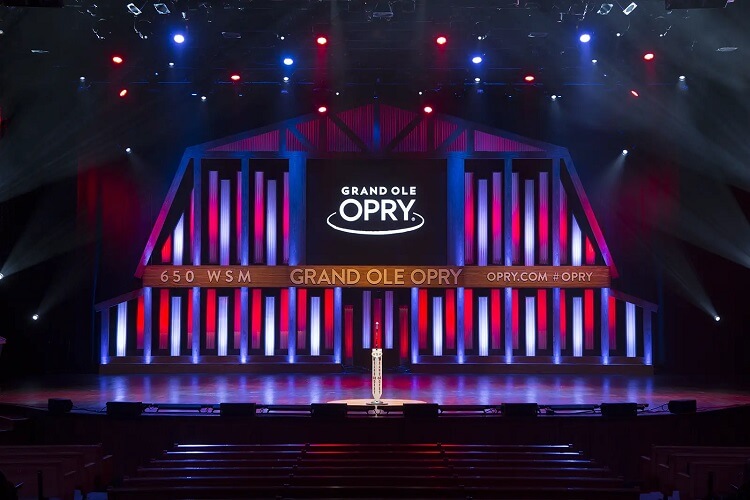 Music Valley – Best for Families
Music Valley, also known as Opryland, is the most convenient location to stay if you want to stay at the Opryland Resort or visit the Grand Ole Opry. It's also a fabulous place to stay if you travel with a family.
Music Valley and Opryland are about a 20-minute drive from downtown Nashville. The Opryland Hotel is huge, with a complete village and a mall next door.
Opryland has acres of pathways, waterfalls, dining, and shopping. They host many different types of events throughout the year. It is a self-contained experience, and if you are visiting to visit the Grand Ole Opry primarily, this is a great choice.
You can read our complete guide on downtown Nashville vs. Opryland here.
There are three main reasons visitors choose to stay in Music Valley:
Visit the Grand Ole Opry. This is one of the most famous locations in Nashville, as it's the home of the legendary weekly country music stage and concert radio show.
Stay at Opryland Resort. This epic indoor village features waterfalls, gardens, paths, and boat rides.
Shopping at Opry Mills – a vast, family-friendly shopping mall with attractions for kids and shopping for adults.
---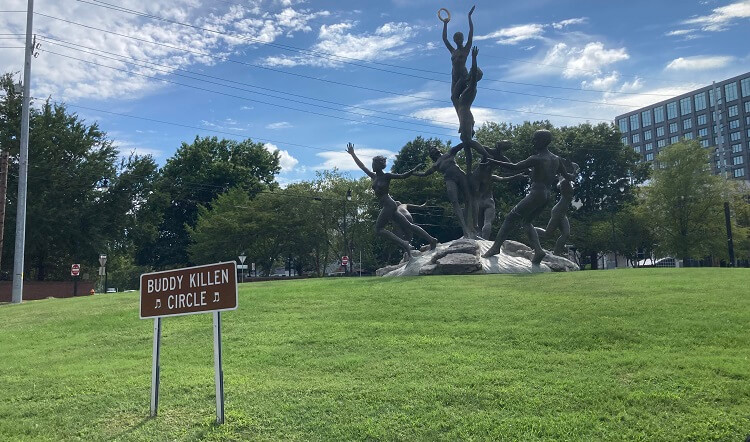 Music Row – Best For Music History
Music Row is a historic district home to many of Nashville's major record labels and recording studios, making it a fascinating spot for music fans, industry professionals, and those interested in music history. So, whether downtown or Music Row is better for you depends on your preferences and what you hope to experience during your visit to Nashville.
Music Row is a 45-minute walk or ten-minute drive from downtown Nashville.
The Music Row area of Nashville is nice, with some great bars and restaurants. Plus, it's only 10 minutes from downtown, and you may find that hotel a bit cheaper. Here's a list of our favorite bars and restaurants in the area.
Don't get confused between Broadway and Music Row. Music Row was a suburban Nashville street; recording studios converted the homes into recording studios. Today, it still has the feel of a neighborhood street.
Top attractions include RCA Studio B, operated by the Country Music Hall of Fame. Huge stars recorded there, including Elvis.
👉 For a complete guide on the differences between downtown Nashville and Music Row, click here.
Here's a roundup of the best hotels in the Gulch.
---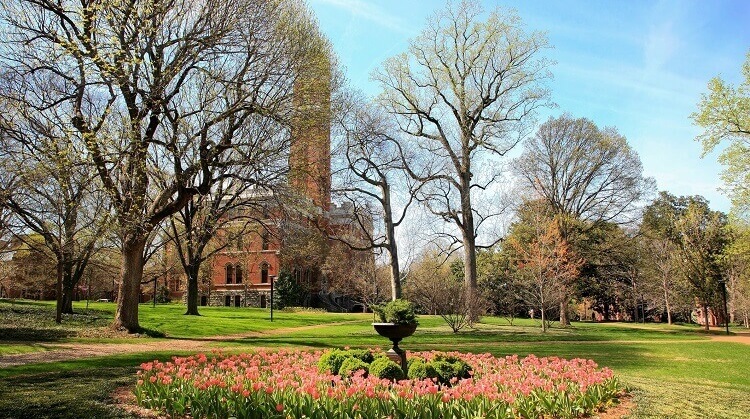 Best Place to Stay Near Vanderbilt
If you or a loved one needs to visit Vanderbilt, you're probably wondering where to stay.
The best area to stay is the West End/Hillsboro area. It's safe and away from downtown, so that you won't have any problems.
The area is very easy to walk around. You won't need a car unless you want to go downtown. Plus, a well-kept secret is that parking at Vanderbilt is free.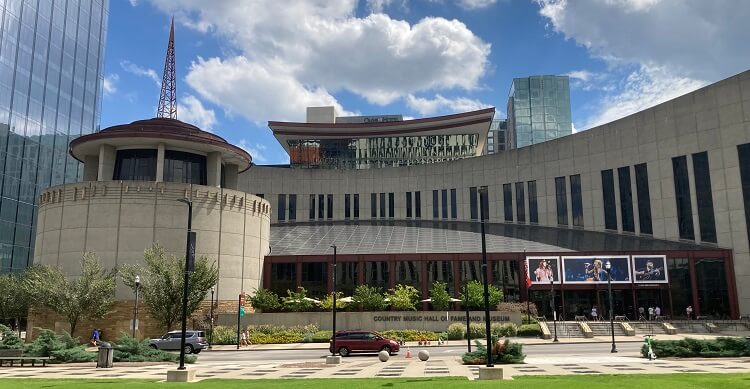 SoBro
SoBro stands for "South of Broadway" and is just a 10-minute walk from the heart of downtown. You are still in the downtown district, not centered in the middle but within what is considered "downtown Nashville."
Key attractions in SoBro include the Country Music Hall of Fame, the Ascend Amphitheater with its beautiful riverfront views, and the Nashville Symphony at the Schermerhorn Symphony Center.
The biggest advantage to SoBro is that you're still within easy walking distance of major Nashville attractions like Broadway, Bridgestone Arena, the Musicians Hall of Fame, etc.
Here's a roundup of the best hotels in SoBro.
---
Midtown – Close to Vanderbilt
Midtown is not considered downtown and is less touristy than other areas. Locals like this area as it has a terrific, walkable strip of bars and restaurants.
A favorite bar is Patterson's House speakeasy, a unique, high-end bar serving top-shelf spirits. Another favorite is The Catbird Seat, which some diners have said gave them the best meal in the world! Quite the praise.
Midtown is a 10-minute drive Southwest of downtown. Visitors like it because it is close to Vanderbilt University, Music Row, The Parthenon, and Centennial Park.
The Parthenon in Centennial Park is a massive park encompassing a walking trail, river, picnic areas, and more. It's a major draw to Nashville and centrally located. I wrote more about it here.
The neighborhood also has a popular nightlight spot at Division Street, with eight bars and restaurants within walking distance.
👉 For a complete guide to Midtown bars and restaurants, click here.https://nashvilletodo.com/must-visit-midtown-nashville-bars-for-a-fun-night
You should stay in Midtown if:
You don't mind being a little further up the road from Broadway.
Close to Vanderbilt, Music Row, Centennial Park, and The Parthenon.
Want a local vibe with different places to eat and drink.
---
East Nashville
East Nashville is separated from downtown Nashville by the Cumberland River, although it's still only a short drive from downtown. I wouldn't recommend walking from East Nashville into downtown as it's a bit far, and you'd have to walk near traffic, making it a bit dangerous.
East Nashville can be thought of as more of a suburban neighborhood than a tourist draw.
One major advantage of East Nashville is the lower prices for hotels (since it's further from the action) and it's closer to Nissan Stadium. If you are in town to see a concert or game at the stadium, this is a good option.
The neighborhood has several great things to do:
Shelby Park. A 300-acre multi-use park just two miles from Downtown. It offers kids' playgrounds, river views, fishing, boating, picnic shelters, dog parks, golfing, and more.
The Basement East. A prime music venue for live music in Nashville. Known by local musicians to be one of the best places for live music.
East Nashville is also known for its hip feel and food scene. Popular restaurants include:
Butcher and Bee. Serving coffee, juice, sandwiches, and more.
The Pharmacy. Famous burger parlor and beer joint.
Mas Tacos Por Favor. Snug, no-frills Mexican restaurant.
Five Points Pizza. Perhaps the most famous and popular pizza restaurant in Nashville.
If you like going for a walk and don't mind being a little further from downtown, stay in East Nashville.
---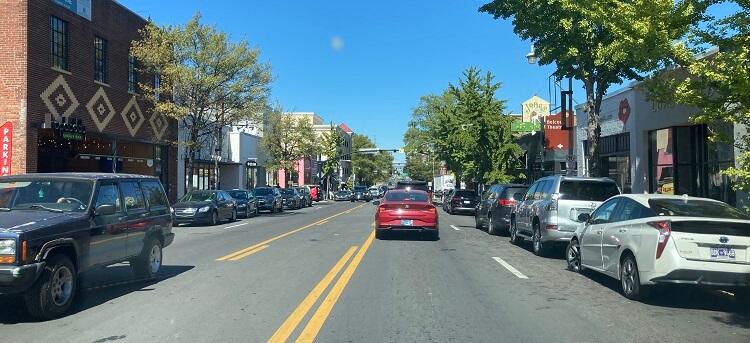 Hillsboro
Hillsboro is a cool neighborhood with many boutique shops, bars, and restaurants. It's a popular place for Vanderbilt and Belmont students to hang out as it's close to the campus and West End. My wife and I have always enjoyed Fido's Coffee Shop; they always win the Best Burger in Nashville award.
Hillsboro/West End wouldn't be considered downtown. However, like most Nashville neighborhoods, it's just a short drive from downtown. Hillsboro is a self-contained area with famous restaurants like the Pancake Pantry, Belcourt Theatre, and Belmont Mansion.
If you want to stay in an area with a hip, family-friendly vibe and a more relaxed atmosphere, choose Hillsboro!
---
12 South
12 South is a popular Nashville neighborhood consisting mainly of single-family homes, artists, and musicians.
It features charming coffee shops and styling clothing boutiques, vintage guitars, and craft beer.
Some great restaurants include Edley's Bar-B-Que, Burger Up and Bartaco. It also has a popular farmers market during the warmer months.
Like other Nashville neighborhoods mentioned here, if you don't want to be within a short walk of major Nashville attractions but prefer a quiet, more relaxed atmosphere, 12 South might be for you while still only a short drive from downtown.
---
Germantown
Germantown is just 5 minutes north of downtown and really close to everything. It's just a ten-minute walk to downtown.
Why would you stay in Germantown?
If you want to avoid the downtown buzz and feel a little more at home amongst a Nashville suburb, this would be a good choice without being far from the action.
The Bicentennial State Mall Park is in Germantown, a multi-acre park with a granite map of the state. In the distance, the Tennessee State Capital is visible.
You may also want to stay in Germantown if you are in town to see a Baseball game. This area is home to the Nashville minor league team, the Nashville Sounds.
Germantown is also home to the Nashville Farmers Market.
---
Nashville Airport
Even at the busiest times, the Nashville Airport is only about 20 minutes from downtown Nashville. That can't be said for a lot of airports around the country!
If you have a late arrival or early departure, it's obviously a good move to stay near the airport.
Top hotel recommendations:
---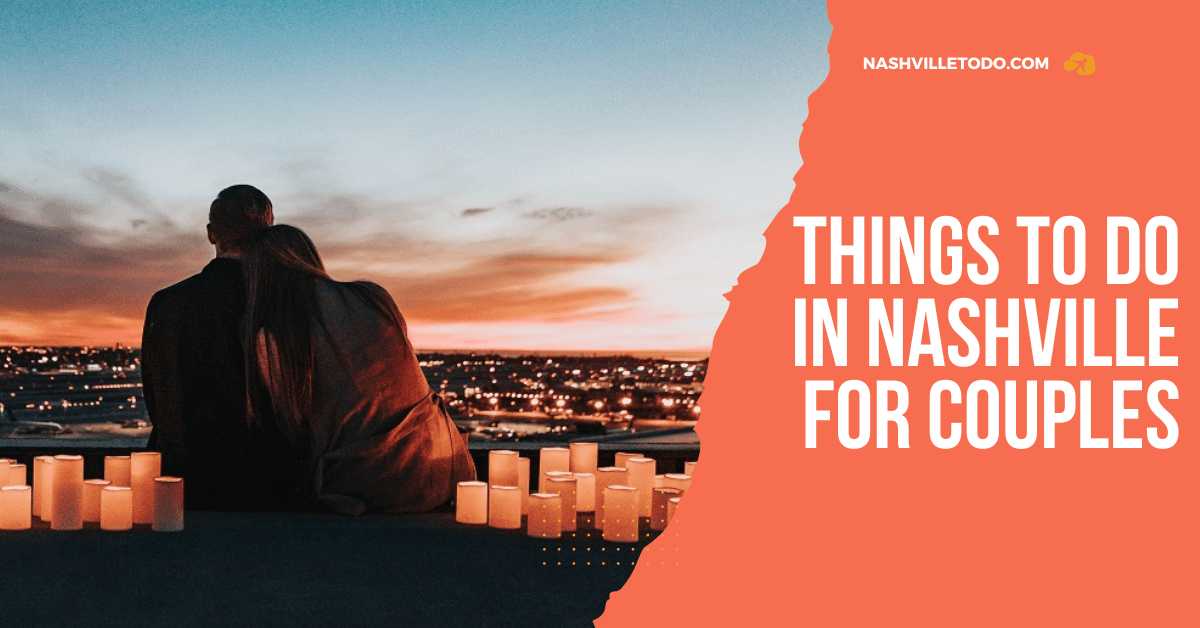 Nashville is packed with intimate, fun, novel, and conversation-inspiring things for couples to do. It just takes a local like …
Read more