---
Drink Eat Events Hotels Interesting Murfreesboro Music News Tennessee Things To Do
---
Walking around Nashville on any day of the week you'll see an abundance of cowboy hats, boots and PARTY BUSES!
It's a unique way to experience Nashville and it's definitely a good time. It doesn't just stop at buses. You can choose how you party. Heck, you can take a bus, truck, tractor, golf cart of bike!
Usually you can BYOB or have a full VIP experience.
Listed below are the best party bus (or tractor!) experiences in Nashville.
---
Best Nashville Party Buses
---
Nashville's Roofless Party Bus Experience
One of the most eccentric Nashville party buses with open air & spacious setting including VIP bartenders. Roofless Party Bus offers a mind blowing experience. They can serve a minimum of 10 people and are capable of serving as much as 210 people. The price tag varies according to your requirements, it ranges from $49-850.
---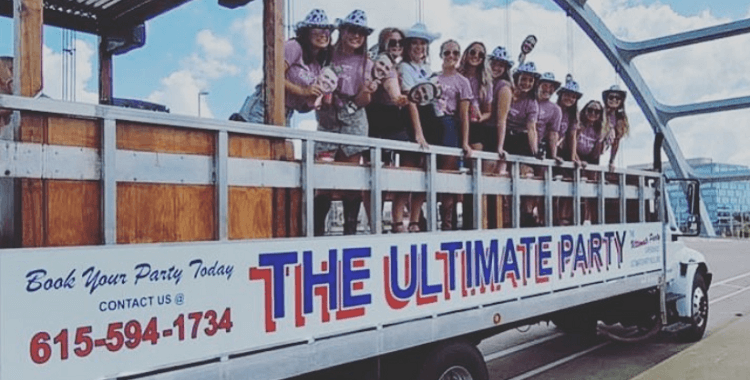 Nashville Ultimate Party Bus
Nashville Ultimate Party Bus has a maximum capacity of 30 people and a minimum limit of 6 people. They charge $49 plus taxes per person for their services. You can also rent out the whole bus for a private party for $495 plus taxes. With VIP bartenders and incredible service, it is one of the best options for a Nashville Party Bus.
---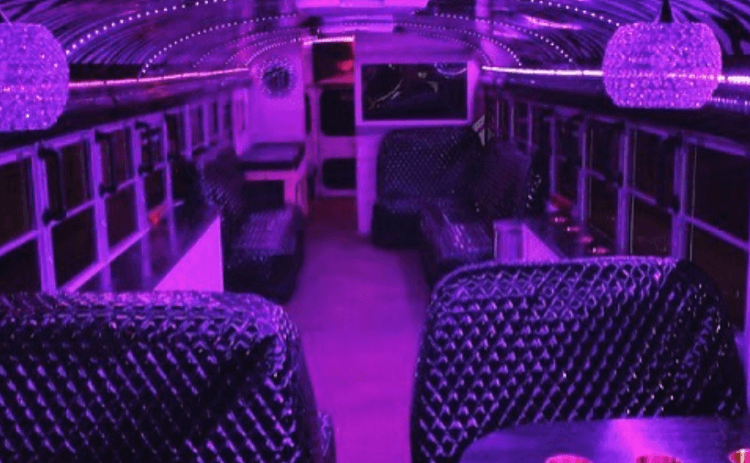 Glammie's Partyliners
A luxurious and classy experience is what you will get from Glammie's Partyliners. They have an array of packages that you can select from according to your needs. For each package they accommodate up to 10 people and $30 extra charge for additional guests. The price for their packages vary accordingly.
---
Nashville Party Barge
Voted "World's Best Party Bus" by Buzzfeed.com, and rated as No.1 Party Bus in Nashville on TripAdvisor. Nashville Party Barge is a custom built open air party bus and is one of the best Nashville party busses. They can accommodate anywhere between 3-30 people per bus. Their prices range from $49 plus taxes and GRAT per person to $595 plus taxes and GRAT for a weekend trip.
---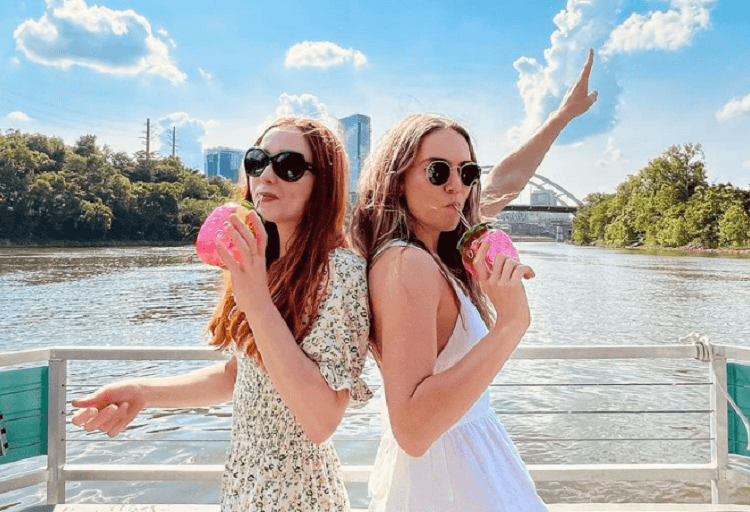 River Queen Voyages
One of the best Nashville party boats, River Queen Voyages is Nashville's only motorized pedal pontoon. It's one of the best cruises for partying. They can hold up to 16 people per boat. They charge $44 per person for 90 minutes in a public cruise and $399 per person for 90 minutes in a private cruise. You can also rent out the whole boat for $599.
---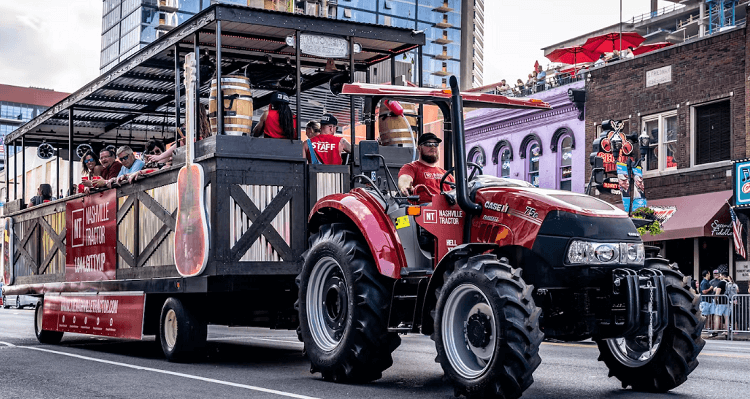 The Nashville Tractor
A huge party wagon pulled by a tractor, it is as entertaining as it is ridiculous. Their price starts from $19.98 per head for a 75 minutes public tour. For private tours, the price starts from $495 for Wednesday tours and goes up to $695 for weekend tours. They can accommodate 30-35 people depending on the wagon you choose.
---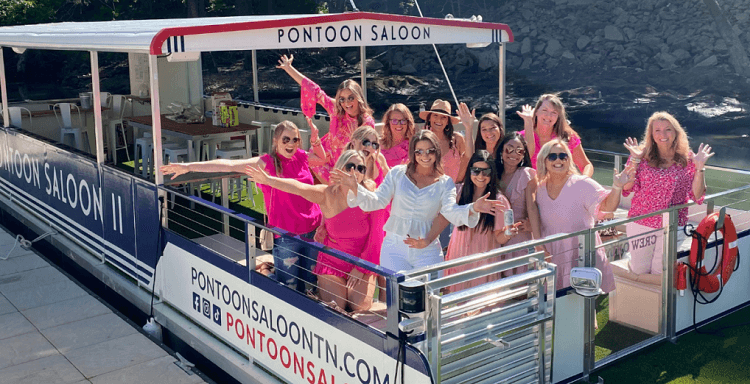 Pontoon Saloon
For a 2 hour ride on the Pontoon Saloon public cruise they charge $50-55 per head. For a private cruise, they can accommodate 25-45 people for a 2 hour ride for $1600-2100 plus taxes. You can also join their iconic BACH party cruise for $85 plus tax and tips and have a once in a lifetime experience of a 2 hour ride including beer and seltzers. They have other packages as well with varying price points. It is one of the best Nashville booze cruise.
---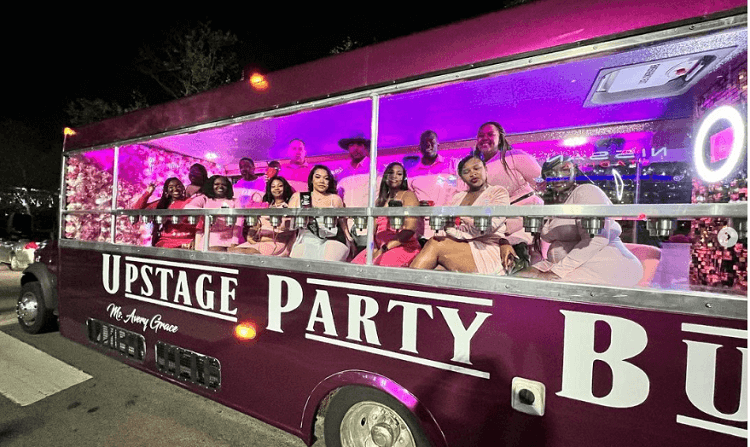 Upstage Party Bus
Another great party bus in Nashville. Upstage Party Bus offers 2 hours of incredible experience in their open coach party bus. They charge $35-50 per person for their shared rental and $600- 650 plus taxes and fees for a private tour. They accommodate up to 20 people in their party bus.
---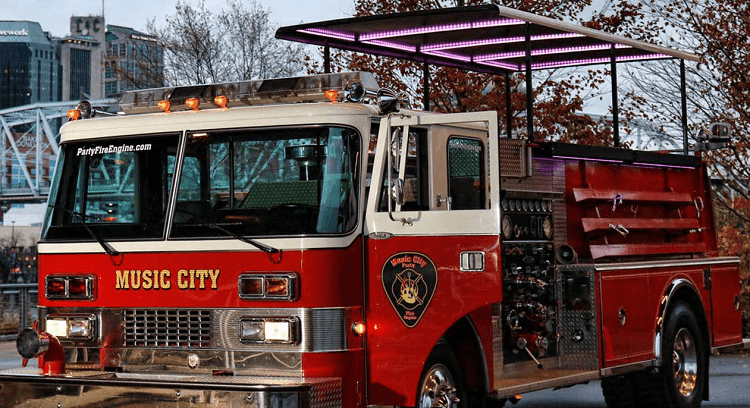 Music City Party Fire Engine
A fire truck turned into a party liner. Music City Party Fire Engine offers a phenomenal experience. They accommodate up to 15 people. For a 2 hour tour during Monday-Thursday, they charge $450 and during Friday-Sunday, they charge $495 for the same service.
---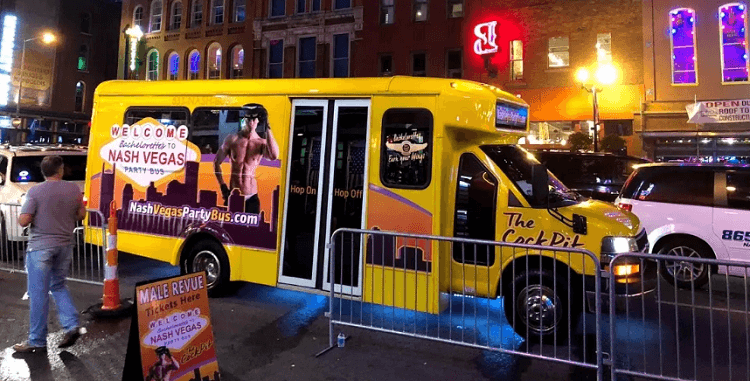 Nashvegas Party Bus
Nashvegas Party Bus takes pride in being the best party bus in Nashville for Bachelorette parties. They offer a one of a kind cockpit experience with performances by alluring male dancers. Their Ultimate Girls Night Out package cost $950 for a 2 hour experience and can accommodate 1-14 people. They have other party packages as well with varying price options.
---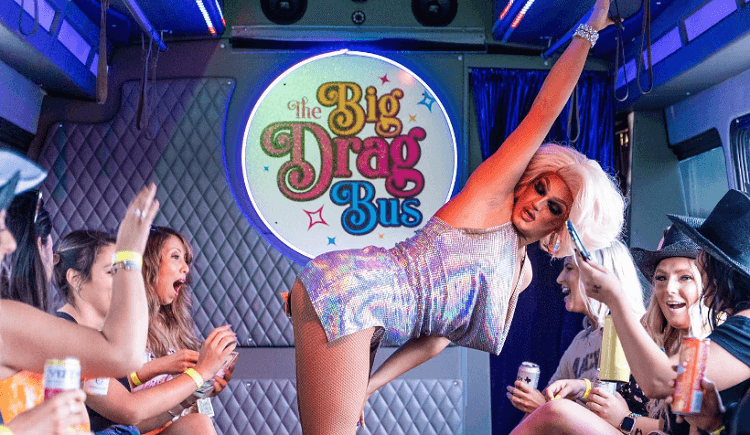 The Big Drag Bus
Nashville's most unique tour, The Bug Drag Bus offers an unparalleled experience with amazing drag queens that will make your ride memorable. The vibes here are unmatched. With a capacity of 25 people, you can rent out the whole thing for a custom ride. You can also buy individual seats for $49.95 per person for a 90 minutes ride.
---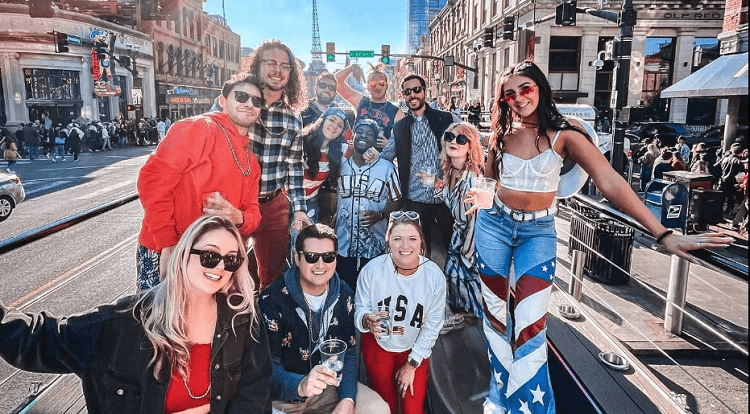 Honky Tonk Party Express
With see-through roof, VIP bartenders and a limit of up to 25 people, Honky Tonk Party Express is a great option for a Nashville party bus rental. For a weekday tour, you can rent it out for $495 plus fees and for a weekend tour, it will cost $595 plus fees. You can also join a public tour for $49 plus fees per person.
---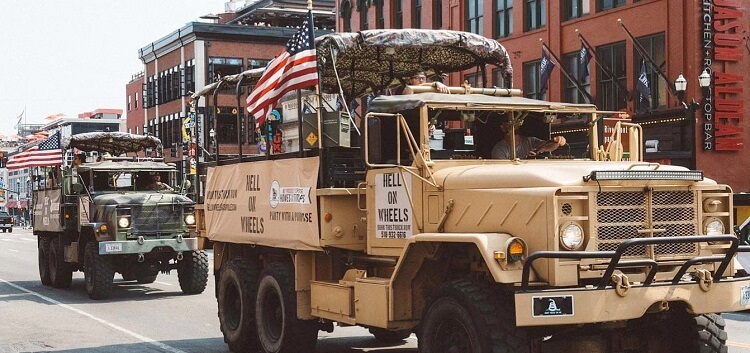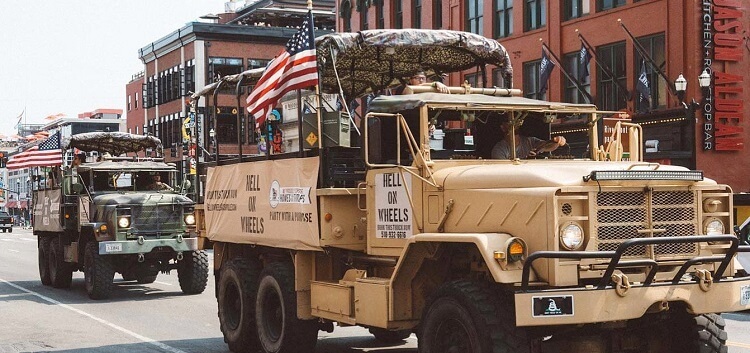 Hell on Wheels
Tour the music city on a military truck and support our veterans. With incredible music and lighting system, cooling system, party coordinators and veteran executives, Hell on Wheels will give an experience worth remembering. For a private tour, they charge $479 per 90 minutes tour.
---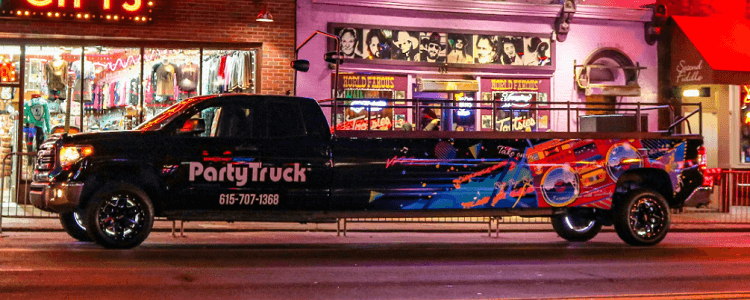 Sprocket Rocket's Party Truck
With over 4,000 five star reviews, Sprocket Rocket's Party Bike is one of the most sought after experiences in Nashville city. You can join a public ride starting at $49 per person. Or hire them for a private tour starting at $495. They can accommodate 6-12 people per bike and they only serve 21+ adults.
---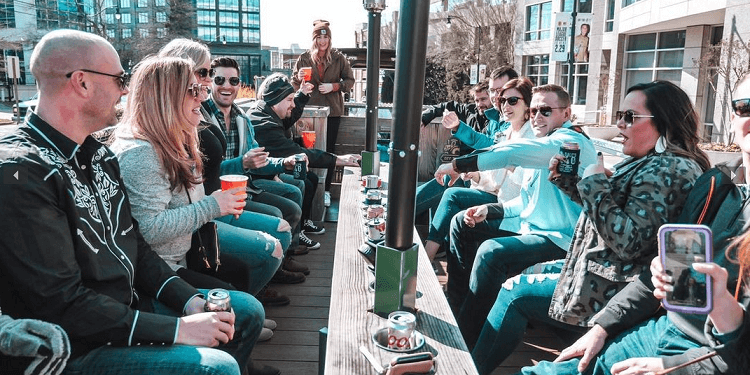 Nashville Party Wagon
Nashville Party Wagon offers a tour across Nashville on a tractor wagon. An individual ticket for a public tour starts from $42.99 for a ride of 1 hour and 45 minutes. You can also get a private tour for up to 20 people starting at $480 during Monday-Thursday and $500 during Friday- Sunday.
---

Cruzzin' Around
Cruzzin Around offers various tour options across Nashville. You can get a mini 30 minute Nashville tour for $15. Their public tours last 60-90 minutes and cost $30 per person. You can also book a private tour for up to 7 people. It will cost around $275 for 2 hours and $420-550 for 3 hours. The Cruzzin Party Bus costs $600 for 4 hours of pure fun.
---
Check out next…